Sloppy Joes are some of the most popular burgers in the American cuisine! These vegan Sloppy Joes not only preserve the original flavors of the dish, but they're also healthy!
We already know that American cuisine reflects the nation's spirit and complicated history and overlaps many cultural backgrounds in an exciting, worldwide-known gastronomy that fascinates us all. Even if Americans have a fairly young history compared to other cultures, all the battles and happenings have influenced its cuisine and transformed it into a mix of quick and satisfying comfort meals, reminiscent of busy diners, farmhouse family dinners, and never-resting big cities.
Sloppy Joe is one of the iconic American dishes, both for its name but also for its taste and consistency. The sloppy joe is very similar to the classic hamburger – a sandwich consisting of a hamburger bun stuffed with spiced and seasoned ground meat (usually beef or pork) mixed with tomato ketchup, onions and Worcestershire sauce. This famous sandwich is an authentic street food dish and you can find it in all the American menus around the country and even at state fairs and the classic backyard summer barbecues.
Americans love their sloppy joes so much, it is not uncommon at all to encounter big batches of this unique dish at summer parties or in any regular American house. Americans even freeze the leftover sloppy joes, that can be then easily defrosted and enjoyed warm, shared with friends and family. Because of its increase in popularity, by the 1960s companies were already producing packaged sloppy joe sauce.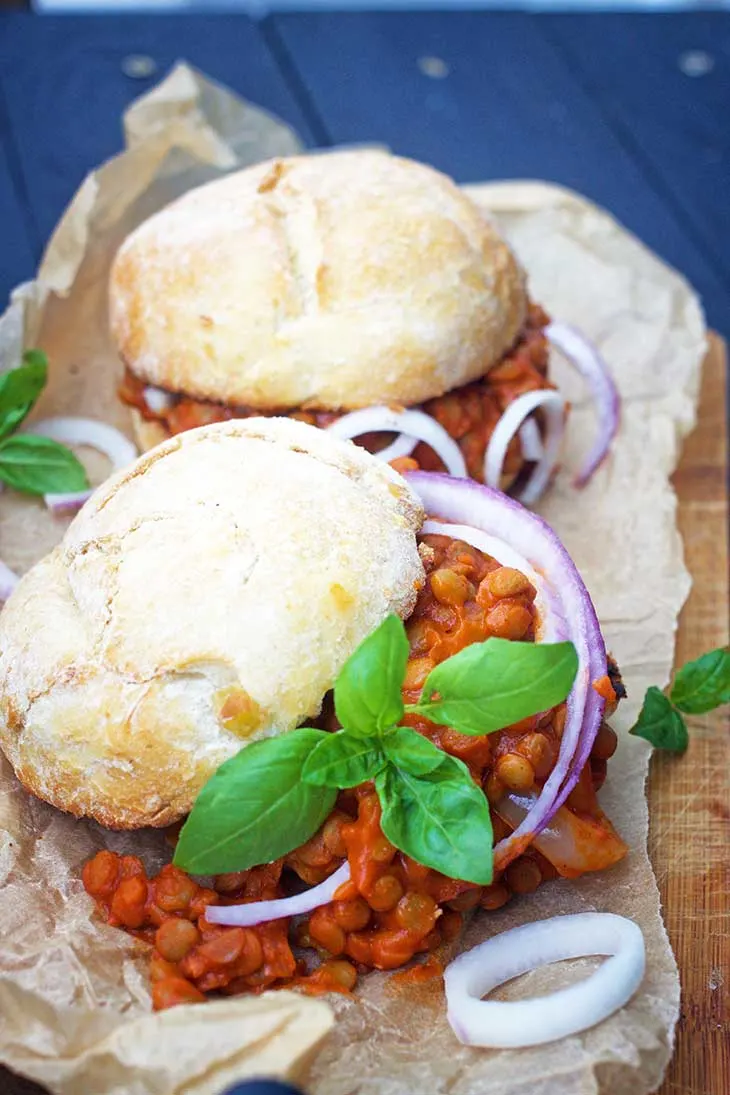 This tasty dish appeared in the early 20th century and it is known under many different names and variations, adapted with regional characteristics: chopped meat sandwiches, toasted deviled hamburgers, hamburg a la creole, beef Mironton and, for some reason, Spanish hamburgers or minced beef Spanish style.
The Sloppy Joe is one of the dishes that are so popular, easily available and unanimously loved all around the United States, that Americans may think it's always been here. The origin of the sloppy Joe seems to be in Sioux City, Iowa, where in the 1930s a cook named Joe sold "loose meat sandwiches".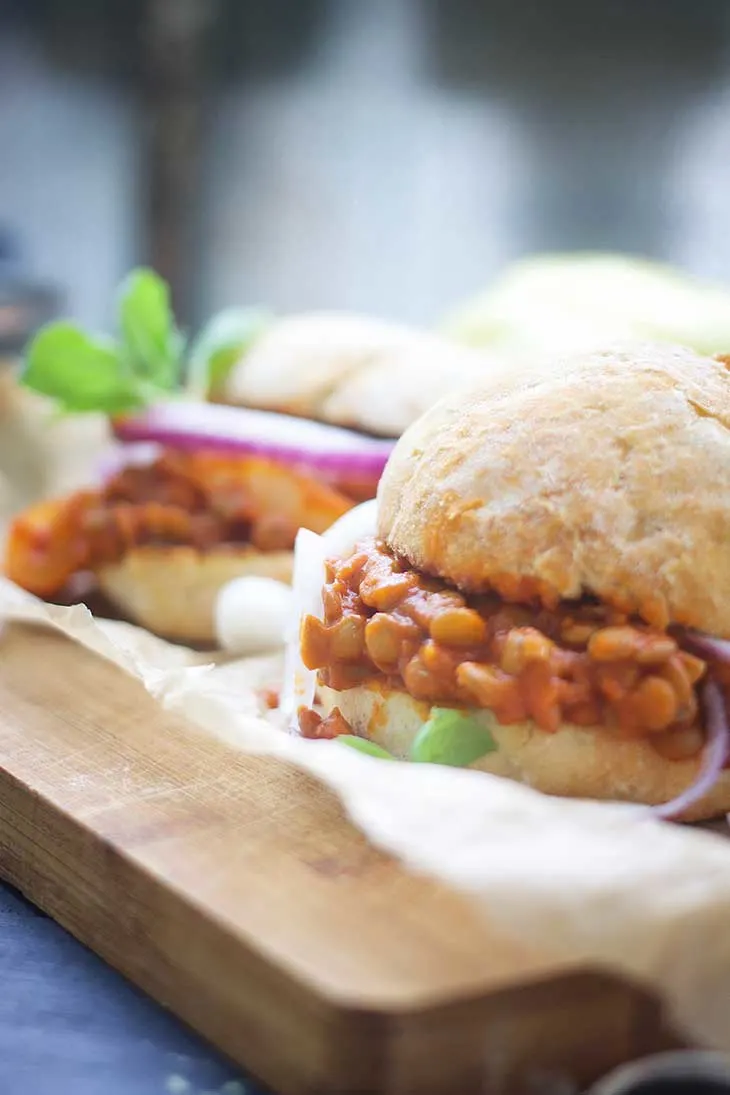 And because the sloppy joe is so amazingly popular and the United States are so vast, it was only natural for the Americans to create many different variations of the recipe depending on the region. In Rhode Island, a similar sandwich uses bell peppers and celery in addition to the regular ingredients and goes by the name of "dynamite".
Outside of the United States, in Quebec, Canada, there is a variation of the sloppy joe where a hot dog bun is used instead of a hamburger bun, called "pain à la viande" or "pain fourré gumbo". Of course, stewed meat sandwiches are very common in many other international cuisines with a rich history such as China or India.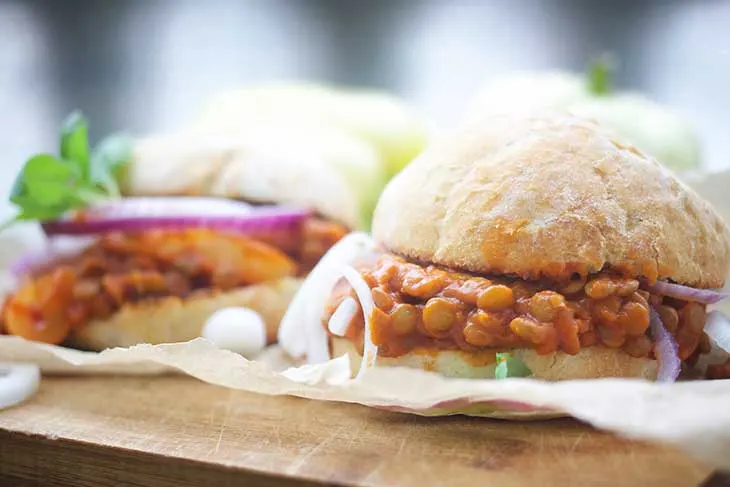 Even though it is messier to eat than the regular hamburger, the sloppy joe is definitely delicious, easy to make and has a special kind of charm that encapsulates in it the entire beauty of the American cuisine. And if you are curious about this, the term "sloppy joe" used to define any cheap restaurant serving affordable fast food.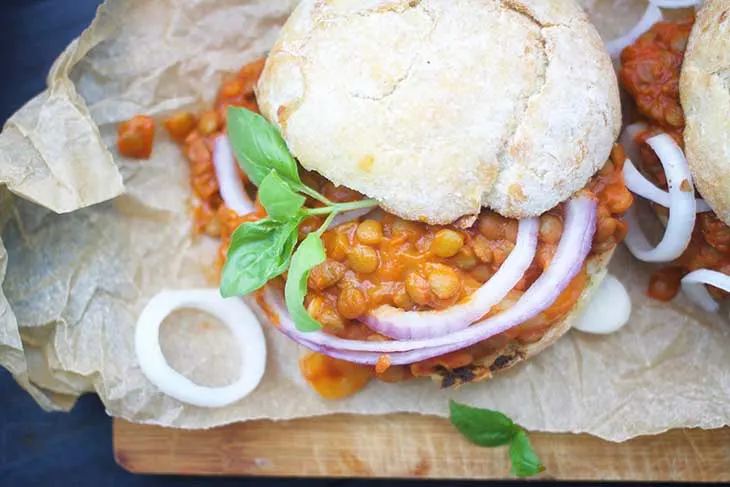 You can also get a guilt-free textured vegetable protein or tofurkey sloppy joes, or a 'lighter' turkey mince version. Of course, its popularity and simplicity brought food bloggers and even chefs like Jamie Oliver to try to provide healthier, locally-sourced variations of the recipe, with little tweaks and advice for the nutritionally-conscious.
Because this is exactly my aim with my monthly challenge of "veganizing" different international cuisines, I was really curious to try and make my very own version of the sloppy joe – a sandwich with lots of lentils, veggies and sauce, that's just as messy and delicious as the original version! 🙂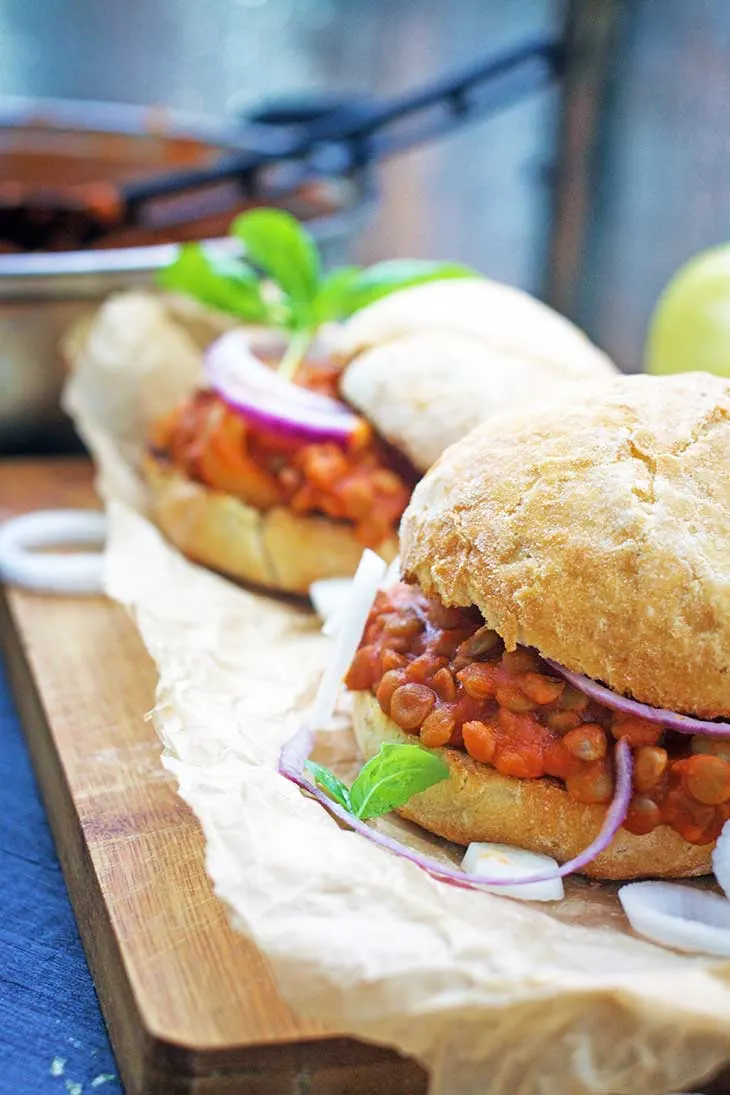 Yield: 4
Vegan Sloppy Joes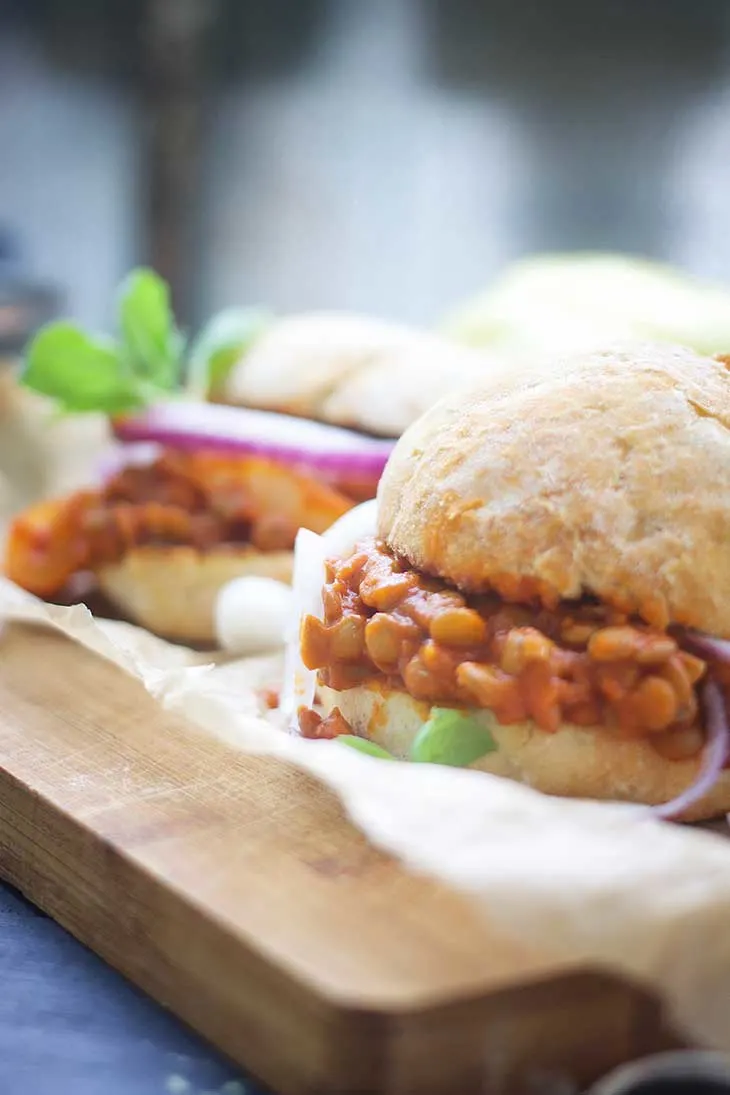 Sloppy Joes are some of the most popular burgers in the American cuisine! These vegan Sloppy Joes not only preserve the original flavors of the dish, but they're also healthy!
Ingredients
4 burger buns
200g (1 cup) lentils
2 Tbsp coconut oil
50g (⅓ cup) spring onion, finely chopped
2 cloves garlic, minced
1 medium yellow bell pepper, sliced
1 tsp Himalayan salt
1 tsp freshly ground black pepper
450g (2 cups) tomato sauce
1 Tbsp coconut sugar
1 Tbsp soy sauce
1 tsp chili powder
1 tsp ground cumin
1 pinch smoked paprika
½ red onion, sliced, for serving
2 tbsp fresh basil, for serving
Instructions
Add 1 cup lentils and 3 cups water to a pan. Set on medium heat and bring to a boil, then turn the heat to low and cook until the lentils are soft for about 20 minutes. Set aside.
Meanwhile, heat a large skillet over medium heat. Once hot, add oil, onion, garlic, and bell pepper. Season with a pinch of salt and pepper and stir to combine.
Cook stirring occasionally for about 10 minutes, or until the peppers and onions are tender.
Add tomato sauce, coconut sugar, soy sauce, chili powder, cumin, and smoked paprika. Stir to combine.
Add cooked lentils to the mixture and continue cooking over medium heat for about 5-10 minutes.
Lightly toast the burger buns and fill the buns with the lentil mixture and sliced onions, add some fresh basil and serve warm.
Nutrition Information
Yield
4
Amount Per Serving
Calories

825
Total Fat

11.7g
Carbohydrates

140g
Protein

40g