This hearty vegetable soup recipe is the perfect comfort soup for cold days! It will instantly make you feel better!
Vegetable soup is so effortlessly present in your life that you don't even think about it. Your mom used to make it, so you learned how to make it and now you do it every time you want to spend little time in the kitchen but still have something delicious. It's simple, flavorful, and best of all, it's nutritious.
That's why today we're going to go into some detail about veggie soup so you start thinking about it and you add it consciously to your diet. It is a wonderful source of nutrients, vitamins, and nurture, so it can only benefit you to have it more often.
This hearty vegetable soup recipe is really easy to make. Unfortunately, I didn't have any fresh herbs (that's one of the reasons why I don't like winter!!) and I'm sure this hearty vegetable soup would have been perfect with some fresh parsley on top. I also used some frozen celery leaves which are basically just as good as fresh ones. So don't forget to add lots of fresh, chopped herbs, be it parsley, lovage leaves or celery leaves to this soup. Herbs make it even better!
About the veggie mix: You can use any kind of veggie mix you like, but try to use one that is as healthy as possible – low in salt and free of mono glutamate monosodium/ E621. It is ideal to have a homemade condiment mix, so when the summer comes make sure you don't forget to sun-dry some vegetables and prepare yourself an awesome-good-for-everything veggie mix. 🙂
You will find the recipe below, and if you want to find out some health benefits of vegetables soups, as well as different types of veggie soups you can make, scroll down, just after the recipe. 🙂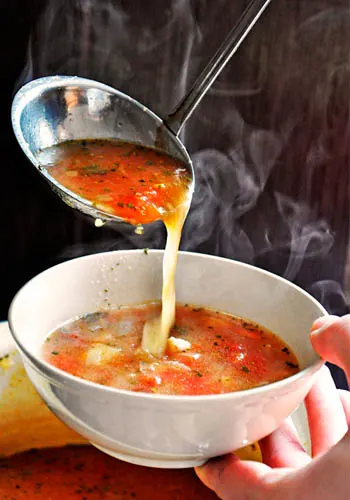 Yield: 6-8
Hearty Vegetable Soup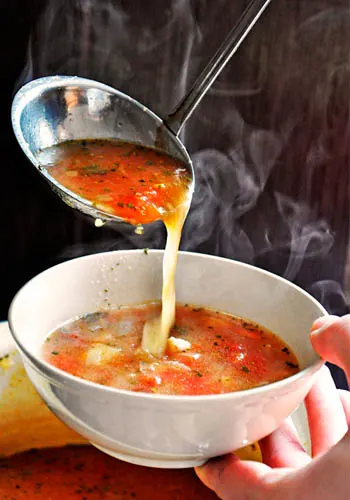 This hearty vegetable soup recipe is the perfect comfort soup for cold winter days!
Ingredients
2 carrots, sliced
1 big onion, diced
50g (½ cup) celery root, diced
70g (½ cup) green peas
1 red bell pepper, diced
6 garlic cloves, sliced
1 can (400g | 14oz) peeled, chopped tomatoes
sea salt and pepper, to taste
1 Tbsp sunflower oil
2 Tbsps celery leaves, chopped
1 Tbsp dry parsley
1 Tbsp dry veggies mix
fresh parsley, for garnish
Instructions
Heat the oil in medium pot.
Add diced onion and sauté until golden.
Fill two thirds of the pot with water. (6-8 cups of water)
Add condiments: salt, pepper, dry parsley, veggie mix.
Add sliced carrots, diced celery root, red bell pepper and peas.
Let it boil until all veggies are tender. (about half an hour)
Add chopped tomatoes, sliced garlic and celery leaves.
Let it boil for another 5 minutes.
Serve with fresh parsley on top. (Unfortunately I didn't have any…)
Nutrition Information
Yield
8
Amount Per Serving
Calories

63
Total Fat

1.8g
Carbohydrates

9.7g
Protein

2g
Vegetable Soup Health Benefits
Soup is a great way to start off a meal, and having the right one can mean a great health boost for you. Plus, it can help you feel full by eating less and still obtaining a healthy amount of calories to meet your goals. We all know just how important vegetables are for our health; they have been known to lower the risk of conditions such as high blood pressure, heart disease, type 2 diabetes, obesity and even cancer.
Vegetable soup replenishes your body with potassium, vitamin A, riboflavin—which helps you produce red blood cells, fiber —which improves digestion and lowers cholesterol, and many other things depending on the ingredients you use. You can make your own combinations and get your favorite veggies together to make a delicious broth.
Another great thing about soup is that it's so versatile! You can combine whatever ingredients you like and it can work as a meal addition, an afternoon snack, a lunch, or a light meal. You can add healthy protein in the form of beans and also legumes, pasta, rice, or noodles to make it more filling and flavorful.
In a nutshell: vegetable soups are amazing sources of vitamins, protein, healthy carbs, fiber, minerals and also calories. They can be low-fat, and because their main ingredient is water, they can fill you up without a high-calorie intake.
Types of Vegetable Soup
As you can imagine, there are a lot of types of vegetable soups just as there are many different ways to make it. It can be a bit confusing to tell the types of soup apart, I mean, it's soup! How many ways can there be to make it? Well, it turns out there are quite a few ways. So today I wanted to narrow it down for you and I made a little top 5. Here it is:
Clear soup: These are light soups, they're the basic soup you make when you take water, vegetables, and seasoning and you put them together in a pot. They often include broth, which is the liquid that results from simmering meats and vegetables. It's very flavorful and nourishing because all of the nutrients of the ingredients are concentrated.
Creamy soups: They're traditionally thickened with a white sauce such as béchamel—béchamel is made out of scalded milk whipped into a mixture of butter and flour. These creamy soups are smooth, and they look similar to heavy cream. The most common ingredients are celery, cauliflower, tomato, potato, artichoke, white onion, squash, etc.
The main difference between these two soups is that clear soups don't make use of any type of thickening agent. Clear soups can also combine a lot of ingredients and you get the pleasure of tasting the different chunks of vegetables. Creamy soups usually just involve one or three ingredients and they're turned into a cream with the help of béchamel.
Chowder: Whenever a thickening agent such as flour has been used in a soup, it's considered chowder. The clam chowder is the first example that comes to mind! They're hearty soups with chunks of the main ingredients and garnishes.
Stew: This is made from solid ingredients cooked in liquid; it can be water, wine, broth, even beer! The ingredients can vary widely, and it's great to serve less tender cuts of meat because it's a slow cooking soup. This is not that different from clear soups, except that the stew is thicker because it contains less liquid.
Top Vegetables for Healthy Veggie Soup
There are hardly any vegetables that can't be used to make vegetable soup! You can create your own combinations based on the flavors that you like most and it will result on a delicious bowl of soup.
But if your imagination is failing you a bit, here are some of the most popular ingredients to make flavorful and healthy soups: carrots, potatoes, celery, onions, cauliflower, zucchini, and green beans are some of the most common ingredients. You can even add rice, pasta, and quinoa. Grains are also a great choice to make soups that are rich in both protein and fiber, such as: red beans, white beans, black beans, chickpeas, lentils, etc. Tomato is also a very popular ingredient, as well as mushrooms.
There you have it! All you need to know about vegetable soup. Go make your own combinations and let me know how it goes.