Here's how you can make a delicious vegan tiramisu recipe from scratch! It looks and tastes just like the authentic Italian dessert. Give it a try!
Did you know that tiramisu is a popular Venetian dessert recipe which literally means "cheer me up"! This awesome Italian dessert will surely lift up your spirit with its unique taste and flavor.
It was quite a challenge to veganize it because I couldn't find any vegan ladyfingers so I had to improvise. I made a vegan sponge cake instead and used it as a base.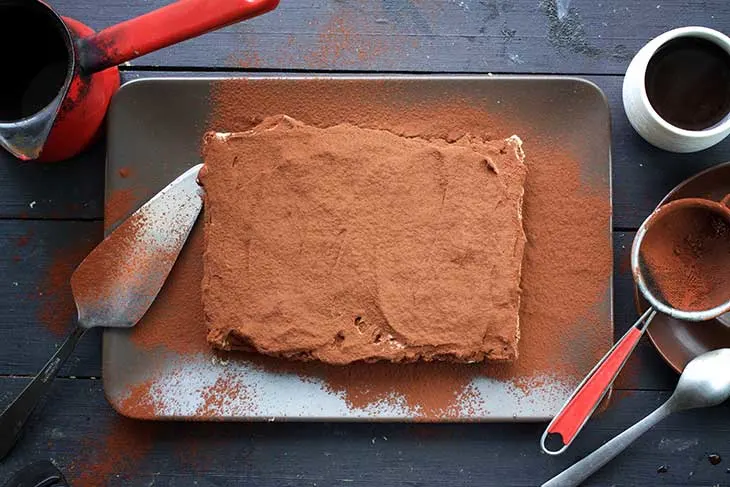 Mimicking the mascarpone cream was easy. Cashews are great for this and paired with the creaminess of coconut oil and full-fat coconut milk, the result was just as good as the authentic recipe.
The original shape of tiramisu was round, but you can make it in any shape you want. I wanted to make this vegan tiramisu recipe as easy as possible, so I baked the sponge cake base in a rectangular baking pan. If you can find vegan ladyfingers, you can simply skip the sponge cake base part and just use the vegan mascarpone cream recipe. It will be even easier to make!
Eat this vegan tiramisu cake cold, covered in cocoa powder. It's a great dessert you'll want to make again and again!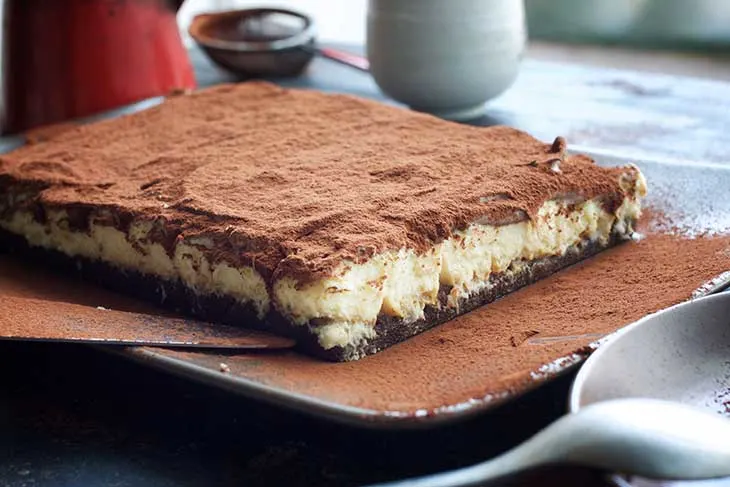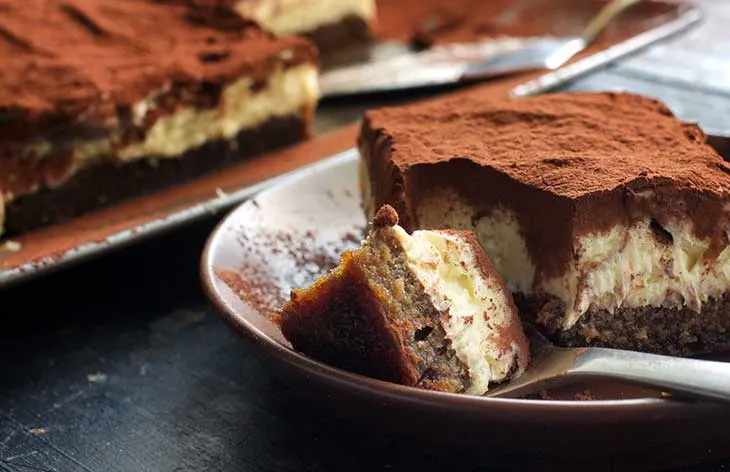 Yield: 6-8
Vegan Tiramisu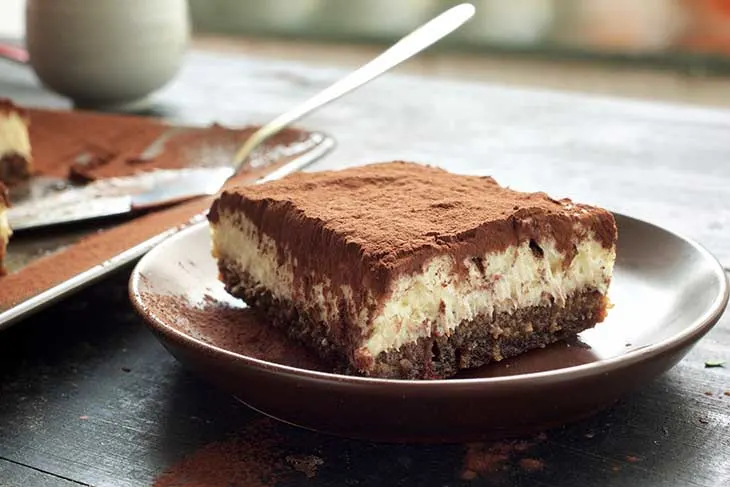 Here's how you can make a delicious vegan tiramisu recipe from scratch! It looks and tastes just like the authentic Italian dessert. Give it a try!
Ingredients
For the vegan mascarpone:
210g (1 ½ cup) raw cashews, soaked overnight
6 Tbsp coconut milk, the cream kind - use only the cream
4 Tbsp coconut oil
4 Tbsp maple syrup
1 tsp natural vanilla extract
a few drops of almond extract
For the base:

Dry ingredients:

150g (1 ¼ cup) flour
150g (¾ cup) coconut sugar
1 tsp baking soda
1 tsp baking powder
1 Tbsp cocoa powder
⅓ tsp salt

Liquid ingredients:

160ml (⅔ cup) almond milk
70g (⅓ cup) sunflower oil
2 Tbsp apple cider vinegar
For the syrup:
120ml (½ cup) strong coffee
2 Tbsp rum
1 tsp maple syrup
For the topping:
2 Tbsp cocoa powder
Instructions
Preheat the oven to 180C.
Mix all the dry ingredients in a bowl. In another bowl, combine all the wet ingredients.
Then pour the wet ingredients into the bowl with the dry ingredients and whisk. Mix until the batter just comes together, don't over mix it.
Pour the batter into a baking pan - estimated size 30x20cm.
Bake it for ~20 minutes until the top is slightly golden.
Let it cool.
Cut the sponge cake into two layers because otherwise, it will be too thick. We'll use just one layer and you can save the other one for later. Maybe eat it for breakfast with some fruits and yogurt on top or make another tiramisu later. Store the extra one in the fridge.
Prepare the coffee syrup by mixing all ingredients, then let it cool.
Now, using a food processor, blend together all the ingredients for the vegan mascarpone, until creamy.
Place the sponge cake layer on a pan. Generously pour over the coffee syrup, to cover the layer evenly.
Top the vegan tiramisu base with the "mascarpone" cream. Sift it with cocoa powder and transfer it to the fridge.
Serve after cooling completely.
Nutrition Information
Yield
8
Amount Per Serving
Calories

591
Total Fat

41g
Carbohydrates

46g
Protein

9.7g