Healthy breakfast? Proteins? Meal prep? I got you covered! This awesome recipe for protein-rich baked oatmeal ticks all three boxes and it's super delicious as well!
If you're not into the mushy texture of oatmeal, but you're all about a high plant-based protein dose, how about enjoying oatmeal differently?
Today I'll teach you how to make a super easy recipe for protein-rich baked oatmeal, a breakfast or brunch recipe, also good for dessert with a scoop of ice cream. It is versatile and quick to make and can be assembled ahead of time and baked for when let's say, guests arrive!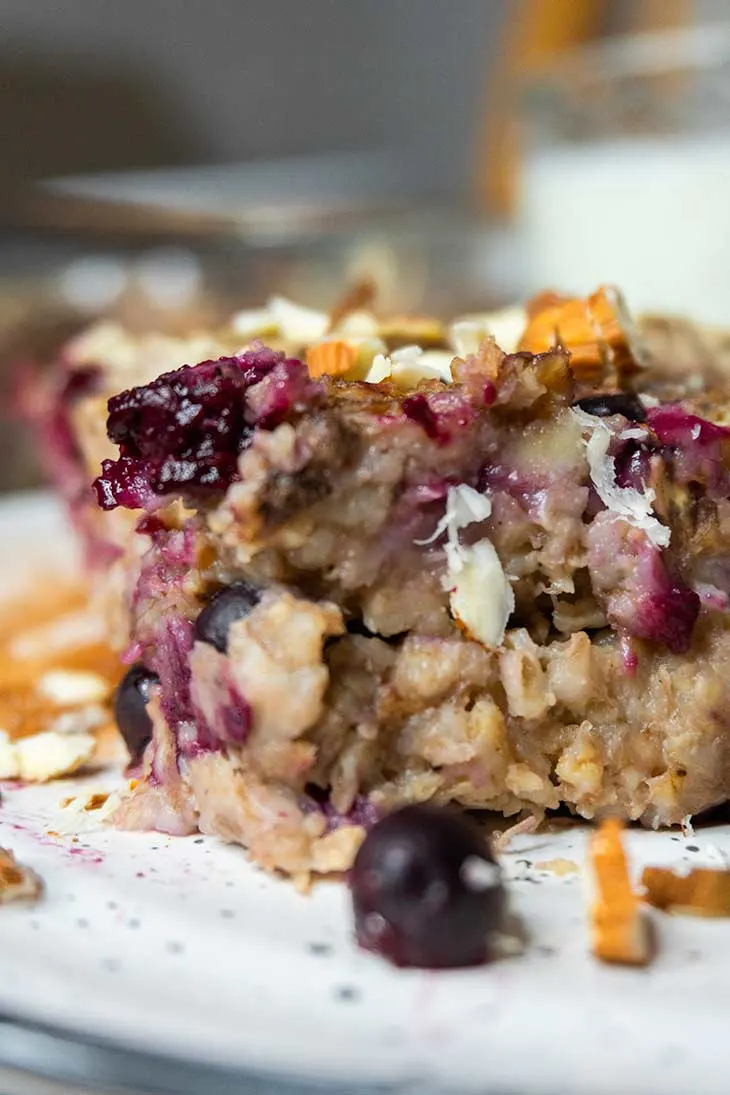 As I mentioned, it is a rich source of protein. Oats are loaded with dietary fiber (containing more than many other grains) and have a range of healthy cholesterol-lowering properties. An article published in the American Journal of Clinical Nutrition concluded that a diet including plenty of whole-grains (such as oats or wholemeal bread) is just as effective as taking anti-hypertensive medication in lowering blood pressure. They found that three portions per day can "significantly reduce cardiovascular disease risk in middle-aged people mainly through blood pressure-lowering mechanisms."
Oats play an important role in improving satiety (the feeling of fullness), diet quality, and digestive, cardiovascular, and general metabolic health. Whole grains are often recommended for their beneficial effects on the gastrointestinal tract.
The research suggests potential health effects ranging from improved immune health to reducing the risk of obesity and chronic disease. Regular consumption of whole-grain foods may be correlated with lower body mass index (BMI). The researchers state that eating oats appears to help reduce hunger and increase feelings of fullness.
Do you need any more reasons to prove that oats are amazing? Well, I have a couple more! 🙂
Oats contain a range of molecules that act as antioxidants; this includes avenanthramides, which are polyphenols. Avenanthramides may play a role in keeping blood pressure low by increasing nitric oxide production. They could also have anti-inflammatory and anti-itching properties when applied topically to the skin.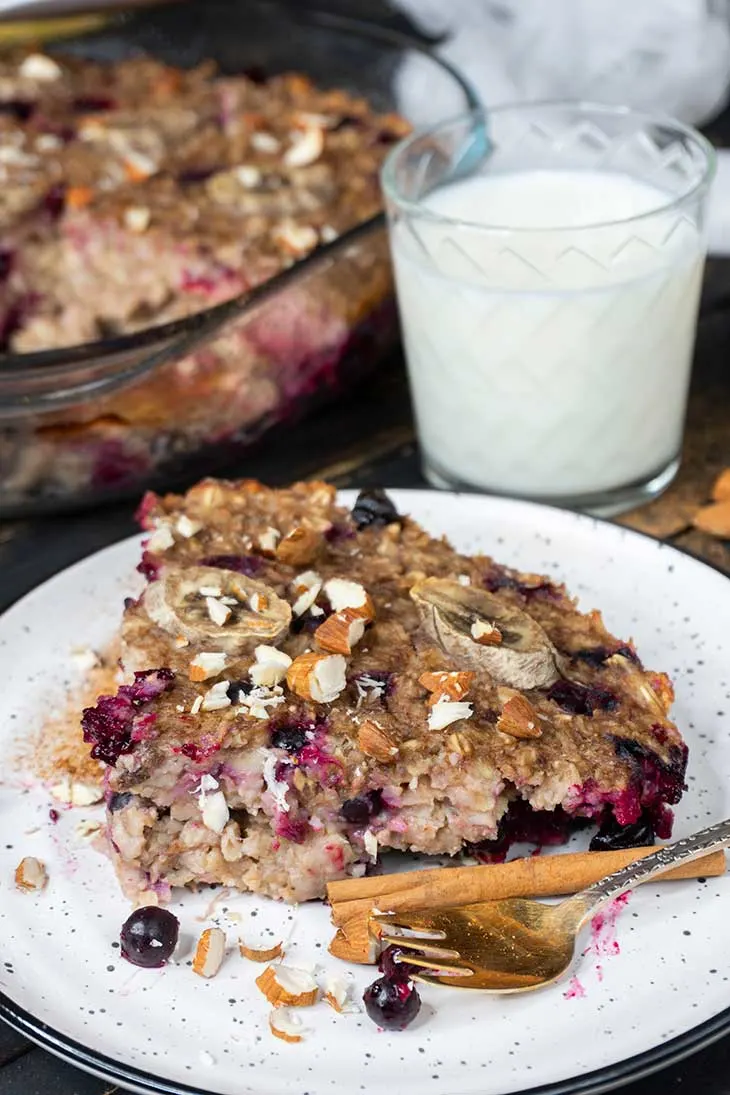 Today I will combine oats with bananas, almond milk, blueberries, maple syrup, vegan protein powder, and hemp seeds. If you are working out and want to gain muscle, here is a recipe for you.
Together with the bananas, the blueberries become irresistible in the oven and add a nice, juicy layer and soft texture beneath the toasty oats. Yum! 🙂
Blueberries have been shown to relax your blood vessels, which can regulate blood pressure levels, reduce the risk of heart disease, and alleviate male impotence by improving circulation and flushing out excessive cholesterol levels.
They are good for the brain as they are known for being rich in flavonoids, a type of polyphenol, that can cross the blood-brain barrier and influence the region of the brain associated with memory and motor function.
Bananas are known for increasing our energy, and you often see professional athletes eating bananas just before and even during their sports. This fruit has a high level of potassium and vitamin B6 and also high levels of vitamin C, magnesium and manganese.
Now, how about the cooking process for this awesome baked oatmeal?
In a small bowl, combine the flaxseed and warm water and set aside to thicken for about 5 minutes. Reserve 2 tablespoons of the almonds, hemp seeds, and coconut flakes and set aside.
In a large bowl, combine the oats, the remaining almonds, hemp seeds, and coconut flakes, and the baking powder, cinnamon, brown sugar, and salt.
Combine the almond milk, maple syrup, and coconut oil and whisk to combine.
Stir in the flaxseed mixture and blend until smooth.
Pour the wet ingredients into the bowl of dry ingredients and stir to combine.
Layer the bananas and strawberries and spread the oat mixture on top.
Add the reserved almonds, hemp seeds, and coconut flakes.
Bake for 40-50 minutes
Let cool for 15 minutes before serving.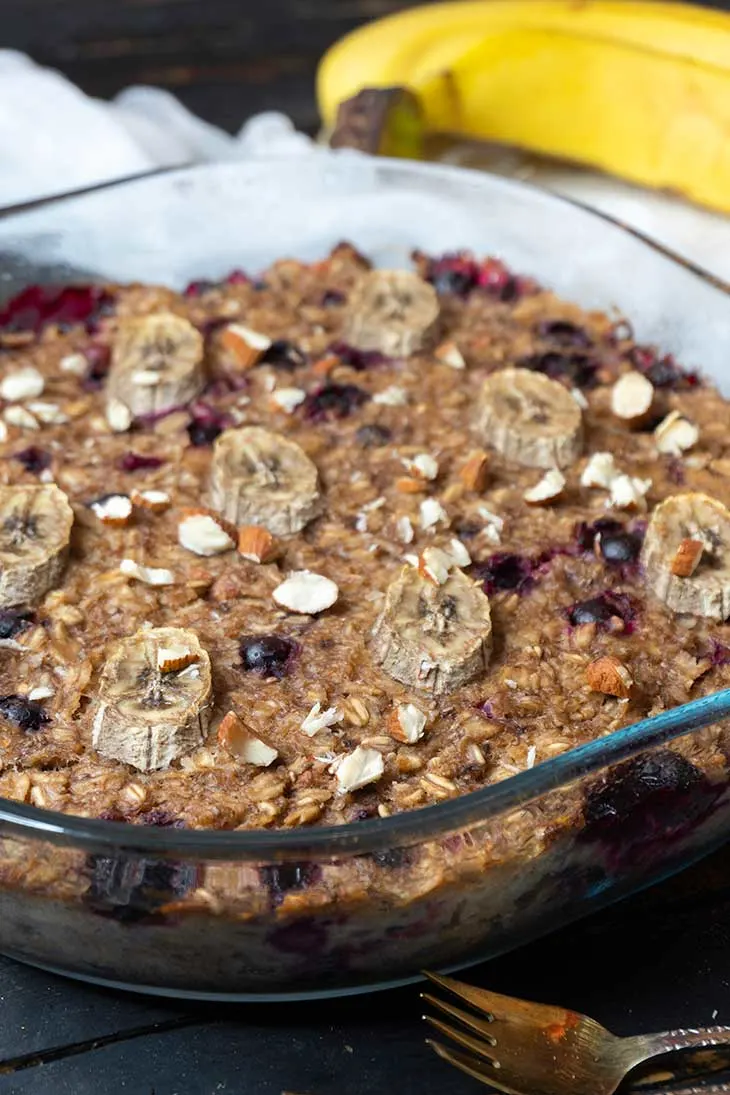 Let me know your thoughts on this high protein recipe in the comments below. What is your favorite plant-based milk to use in this recipe? 🙂
---
Personalized meal plans and workout videos | Get your customized meal plan today! [x_button shape="square" size="mini" float="none" target="blank" href="https://shop.gourmandelle.com/?utm_source=mainsite&utm_medium=site&utm_campaign=inpost" info="none" info_place="top" info_trigger="hover"]I WANT A MEAL PLAN![/x_button]
---
Yield: 4
Protein-Rich Baked Oatmeal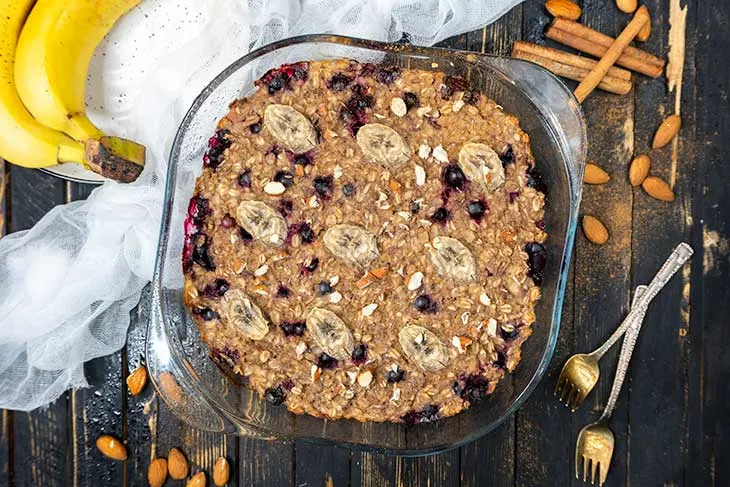 Healthy breakfast? Proteins? Meal prep? I got you covered! This awesome recipe for protein-rich baked oatmeal ticks all three boxes and it's super delicious as well!
Ingredients
180g (2 cups) rolled oats
360ml (1 ½ cup) almond milk
2 large ripe bananas
100g (½ cup) blueberries
60ml (¼ cup) maple syrup
25g (¼ cup) vegan protein powder
40g (¼ cup) hemp seeds
18g (¼ cup) sliced almonds
1 Tbsp cinnamon
1 tsp vanilla extract
1 Tbsp flaxseed
Instructions
Cover the oats with 2 cups of boiling water and set aside for 15-20 min.
Mix 1 Tbsp of flaxseed and 2 Tbsp of water and let it sit for 5 min.
Slice 1/2 of a banana and save it for topping.
Put the rest 1 1/2 bananas into a bowl and mash it with a fork until smooth.
Add the maple syrup, protein powder, and flaxseed. Mix well to combine.
Add the oats and all the other ingredients to the banana mixture and stir.
Transfer to your baking dish and top with sliced banana.
Bake at 170 degrees for 30 minutes.
Nutrition Information
Yield
4
Amount Per Serving
Calories

500
Total Fat

14.2g
Carbohydrates

73.8g
Protein

19g
I strive to keep the information as accurate as possible but make no warranties regarding its accuracy. I encourage you to make your own calculations using your preferred nutrition calculator.