Are you ready for the fluffiest, most delicious summer dessert ever? Here's how to make a vegan banana split pie, a sweet treat that will make you fall in love!
I don't know where I would be, psychologically, without a good dessert every once in a while. I don't recommend eating too much dessert – there's some real danger in sugar addiction. But, as I always say, a little goes a long way!
I think my favorite type of desserts are usually ice-cream based, and that includes today's recipe, the famous banana split pie, which we'll be making a vegan version of. Well, the banana itself is already vegan, so that's less work for us. Vegan ice cream isn't that hard to do, either. I'll walk you through the whole process! 🙂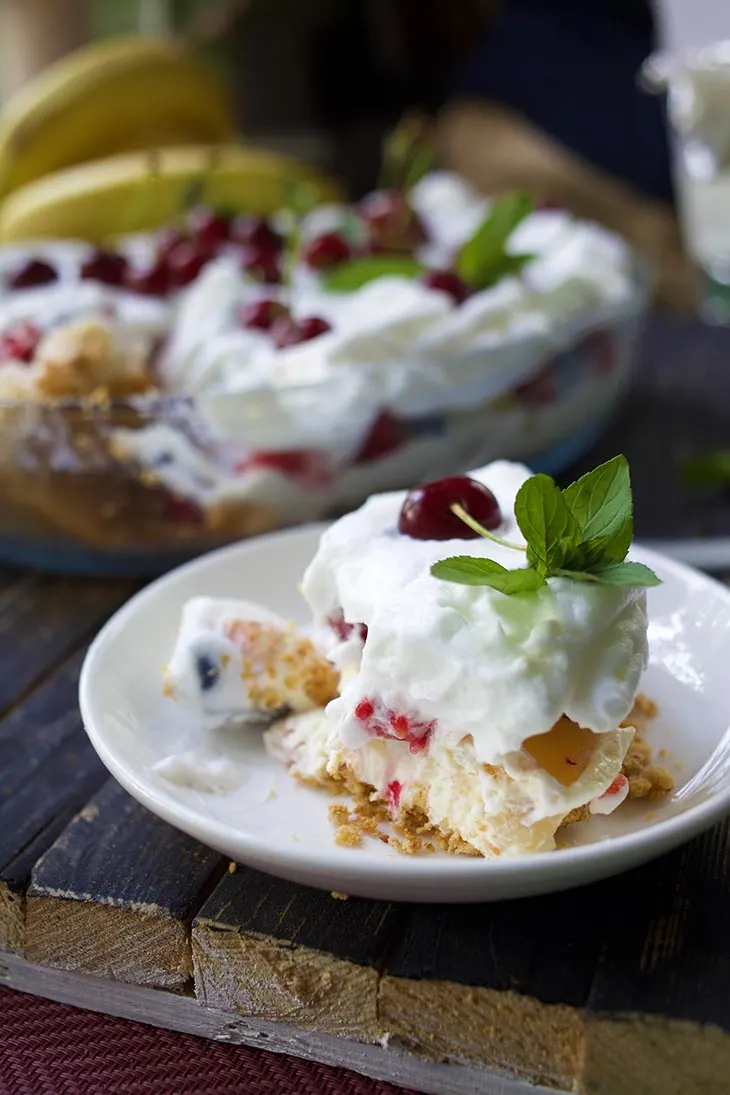 The banana split is a very famous dessert all over the world and it was first invented way back in 1904 by a guy who was working at a convenience store, which had a "make your own" ice cream machine, which he used to come up with the banana split.
Since then, the news about this fantastic dessert spread first by word of mouth, then by the newspaper. Soon enough, most classical diners added a banana split to their dessert list! 🙂 So you can imagine how influential this dessert was from the get-go.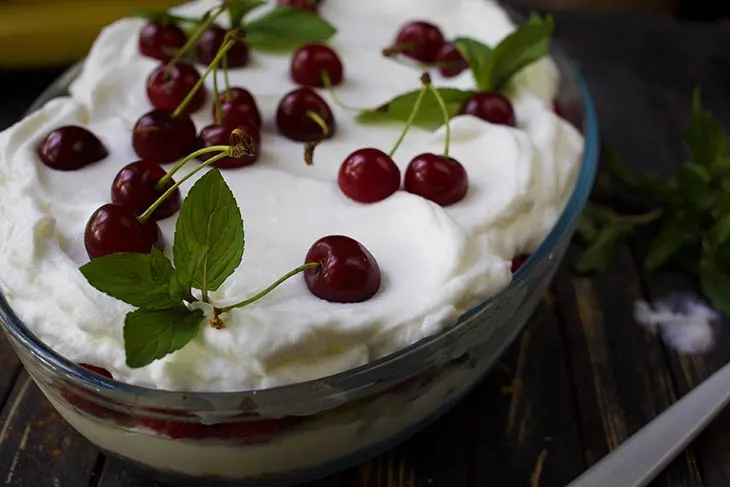 I first had a banana split when I was young and I was traveling abroad with my parents. We stopped at a very nice riverside cafe, in the middle of a hot summer day. My parents got themselves some ice coffees and I looked through the menu and saw the funkiest name I had ever seen for a dessert – Banana Split. I instantly pointed to it and said that I want it, not even knowing it was ice cream.
I must say, up to that point, I had never tasted something so delicious. It made such a big impression on me, that I think I started searching subconsciously to try and make it myself!
Years later, the banana split is still one of my favorite desserts, and I've discovered today's version while I was trying to come up with a version of the banana split that would be better suited in the colder seasons. I discovered this amazing recipe of vegan banana split pie, which combines the best qualities of a delicious banana split and a spongy vegan cake.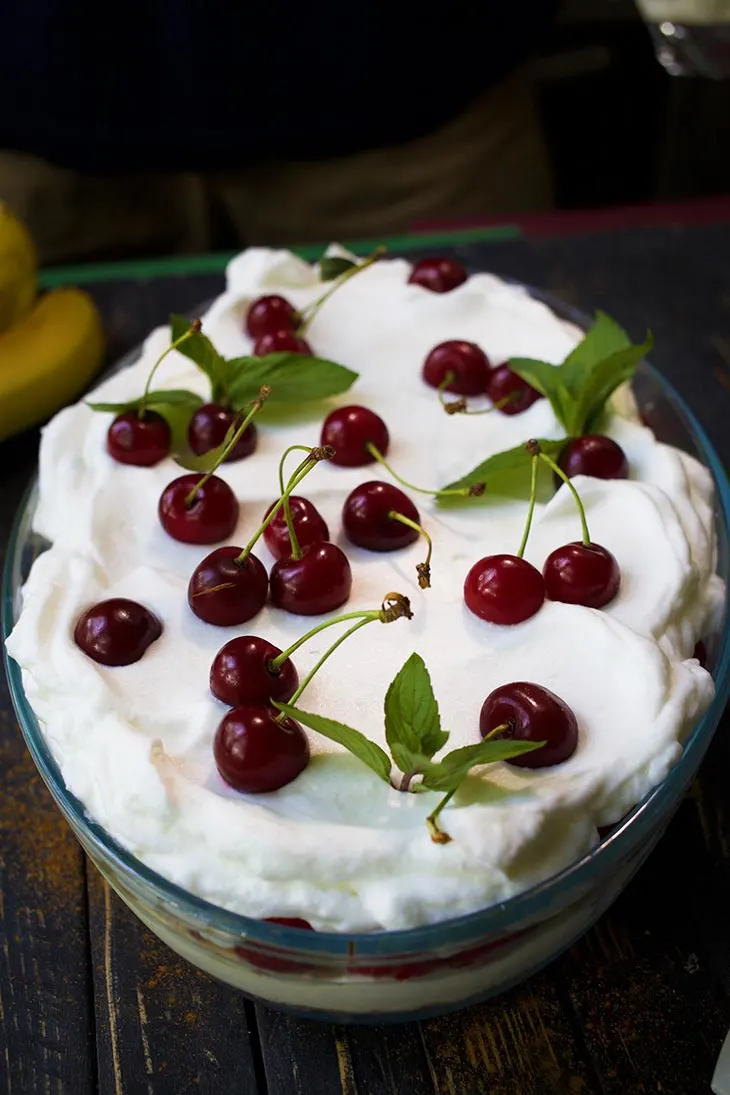 The cold, creamy quality of banana split comes together with the sponginess of the cake and creates a very pleasant feeling. It's literally one of the best dessert combinations I've tried making, and I really want you to find out for yourself! 🙂
The vegan banana split pie is by no means an unhealthy dessert, in fact, it is much more nutritious than other desserts, and not just because it contains bananas!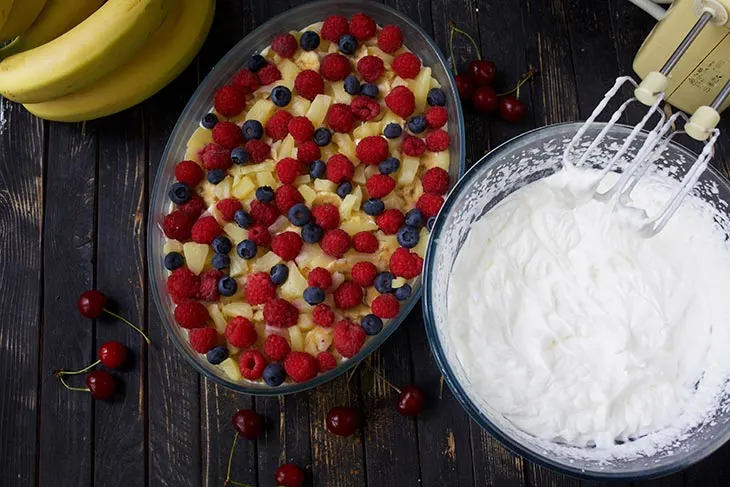 This is a recipe that I encourage you to make for yourself, but also if you have kids, it will be a great delight to them! If you like cooking special desserts for your little ones, you can try making them this banana split pie as a fresh new alternative to the usual vegan chocolate cake. I would definitely recommend a healthy vegan dessert for the small ones rather than giving them factory processed chocolate bars.
By the way, the last time I made this vegan banana split pie was when I had two of my best friends over, and they absolutely adored it! They took some home with them and asked for the recipe. And I have to add – this is an easy enough recipe that anyone can start making it at a professional level in no time! This makes it the perfect weekend treat, perfect for a cool movie night!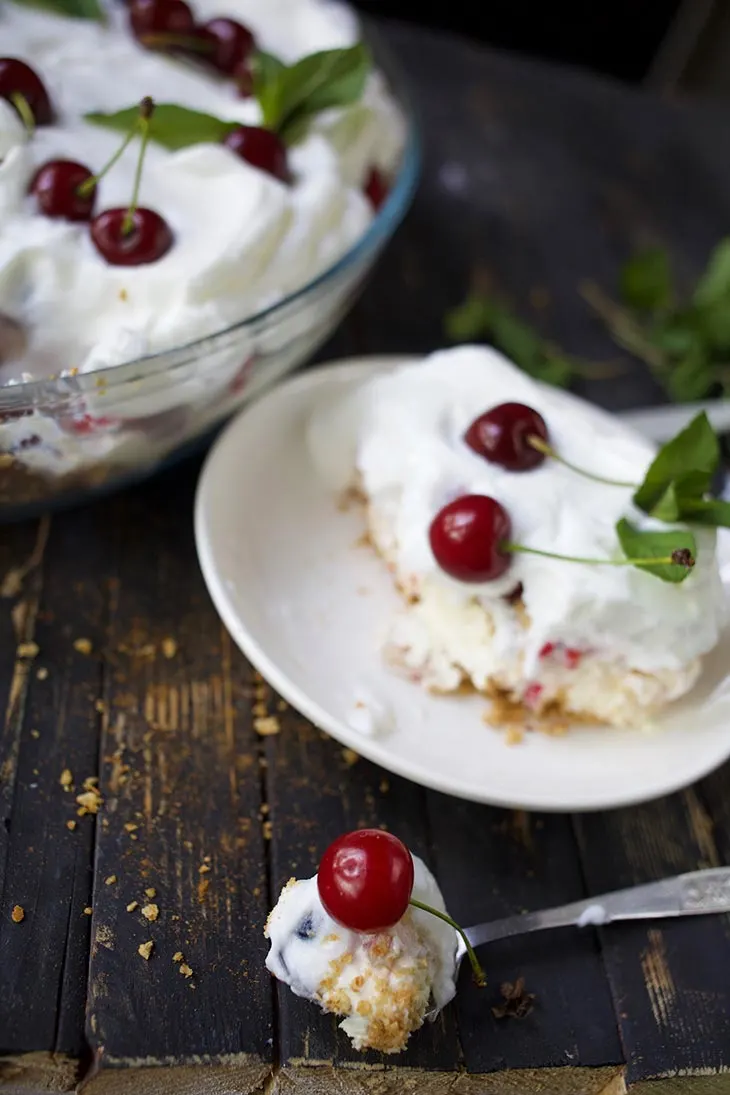 I hope you'll enjoy making this delicious vegan dessert with me today. If you have any questions or comments about it, don't hesitate to write to me. I always love hearing your thoughts! If we learn together, we grow together, and I love learning more about vegan cuisine. Good luck in the kitchen and enjoy!
Yield: 8
Vegan Banana Split Pie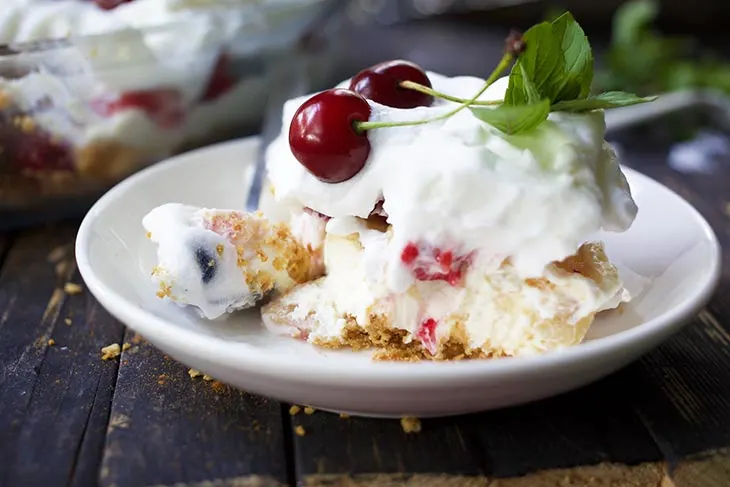 Are you ready for the fluffiest, most delicious summer dessert ever? Here's how to make a vegan banana split pie, a sweet treat that will make you fall in love!
Ingredients
For the base layer:
120g (1 cup) graham crackers, crushed
60ml (¼ cup) coconut oil, melted
1 tsp vanilla extract
For the cheese layer:
500g (2 cups) silken tofu
70g (½ cup) cashews, soaked in water overnight
110g (½ cup) maple syrup
1 tsp lemon juice
3 Tbsp melted coconut oil
1 tsp vanilla extract
For the fruit layer:
2 bananas, sliced
160g (1 cup) pineapple, crushed and drained
120g (1 cup) fresh raspberries
60g (½ cup) blueberries
For the topping:
240g (2 cups) vegan whipped cream
140g (1 cup) fresh sour cherries
fresh mint springs
Instructions
In a bowl, combine the crushed crackers, melted oil, vanilla extract.
Press into a cake share to form a bottom layer. Set to the refrigerator.
In a food processor, add cashews and blend until smooth.
Add all the rest of the ingredients and pulse until combined and homogenous.
Pour the mixture on the cracker layer, return to the fridge overnight or for about 3 hours.
Top with the fruits, then add the whipped cream layer and decorate with sour cherries and some fresh mint springs.
Set to the fridge until ready to serve.
Nutrition Information
Yield
8
Amount Per Serving
Calories

587
Total Fat

41g
Carbohydrates

46g
Fiber

4g
Sugar

24g