There's nothing easier than this no-bake cherry cake, I swear! It's quick, it's fuss-free and it's extremely delicious. Not to mention it's 100% vegan and healthy too! What's not to love?
Summertime's here, and with it my good mood. I love everything about summer. Well, almost everything. I certainly love the warm nights, the fact that I'm always in a good mood, the greenery outside, and all that.
What I don't love so much, though, is that sometimes it gets so hot that the last thing I wanna do is turn on my oven! 🙂 And that's a shame, because I love desserts, and I love to bake.
That's when no-bake cakes come to the rescue.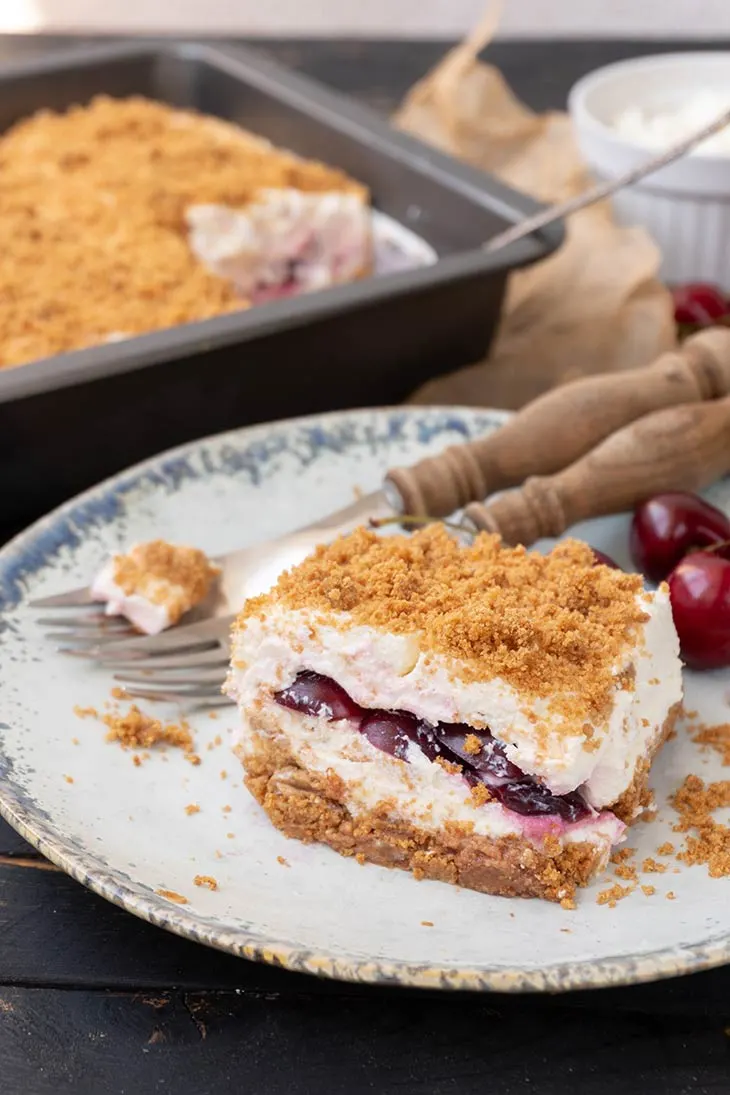 These are the types of cakes that you can basically make with your eyes closed. They're absolutely great for beginners, and even children – so if you've got a kid, this recipe would be a great occasion for him or her to help you out in the kitchen. No-bake cakes are basically cakes that you have to leave in the fridge for a few hours or overnight to reach the desired consistency. Then you can enjoy them straight out of the fridge for a fresh, cold dessert that is simply perfect for summer.
I chose cherries as the main star of today's cake, because, well… they're amazing! 🙂 Cherries are the type of fruit that reminds us all of the summers of our childhood when we had no care whatsoever and could play all day. I honestly get reminded of that every time I eat a fresh cherry. Besides the nostalgia factor, I also love cherries because of their health benefits and nutritional content.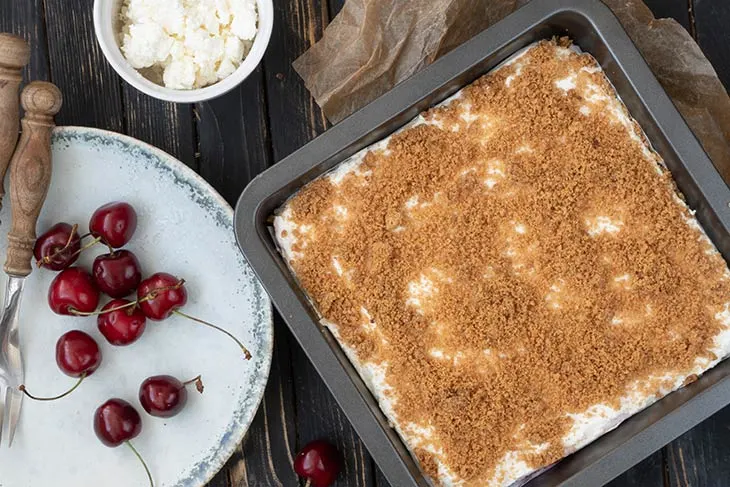 Cherries are indeed one of the most healthy fruits out there because they're rich in antioxidants, are an excellent anti-inflammatory, and are also useful in the prevention and treatment of gout. They're one of the few foods which contain a hormone called melatonin which helps with good, peaceful sleep and relieves insomnia. So if you want to improve your sleep quality, a handful of cherries as a late-night snack is actually a great idea.
Cherries are super low in calories, which makes them a silhouette-friendly food. 😉 With less than 100 calories per cup, everyone can fit these inside their daily caloric goals. They might lower hypertension and prevent cardiovascular diseases, improving heart health. Like most fruits and veggies, cherries are also an excellent source of fiber, which helps you feel fuller for longer and helps with digestion and regularity. They're packed with essential nutrients, such as vitamin C, potassium, copper, and manganese.
My life philosophy is that I have to make desserts with fruit whenever I can. This way, I feel like I'm not doing that much harm to my body. Fruits are incredibly healthy, so at least I know I'm doing something right by including them inside a dessert. Sure, it might contain sugar and other things, but if you're eating these in moderation, it shouldn't be a problem. And at least this way you know that you're getting a bunch of vitamins and minerals while satisfying your sweet tooth.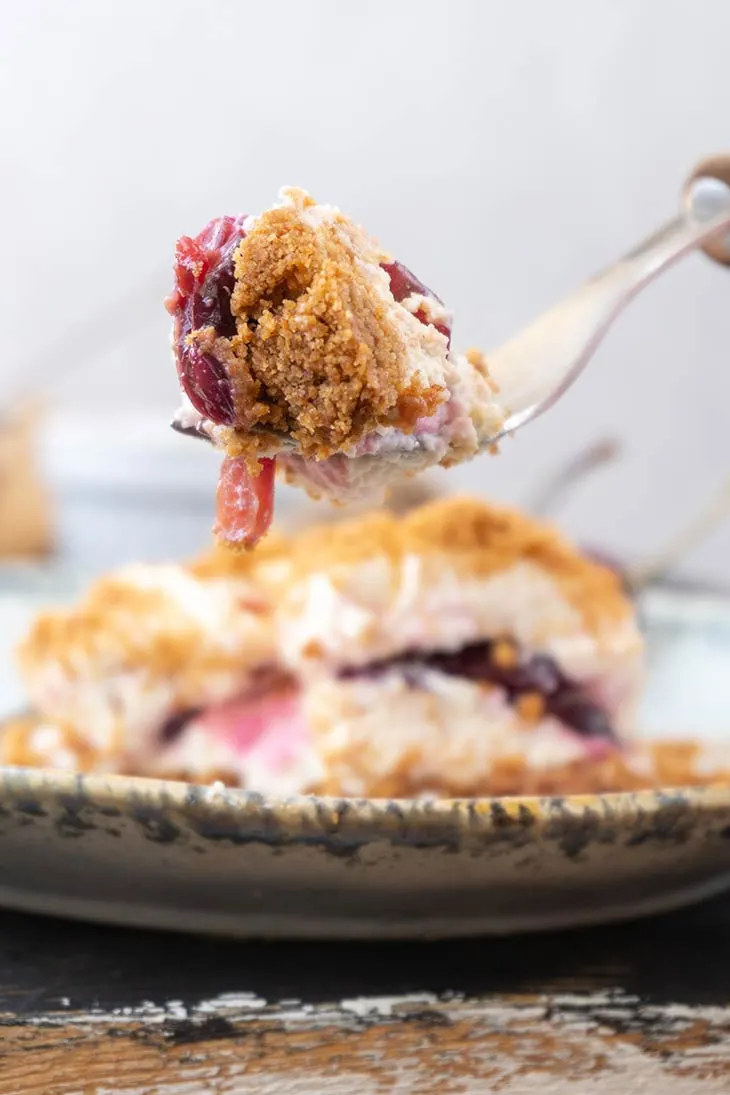 This no-bake cherry cake is a dessert lover's dream. It's so easy to make for how pretty it looks and how delicious it tastes that it's almost not fair! 🙂 It might feel like cheating. But who cares? It's awesome. I love making this on a hot summer day and keeping it in the fridge throughout the week. If it lasts that long, of course. So far it hasn't. So far it lasted two days tops. I might have eaten this multiple times a day, I'm not gonna lie. I might've had it for breakfast a few times, too. Oops!
However, if you've got the necessary discipline, this cake keeps exceptionally well in the fridge, for up to one week. And if you want to make it last even longer, you know what to do: pop it right inside the freezer. This way you can enjoy it for several weeks to come – just let it warm for a bit before digging in.
Do I need to say more? This cake is absolutely perfect. Its sweetness contrasts superbly with the tanginess of the cherries. I love leaving bits of whole fruit around, as well. I think they make the texture ten times better, and I don't know about you, but I'm all about variety when it comes to texture. I don't like boring food. Every mouthful must feel like an adventure, which is surely the case with this cake. The base is thin and crunchy, while the filling is thick and creamy.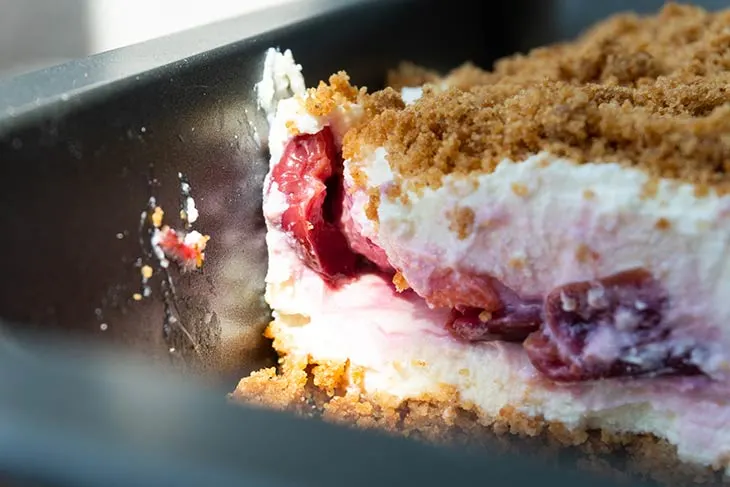 I sure hope you'll give it a try while you can still find fresh cherries around. But don't fret. You can enjoy this delicious cake all year round with frozen cherries, as well! Win-win! 🙂
---
Personalized meal plans and workout videos | Get your customized meal plan today! [x_button shape="square" size="mini" float="none" target="blank" href="https://shop.gourmandelle.com/?utm_source=mainsite&utm_medium=site&utm_campaign=inpost" info="none" info_place="top" info_trigger="hover"]I WANT A MEAL PLAN![/x_button]
---
Yield: 12 servings
No-Bake Cherry Cake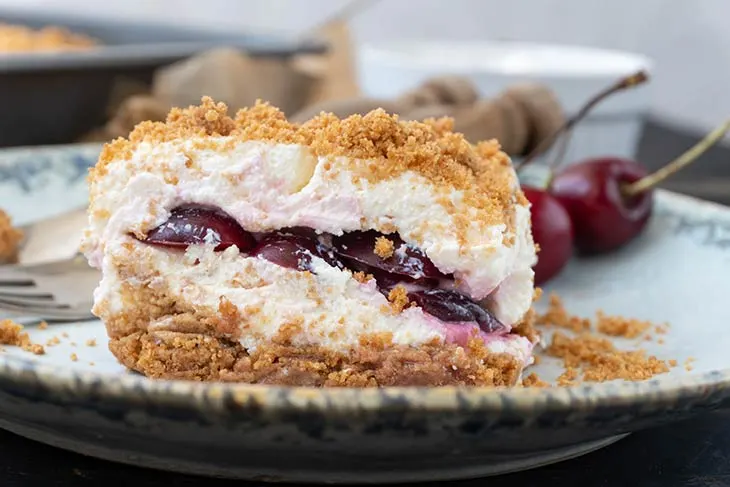 There's nothing easier than this no-bake cherry cake, I swear! It's quick, it's fuss-free and it's extremely delicious. Not to mention it's 100% vegan and healthy too! What's not to love?
Ingredients
12-15 tea biscuits
50g (4 Tbsp) coconut oil
800g (28 oz | 4 cans) vegan yogurt - sweetened, any kind
50g (5 Tbsp) psyllium husks
400g (2 cups) fresh cherries
1 Tbsp coconut sugar
Instructions
Blend the biscuits until crushed. Add the coconut oil and combine.
Use 3/4 of your dough to form the bottom crust in a pan.
Refrigerate for 20 minutes.
If you're using fresh cherries, pit them, slice them in half and cook them with 1 Tbsp of sugar in a pan, over medium heat, for 5-7 minutes.
In a bowl, combine the vegan yogurt and psyllium husk.
Pour half of your yogurt mixture over the crust, refrigerate for 15 minutes, then add the cherries in one layer and cover with the remaining yogurt.
Refrigerate again for 2 hours.
Before serving, sprinkle the remaining biscuit and coconut oil mixture.
Nutrition Information
Yield
12
Amount Per Serving
Calories

130
Total Fat

7g
Saturated Fat

4g
Trans Fat

0g
Unsaturated Fat

2g
Cholesterol

1mg
Sodium

59mg
Carbohydrates

18g
Fiber

4g
Sugar

8g
Protein

3g
I strive to keep the information as accurate as possible but make no warranties regarding its accuracy. I encourage you to make your own calculations using your preferred nutrition calculator.