How about a cold, super delicious, and healthy sweet treat? Here's today's surprise: the best chocolate peanut butter ice cream – all vegan and yummy!
It's finally getting warmer outside. And even if we can't go out quite as often as we are used to at this time of year, we can still enjoy this nice weather from our apartments if we're lucky enough to have a balcony… or even a window!
These being said, observing the nice weather, the green trees, the blue sky, and the sunshine got me in the mood for… you guessed. Ice cream. Because I know of very few combinations that get along so well such as warm weather and a cool portion of ice cream.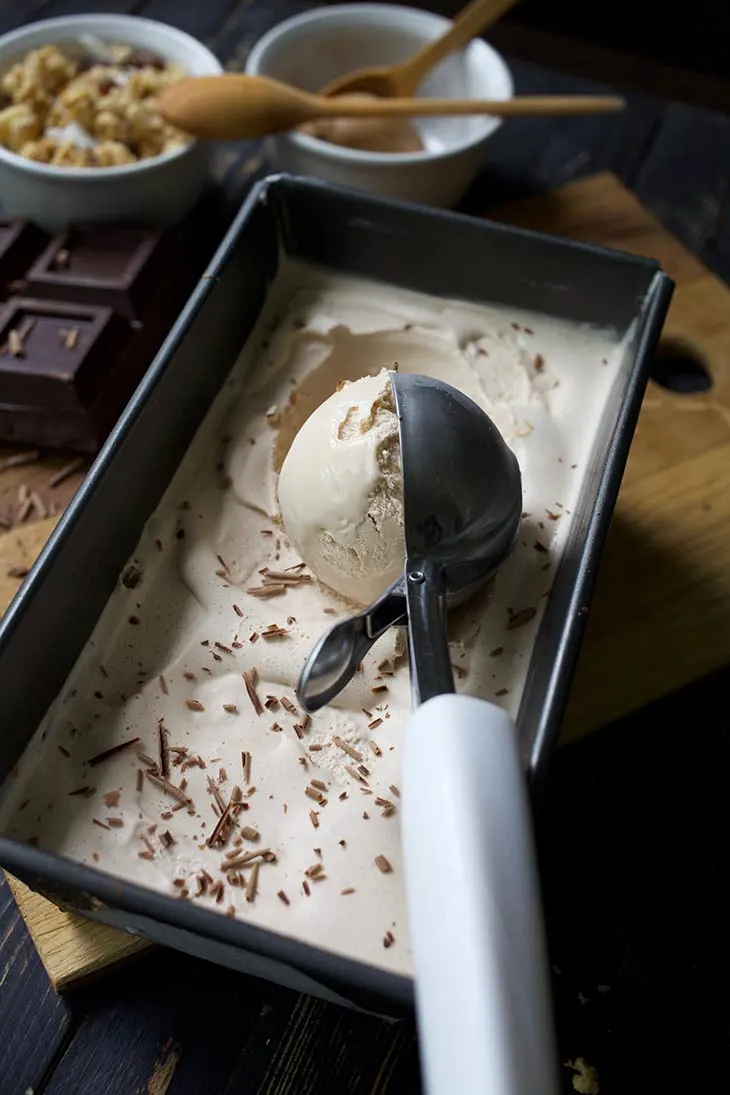 This is one of my definitions of happiness, and I'm sure many others agree with me as well. I mean, ice cream has been around for ages, and for good reason. If people wouldn't have loved it so much, I'm sure it would've disappeared fast.
The history of ice cream is believed to have begun in 500 BC in the Achaemenid Empire of Iran (Persia). So quite a long time ago, right? Anyway, don't think that back then people went around munching on Ben & Jerry's Cookie Dough. They had a different notion of ice cream, which was more of the ice and less of the cream. In other words, what they called ice cream back then was mainly flavored crushed ice.
The Greeks also had an interesting ice cream variation, and that is a bit of snow mixed with honey and fruit. I think that's like something out of a fairytale and I like the image of it a lot.
A lot of these variations occur during history. However, ice cream as we know it became popular around the eighteenth century. And what a blessing this has been, am I right?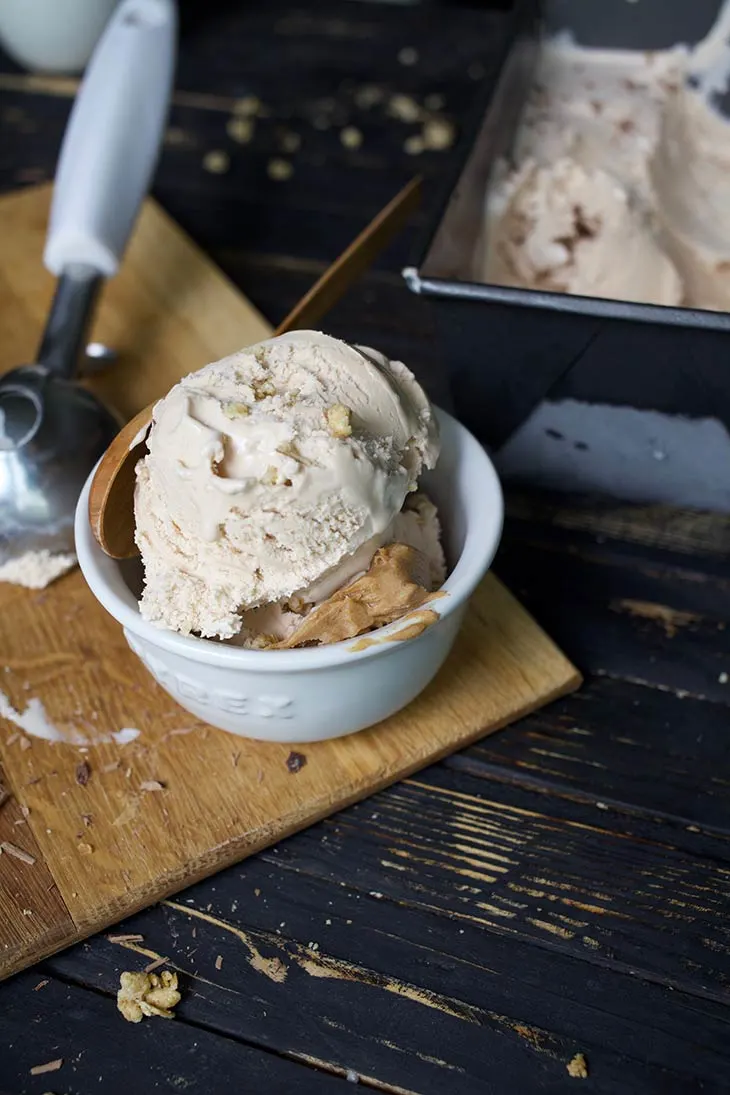 For me, ice cream is among those perfect desserts that are able to turn a gloomy day into a happy, or at least bearable one. What I love most about ice cream, however, is its versatility when it comes to flavors. I think that's why it's so hard to hate.
You can dislike a certain flavor, like, let's say, strawberry ice cream, but I find it nearly impossible to not be able to find a flavor that you are going to love. And, as you probably know by now, I'm a big chocolate fan – always have been! 🙂
Chocolate ice cream is perfect as it is… period. But one sure way to make it better is adding a beloved ingredient that goes perfectly with the richness of the chocolate. And that's peanut butter.
Because chocolate and peanut butter are a match made in heaven, and you can't change my mind about that. This flavor appears to be among other people's favorite, as well, judging by the universal love for Reese's peanut butter cups, just to name one. But have you ever wonder why people love this combo so much?
The scientific explanation would be that our tastebuds simply love when contrasting flavors come together. So just think about it: chocolate has a very sweet taste and an inherent smoothness, while peanut butter has that melt-in-your-mouth texture combined with just the right amount of saltiness. If these aren't contrasting flavors, I don't know what they are.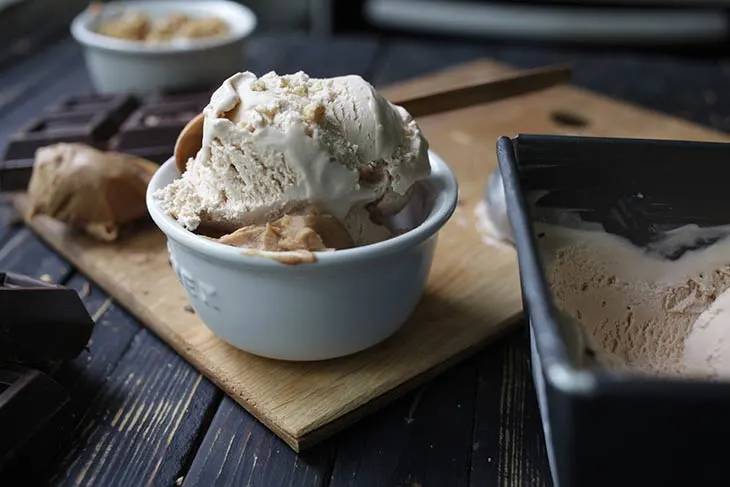 What's safe to say, though, is that my tastebuds love them and that when they come in the form of ice cream, they're even more divine.
This is one of those desserts that you won't be able to get enough of. It's perfect as a 4 o'clock pick-me-up snack, one that's surely going to wake you up and give you that burst of energy. And, of course, it's also wonderful as a rich, decadent dessert.
I like to serve mine with an additional drizzle of natural peanut butter and a pinch of sea salt. I just love that collision of sweet and salty. It's something very reminiscent to a Snickers bar if you're a fan of that.
Other amazing toppings for this ice cream would be caramel syrup or some fruit. My favorite option would obviously be banana. Because banana and chocolate are an amazing combination, and so are banana and peanut butter. So this would be something like an unbreakable trio. If you dislike bananas, though, raspberries and strawberries work amazing, as well in adding a bit of freshness and vitamins to this otherwise decadent dessert.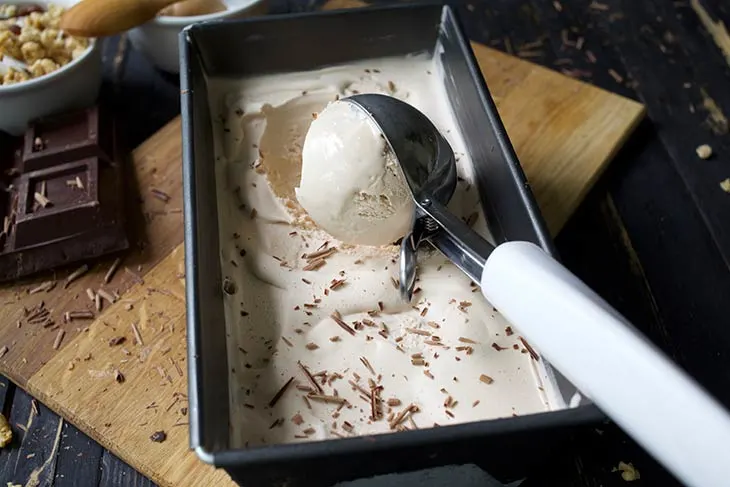 I hope you're going to try this recipe in the next few hot months. If not, you honestly don't know what you're missing! 🙂
---
Personalized meal plans and workout videos | Get your customized meal plan today! [x_button shape="square" size="mini" float="none" target="blank" href="https://shop.gourmandelle.com/?utm_source=mainsite&utm_medium=site&utm_campaign=inpost" info="none" info_place="top" info_trigger="hover"]I WANT A MEAL PLAN![/x_button]
---
Yield: 10-12
Chocolate Peanut Butter Ice Cream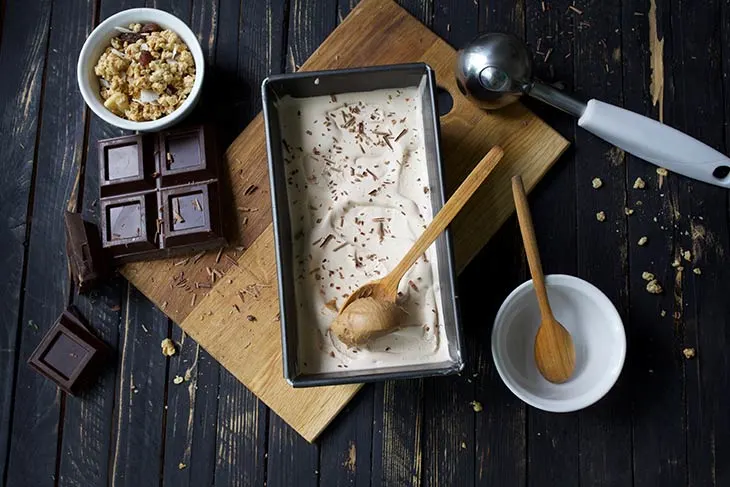 How about a cold, super delicious, and healthy sweet treat? Here's today's surprise: the best chocolate peanut butter ice cream - all vegan and yummy!
Total Time
2 hours
10 minutes
Ingredients
120g (½ cup) peanut butter
2 cans (800g | 26 oz) coconut cream
160g (½ cup) maple syrup
2 Tbsp cocoa powder
1 tsp pure vanilla extract
½ tsp salt
Instructions
Add all the ingredients except peanut butter to a food processor.
Blend until all ingredients are incorporated and the mixture is nice and smooth.
Add the mixture to the ice cream maker and let it spin about 25 minutes.
Add the peanut butter and let it spin for 5 more minutes.
Transfer into a container and freeze for at least 1 ½ hours.
Enjoy with your favorite toppings.
Nutrition Information
Yield
12
Amount Per Serving
Calories

173
Total Fat

7.5g
Carbohydrates

23.7g
Protein

2.5g
I strive to keep the information as accurate as possible but make no warranties regarding its accuracy. I encourage you to make your own calculations using your preferred nutrition calculator.