Here's the perfect summer dessert: strawberry crumb bars! They're super yummy, extremely easy to make and simply addictive!
When it comes to light summer desserts, strawberries come to mind quite often. And for good reason. They're one of those fresh fruits that simply scream "warm weather" and feel good vibes. Plus, they have amazing health benefits, but I'm sure you know that by now.
That's why I chose strawberries to be the main star of the recipe I'm going to share with you today! And that is strawberry crumb bars. 🙂
As their name might suggest, crumb bars are similar to a dessert we call 'the crumble'. A crumble is basically made from a layer of stewed fruit topped with a crumbly mixture of fat (that is usually butter), flour, and sugar. This results in an amazing texture combination, with the fruit being soft and juicy, and the upper layer being crunchy and flaky.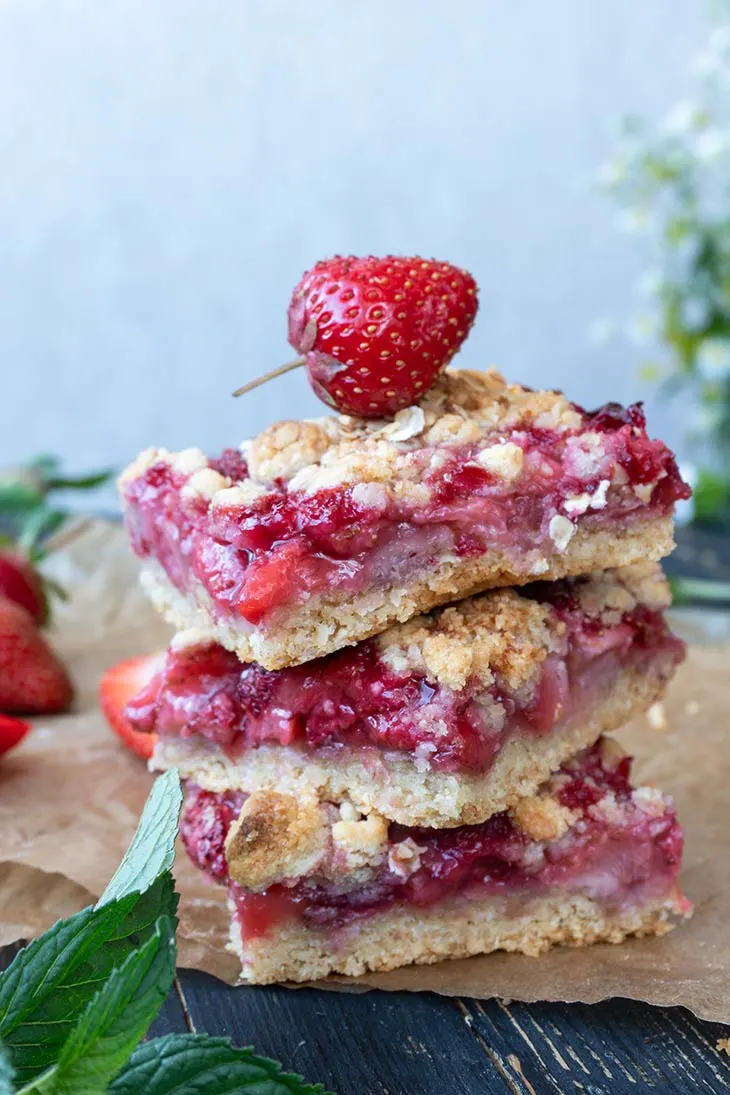 Crumb bars are pretty much the same, just in the form of a bar. Much more convenient.
When warm weather arrives, I just make sure I get my hands on as many fresh strawberries as possible. I love them fresh, or in desserts like this one. I simply love them! 🙂 They're an excellent source of vitamins C and K. They're also packed with fiber, folic acid, manganese, and potassium. Their fiber and fructose content are amazing additions, as they help regulate blood sugar levels by slowing digestion.
The fiber especially is known to help with bowel movement and digestive health as a whole. Strawberries are pretty low in calories as well – a portion of 100 grams providing only 30 calories. So they make for a healthy and diet-friendly snack when eaten on their own. It's true that, when added to desserts, the calorie game really goes through the roof.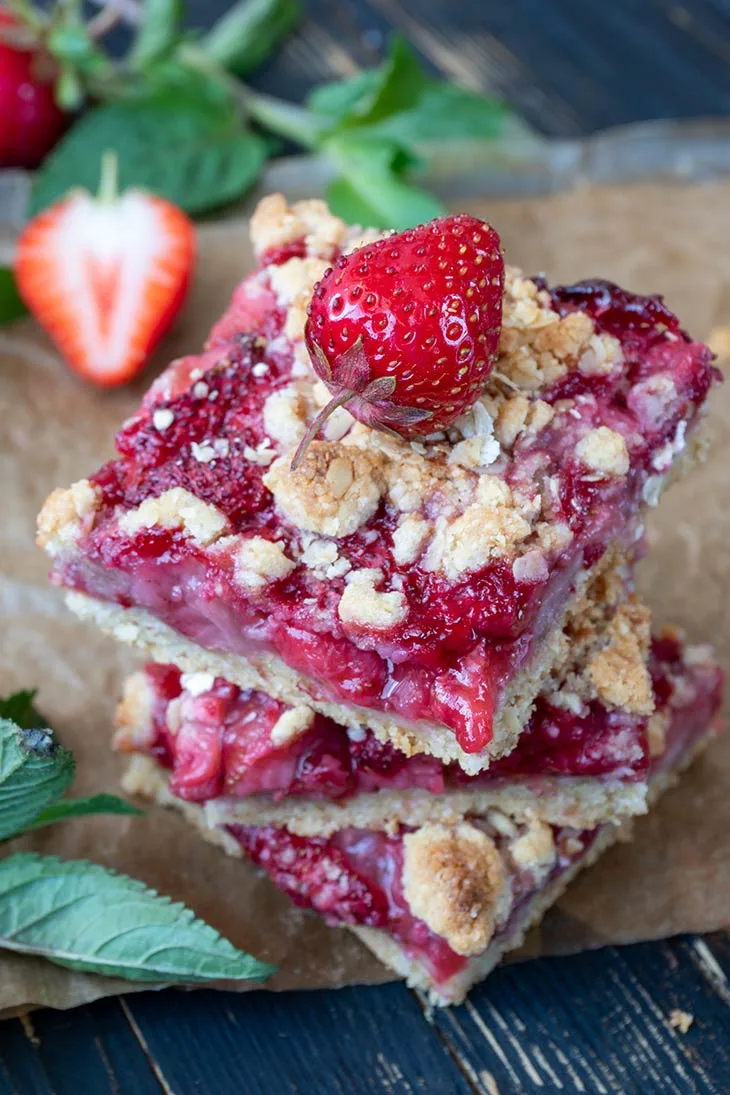 But we need to treat our souls from time to time, and a little dessert, when eaten in moderation, hasn't hurt anybody that I remember of. Plus, a dessert rich in fruit is, I think, better than chocolate alone. At least you get some of those vitamins and health benefits, even though they are sneaked in underneath sugar and flour and all that.
That's why I love these strawberry crumb bars. They feel summery and encapsulate everything good about that strawberry flavor, while giving you that extra kick of energy and happiness that, let's face it, sometimes only a dessert is able to do!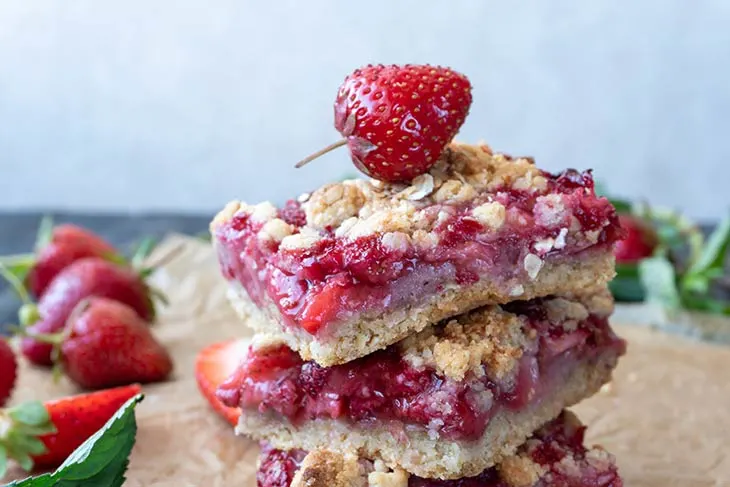 An amazing base for these bars would be something similar to shortbread, if not shortbread itself. So something really buttery, with a melt-in-your-mouth feel to it. And, of course, the crumb itself should have a really buttery and crumbly texture (as its name suggests), otherwise… it's no crumb at all.
This might seem trickier to acquire from a vegan perspective, but trust me, it's not impossible! With a few swaps, we can 'veganize' this luscious dessert in no time at all. And it's going to taste just as great! 😉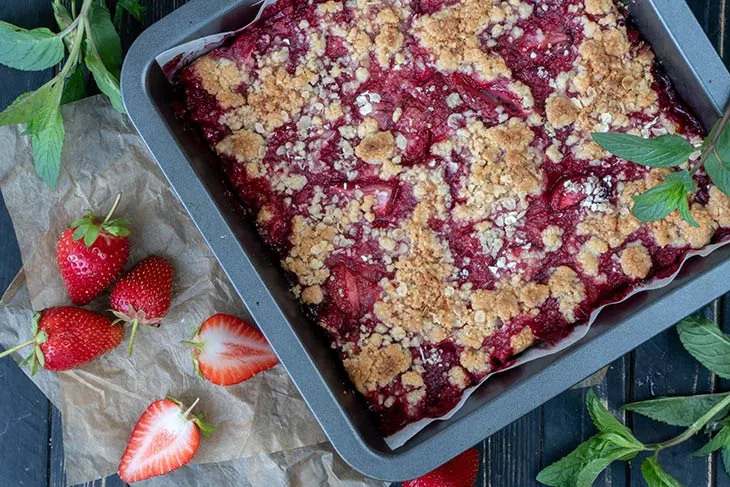 My recommendation is to use fresh strawberries if you have the opportunity. Even though frozen strawberries are picked up fresh to preserve all nutrients, meaning they're just as healthy as fresh ones, they tend to add too much moisture to the crumble, which, in this case, can really ruin the experience. You want your crumble to be moist in the middle, where the strawberry mix is, but not so moist that it makes the base soggy and sad. What we're really looking for is a contrast of taste and texture.
These being said, I cannot stress enough how easy this is to prepare. It's so easy that you can bring your kids to the kitchen to help you out. And this is actually highly recommended, as it teaches children a lot of responsibility. Plus, they're guaranteed to have a lot of fun preparing and eating. And isn't it nice when you're able to put something together from scratch and then marvel at how gorgeous it turned out? Kids are just as easily impressed by this as we are!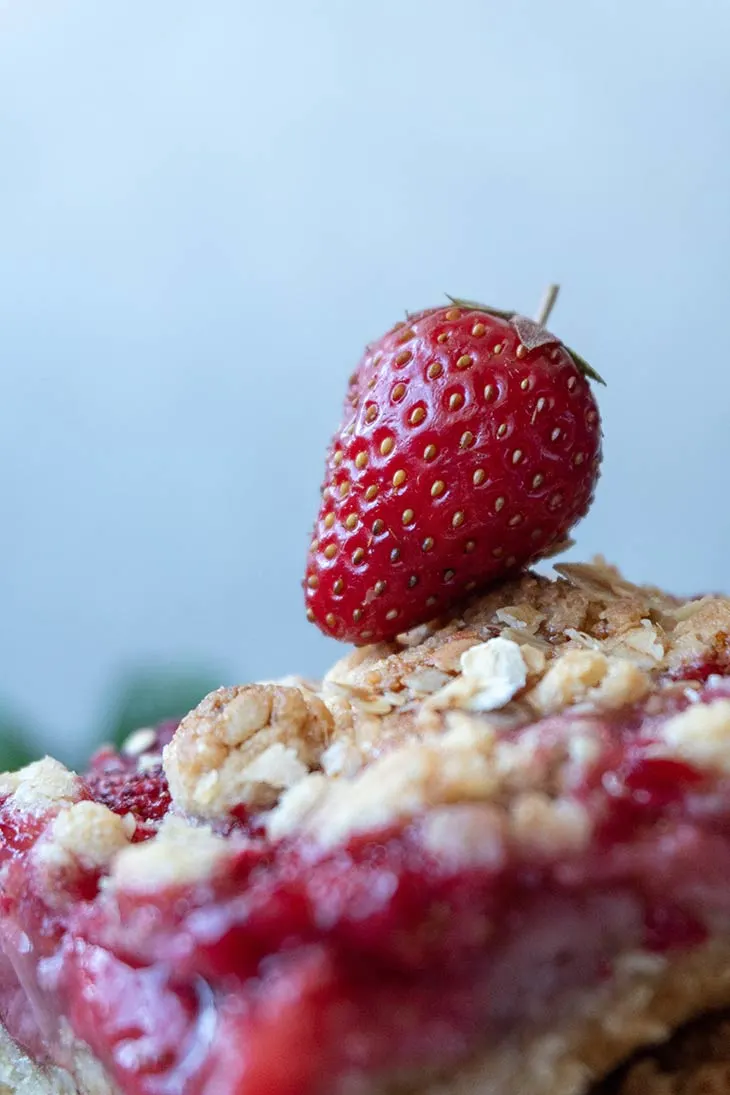 I love serving these strawberry crumb bars as a sweet mid-morning or afternoon snack, with a cup of coffee or Earl Grey tea with milk. I also love bringing them to brunches or picnics and eating them in nature. They keep really well in the fridge, so you can precut them, grab one and go.
Another amazing idea is to pack a bunch and bring them with you next time you go out to work. This way you're going to have a little something sweet which is going to quench that sweet tooth and/or hunger, and you're going to save some money as well by not buying yet another protein bar or cookie from the store.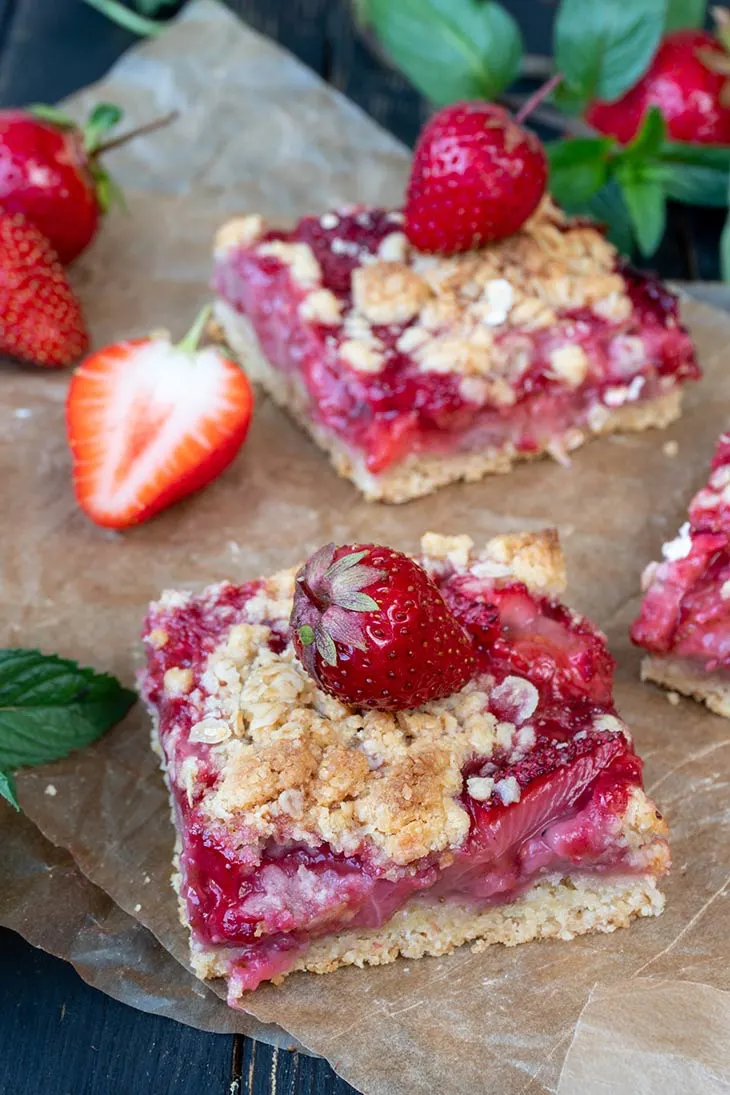 So? Have I convinced you to try this fresh summery dessert? I hope I did! 🙂 And I hope you're going to tell me how much you've liked it!
---
Personalized meal plans and workout videos | Get your customized meal plan today! [x_button shape="square" size="mini" float="none" target="blank" href="https://shop.gourmandelle.com/?utm_source=mainsite&utm_medium=site&utm_campaign=inpost" info="none" info_place="top" info_trigger="hover"]I WANT A MEAL PLAN![/x_button]
---
Yield: 9
Strawberry Crumb Bars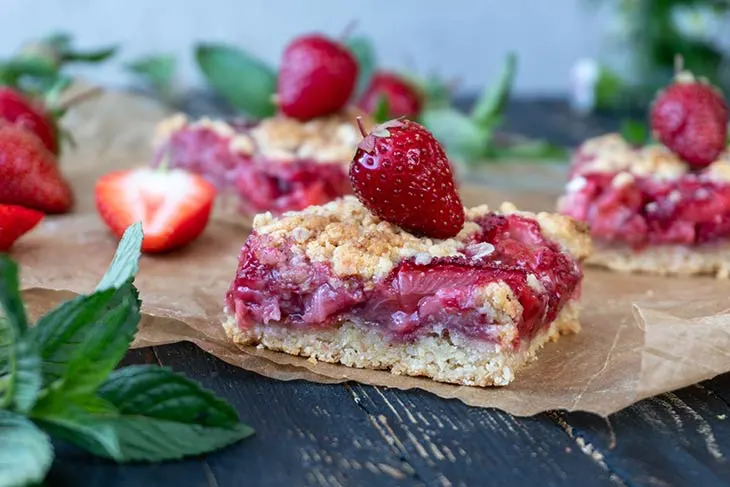 Here's the perfect summer dessert: strawberry crumb bars! They're super yummy, extremely easy to make and simply addictive!
Ingredients
For the dough:
120g (1 ½ cups) oats
110g (1 cup) almond flour
90g (1 cup) ground oats
1 banana
60ml (¼ cup) maple syrup
60ml (¼ cup) coconut milk
2 tsp baking powder
For the filling:
425g (2 ½ cups) fresh strawberries, chopped
1 Tbsp maple syrup
3 tsp lemon juice
5 tsp chia seeds
3 tsp cornstarch
Instructions
Wash and chop the strawberries.
Mix the strawberries with maple syrup, lemon juice, chia seeds, and cornstarch in a saucepan and simmer for 5-7 min on medium-low heat.
Combine all the ingredients for the dough.
Cover the baking dish with parchment paper.
Transfer 3/4 of the dough in the dish.
Press gently with your fingers to make the bottom layer.
Pour the strawberry filling over the crust.
Crumble the rest of the dough on top.
Bake at 180 C for 25 min.
Let it cool before cutting and serving the bars.
Nutrition Information
Yield
9
Amount Per Serving
Calories

141
Total Fat

2g
Saturated Fat

0g
Trans Fat

0g
Unsaturated Fat

1g
Cholesterol

2mg
Sodium

129mg
Carbohydrates

29g
Fiber

2g
Sugar

9g
Protein

4g
I strive to keep the information as accurate as possible but make no warranties regarding its accuracy. I encourage you to make your own calculations using your preferred nutrition calculator.