Chocolate fan? I have a surprise for you! Here's how to make the most delicious and healthy double chocolate Swiss roll. It has an intense chocolate flavor, you'll love it!
Let's talk desserts a bit, as I'm quite sure you know I'm a pretty big fan.
We all have a sweet tooth sometimes. For some it might happen every once in a while; for others, it might happen every single day. Desserts are a pretty important part of our lives as human beings. They bring happiness and comfort, and, believe it or not, they also come with a bunch of mental health benefits. Yet we are taught to push our sugar cravings aside, to never give in, to never allow pleasure. I disagree with that entirely! 🙂
While I think it's super important to not rely solely on dessert all day long, and have some fruits, veggies, and 'real food', I think it's extremely important to make room for pleasure when it comes to your tastebuds. For some people, this means enjoying a little something sweet. And your mental health is safe as well!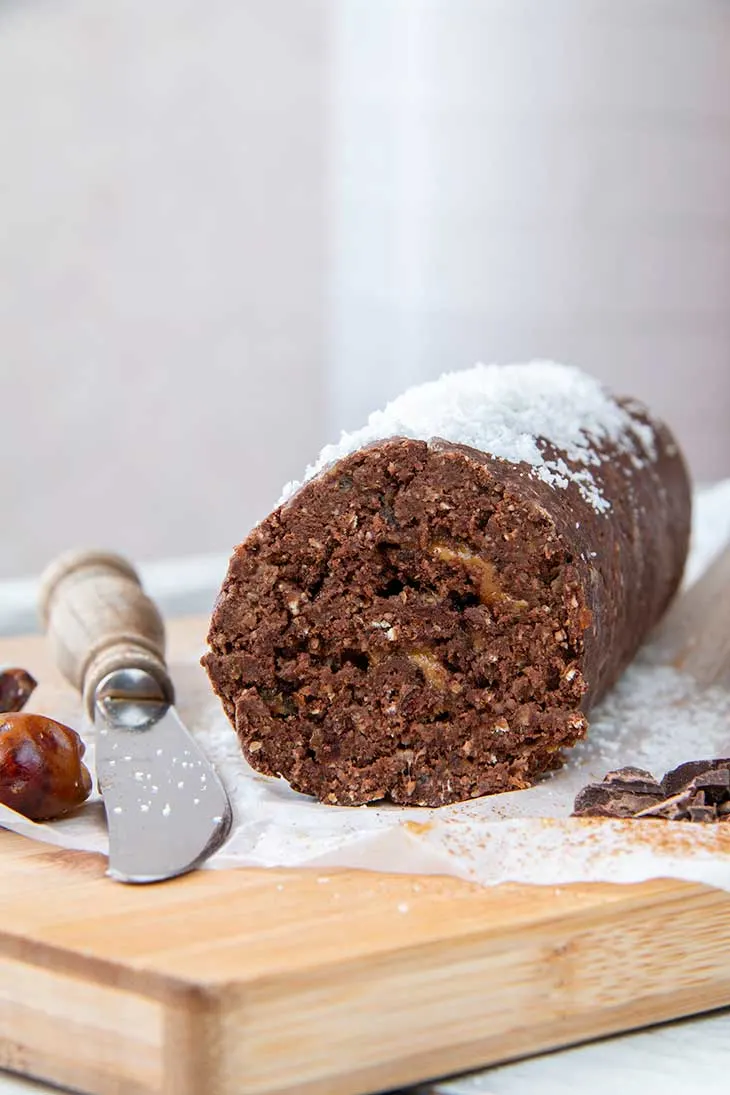 For a lot of us, sweets fuel our happiness – quite literally. Every time we eat something sweet and enjoy it tremendously, our brains release huge amounts of dopamine – the happiness chemical. However, with huge amounts of sweets, our dopamine levels tend to go down as fest as they went up – hence the well-known sugar crashes. So always keep moderation in mind, and you shall be fine.
I wanted to make this introduction for yet another decadent dessert (and a favorite of mine): the double chocolate Swiss roll. Yep, this is as delicious as it sounds like. I'm pretty sure by now you are aware of my love for Swiss rolls – in the past, I've made a version with vanilla, and one with carrot cake, both of which turned out amazing! That's why I can't stop trying these out in different flavors.
And what more beloved flavor than chocolate? Who doesn't love that, am I right? 🙂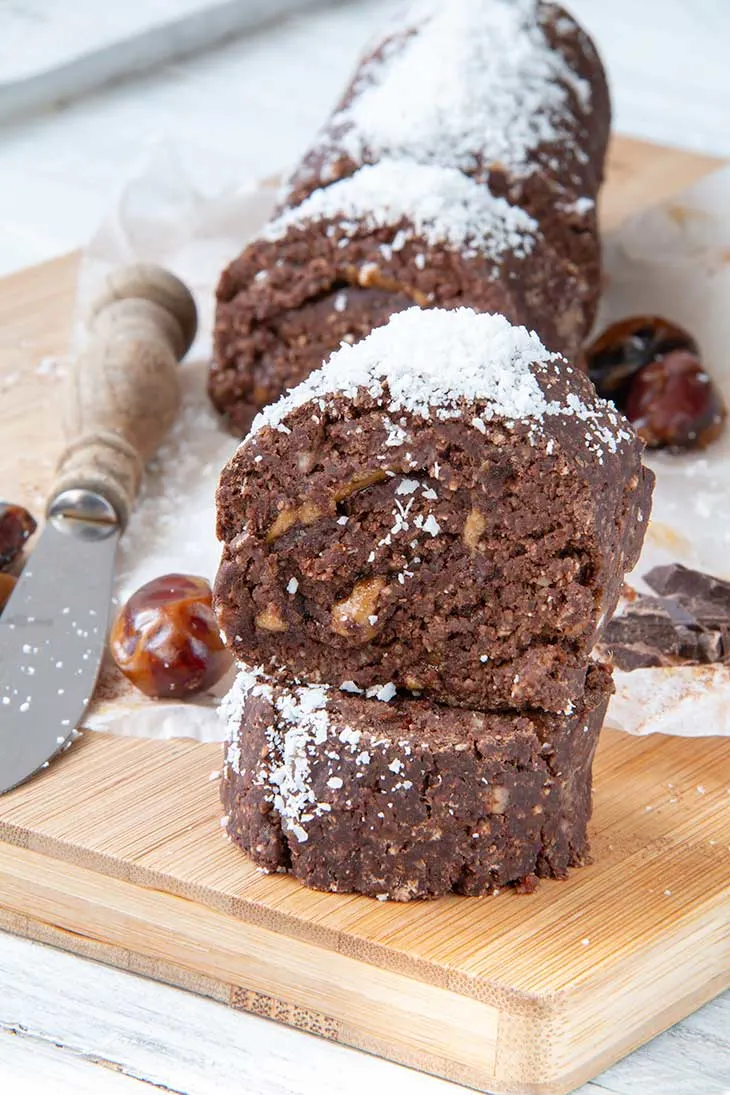 I love chocolate so much that I chose to double it up in this recipe. That is, to use it for both the airy sponge cake sheet and for the filling. It turned out so rich and decadent that I couldn't wait to share it with you. It's filled with an airy cream, more like a chocolate mousse, which allows it to be sweet, but not extremely sweet, still keeping that subtleness so characteristic for a Swiss roll.
Guys, it's so light and airy, it's absolutely perfect! 🙂 I find it amazing as a 4 o'clock pick-me-up. Because let's be honest, a few things are better than a bit of chocolate in the afternoon, when you've probably reached the maximum of your ability to focus on work. I guess it would also be amazing to serve during Fika – a nice Swedish tradition that invites people to take a break midmorning and have a little something sweet.
As I said at the beginning of the article – it's all about moderation. A little goes a long way with this dessert. It's so rich and creamy that, if you focus on the little slice you've put yourself on the plate, you won't really feel the need for seconds. It's all about cherishing the present moment and trying to really taste the food. And chocolate works amazing for that!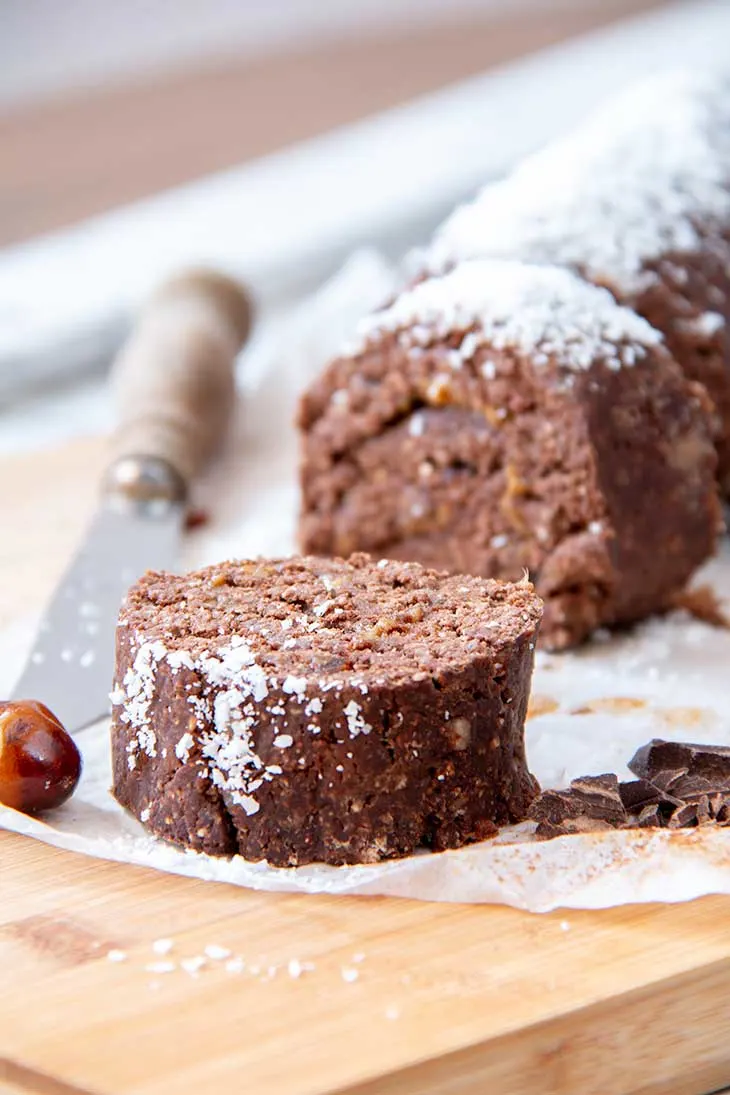 You can go a step further with this dessert and decorate it really pretty. One option is making a chocolate ganache that you can either pour all over on top or place inside a piping bag and drizzle on top. You can also get a little fancier and make two ganaches, one from dark (or milk) chocolate, and one from white. You can then drizzle those alternatively on top of your Swiss roll. The result is going to be really beautiful.
Last but not least, let's talk about serving this. If you're going to a family gathering or brunch, it's going to make a spectacular appearance as it is. But you can also take this a step further by serving it on a fancy platter and placing fruit and candy all around it. The best fruit option would obviously be strawberry, aesthetic, and taste-wise. Strawberries and chocolate are a match made in heaven.
As for sweets, you can place fancy bonbons on top, Oreos, or chocolate pieces. This would obviously make for a more decadent and calorie-dense dessert, but hey, we all need those every once in a while! I wouldn't mind having this Swiss roll as a birthday cake, either. 🙂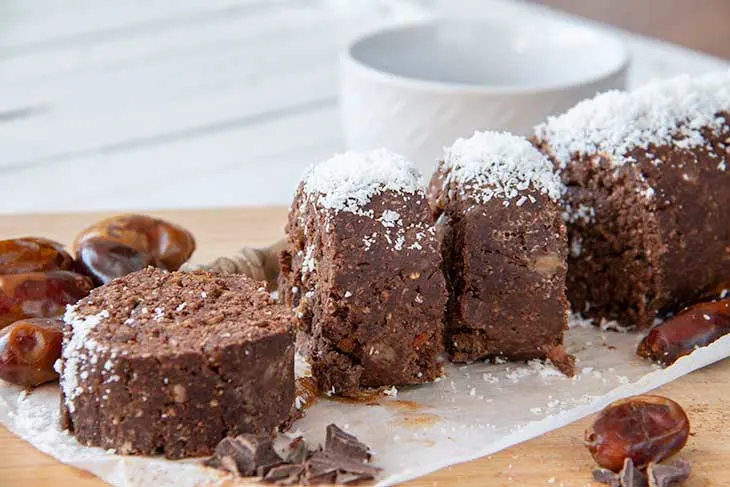 Well? Have I convinced you to try out yet another Swiss roll recipe? I hope I did! If yes, have fun in the kitchen and tell me if you liked this or not!
---
Personalized meal plans and workout videos | Get your customized meal plan today! [x_button shape="square" size="mini" float="none" target="blank" href="https://shop.gourmandelle.com/?utm_source=mainsite&utm_medium=site&utm_campaign=inpost" info="none" info_place="top" info_trigger="hover"]I WANT A MEAL PLAN![/x_button]
---
Yield: 6-8
Healthy Double Chocolate Swiss Roll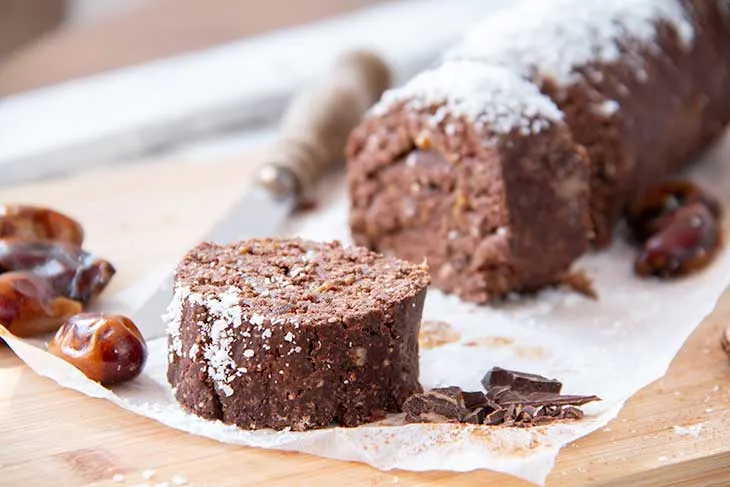 Chocolate fan? I have a surprise for you! Here's how to make the most delicious and healthy double chocolate Swiss roll. It has an intense chocolate flavor, you'll love it!
Ingredients
For the dough:
90g (¾ cup) ground almonds / almond flour
70g (¾ cup) oat flour
10 dates, pitted
1 ripe banana
¾ tsp vanilla extract
25g (¼ cup) cocoa powder
For the chocolate cream:
170g (¾ cup) coconut cream
75g (¾ cup) cocoa powder
60ml (¼ cup) maple syrup
Pinch of salt
Instructions
In a food processor, combine the almonds, oat flour, dates, banana, vanilla extract and 1/4 cup cocoa powder.
Pulse together until a dough is formed.
Spread on a tray or parchment paper about 1-1,5cm thick and cool for 30 mins.
Prepare your filling: combine the coconut cream, cocoa powder, and maple syrup with a pinch of salt.
Spread over your dough and roll.
Refrigerate for a few hours to overnight.
Nutrition Information
Yield
8
Amount Per Serving
Calories

380
Total Fat

17.2g
Carbohydrates

46.7g
Protein

9.3g
I strive to keep the information as accurate as possible but make no warranties regarding its accuracy. I encourage you to make your own calculations using your preferred nutrition calculator.