Enjoy the most delicate and fragrant rose petal jam, following this simple and easy recipe. Explore the guide and tips below.
Today I will share with you one of my favourite jam recipes. I would even say that this is by far my favourite jam, being followed quite closely by peach and apricot jam.
Three years ago, when I started gardening, I knew that I had to plant jam roses to be able to enjoy their fragrance in syrups, jams, and teas. If in the first 2 years since planting, the harvest was poor, this year I am blessed with an abundance of rose petals. The two Damask rose bushes I currently have (+4 more planted this year) give me between 6-10 gorgeous flowers weekly, which I turn into jam or dehydrate for teas and kombucha.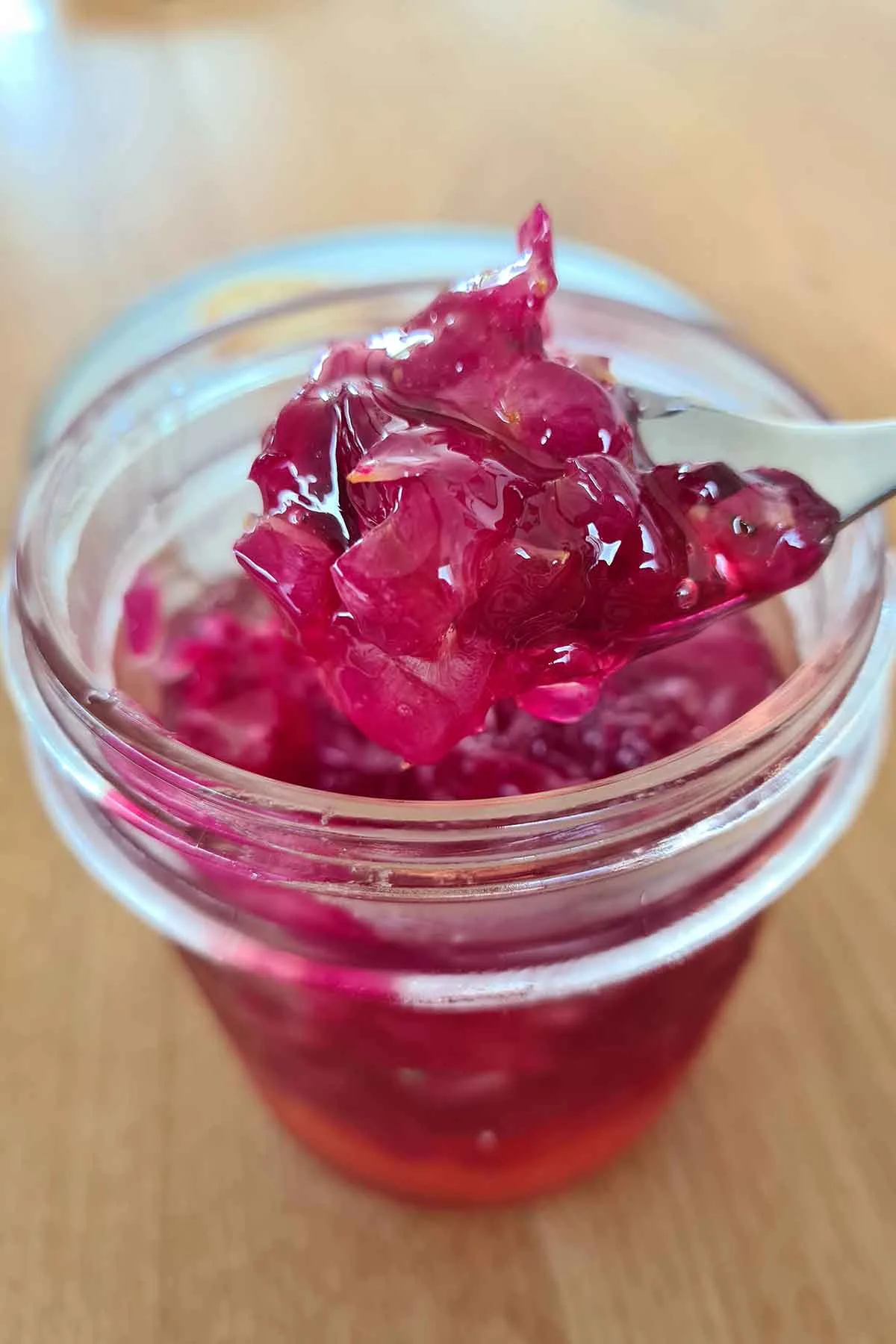 This plant is a miracle, I absolutely love its smell and flavour. I will also explore its cosmetic uses, such as rose oil or rose water, but until then, I wanted to share with you this amazing rose petal jam dessert.
So, if you have the wonderful jam rose at your grandparents, friends or even in your garden, get some and make this recipe. Here's how simple and easy it is to make this rose jelly. It is the simplest and fastest floral jam that you can prepare!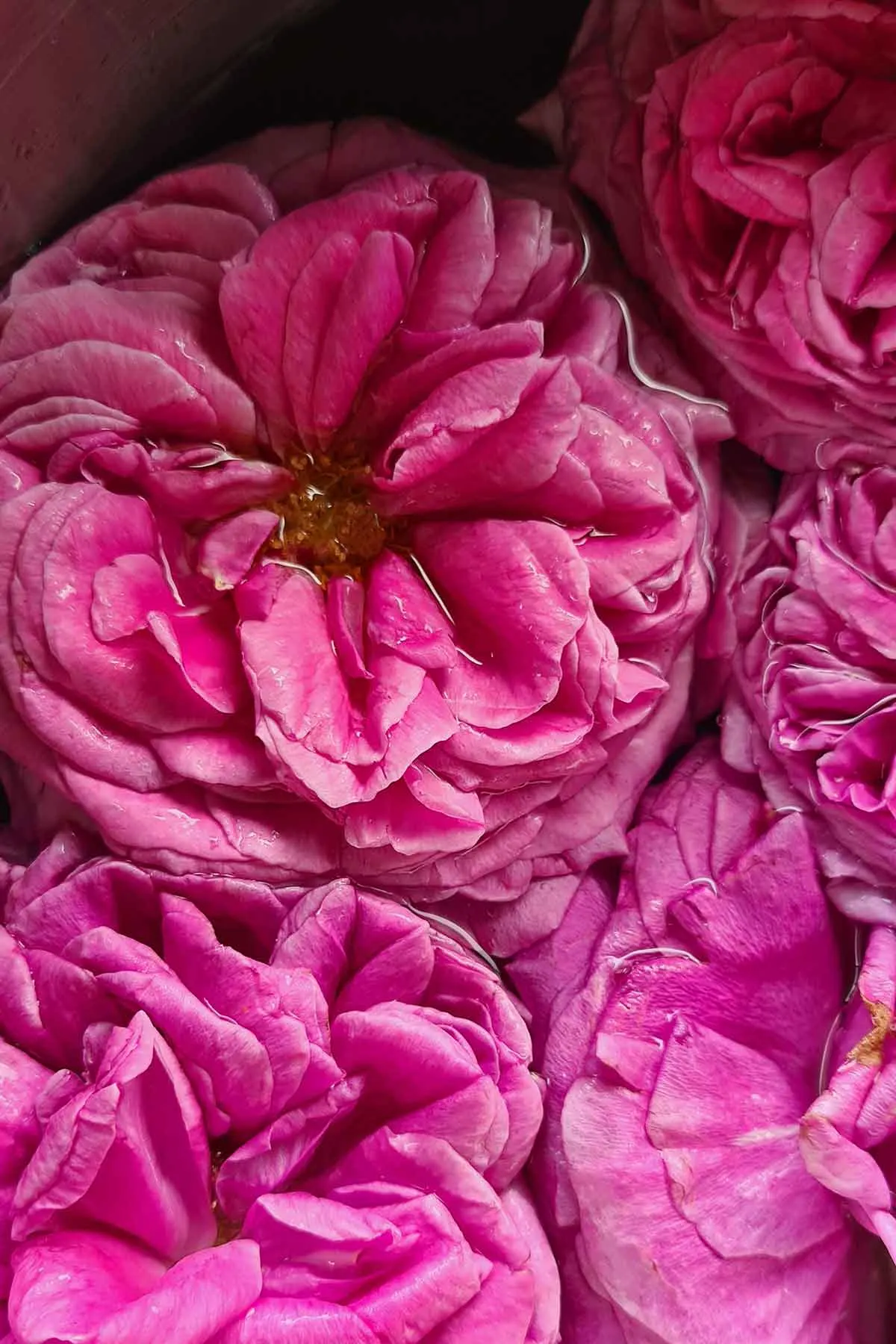 The origin and history of rose petal jam
Let's take a short trip through time and discover the origin and history of rose petal jam, a refined recipe with a rich history that has been prized throughout the centuries in many cultures and regions.
Since ancient times, rose petals have been considered precious treasures in the kitchens of the Middle East and South Asia. The regions of Persia and India played an important role in the development and spread of this delicacy. In Persia, rose petal jam was considered a symbol of refinement and hospitality, being served during festivities and special events.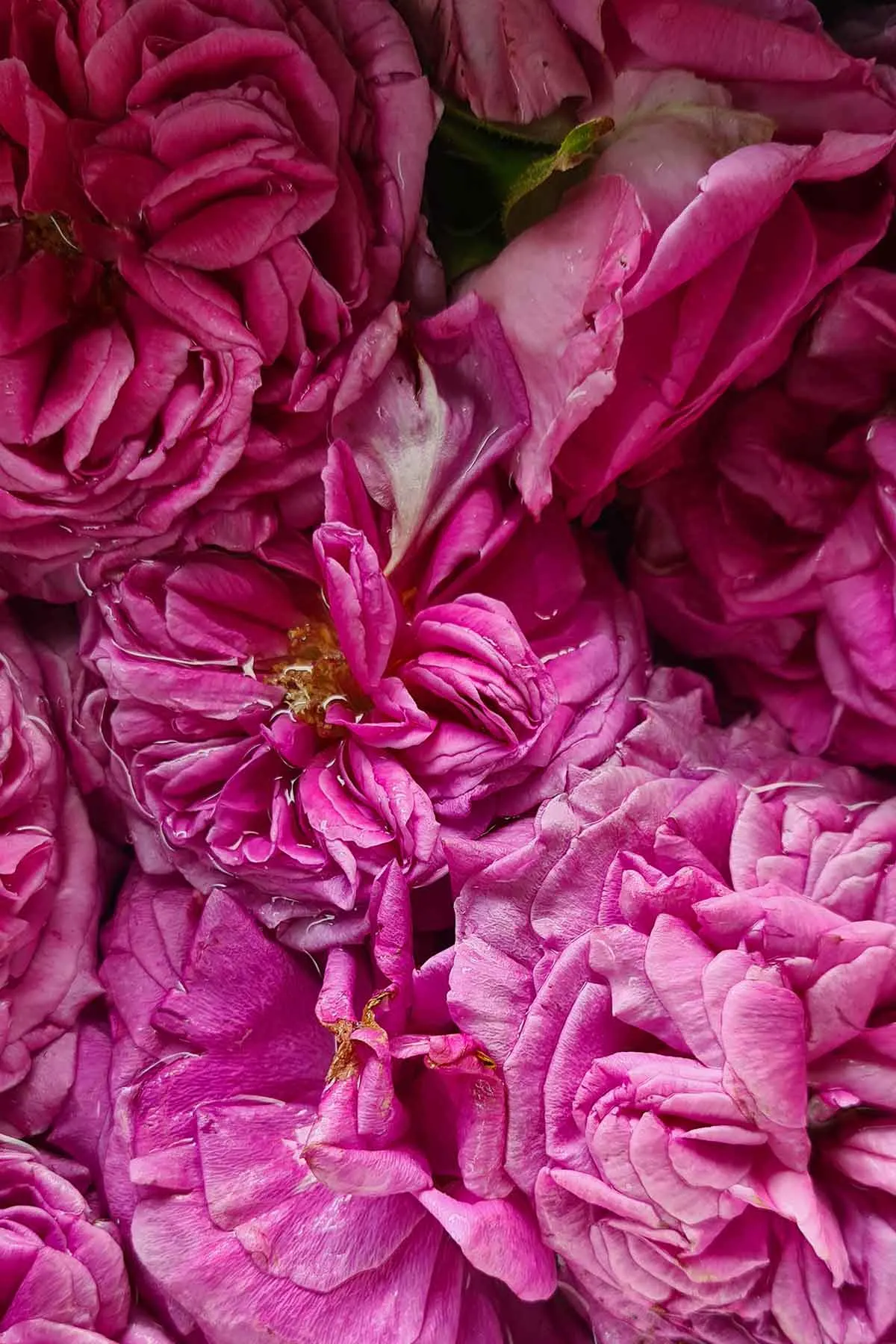 In Indian culture, rose petal jam, known as "gulkand", is a popular ingredient in traditional Ayurvedic medicine. It is believed to have calming and cooling properties, being used to balance the body's energy, and stimulate the immune system. Gulkand is often served as a dessert or added to drinks and sweets.
Over time, this delicacy has travelled to other parts of the world, captivating the hearts of gastronomy enthusiasts. Today, rose petal jam is appreciated in many cultures and regions, from France to the Middle East and to North America. It is a versatile ingredient, used in cakes, cookies, ice cream, teas or even in sophisticated cocktails.
Thus, whether we enjoy the sweetness of rose petals for its subtle and fragrant taste or for its health benefits, this delicacy has an impressive history and brings us today a connection with ancient traditions and passion for gastronomy.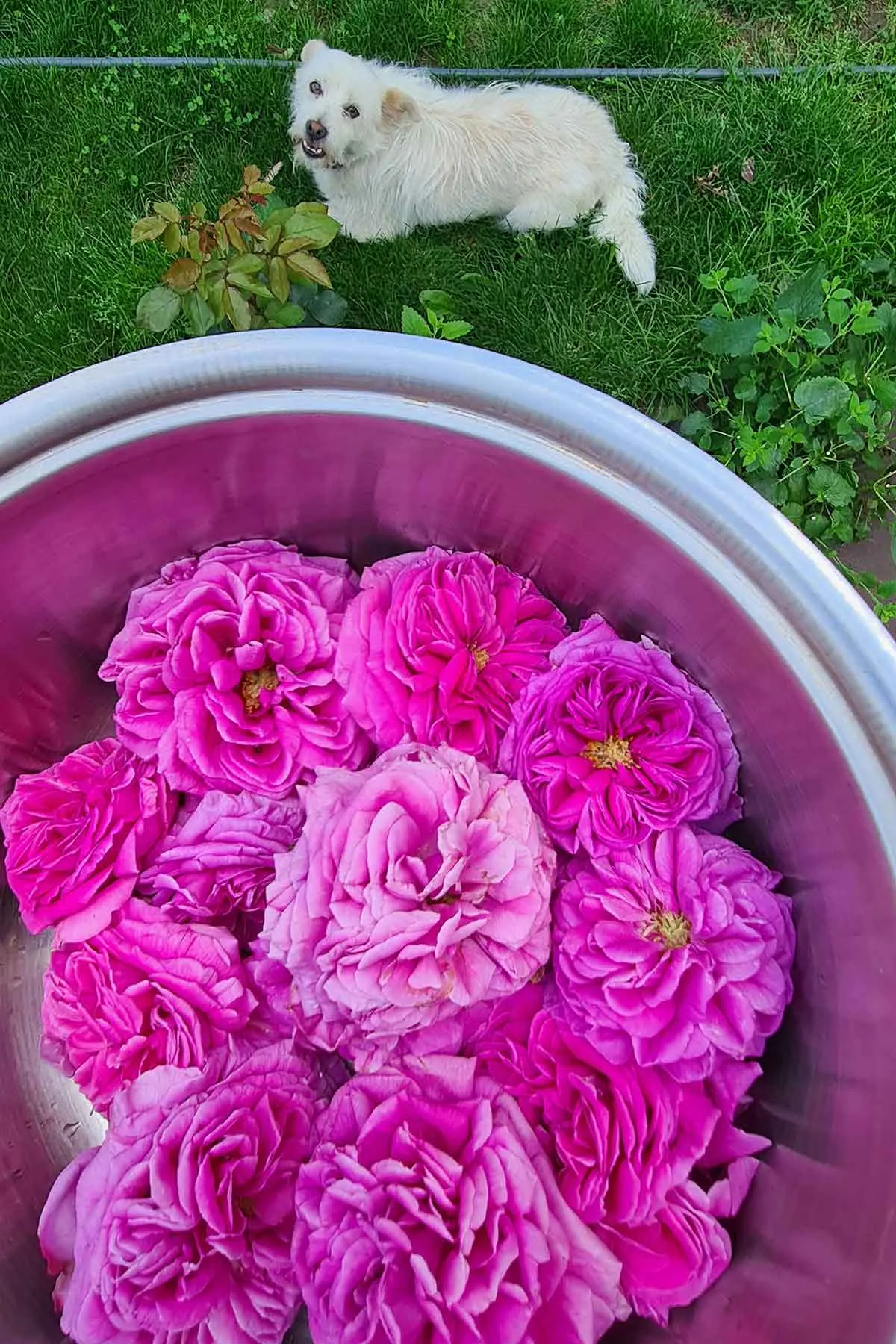 Edible rose nutritional properties
Rose petals are not only beautiful and fragrant, but also have several health benefits that turn them into real nutritional and therapeutic treasures. These delicate flowers contain an impressive range of nutrients and antioxidants, which can support the immune system and promote well-being.
One of the most notable benefits of rose petals is their rich content of essential vitamins and minerals. These include vitamin C, vitamin A, vitamin E and vitamins from the B complex. Vitamin C is a powerful antioxidant that helps protect cells against free radicals and supports the immune system. Vitamin A is essential for skin and eye health, while vitamin E contributes to protecting cells and maintaining heart health.
Antioxidants present in rose petals, such as flavonoids and polyphenolic compounds, have been associated with several health benefits. They have the potential to reduce inflammation and oxidative stress in the body, thus reducing the risk of chronic diseases, such as heart disease and cancer.
Also, rose petals can have calming and relaxing effects on the nervous system. Their delicate aromas can help reduce stress and anxiety, promoting a state of well-being and inner peace. That is why rose petals are often used in aromatherapy and in the preparation of soothing teas and infusions.
It is important to mention that when you use rose petals in culinary preparations or in natural remedies, it is recommended to make sure that they come from safe sources, without chemical treatments or pesticides. Opt for organic or naturally grown petals to benefit from all their healthy properties.
Therefore, rose petals are not only a pleasure for the senses, but also a valuable ally for our health. Whether you add them to teas, compotes, or jam, rose petals can contribute to a balanced diet and promote general well-being.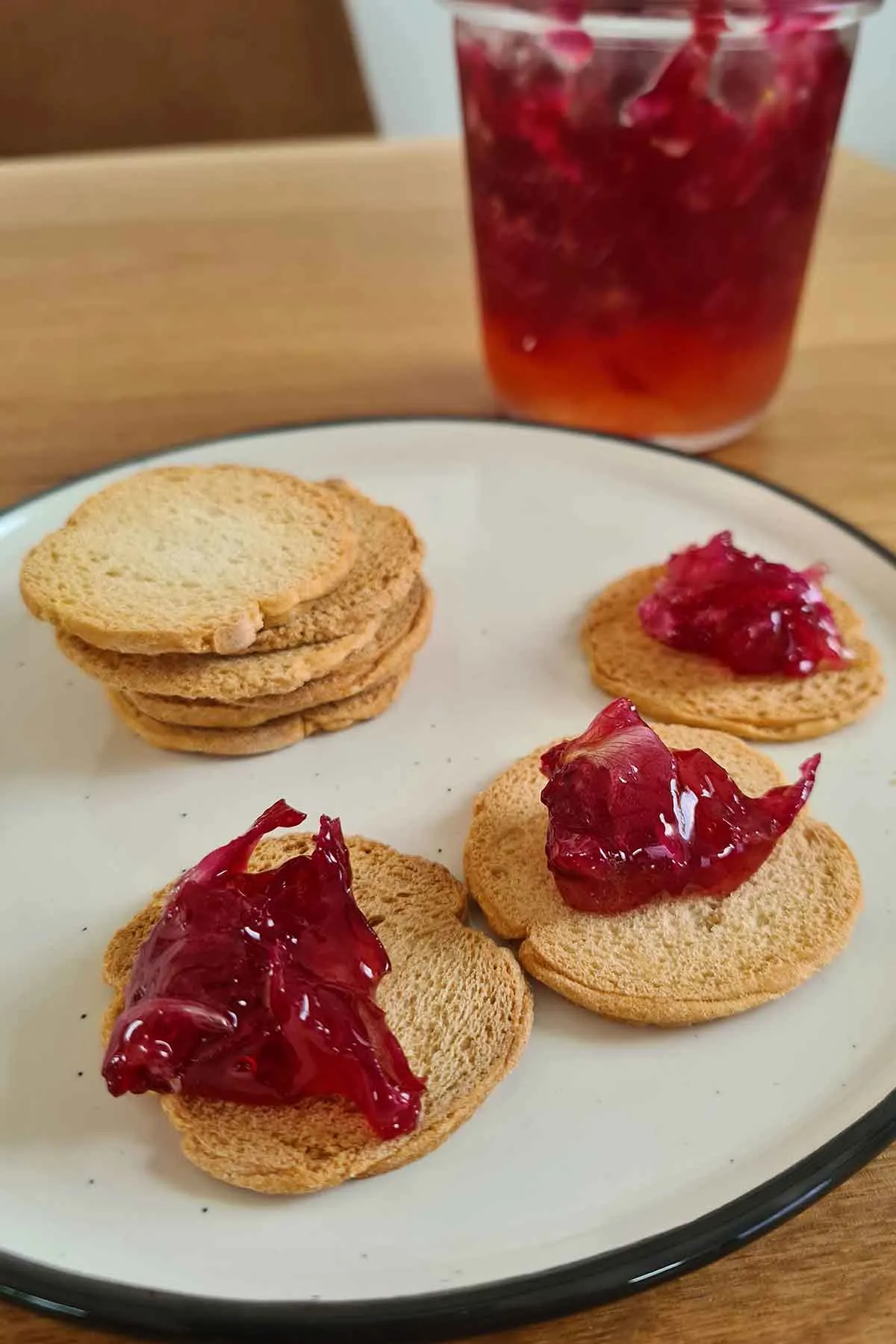 How to select and prepare rose petals
I used Damask roses, special for sweetness, which I planted permanently to be consumed like this 2 years ago. However, there are other types of sweet roses that you can grow.
When it comes to selecting and preparing rose petals to use in jam recipes or other culinary preparations, it is important to choose carefully and make sure that the petals are fresh, not chemically processed and suitable for consumption.
Here are some detailed instructions for the correct selection and preparation of rose petals:
Choose fresh petals: Try to get rose petals that have not been chemically treated or exposed to pesticides. Opt for reliable sources, such as health food stores or personal gardens, where you can be sure that the petals are grown naturally and do not contain harmful chemicals.
Rinse the rose petals: Before use, carefully wash the rose petals under cold water. This will help remove any impurities or small insects that may be on the petals.
Prepare the petals: After washing them, you can cut the base of the petals to remove the white and bitter part. Mature rose petals can have a more intense aroma, but you can choose to use younger, less bitter petals for a more delicate taste. I skipped this step and simply plucked the petals and used them whole.
Avoid artificially scented rose petals: Some rose petals are treated with artificial flavors to enhance their fragrance. If you want to use the petals in a recipe, avoid the petals that have an intense and artificial smell, because they can alter the taste and quality of the final preparation.
Keep the petals in proper conditions: After you have prepared them, you can keep the fresh petals in an airtight container, in the refrigerator, to maintain their freshness and aroma until use.
By selecting and preparing rose petals correctly, you will be able to enjoy their true aroma and benefit from all their nutritional properties in your jam recipes or other culinary preparations.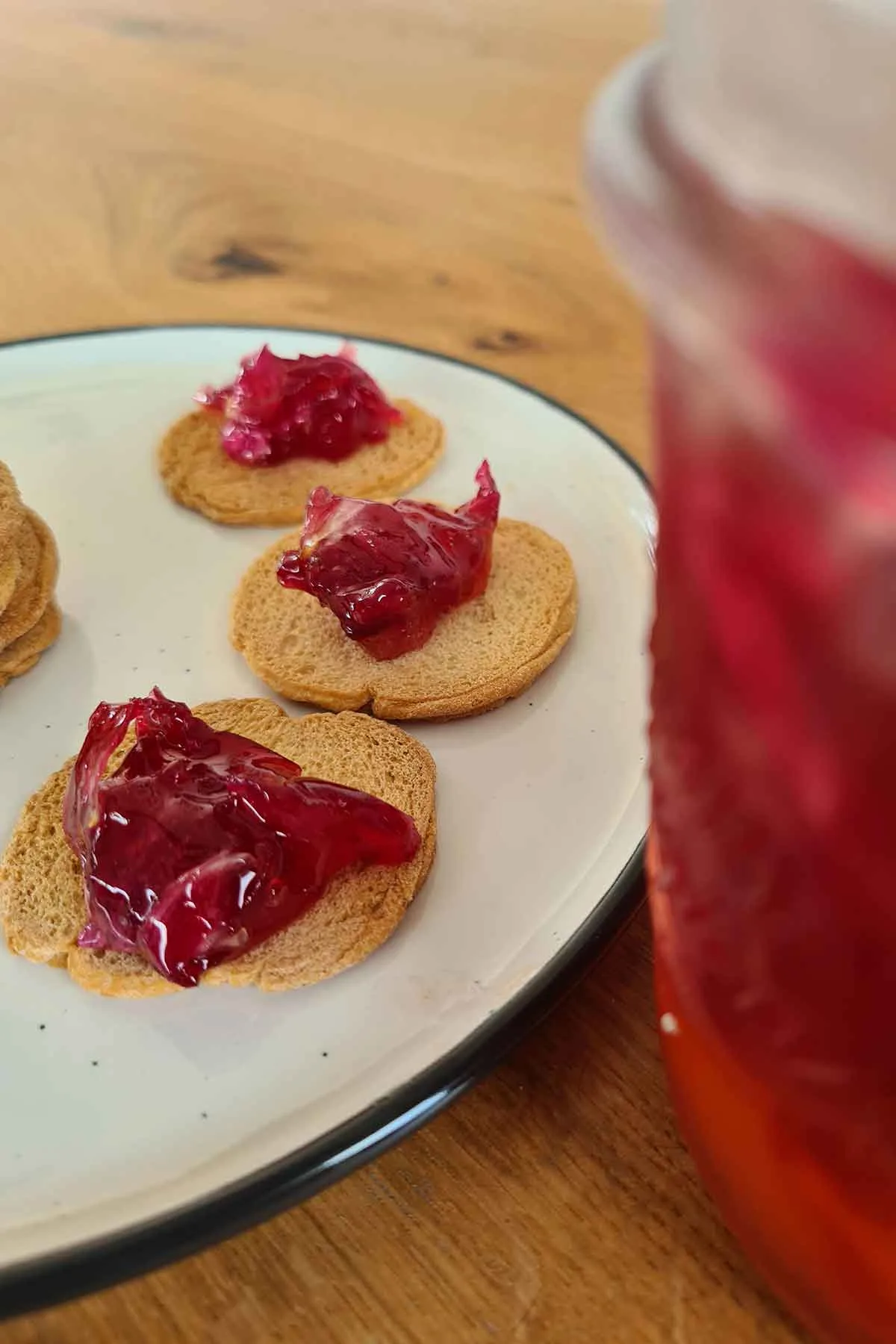 How to use rose petal jam in cooking
Rose petal jam can be used in a variety of creative ways, bringing a delicate taste and subtle fragrance to different dishes. Here are some ideas for the use and variation of this delicious sweetness:
Cakes and desserts: Add rose petal jam to the dough for cakes or cookies to give them a refined floral touch. You can use the jam as a filling for tarts, eclairs or layered cakes.
Teas and drinks: Mix a spoonful of rose petal jam into hot tea to add a sweet and aromatic taste. You can also prepare a rose tea by infusing the petals in hot water. You can also add sweetness to smoothies, lemonades or cocktails to give them an elegant floral note.
Glazes and sauces: Use rose petal jam as a base for cake or biscuit glazes. You can mix the jam with lemon juice and a pinch of sugar to get a refined and aromatic sauce to accompany desserts.
Ice cream and cold desserts: Add rose petal jam to the ice cream mix to give it a delicate aroma and a romantic pink tinge. You can use the jam as a topping for ice cream, along with thin slices of fresh roses.
Pastries and bakery products: Experiment by adding rose petal jam to the dough for muffins, bread or pancakes to obtain a subtle aroma and an attractive appearance.
Yogurt: Mix rose petal jam into yogurt to create a simple yet elegant dessert. You can also add fresh fruit and almond flakes for an interesting contrast of textures and flavors.
These are just a few examples of uses and variations of rose petal jam. Be creative and dare to experiment in the kitchen to discover new and delicious combinations. With the sweetness of rose petals, you have a whole range of culinary options to pamper your senses and delight your taste buds.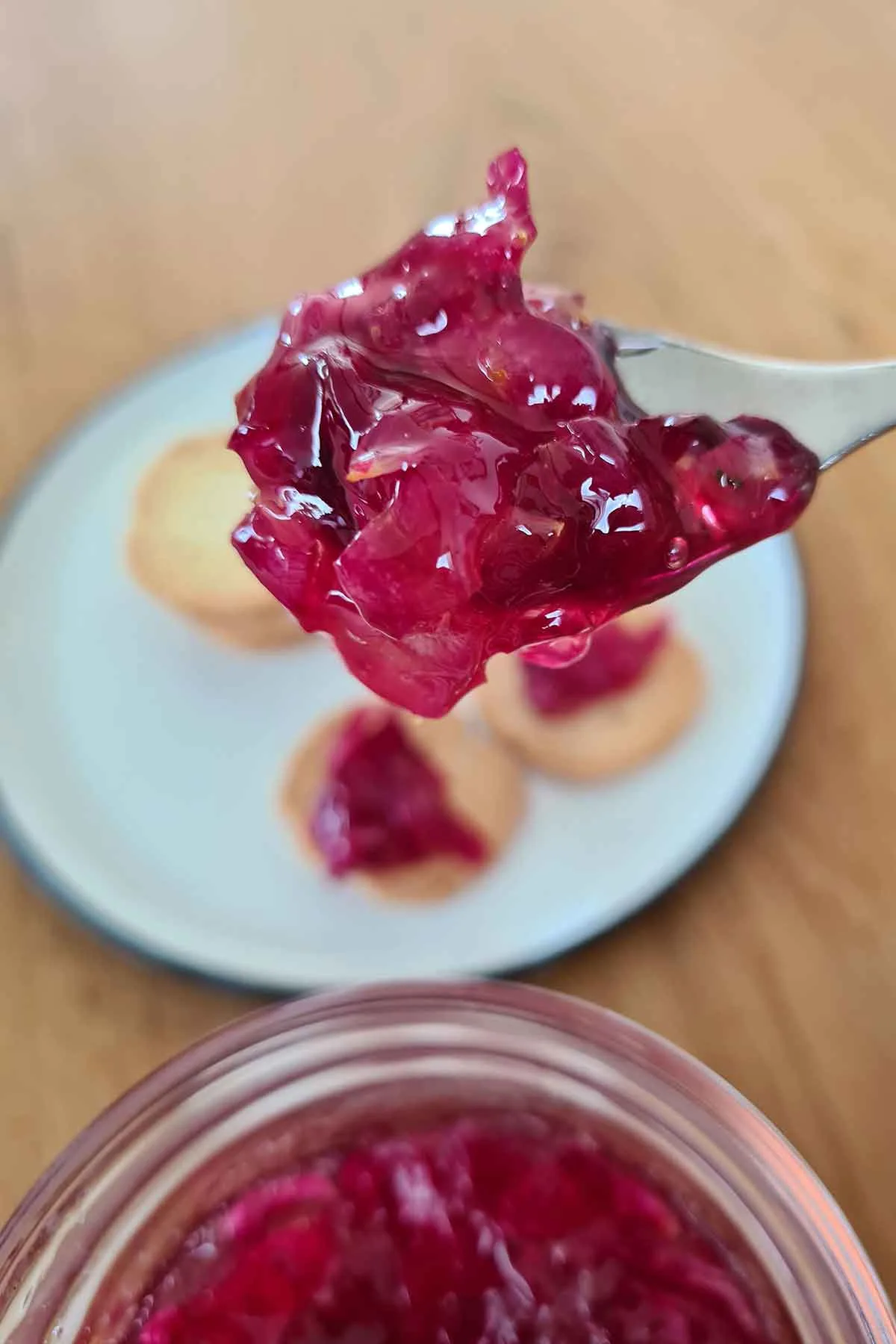 Tips for storing and preserving rose jam
In order to enjoy the freshness and intense taste of rose petal sweetness in the long term, it is important to store and preserve it correctly. Here are some useful tips in this regard:
Choose appropriate containers: Opt for glass jars with airtight lids to store rose petal jam. Make sure the jar is clean and dry before using it. Being a delicate dessert, use small jars.
Label the jars: Before putting the jam in the jars, label them with the date of preparation. This will help you track how much time has passed since preparation and consume the jam before the taste and quality deteriorate.
Store in a cool and dark place: To maintain the intense taste and its properties, rose petal jam should be kept in a cool and dark place, such as a cupboard or a pantry. Exposure to light and heat can lead to the degradation of aroma and taste.
Avoid moisture: Make sure that the rose petal jam and the jars are completely dry before sealing them tightly. Moisture can favor the development of mold and spoilage.
Check the jam before consuming it: Before using the rose petal jam, check the appearance and smell. If you notice any sign of deterioration, such as a change in color or the development of mold, it is advisable not to consume it and throw the product away.
Follow these tips and you will be able to keep the rose petal jam fresh and tasty for a longer period. Thus, you will always have this delicious delicacy at hand to add it to various recipes or to enjoy it as such.
I hope this step by step guide for making rose jam will help you get the best, most fragrant and vibrant results! Here are some photos from the whole process below. Enjoy!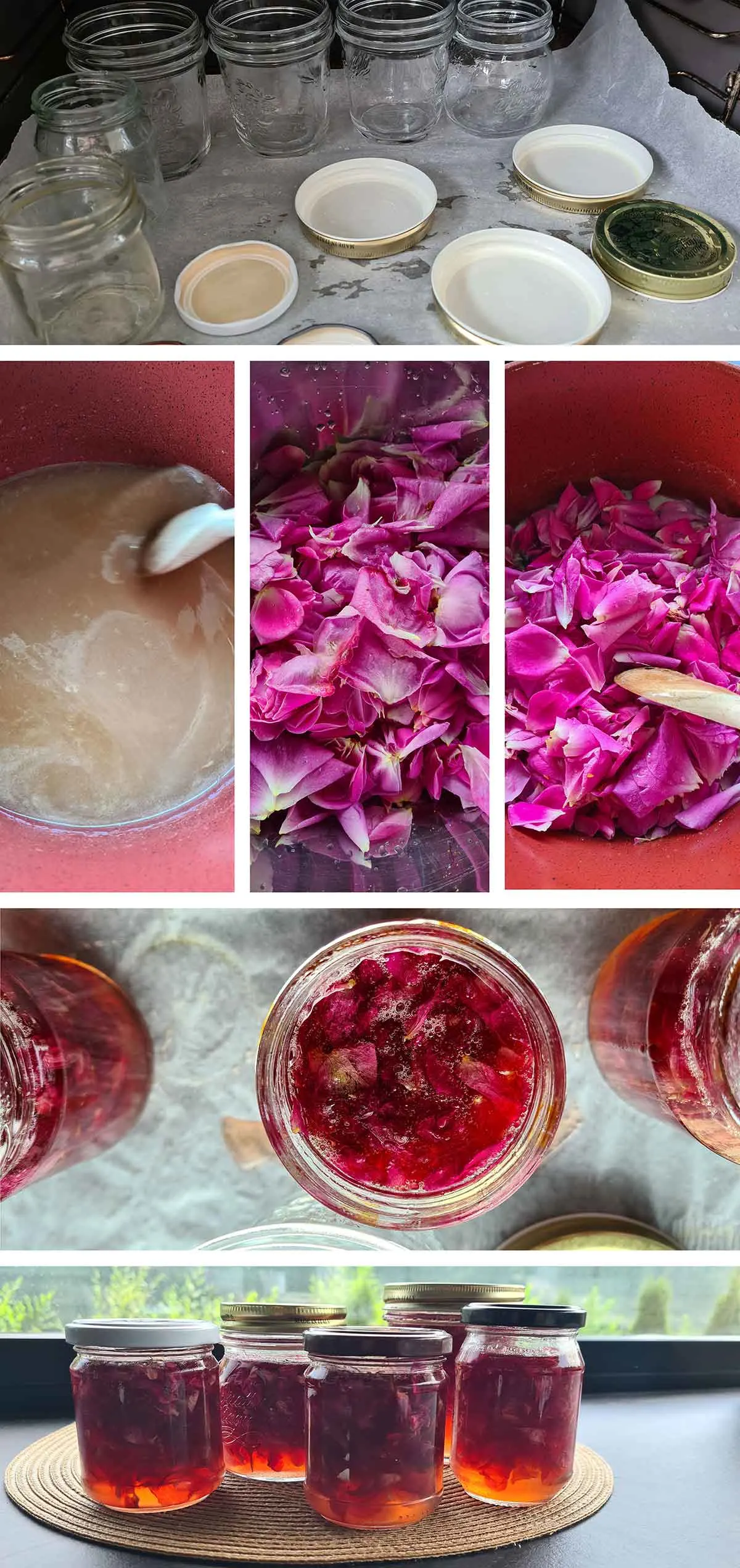 Rose jam recipe
Yield: 5-6 small jars
Rose Petal Jam (Rose Jelly)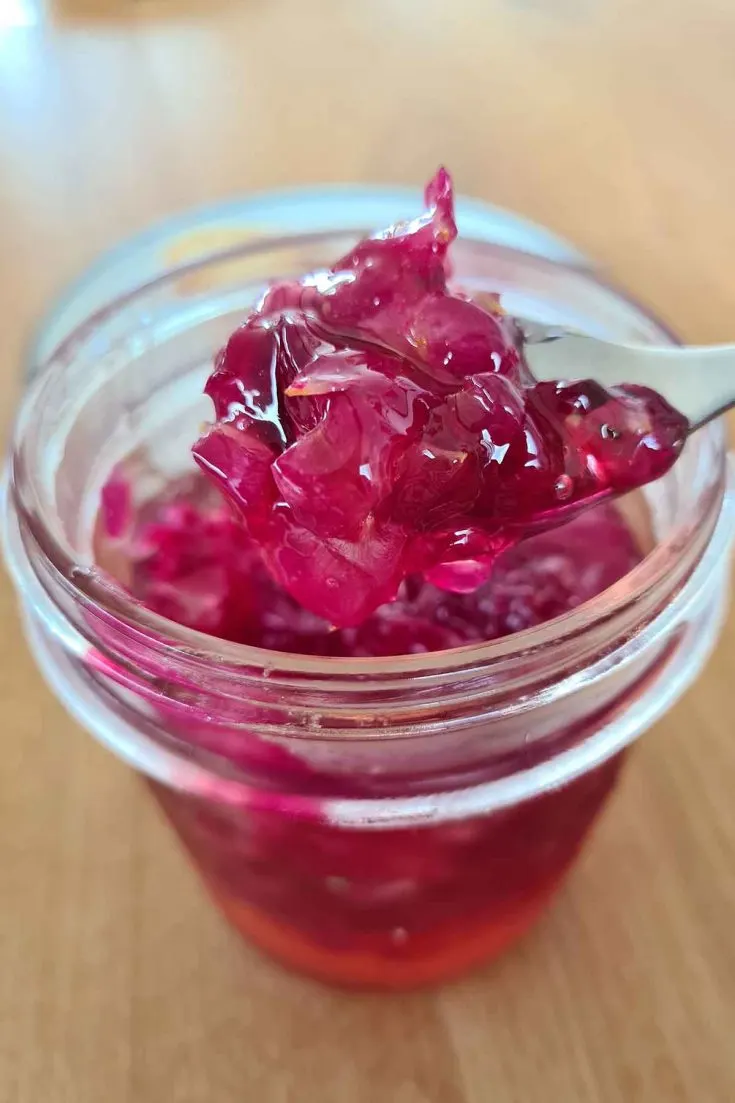 Enjoy the mostdelicate and fragrant rose jam, following this simple and easy recipe. Explorethe guide and tips below.
Ingredients
12 large rose flowers (I used edible Damask rose)
200 ml (6¾ fl oz) water
60 ml ( 2 fl oz ) fresh lemon juice
1 kg (2 lb 3¼ oz) jellifying sugar (It contains pectin)
Instructions
Wash the jars and lids thoroughly.
Sterilize the jars. I place the jars and lids on an oven tray and leave them in the oven at 150C (302F) for 15 minutes.
Meanwhile, rinse the rose flowers so you'll remove any bugs or impurities.
Take the petals off and put them in a bowl.
In a large, non-stick pot, add the lemon juice, water and sugar. Place the pot on high heat. Mix well.
Once it starts bubbling and all sugar is melted (6-10 minutes), add the rose petals.
Mix well to coat all the petals in the syrup.
Take a kitchen thermometer and place it in the jam, while also stirring continuously. Once it reaches 105C (221F), you can turn off the heat.
Let the jam cool a bit.
Using a ladle, pour the jam into each sterilized jar. With a wet, clean cloth, wipe the jars of any spilled jam, especially near the lid area.
Cover with the lids and screw them tightly.
Leave the jars at room temperature until the next day.
All lids should seal by the next day. Check for the seal, then deposit in your pantry.
Nutrition Information
Yield
12
Serving Size
1
Amount Per Serving
Calories

131
Total Fat

0g
Saturated Fat

0g
Trans Fat

0g
Unsaturated Fat

0g
Cholesterol

0mg
Sodium

14mg
Carbohydrates

8g
Fiber

0g
Sugar

6g
Protein

1g
I strive to keep the information as accurate as possible but make no warranties regarding its accuracy. I encourage you to make your own calculations using your preferred nutrition calculator.