Are you ready for one of the most flavorful autumn recipes with pumpkin? Here's how to make a creamy pumpkin pasta sauce – incredibly easy and delicious!
Another day, another pumpkin recipe.
Because how can I not? In case you haven't noticed, I'm all about this vegetable. I'm its biggest fan.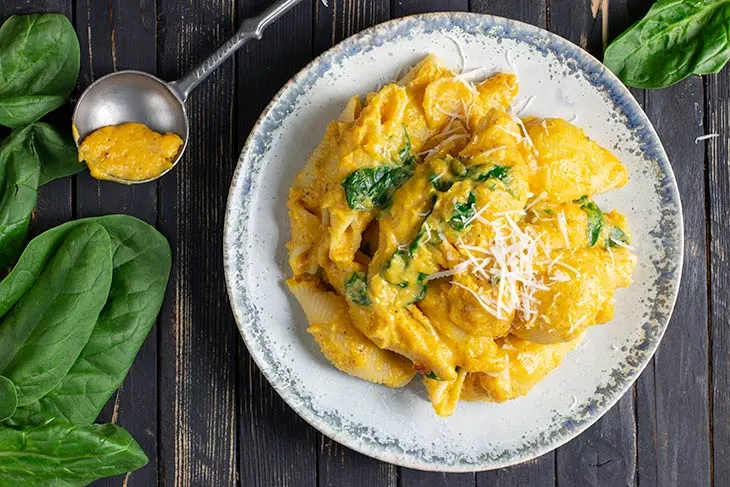 Plus, I think we should all eat more seasonally. Autumn is the greatest season of all when it comes to fruit and vegetables – you can find them in abundance, pumpkin among them. And there's nothing better than fresh fruit and veg from your local marketplace, so yeah, I'm going to make the most of it.
But sometimes you get a bit bored of pumpkin pie, delicious as it might be. And one thing I noticed is that pumpkin is not super used in cooking savory foods, at least not in Romania. So I challenged myself to use it a lot, and not only in desserts. This is how I came up with this delicious creamy pumpkin pasta sauce! 🙂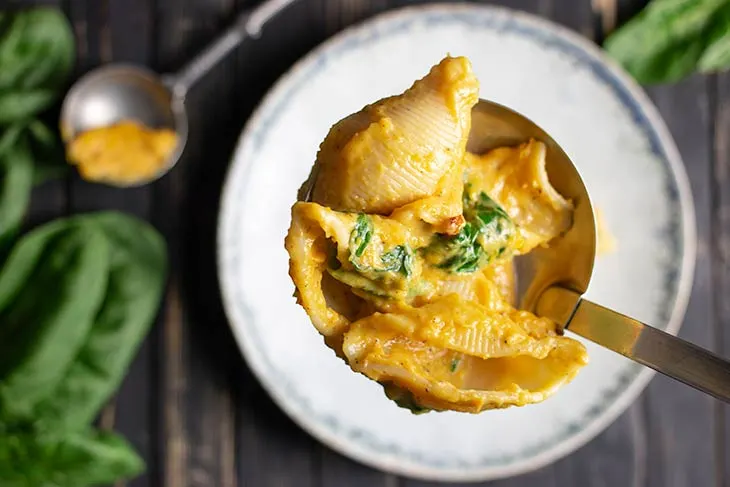 I love pasta – in all fairness, who doesn't? It's one of the best comfort foods around. And the great thing about it that I love is its versatility. There's a pasta dish for everyone, and I mean everyone. Pasta is generally seen as a kind of decadent food, a "cheat meal" if you'd like.
I'm trying to stray myself further and further away from labeling food as "good" or "bad", and I truly believe that you can add healthful ingredients to any recipe and make it more nutritious. Such is the case with this pasta! 🙂
Carbs in themselves are nothing to be afraid of. It's what we make of them! And, generally, pasta is deemed as a cheat meal because it tends to have low nutritional value. Sometimes that's great, but, for a day to day meal, you should try balancing things out a bit and going a bit heavier on the fiber side. That always means – you know it – more vegetables.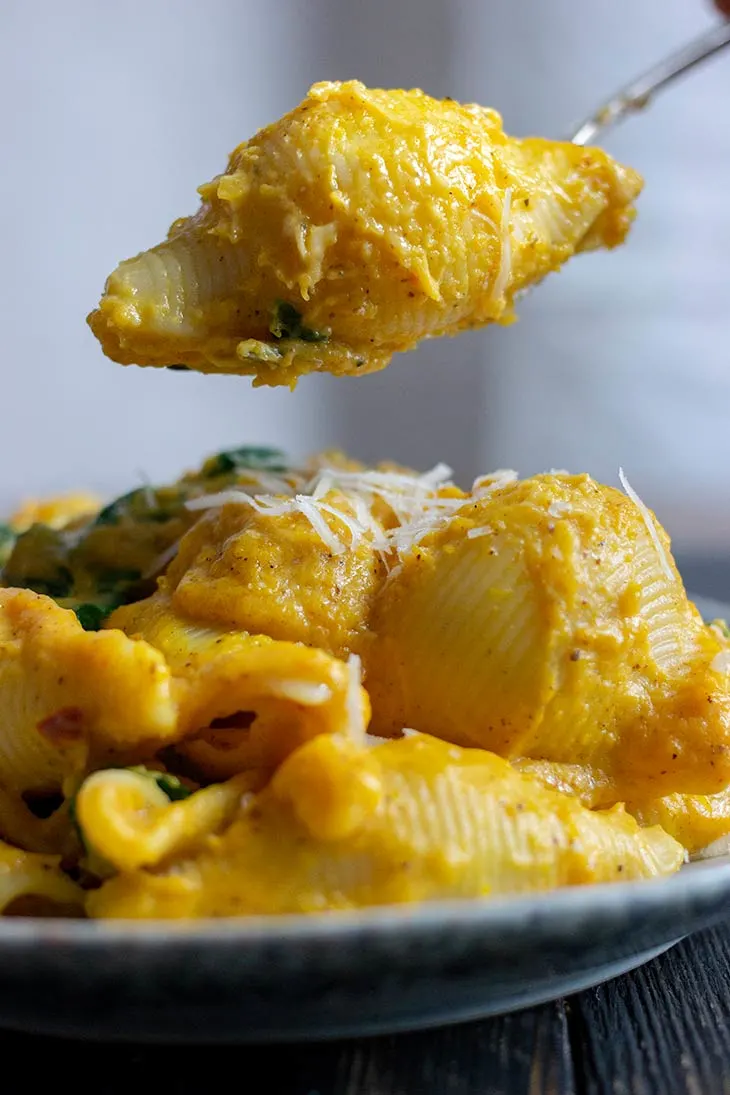 Another way to add a bit more fiber is by choosing whole-grain pasta, or even gluten-free varieties such as the ones made out of lentils or chickpeas. However, if you hate the taste of those, white pasta works as well. This pumpkin sauce can really do the fiber trick by itself.
You might wonder why I'm insisting on this fiber aspect. Fiber is super important for us to function properly. It digests at a slower pace, keeping us fuller and satisfied for longer. It also keeps our insides in check by keeping us regular – a huge factor when it comes to our overall health and immunity.
Sadly though, most people don't get enough fiber in their daily life, because their diet consists of white bread, white pasta, a lot of dairy products, and not nearly enough fruits, and vegetables.
I truly believe that we can all add more vegetables to our diet, and we can do it in fun, sneaky ways, such as this pasta sauce. Your diet doesn't have to be bland and boring for your body to be healthy and happy – and that's a fact! You need to enjoy the food you're eating!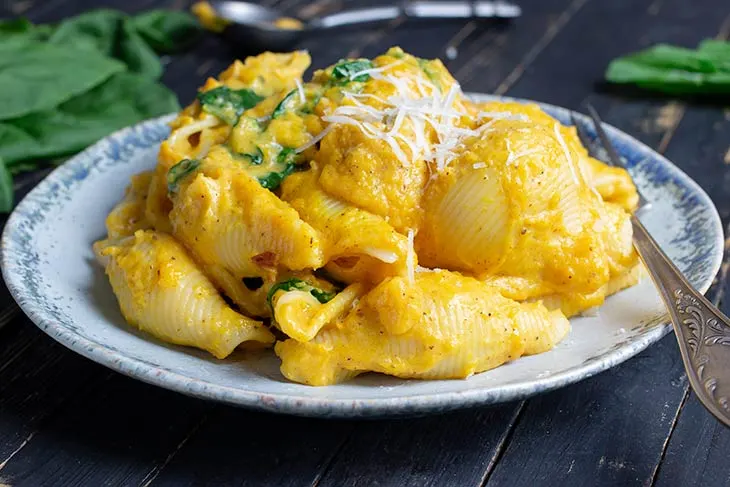 This sauce is a bit similar to the one used in fettuccini Alfredo, which I'm sure you're all familiar with. It's delightfully creamy and comforting, coating the pasta perfectly and giving a meal that perfect, decadent texture. However, unlike fettuccini Alfredo, this recipe is nowhere nearly that high in unnecessary, unhealthy fats, and it's way friendlier on your silhouette.
As I mentioned earlier, it's a perfect and foolproof way to sneak in some vegetables, especially if you have fussy kids. You can also add a bunch of other vegetables to this recipe – red bell peppers work wonders in combination with the pumpkin, and they add to the fiber content that I was so passionate about earlier.
This creamy pumpkin pasta sauce makes for a super comforting and delicious recipe, the kind that makes you feel like receiving a big hug after a tiresome day. I think it's the perfect quintessence of all the wonderful things autumn has to give us. You can prepare this for the week ahead, add it on top of pasta and heat it up when you come home from work, or simply when you feel a bit chilly and hungry and need a bite of something warm and comforting, but without the extra calories and unnecessarily unhealthy ingredients.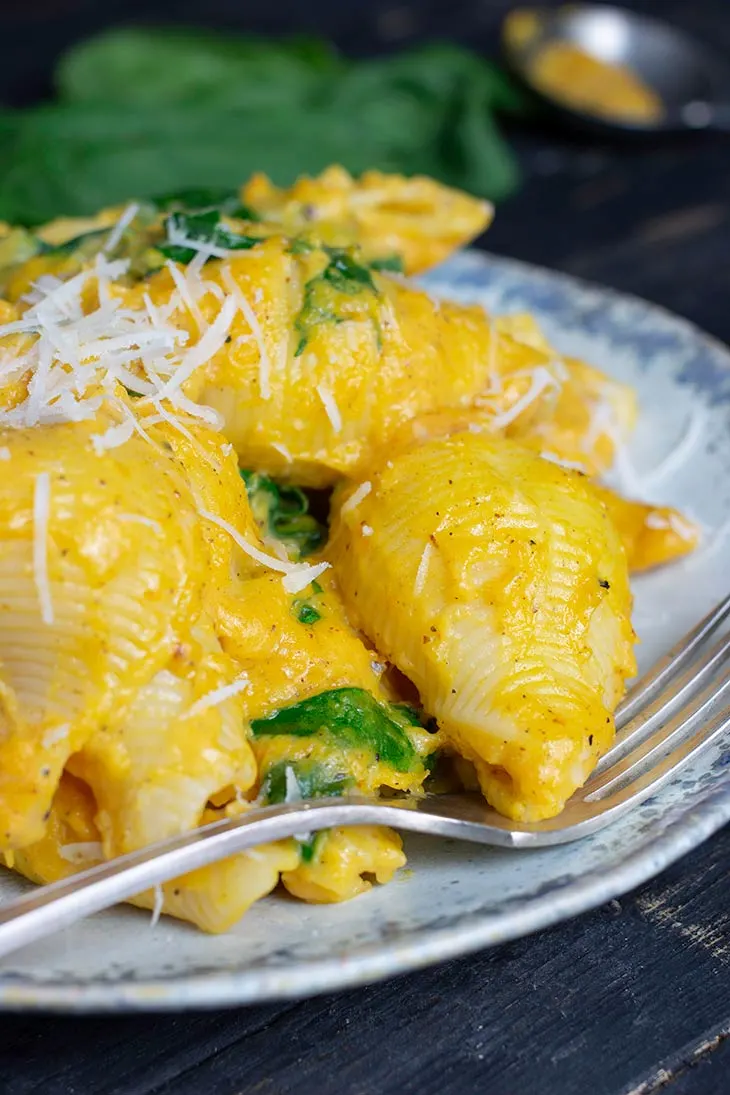 I was super excited about this recipe, and it's going to stay with me for a long time. So, when you have a little time, get cooking – it's super easy to make, and bound to make you super happy. Or at least, I'm pretty sure it will! 🙂
Yield: 2
Creamy Pumpkin Pasta Sauce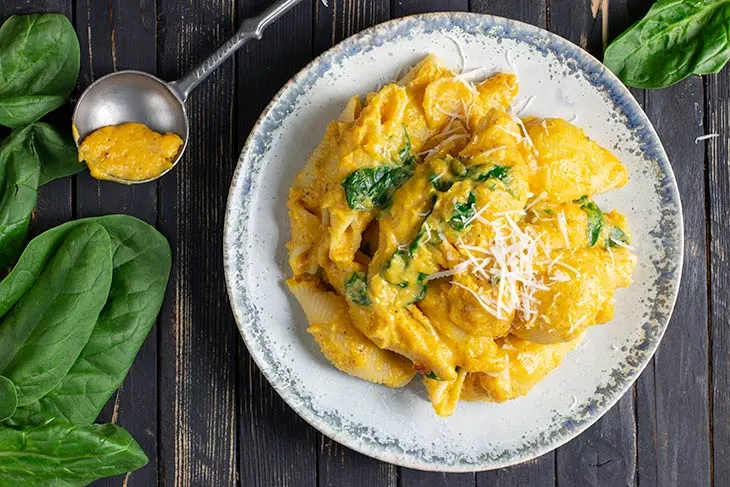 Are you ready for one of the most flavorful autumn recipes with pumpkin? Here's how to make a creamy pumpkin pasta sauce - incredibly easy and delicious!
Ingredients
400g (3 ½ cups) pumpkin, cut into cubes
2 Tbsp vegan butter or olive oil
2 Tbsp coconut oil, melted
4 Tbsp coconut milk
some fresh sage leaves
cinnamon, nutmeg, chili flakes - to taste
salt and pepper
pasta of your choice
Instructions
Add the coconut oil and a pinch of salt to the pumpkin. Mix well and bake at 200C until fully cooked through.
Use a blender or food processor to turn it into a puree.
In a pan, add the vegan butter or oil, sage leaves, and cook over medium-low heat for about 5 minutes or until the butter is starting to brown.
Add the pumpkin puree to the pan along with the coconut milk, a pinch each of chili flakes, cinnamon, and nutmeg.
Season with salt and pepper.
Lower the heat to low and simmer for 5 minutes.
Add the cooked pasta of your choice.
Nutrition Information
Yield
2
Amount Per Serving
Calories

452
Total Fat

39g
Saturated Fat

26g
Trans Fat

0g
Unsaturated Fat

11g
Cholesterol

31mg
Sodium

244mg
Carbohydrates

22g
Fiber

2g
Sugar

1g
Protein

5g
I strive to keep the information as accurate as possible but make no warranties regarding its accuracy. I encourage you to make your own calculations using your preferred nutrition calculator.