Looking for a unique twist on pizza night? Try this Hummus Flatbread Pizza! This deliciously healthy option is topped with creamy hummus and savory roasted red peppers. It's sure to be a hit with both vegetarians and meat lovers alike. So ditch the delivery and whip up this easy, mouth-watering recipe tonight!
I recommend you use my recipe for the best hummus. It is quick and easy to do. If you want a special hummus, I recommend you try Beiruti hummus, which is slightly spicy. I also have many hummus recipes on the blog that you can explore.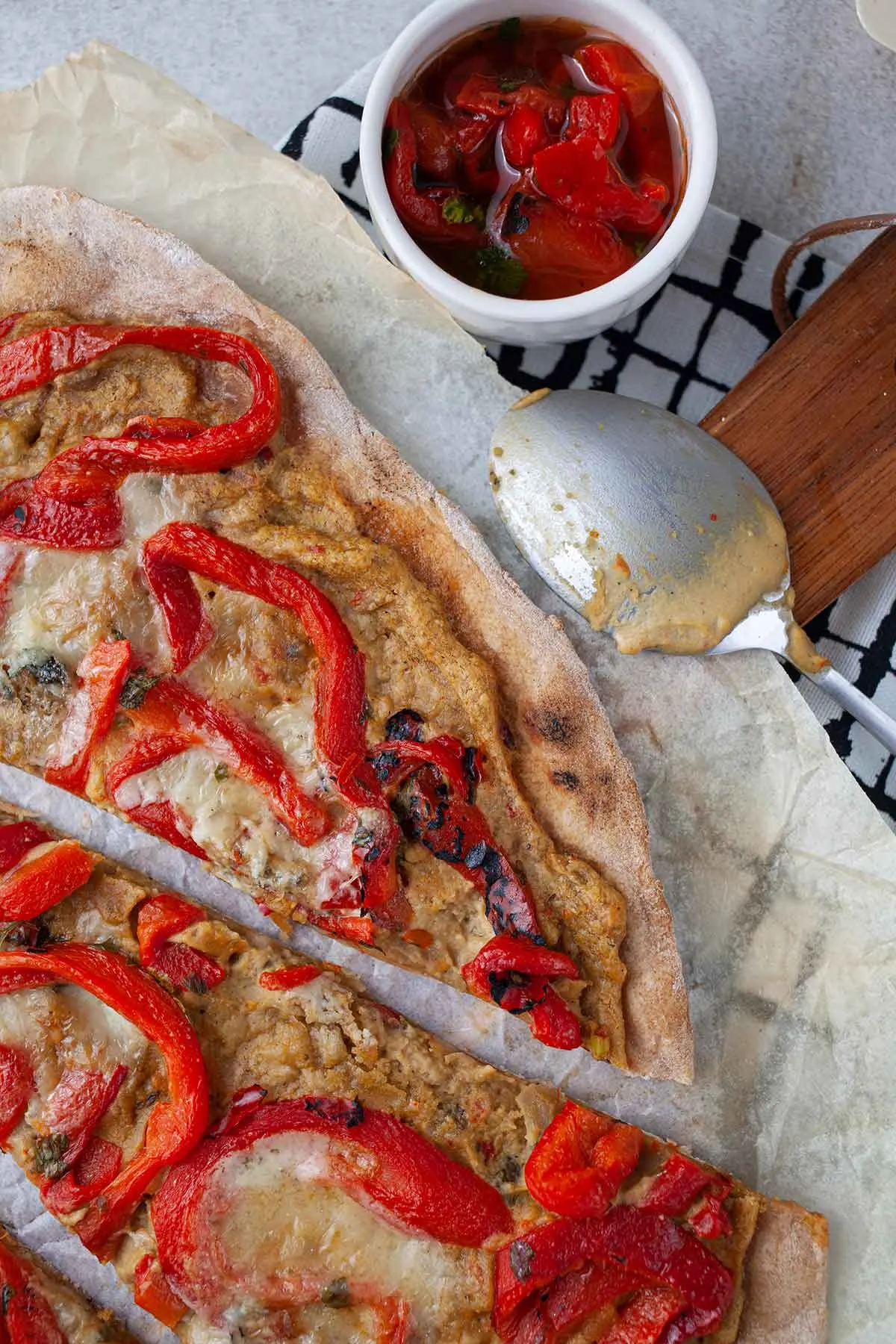 What is flatbread pizza made of?
Flatbread pizza is a type of pizza that uses a flatbread as a base instead of the traditional pizza dough.

Although flatbread and pizza may seem similar recipes, at least on the surface, there are significant differences between them. Flatbread is an unleavened bread that is part of the cuisines of the Middle East, South Asia and the Balkans, made from a simple dough of flour, water and salt and traditionally baked in a wood-fired oven, unlike pizza dough that is made with yeast and is fluffier. In addition, the flatbread has a denser and crisper texture than pizza dough.
Is flatbread the same as naan, pita or tortilla?
Although flatbread can be similar to naan, tortilla or pita, there are notable differences in terms of the recipe and the method of preparation.
Flatbread, naan, pita and tortilla are all types of bread, but there are subtle differences between them. Flatbread is originally from the Middle East and is made from flour, water, salt and baked at high temperature. Naan has its origins in India and is made from wheat flour, yeast, salt, milk or yogurt, and sometimes eggs are added. The pita also originates from the Middle East but has yeast and in the process of handling the dough and baking it will swell forming a kind of inner pocket. Tortilla originates from Mexico and is made from corn flour or wheat flour, water and salt, but the cooking process makes it elastic.
While the flatbread and naan are denser and have more texture, the pita and tortilla are thinner and softer. Each of these types of bread can be used differently in the kitchen, depending on personal preferences and the recipe used.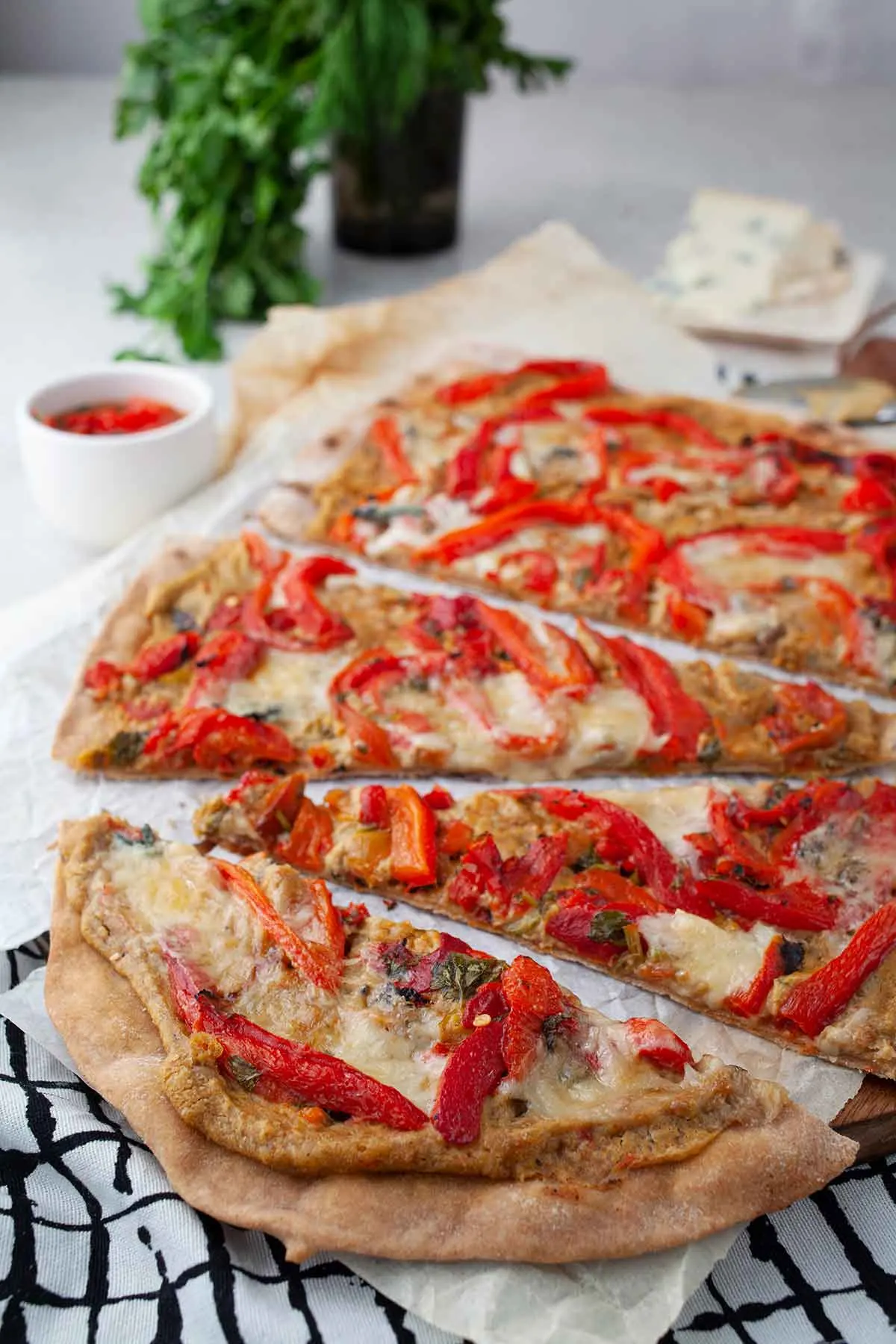 Flatbread pizza vs. traditional pizza
Flatbread pizza and traditional pizza have advantages and disadvantages, and the choice largely depends on personal preferences.
Flatbread pizza Pros:
Texture: the thin and crispy surface of the flatbread can be a pleasant change from the soft and fluffy properties of the traditional pizza.
Cooking Speed: flatbread can be made faster than the classic pizza dough, because it does not have to rise as much before being put in the oven.
Diet: the flatbread can be considered more diet-friendly than the traditional pizza dough, because it has fewer calories and carbohydrates.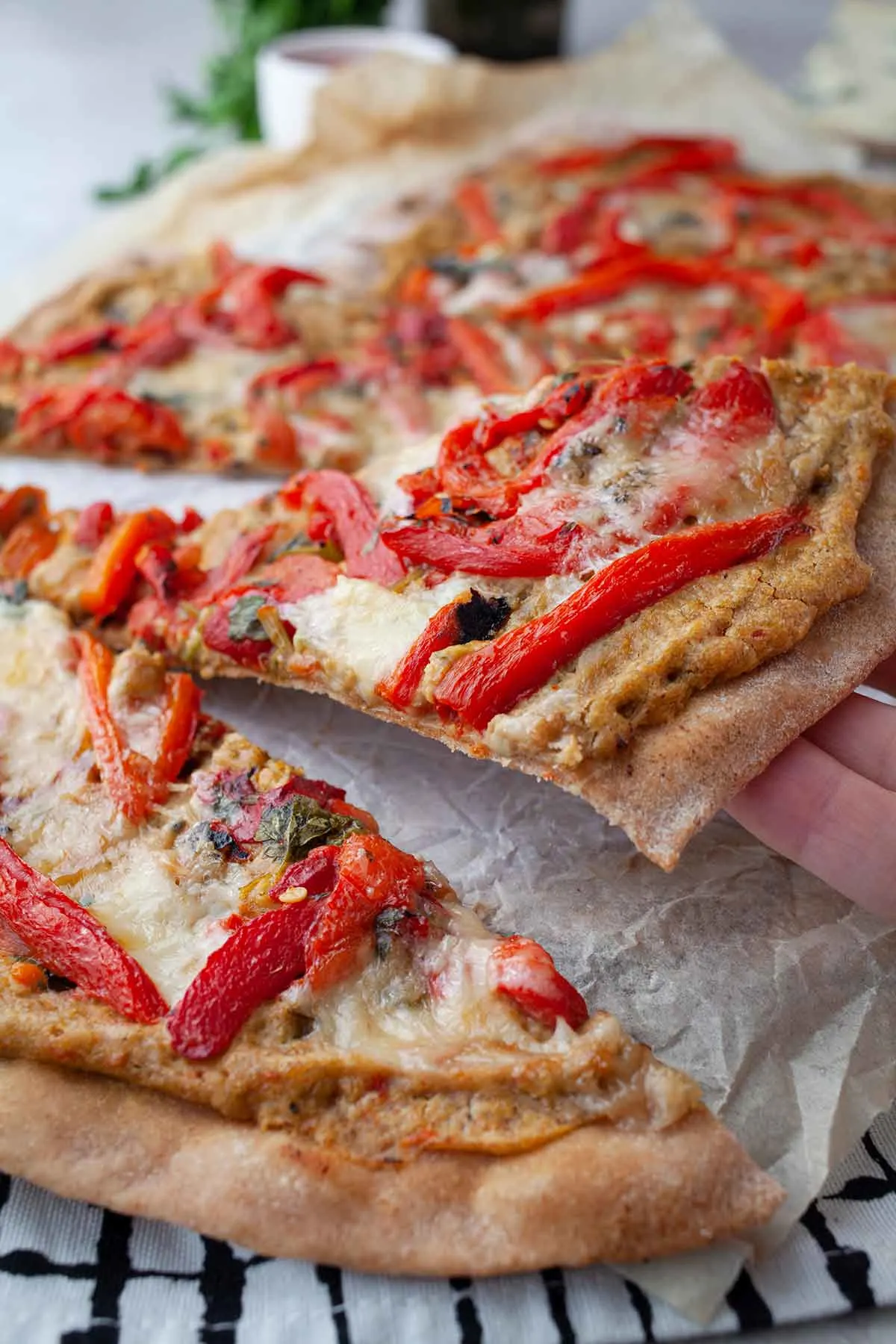 Flatbread pizza Cons:
Load capacity: due to the thin texture of the dough, it cannot support the same amount of filling or sauce as the classic pizza dough, which can lead to a less satisfying pizza.
Taste: for some people, the flatbread may taste different and less pleasant than the classic pizza crust.
Incompatibility with certain toppings: flatbread can be more difficult to combine with certain toppings or fillings that soak too much in it and make it soft and flabby.
Take these factors into account depending on the recipes you want to try, because although in the case of this Middle Eastern-inspired hummus pizza recipe it works great, due to the choice of toppings, it may not work as well if you want to make a quattro formaggi pizza, for example.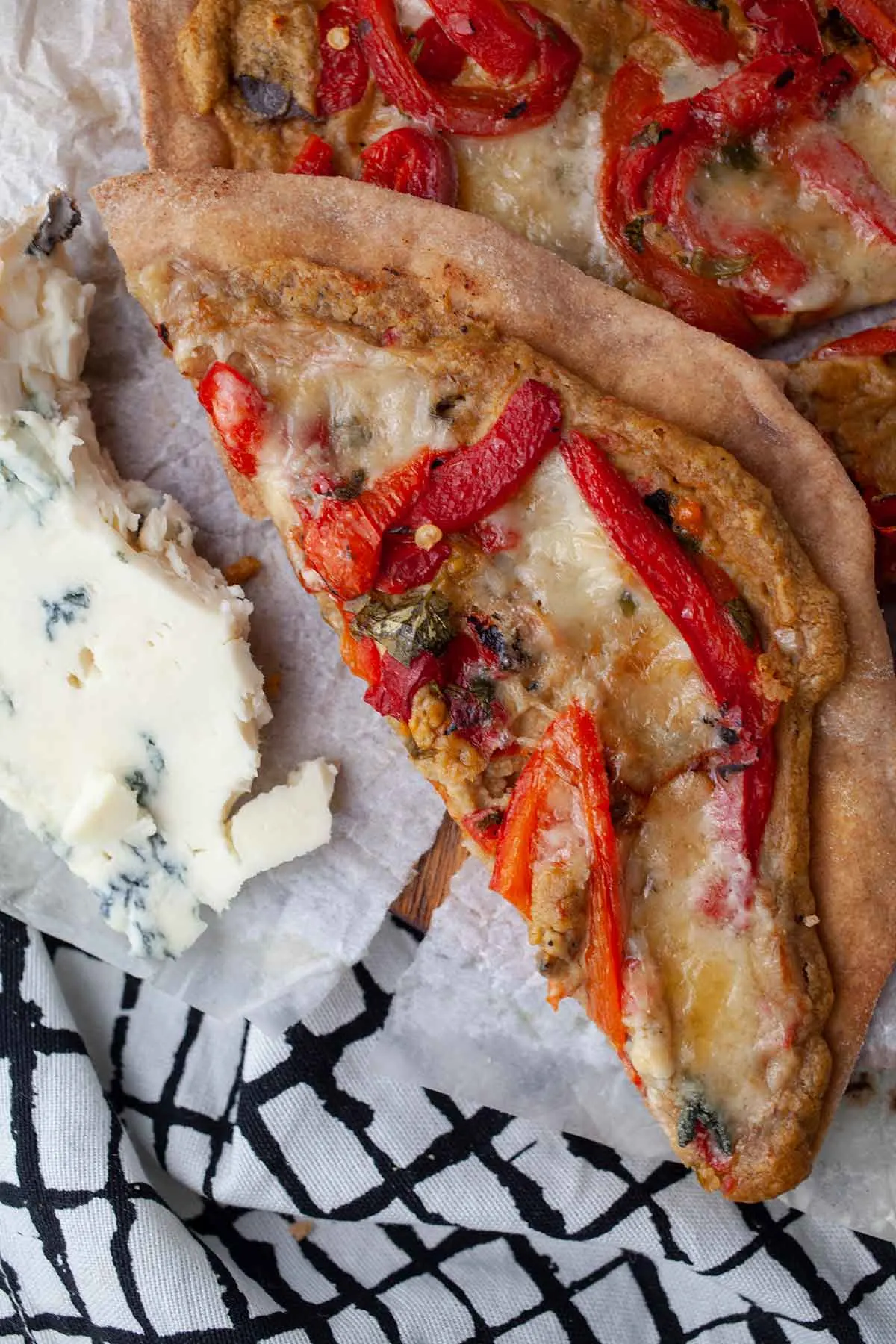 This is a vegan pizza recipe if you don't put cheese on it. It is completely optional and does not change the taste very much. I really like blue cheese and I thought it fits perfectly in this combination. Feta cheese also works great. I hope you like this delicious recipe with unique flavors!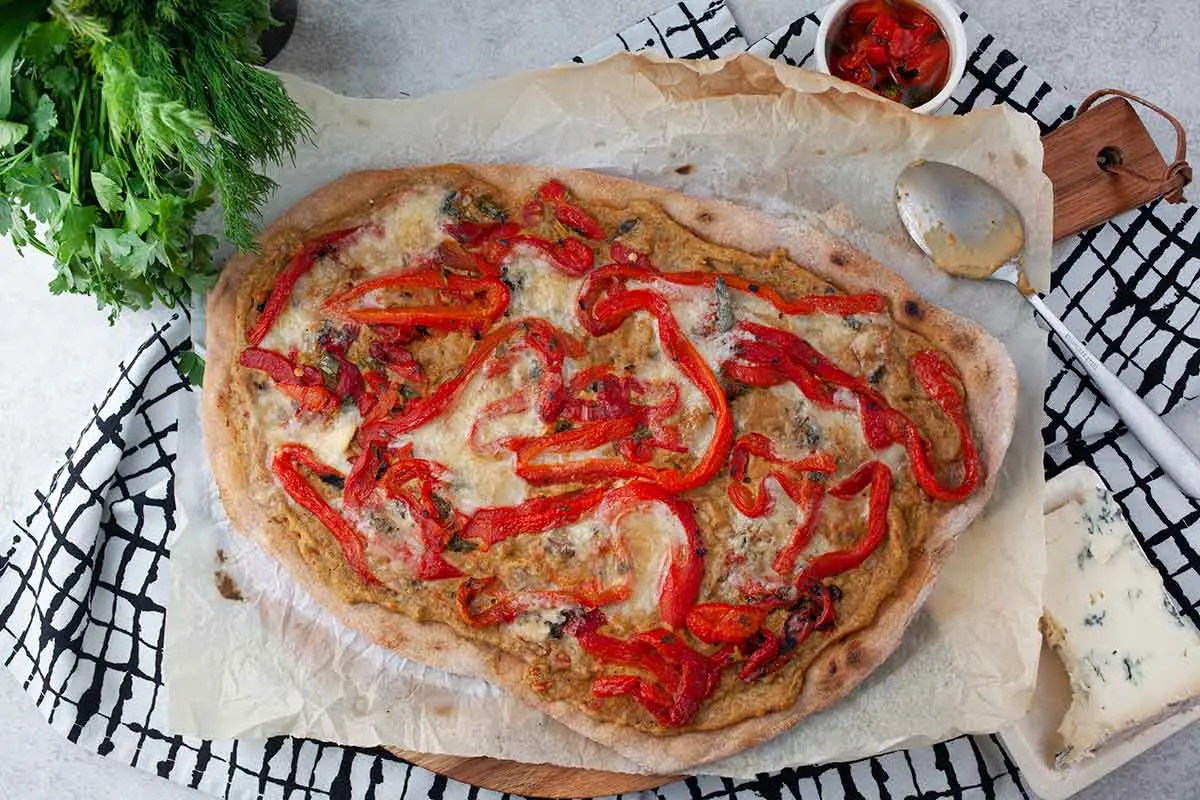 Yield: 2-3 servings
Hummus Flatbread Pizza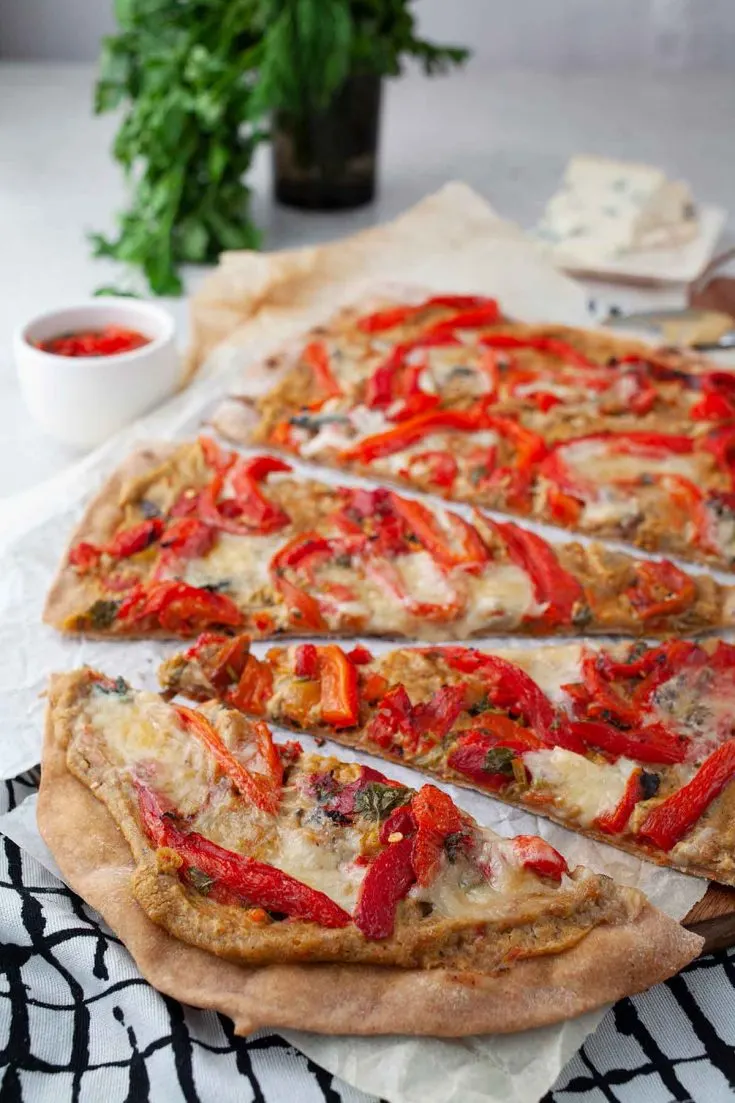 Looking for a unique twist on pizza night? Try this Hummus Flatbread Pizza! This deliciously healthy option is topped with creamy hummus and savory roasted red peppers.
Ingredients
For the base:
175g (1 ⅓ cup) flour
140ml (5 fl oz) water
1 tablespoon of olive oil
½ teaspoon of salt
For the topping:
4 canned roasted peppers, sliced
100g (3.5 oz) crumbled blue cheese - optional, skip for vegan version
olive oil infused with chili
Instructions
Heat the oven to 240 C (460 ºF).
Put the pizza pan in the oven, let it heat up as well.
Prepare the base. Mix flour and salt in a bowl. Then pour the water with the olive oil. Mix until the dough forms.
Shape the dough into a ball, cover with a towel and leave it at room temperature for 15-20 minutes.
Then, spread the dough on a surface sprinkled with a little flour. Until you get a thin and smooth top.
Transfer the base to a sheet of baking paper, spread it with hummus, put the peppers and pieces of blue cheese on top. Then transfer it to the hot pizza pan, put it back in the oven and leave it to bake for 8 minutes, or until it is well browned at the edges.
Remove it from the oven, sprinkle it with spicy olive oil and serve it hot.
Nutrition Information
Yield
4
Serving Size
1
Amount Per Serving
Calories

557
Total Fat

30g
Saturated Fat

9g
Trans Fat

0g
Unsaturated Fat

17g
Cholesterol

50mg
Sodium

1002mg
Carbohydrates

52g
Fiber

4g
Sugar

7g
Protein

22g
I strive to keep the information as accurate as possible but make no warranties regarding its accuracy. I encourage you to make your own calculations using your preferred nutrition calculator.