Here's how you can make homemade vegan naan easily and with just a couple of basic ingredients. Give it a try and enjoy this delicious Indian bread.
After my Vietnamese sandwich recipe – tofu banh mi – I posted yesterday it's time to try something from another Asian country, as part of this year's food challenge. My next culinary destination is India. 🙂
This is not the first time I cook Indian food, I have a couple of other Indian recipes on my blog, such as dals and curries, however, it is the first time I make naan. Naan is a leavened, oven-baked flatbread popular in India. It is somehow similar to parathas, a flatbread I already tried last year, but unlike them, naans contain yeast and are a little bit more elastic.
There are so many variations of naan and the sky is the limit when it comes to flavors. Indians usually bake naans in Tandoori ovens, but of course, you can even use a simple pan on the stove also to make this delicious Indian bread at home.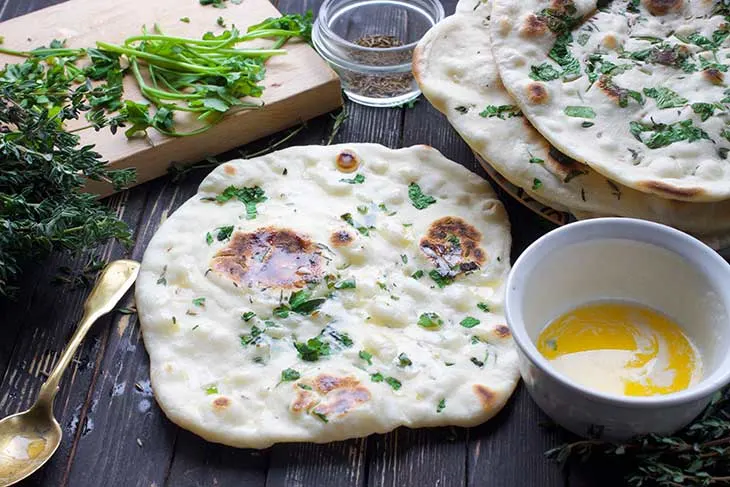 If you want to make your own bread, free of any additives and with just basic products like flour, water and spices, this vegan naan may be the easiest bread recipe you can try.
Spice up your homemade vegan naan with any flavors you want. In this recipe, I added fresh coriander, thyme and cumin seeds, but feel free to experiment.
After you bake the vegan naans make sure you store them wrapped in a towel, so they will stay fresh and warm for a longer period of time.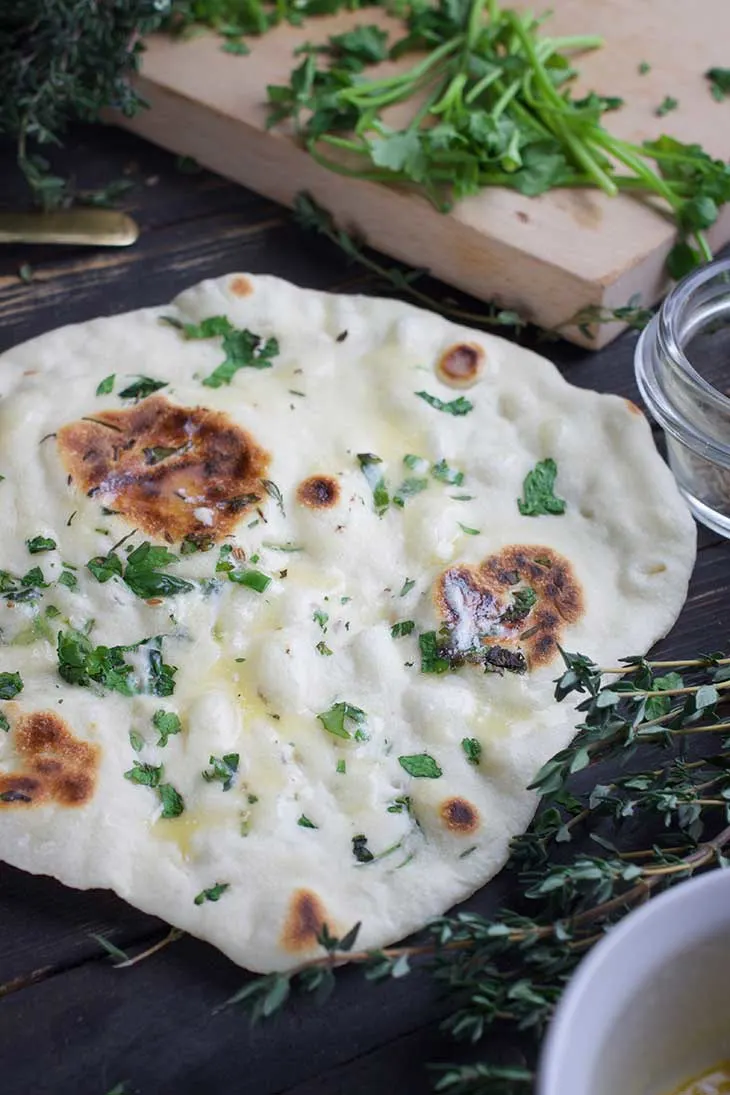 If you travel to Asia you will find naan bread everywhere. The flavors vary from region to region and also the filling, size and the baking method may differ. In some areas, they bake the so-called family naans, which are huge flatbreads that can feed an entire family. Eating it is like a ritual, being passed from relative to relative and broken apart in pieces, all while being shared with the loved ones.
In other areas, naans are prepared just as a snack or simply served with soups. Nowadays, there's a hype around naans being served as street food as well. They're usually filled with meat, cheese, veggies and sauces.
Naans are not just for Indians. In Pakistan, for example, they bake them with raisins and nuts, while in other areas they use cumin and other spices. You can add sesame, sunflower or pumpkin seeds, all the herbs you can find: dill, parsley, basil and mint.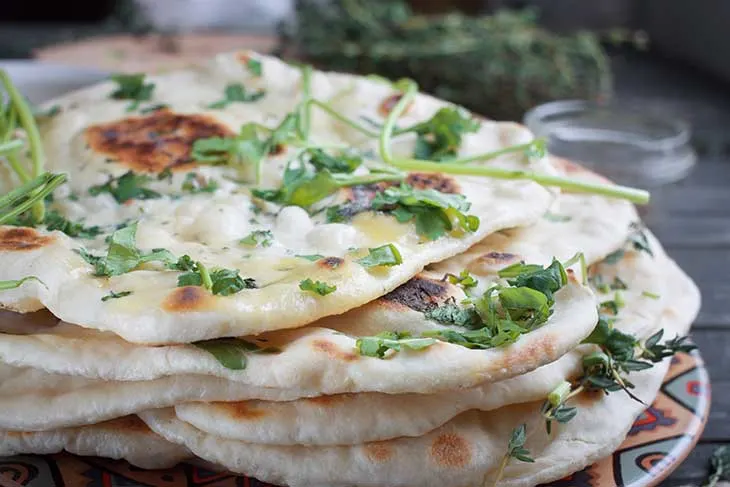 You can use naans in innovative ways, such as a base for homemade pizza or even as a dessert. If you want to make them sweet, just mix the dough with honey or maple syrup and roll them. Use any filling you like: syrups, fresh or dried fruits, chocolate, etc.
The traditional name for this recipe is Tandoori naan. The name comes from the oven in which it is traditionally baked. I made it vegan, meaning no milk or butter were used, just their vegan versions. The result was just as good as the original naan. Hope you'll like it!
Hope you'll like this easy homemade vegan naan! Don't forget, if you give my recipes a try, take a photo and tag me on Instagram @gourmandelleblog and use the hashtag #gourmandellerecipe. I will feature you on my Facebook page and/or Instagram Stories! 🙂
Yield: 6
Easy Homemade Vegan Naan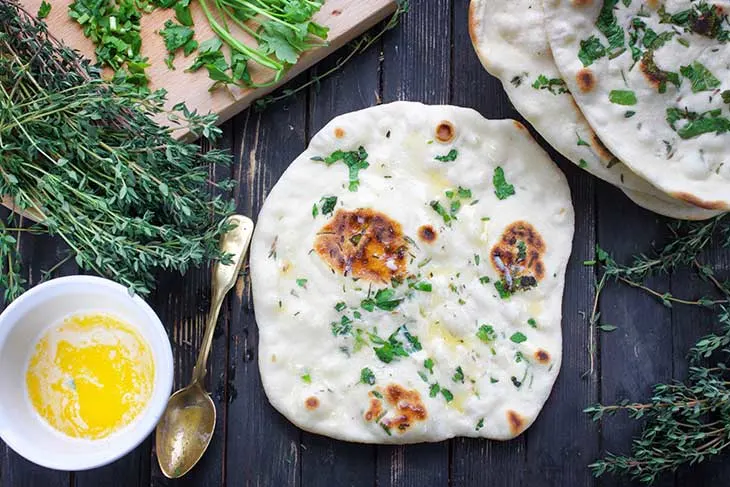 Here's how you can make homemade vegan naan easily and with just a couple of basic ingredients. Give it a try and enjoy this delicious Indian bread.
Inactive Time
2 hours
30 minutes
Ingredients
250ml (1 cup) warm water or warm vegan milk
2 tsp active yeast
2 tsp sugar
300g (2 ½ cups) unbleached all-purpose flour
1 ½ tsp fine sea salt
1 tsp baking powder
½ tsp ground cumin
4 Tbsp plain coconut yogurt
2 Tbsp olive oil
fresh greens, vegan butter or roasted seeds for serving
Instructions
In a medium bowl, add 1 cup of warm water or milk, yeast, and sugar. Stir and set aside, in a warm place and cover the bowl with a kitchen towel. It should be foamy in about 10 to 20 minutes.
Meanwhile, in a large bowl, add flour, salt, and baking powder, cumin and combine.
After the foam starts to appear, add the vegan yogurt and oil and mix well. Pour this into the dry ingredients and mix.
Flour your work surface and add just enough to gently knead the dough and form a ball.
Coat a bowl with a bit of oil and place the dough in. Rub the ball with a bit more oil and turn to coat. Set the bowl in a warm place, cover with a towel and let it sit for 2 to 4 hours to rise.
Press down the dough then roll into small, egg-size pieces and place on a baking sheet. Cover them with a towel and allow them to rise again until doubled in size, about 30 minutes.
Heat a heavy skillet over a high heat
Flatten the dough between your palms, then roll into a circle shape. Sprinkle some chopped greens and cumin seeds on the work surface, before rolling, so it will stick to one side of the naan.
Carefully flip over and pat the dough with a bit of water so it doesn't stick to the pan.
Cook for less than 2 minutes or until the edges of the dough look dry and it starts to bubble. Then flip the dough with a spatula and cook on the other side.
Repeat until all the naan dough is cooked.
Finally, brush them with melted vegan butter or olive oil and sprinkle with more greens.
Nutrition Information
Yield
6
Amount Per Serving
Calories

239
Total Fat

9g
Carbohydrates

33g
Protein

6g