Discover the taste of Indian appetizers with this easy onion Bhaji recipe – A crunchy combination of sweet onions and exotic spices, without deep-frying.
Onion Bhaji – a delicious Indian recipe!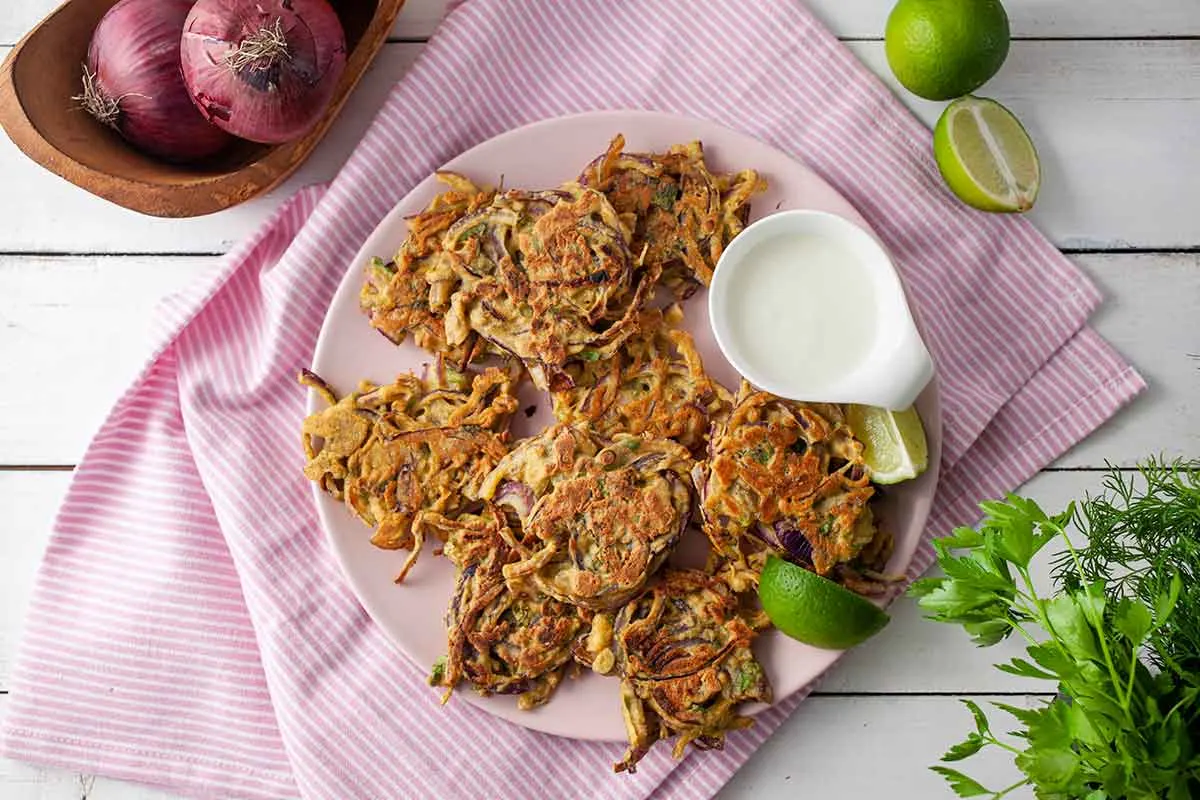 Today, I want to tell you about an Indian delicacy that will delight your taste buds and bring you authentic Indian joy on your plate: onion bhaji. Onion bhaji is a savory dish full of flavors, which occupies a special place in the heart of Indian cuisine and those who love it.
With deep roots in Indian culinary tradition, onion bhaji is a classic appetizer that can be found in many regions of India. Traditionally, it consists of finely sliced onions, mixed in a dough made of flour and aromatic spices, then fried in an oil bath until it becomes golden and crispy.
The popularity of bhaji in Indian cuisine is undeniable. This recipe can be found at various events and celebrations, such as festivals, weddings or simply as an appetizing snack served in cafes and street restaurants.
In a way, onion bhaji is much more than a tasty dish – it is a journey into Indian culture and a way to enjoy traditional cuisine. Whether you prepare it at home or taste it in an authentic Indian restaurant, you will be transported to the vibrant culinary world of India.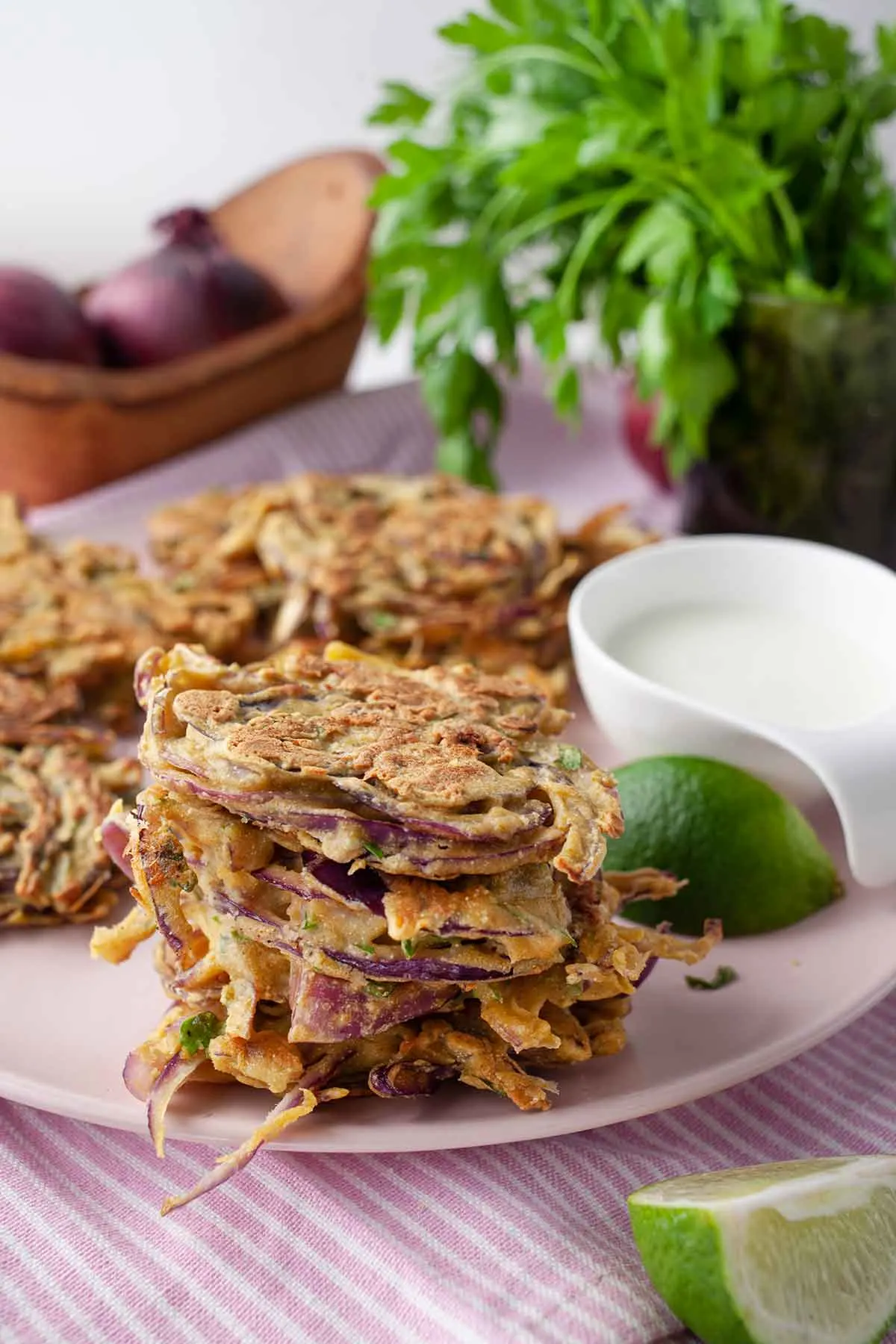 What other types of bhaji are there?
The word "bhaji" covers a wide range of fritters and comes from the Hindi language. It is used to describe a specific type of food in Indian cuisine that involves frying or cooking vegetables, spices or other ingredients in a crispy batter.
So, apart from onion bhaji, there are other delicious types of bhaji that are popular in Indian cuisine. Here are some of them:
Mixed Vegetable Bhaji: This type of bhaji involves combining and frying different vegetables like potatoes, squash, eggplant, mushrooms, carrots and spinach. These vegetables are cut into slices or cubes and mixed in a flour dough with spices, then fried until they become crispy and golden.
Chilli Bhaji: Chilli bhaji consists of frying large chillies, such as green or red chillies, in a crispy batter. These hot peppers are stuffed with a delicious paste of potatoes, spices and herbs, then fried until crispy on the outside.
Zucchini bhaji: This version involves cutting the zucchini into thin slices, which are then mixed with flour and spices. The pumpkins covered with dough are fried until they become golden and crispy. This version is similar to the popular recipe for zucchini patties that so many people from Romania prepare during the summer.
Spinach bhaji: Spinach bhaji consists of frying spinach leaves in a light and crispy batter. This is a tasty and healthy dish that can be enjoyed as an appetizer or even as a healthy snack.
Cheese Bhaji: Cheese bhaji involves coating pieces of cheese (eg paneer or cottage cheese) with a mixture of batter, flour and spices, then frying them until golden and crispy. These fried cheese cubes are then served with sauces or chutneys.
Also check out my cauliflower and sweet potato bhajis.
These are just some of the popular variants of bhaji in Indian cuisine. Each type of bhaji has distinct flavors and textures and can be adapted according to preferences. Experiment with various combinations of vegetables and spices to discover your new favorites.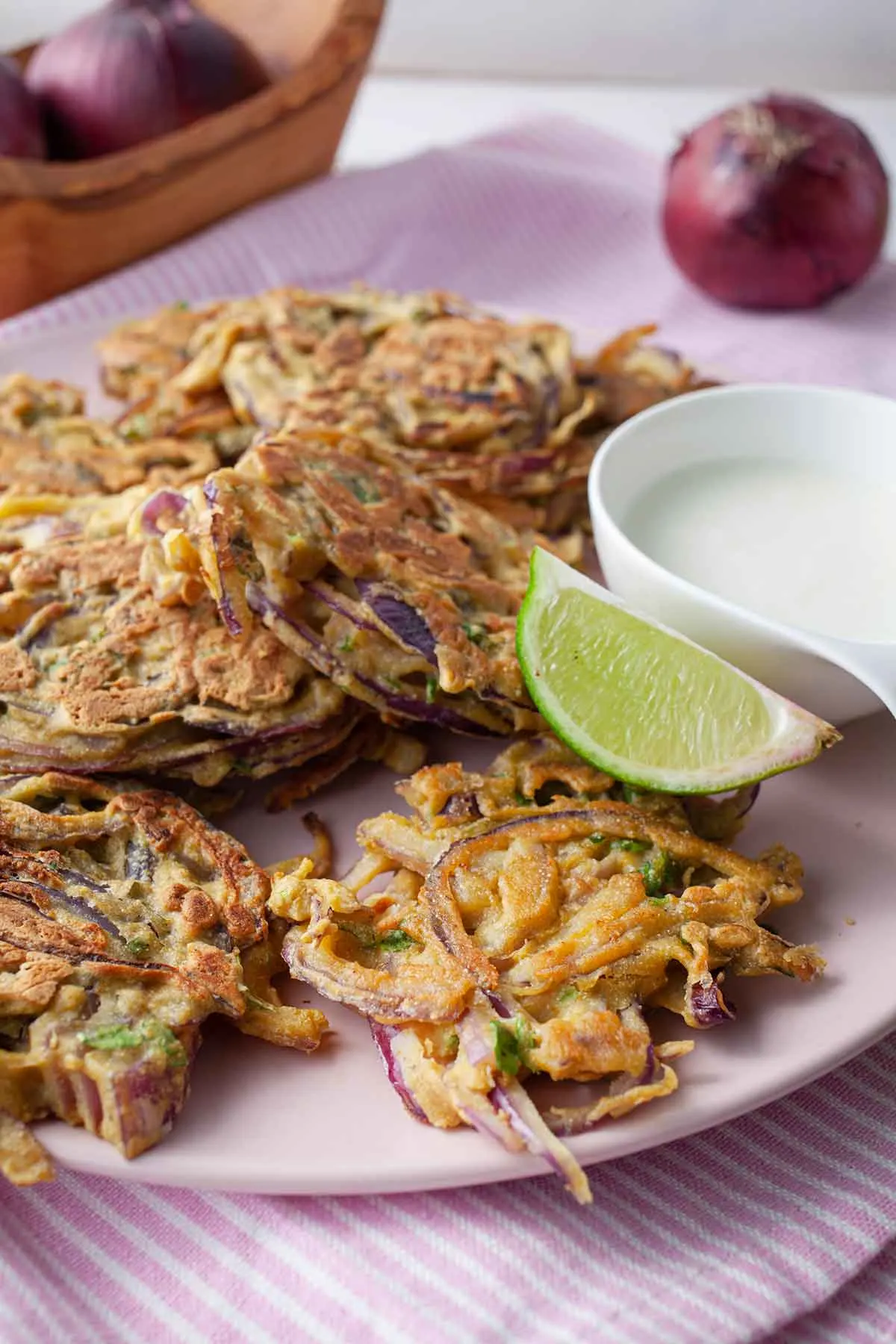 Ingredients
To make this vegan and gluten-free onion bhaji recipe, you need a few basic ingredients, which play an important role in the recipe, adding flavors, textures and nutritional value. By combining them properly, you will get an explosion of tastes and an unforgettable culinary experience.
Onion: Onion is the main and most distinctive ingredient of the onion bhaji recipe. With its sweet-spicy aroma and taste, onions add depth and flavor to the dish. I
Chickpea flour: Chickpea flour is an essential ingredient in the dough for onion bhaji. This gives the dough a crunchy texture and a light, gluten-free consistency!
Nutritional yeast: Inactive yeast flakes, also known as nutritional yeast, add a distinct taste and umami to the onion bhaji recipe. They offer a subtle note of cheese and filling, creating a balance of flavors in the dish.
Cumin: Ground cumin adds a distinctive aroma and a warm note to the onion bhaji dish. Ground cumin also has digestive properties.
Turmeric: Ground turmeric adds a vibrant color and a slightly bitter-precious note to the onion bhaji.
How to make Indian bhaji recipe
Although the authentic onion bhaji recipe requires frying in an oil bath, I chose a better option. Here are some solutions to avoid frying in a lot of oil for any haji recipe you try.
Baked onion bhaji: Instead of frying onion bhaji in an oil bath, you can choose to cook them in the oven. Spread the onion slices on a baking tray covered with baking paper and put them in the preheated oven at a moderate temperature until they become crispy and golden. Take care to turn them along the way so that they brown evenly.
Bhajis cooked in a non-stick pan: Use a non-stick pan instead of a regular pan to cook onion bhajis without oil. Heat the pan and place the onion slices in a single layer. Cook them on each side until they become crispy and golden. Make sure the pan is hot enough to avoid sticking the onion. I chose this option but added a little coconut oil because I didn't want the patties to come out too dry.
Air-fryer onion bhaji: If you have an air fryer, you can use it to cook onion bhaji without oil. Place the patties on the tray and use the hot air function to cook them until they become crispy and golden.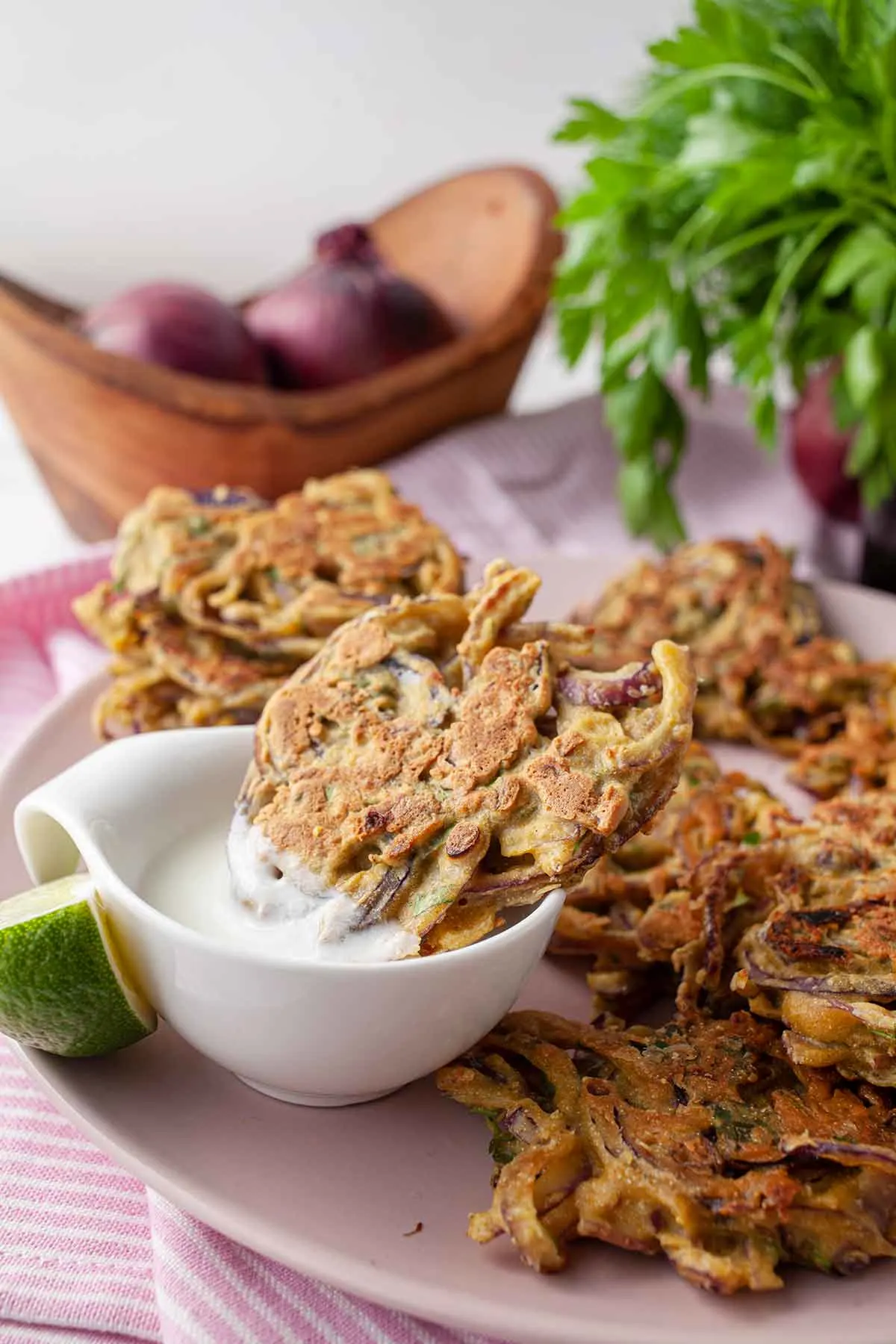 Ideas for serving onion bhaji
When it comes to serving onion bhaji, there are a variety of accompanying options that perfectly complement its flavor and texture. Here are some ideas for serving and accompanying:
Chutneys: Chutneys are aromatic and spicy Indian sauces, which add a refreshing note and a wonderful taste contrast. Try serving onion bhaji with popular chutneys like mint chutney, coriander chutney or mango chutney. These sauces can be prepared from fresh ingredients such as mint, coriander, mango, tomatoes and spices such as ginger and chilli.
Spiced yogurt: Spiced yogurt, also known as raita in Indian cuisine, is a delicious accompaniment to onion bhaji. You can mix yogurt with grated cucumber, garlic, spices such as mustard seeds and ground coriander, to create a refreshing and creamy sauce that complements the spicy and crunchy taste of the onion bhaji.
Roti: Indian rotis are thin, pan-baked flatbreads that go great with onion bhaji. These can be used to wrap onion bhaji, creating a delicious wrap. You can prepare them at home or find them in Indian stores.
Fresh salad: To balance the spicy and slightly oily taste of the onion bhaji, you can serve a fresh salad alongside it. You can use fresh salad leaves, sliced tomatoes, cucumbers, red onions, grated carrots and other favorite vegetables. Add lemon juice and a little salt to intensify the flavors.
Spicy sauces: If you like spicy food, you can add spicy sauces as an accompaniment to onion bhaji. Chili sauces or Indian spicy sauces, such as spicy mango sauce, can provide a spicy sensation and an explosion of flavors.
Storage and meal prep tips
Storage in the refrigerator: Onion bhaji can be kept in the refrigerator in a sealed container or in an airtight package for about 3-4 days. Make sure it cools down completely before putting it in the fridge and avoid condensation that can affect the crispy texture.
Freezing: If you want to keep the bhaji for a longer period, you can freeze it. Place the onion bhaji pieces in an airtight container or freezer bags, making sure to remove as much air as possible. Label the container or bag with the date and contents.
Defrosting and reheating: To defrost the bhaji, you can transfer the bag or container to the refrigerator and let it thaw gradually over several hours or overnight. After defrosting, you can reheat the onion bhaji in a preheated oven or in a pan on low heat until it is completely heated. Add a little oil or water, if necessary, to maintain moisture.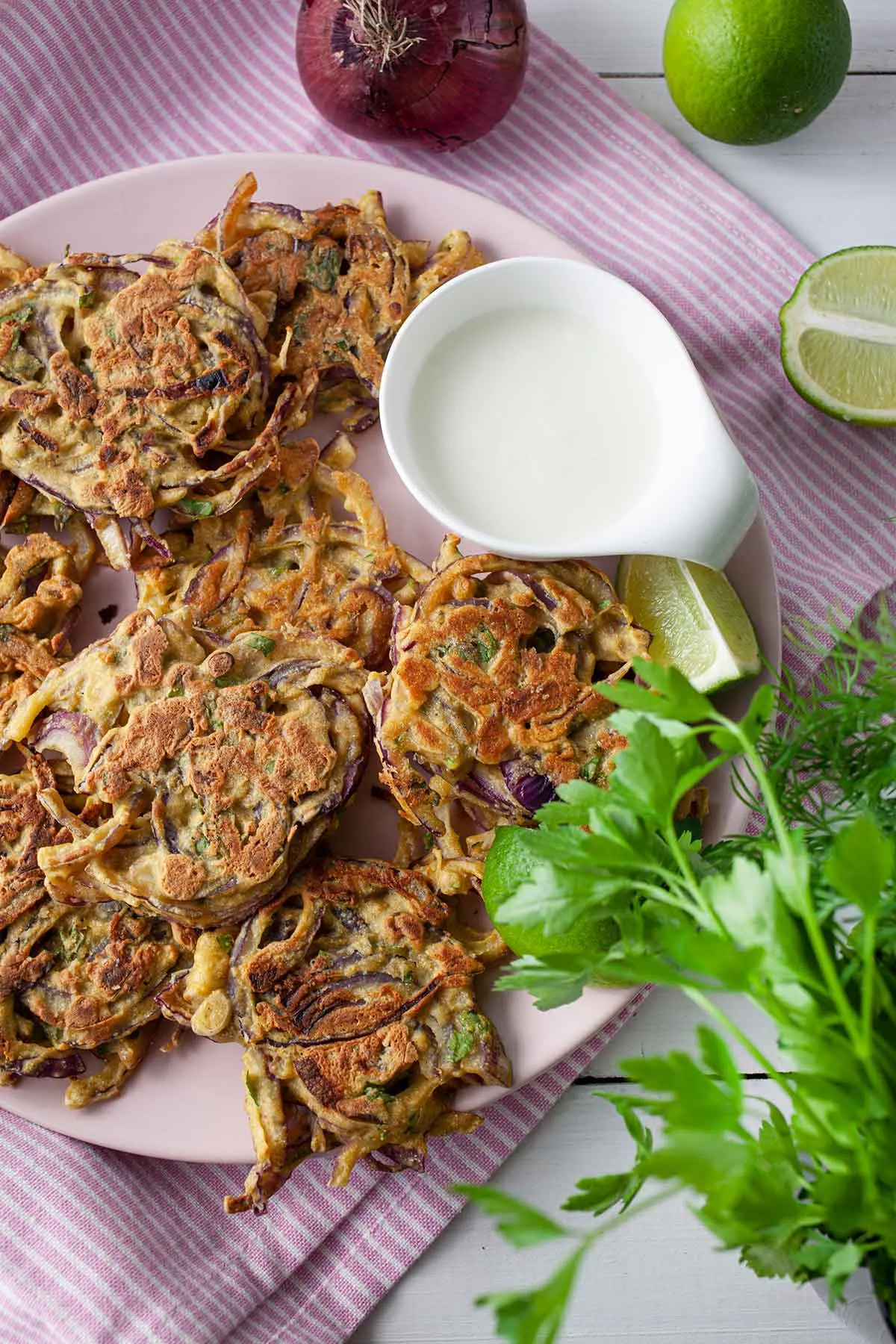 Recipe
Yield: 12 bhajis
Easy Onion Bhaji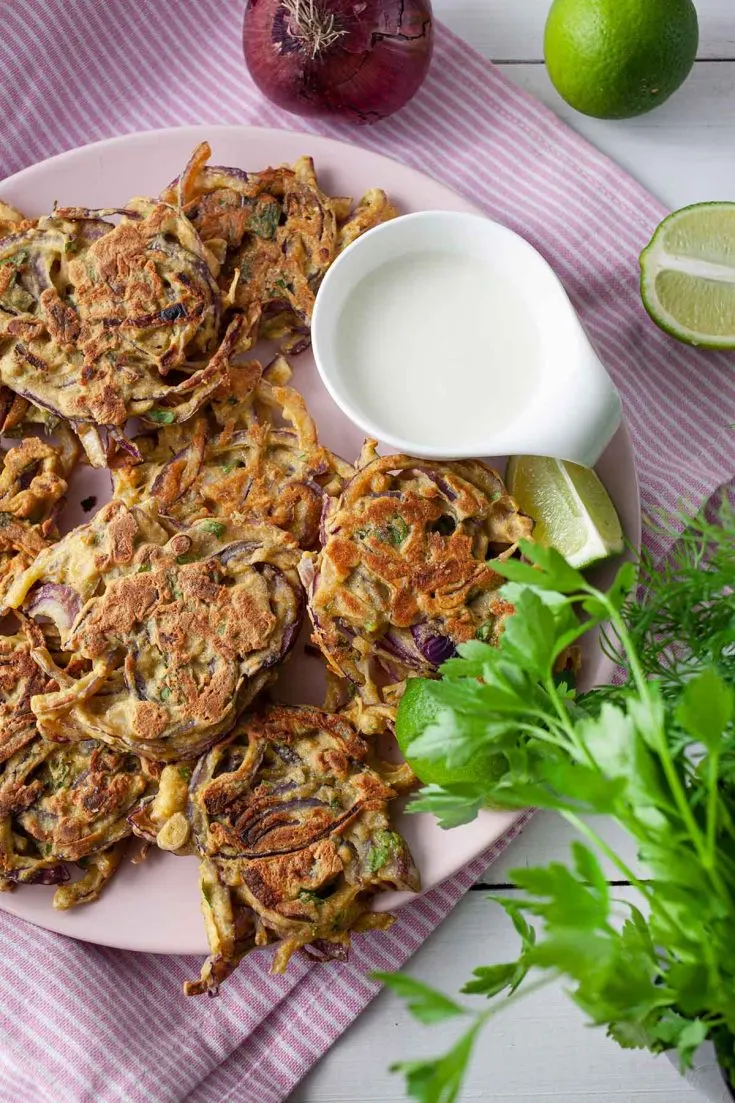 Discover the taste of Indian appetizers with this easy onion Bhaji recipe - A crunchy combination of sweet onions and exotic spices, without deep-frying.
Ingredients
2 medium onions, finely sliced
1 cup chickpea flour
1 tablespoon inactive yeast
1 teaspoon ground cumin
½ teaspoon salt
½ teaspoon ground turmeric
½ cup water
1 teaspoon lime juice
1 hot pepper, finely chopped
1 tablespoon chopped parsley
coconut oil for greasing the pan
Instructions
In a bowl, add chickpea flour, nutritional yeast, cumin, salt, turmeric, water, lime juice, hot pepper and parsley.
Mix until you get a creamy batter. Add the onion slices and mix until incorporated.
Heat a non-stick frying pan on medium heat, add a little bit of coconut oil, and put a spoon full of onion mixture to form each bhaji. Fry the bhajis on each side until they brown well and become crispy.
Serve these onion bhajis warm, with a splash of lime juice and yogurt sauce on the side.
Nutrition Information
Yield
12
Serving Size
1
Amount Per Serving
Calories

53
Total Fat

2g
Saturated Fat

1g
Trans Fat

0g
Unsaturated Fat

1g
Cholesterol

0mg
Sodium

95mg
Carbohydrates

7g
Fiber

1g
Sugar

2g
Protein

2g
I strive to keep the information as accurate as possible but make no warranties regarding its accuracy. I encourage you to make your own calculations using your preferred nutrition calculator.