Discover the delicious Sweet Potato Bhajis – a crunchy and aromatic Indian appetizer. Savor the sweet and lightly spiced taste of sweet potatoes wrapped in a crispy and golden batter.
Today I want to share with you the origin and the fascinating tradition of the delicious Bhajis, an Indian culinary dish that has conquered the hearts of gourmands all over the world.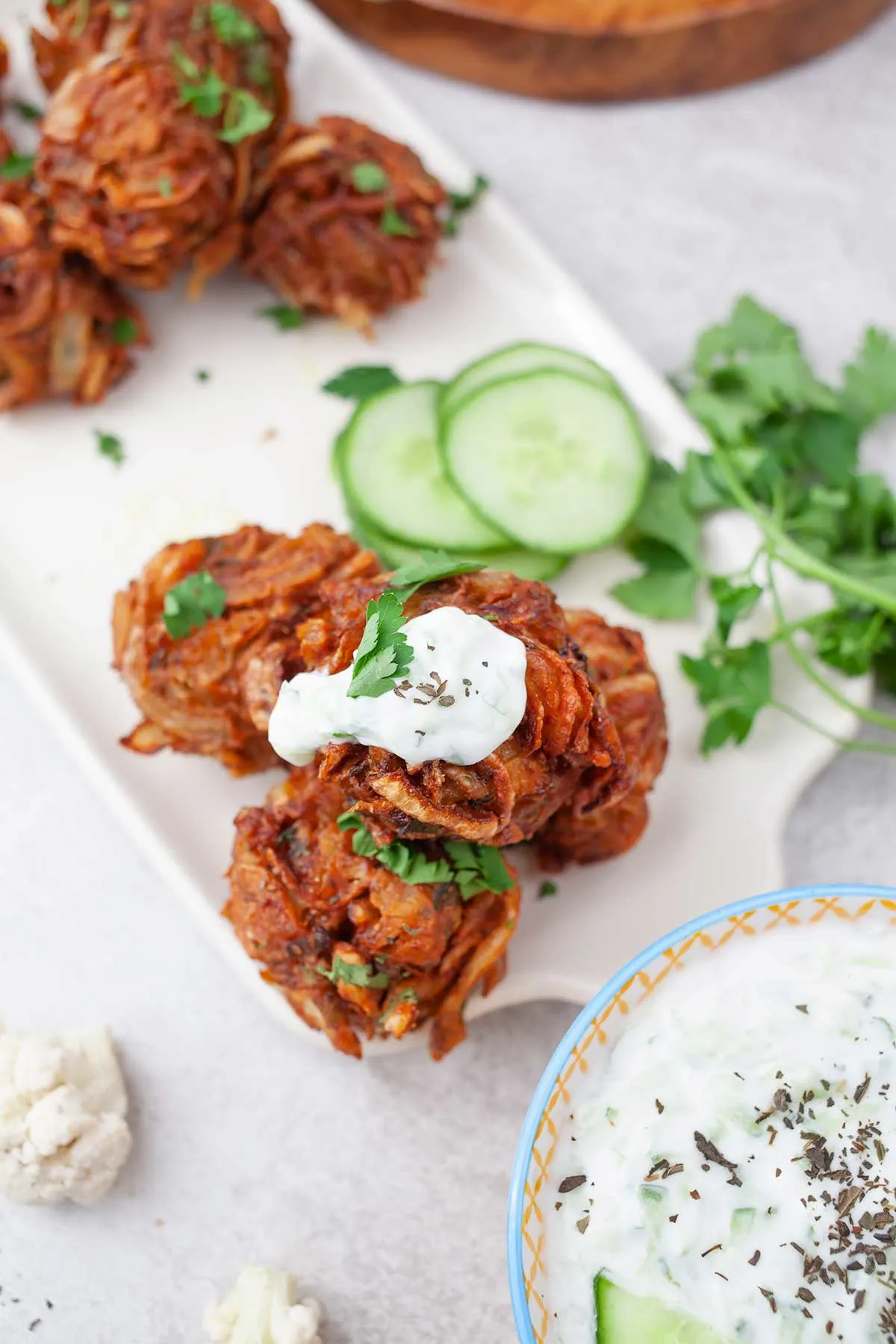 Bhajis, also known as pakora or bhajiya, are aromatic and crispy fritters consisting of various vegetables, usually cut into slices or in the shape of flowers, wrapped in a spiced batter and then fried until they become golden and crispy. The origin of Bhajis is closely related to Indian culture and gastronomy, and this delicious dish has a rich history and a strong influence on regional cuisines in India.
The history of Bhajis spans a long period of time and has known various cultural influences. The dish is believed to have originated in northern India, particularly in the Gujarat region, where it is said to have been created as a quick and nutritious snack for travelers. Over time, the Bhajis recipe spread throughout the country and evolved, adapting to local tastes and preferences.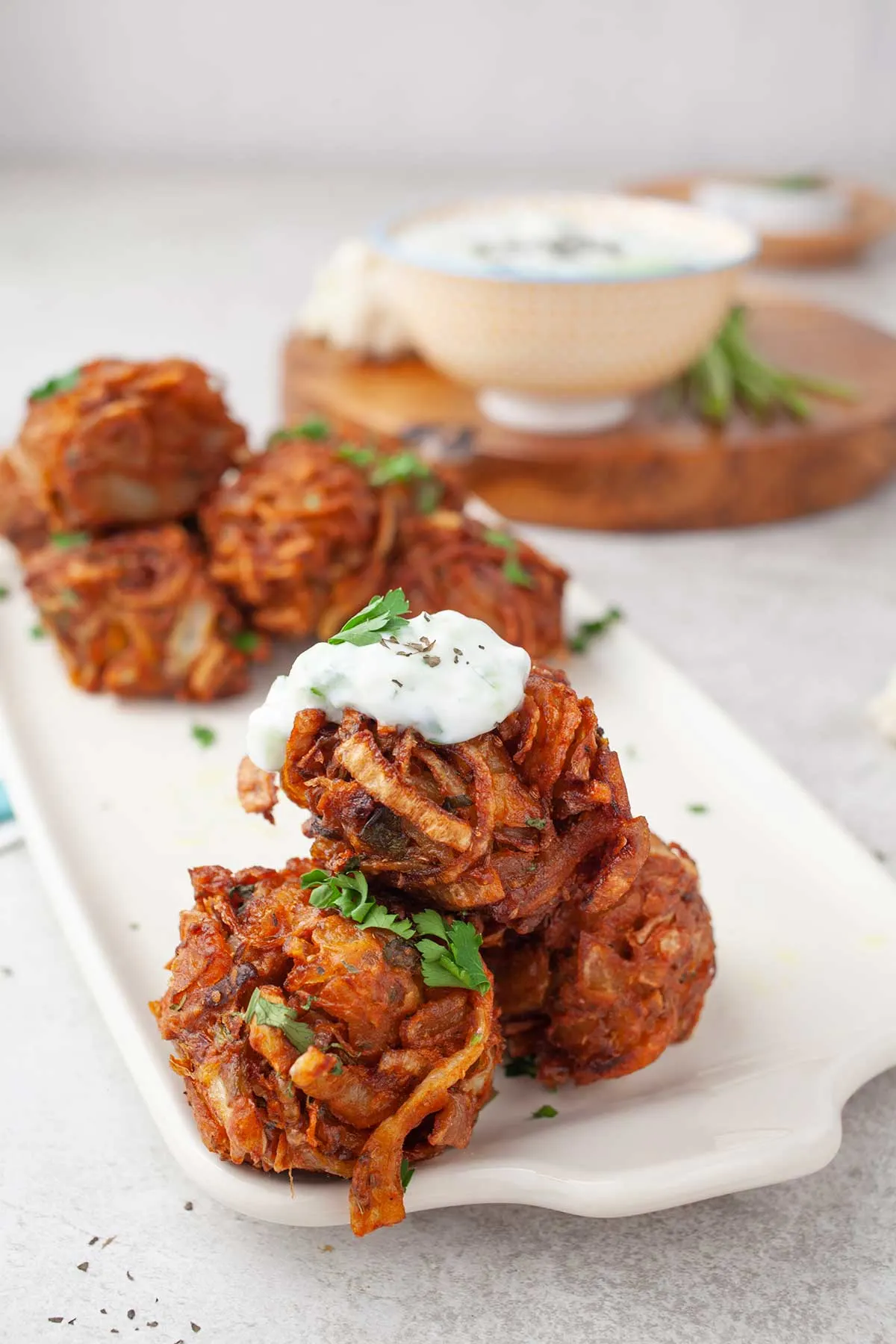 Today, Bhajis are considered a popular appetizer in India, but also in other parts of the world, being enjoyed by lovers of Indian food. They are served in restaurants, crowded streets and even during special holidays and festivities. The classic Bhajis recipe involves the use of onions and spices such as turmeric, coriander, chili and ginger. However, depending on the region and personal preferences, other vegetables can be used.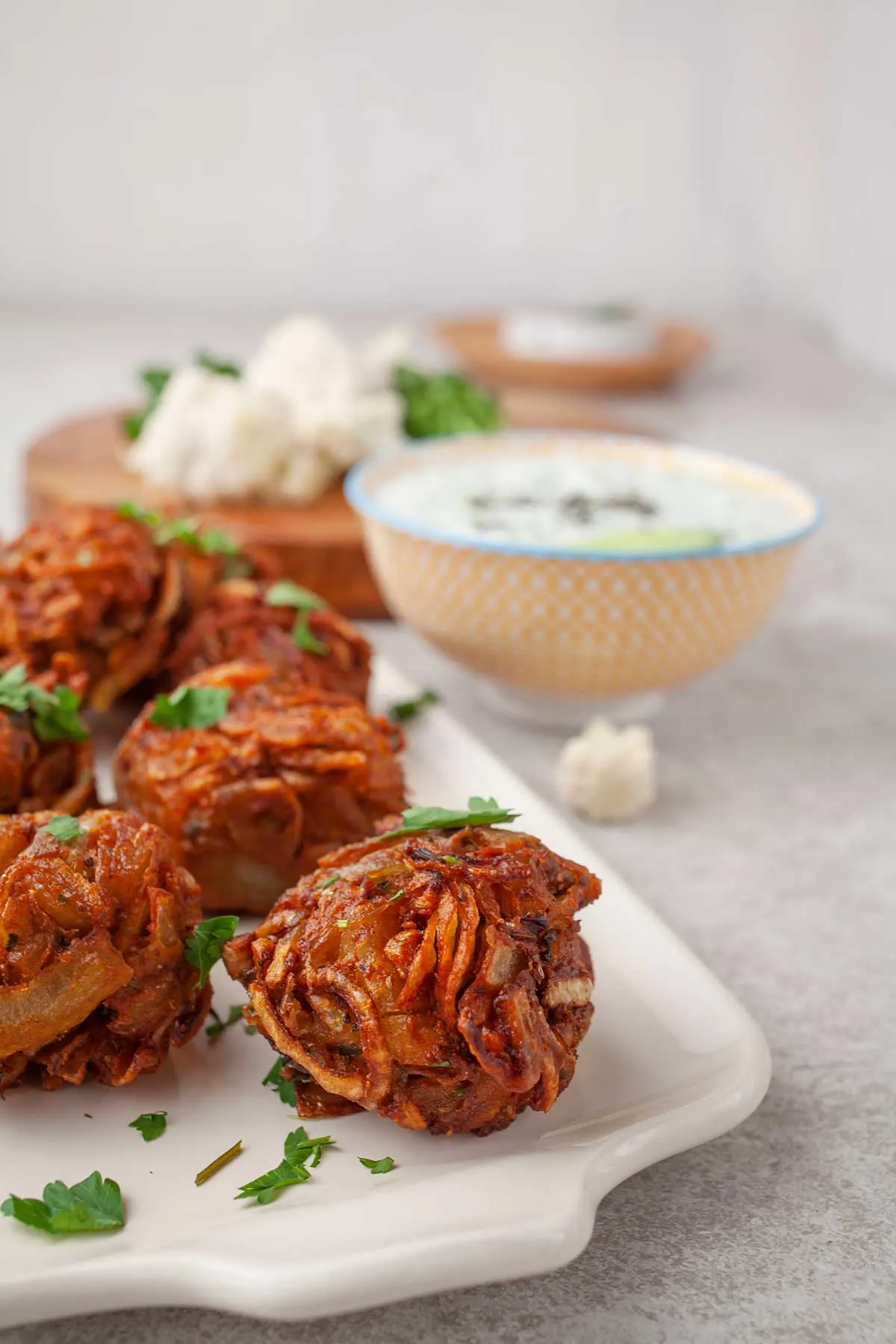 Recommended sauces and dips for bhajis
Here are some ideas of sauces and dips that are perfect to accompany sweet potato bhajis, in case you want other ideas than the one presented in the recipe.
Hot sauce! For the brave who love hot sensations, I recommend a hot pepper sauce, which can be made at home with a few ingredients. Simply mix finely chopped hot peppers, garlic, lemon juice, salt, a few spoons of tomato paste and a little oil.
If you prefer creamy and rich sauces, an avocado sauce is the perfect choice. Mix well-ripened but unblemished avocados, soy (or normal) yogurt, lime juice, fresh coriander and salt to get a creamy and delicious sauce.
We cannot forget the delicious yogurt sauces that complement the flavor of Bhajis so well. You can prepare a refreshing yogurt sauce by mixing yogurt (you can also use soy for the vegan version), chopped fresh mint, lemon juice, salt and a little honey or maple syrup.
Check out these amazing sauces you can also try and take your bhaji experience to the next level! Also check out these vegan sauces for a 100% vegan meal.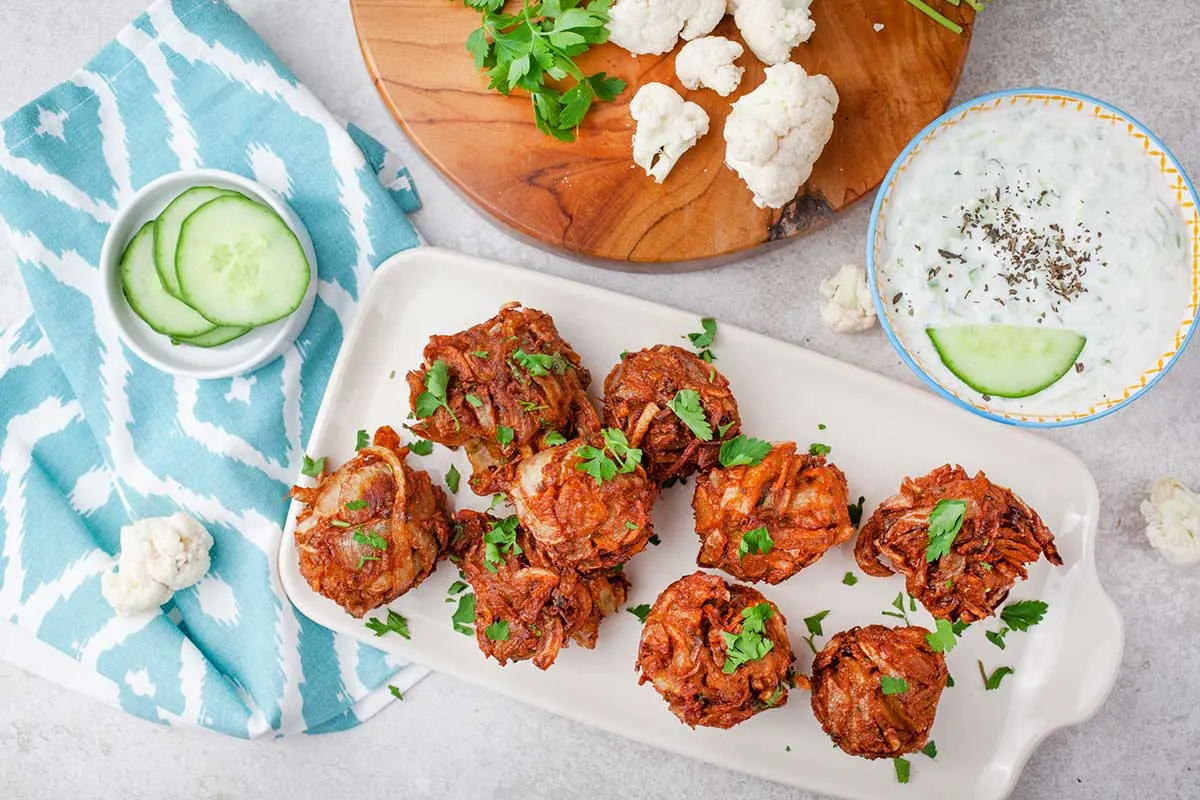 Tips and tricks for cooking perfect bhajis
Pay special attention to the preparation of the bhaji batter. To get a perfect texture with optimal adhesion, make sure you grate/cut the sweet potatoes very thin and mix them well with the other ingredients. If the batter is too viscous, add a little bit of extra flour to give it the desired consistency.
Pay attention to the temperature of the frying oil. To get crispy and golden Bhajis, make sure the oil is heated to the right temperature. If it is too hot, the Bhajis will burn quickly on the outside and remain raw on the inside. If the oil is not hot enough, the result will be saturated with fat. If you don't have a kitchen thermometer, you can check the temperature of the oil by adding a small piece of batter – if it fries immediately and gets a golden color, then the oil is optimally heated.
Another trick I recommend is that the vegetables used in bhajis should not be wet. In the case of the sweet potato, press it with a paper towel before putting it in the bhaji batter. If you use juicier vegetables, such as zucchini, you can drain them in a sieve beforehand.
Place the bhajis on a paper towel to absorb the excess oil after frying and to keep them crispy.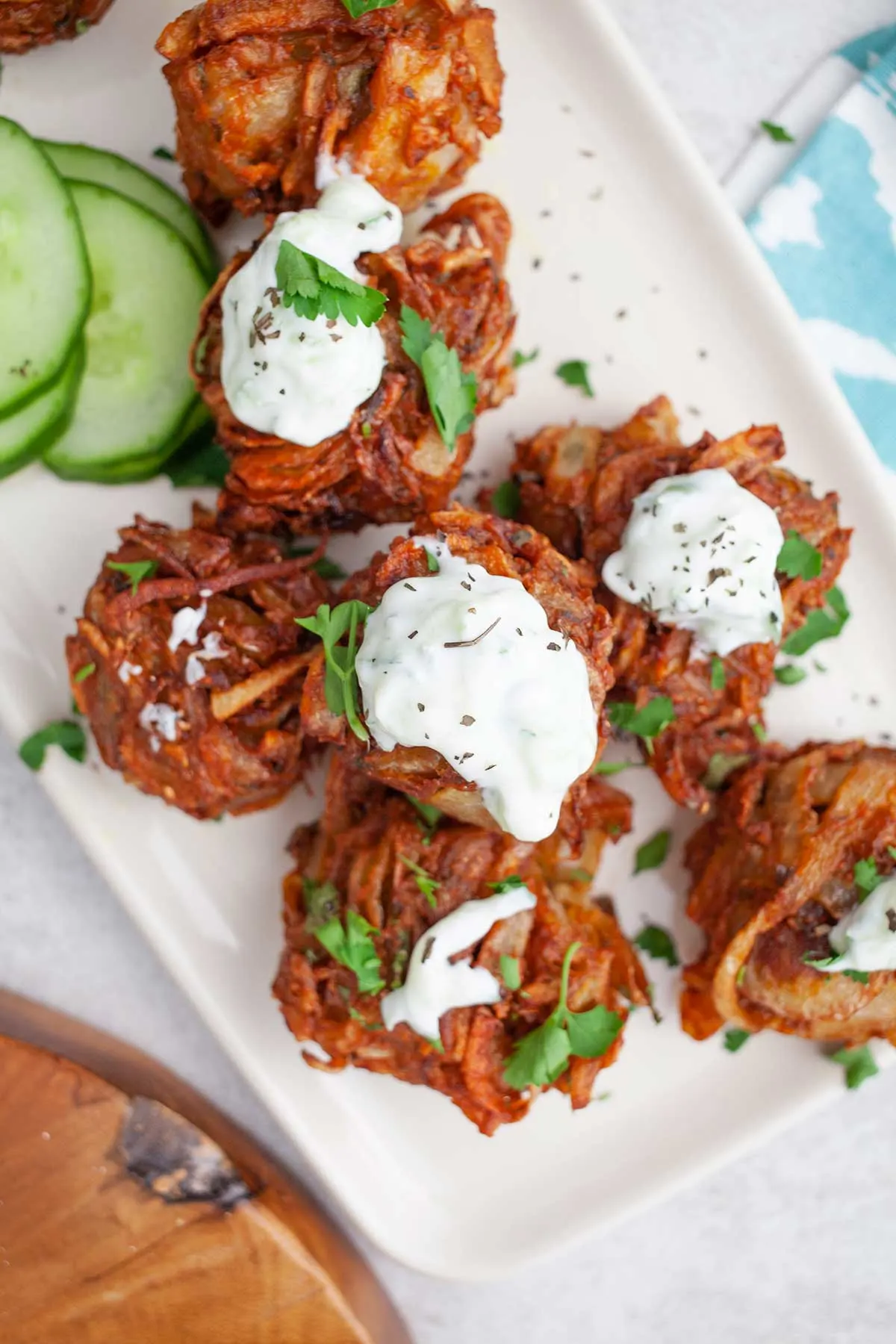 So, if you want to experience the flavors the Indian gastronomic tradition has to offer, I warmly recommend you to try my sweet potato Bhajis recipe. You will definitely be delighted. 🙂
Also check out these Indian recipes: Chana Butter Paneer Masala with Basmati Rice, Vegan Palak Paneer, Vegan Chicken Tikka Masala, Vegan Biryani.
Yield: 4-6 servings
Sweet Potato Bhajis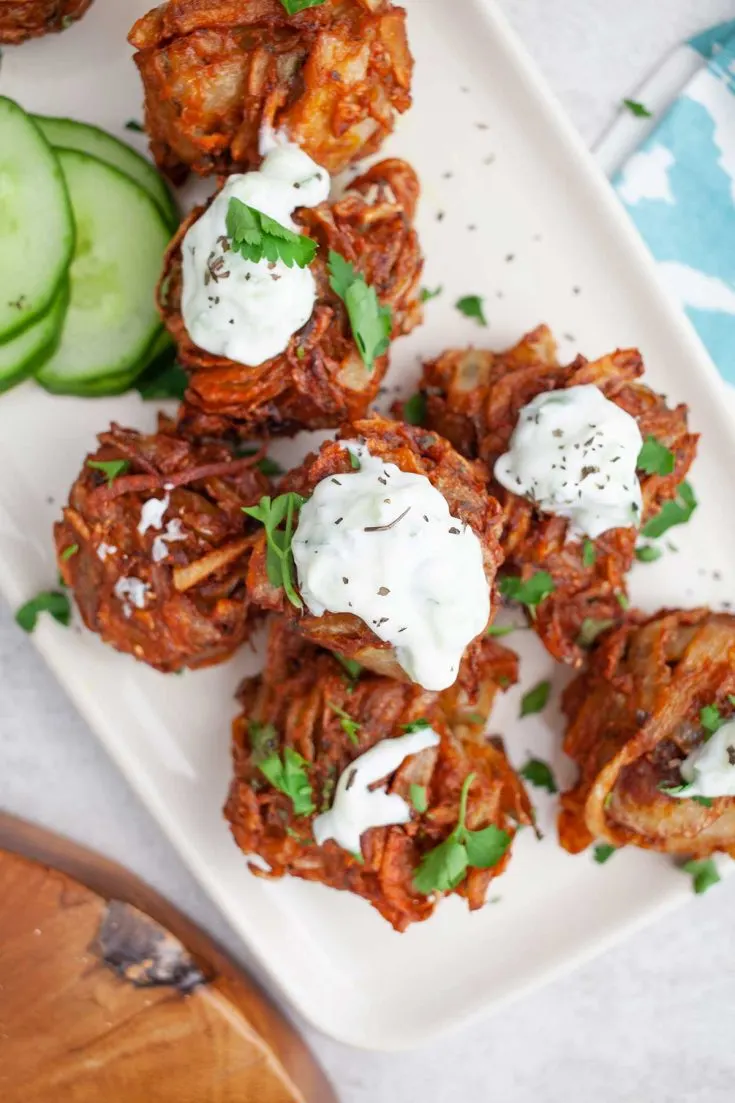 Discover the delicious Sweet Potato Bhajis - a crunchy and aromatic Indian appetizer. Savor the sweet and lightly spiced taste of sweet potatoes wrapped in a crispy and golden batter.
Additional Time
15 minutes
Total Time
1 hour
15 minutes
Ingredients
2 sweet potatoes, large
1 large onion
oil, for frying
For the batter:
100 ml plain water
200 g chickpea flour
60 g Greek yogurt (use soy yogurt for vegan version)
1 tablespoon of olive oil
1 teaspoon hot pepper
1 teaspoon masala or curry spice mix
1 teaspoon cumin powder
½ teaspoon of salt
½ teaspoon pepper
For the sauce:
½ large cucumber, grated
½ teaspoon of salt
300 g Greek yogurt (use soy yogurt for vegan version)
1 teaspoon dry mint
Instructions
Prepare the sauce. In a sieve, put the grated cucumber and sprinkle with salt. Let it stay like that for 15 mins. Then squeeze out the water from the grated cucumber. Transfer the cucumbers to a bowl, add the yogurt, mint and mix. Put the bowl in the fridge until you prepare the Bhajis.
In a bowl, add all the ingredients for the batter and mix well until completely homogenized. You have to get a paste-like texture for the batter.
Now grate the sweet potato using a mandoline or your food processor or simply cut it into thin and narrow slices. Julienne the onion. Add the sweet potatoes and onion to the batter and mix.
Heat the fryer with oil or fill a pan with oil and wait for it to heat up to 160 C.
Form balls from the mixture and fry them for around 6 minutes each, on both sides, until they become crispy and brown.
Place the bhajis on some paper towels to absorb the excess oil. Then transfer them to a tray. You leave the tray in the oven at 100C to keep the bhajis warm until they are all ready to be served.
Serve the sweet potato bhajis balls with the yogurt sauce.
Nutrition Information
Yield
6
Serving Size
1
Amount Per Serving
Calories

319
Total Fat

9g
Saturated Fat

1g
Trans Fat

0g
Unsaturated Fat

7g
Cholesterol

15mg
Sodium

432mg
Carbohydrates

39g
Fiber

6g
Sugar

12g
Protein

20g
I strive to keep the information as accurate as possible but make no warranties regarding its accuracy. I encourage you to make your own calculations using your preferred nutrition calculator.