If you are in the mood for a tasty, deep-flavored and healthy recipe, then look no longer, then look no longer – here is how to make the best vegan palak paneer!
Today I propose to you a vegan version of the vegetarian dish Palak Paneer. We all love the flavors associated with the Indian cuisine, those rich and spicy tastes that always come out as a delight for our tastebuds, so this recipe will always be a great idea that will definitely leave you amazed!
The name and sound of this dish might sound exotic, or even strange to us, so let's dive deeper into the history of this absolutely tasty food! Palak Paneer finds its roots in the Northern parts of India, yet variations of this dish are made and served all over the country.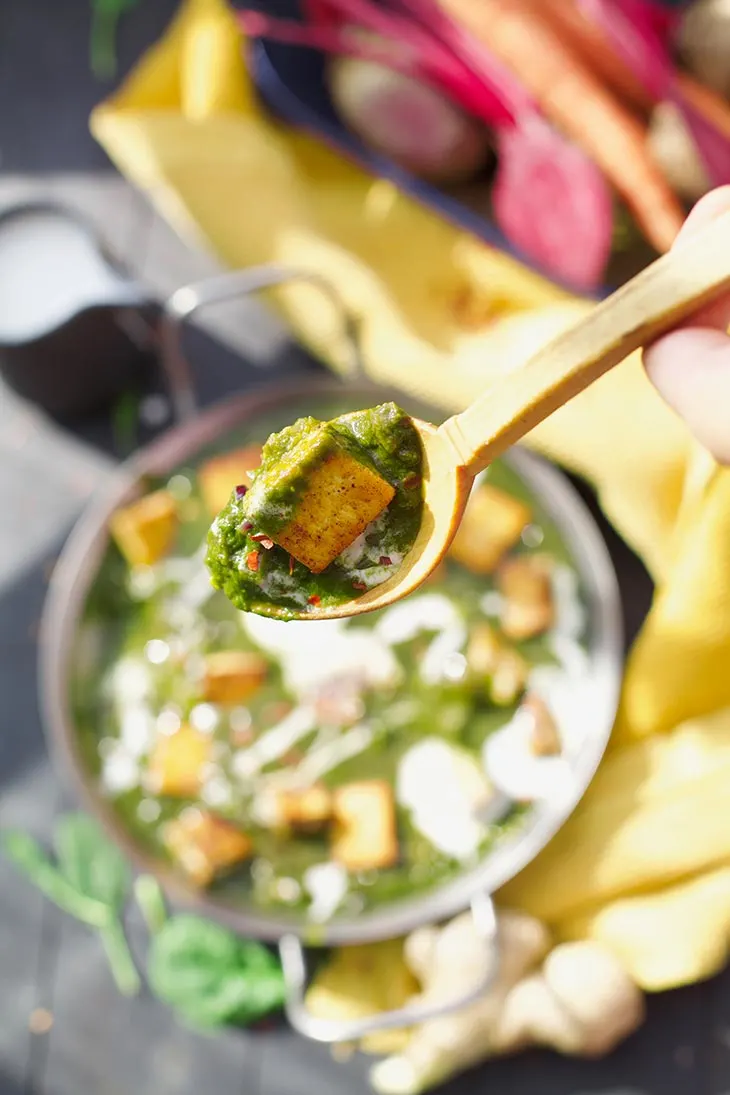 Maybe we could learn more than just cuisine from India, as somewhere between 20% and 40% of the population of India is estimated to be vegan! 🙂
As such, paneer, one of the main ingredients of the Palak Paneer – a kind of crumbly cheese made out of cow milk – is an important source of protein in India. Don't worry, though, our recipe is entirely vegan, so you can enjoy the full flavor and nutritional aspects of the dish with no animal compounds.
Fun fact: Paneer is so popular and important in India, that it has a whole annual festival dedicated to it – the Paneer Festival in Shvatra. Palak Paneer is also a traditional menu item on Indian weddings. Yum, right?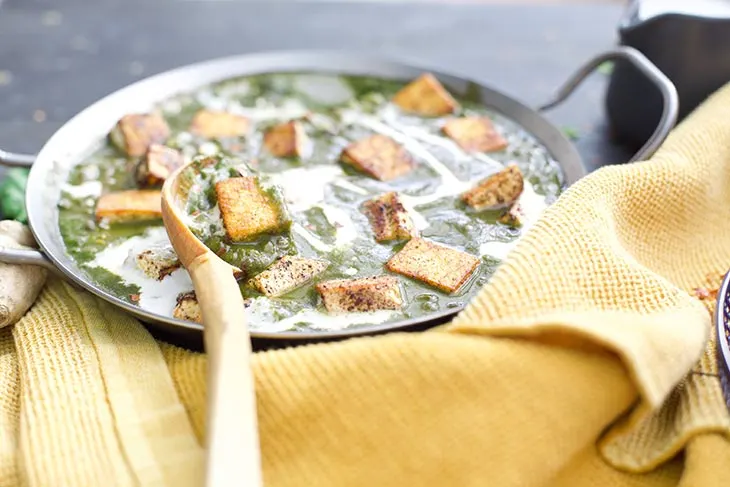 Now let's talk a little bit about the main ingredients of this fabulous dish. The name of the recipe actually hints to the main components: paneer, as we already mentioned, is the name of the cheese used in the traditional dish, while palak is the Hindi word for spinach. Simple, right?
Now we know where its vibrant color comes from! I've always had an attraction for interesting-looking meals – and the Palak Paneer is maybe one of the leaders in this section. The green color looks so appealing to me, always making me want a taste – and the first taste never disappoints me! 🙂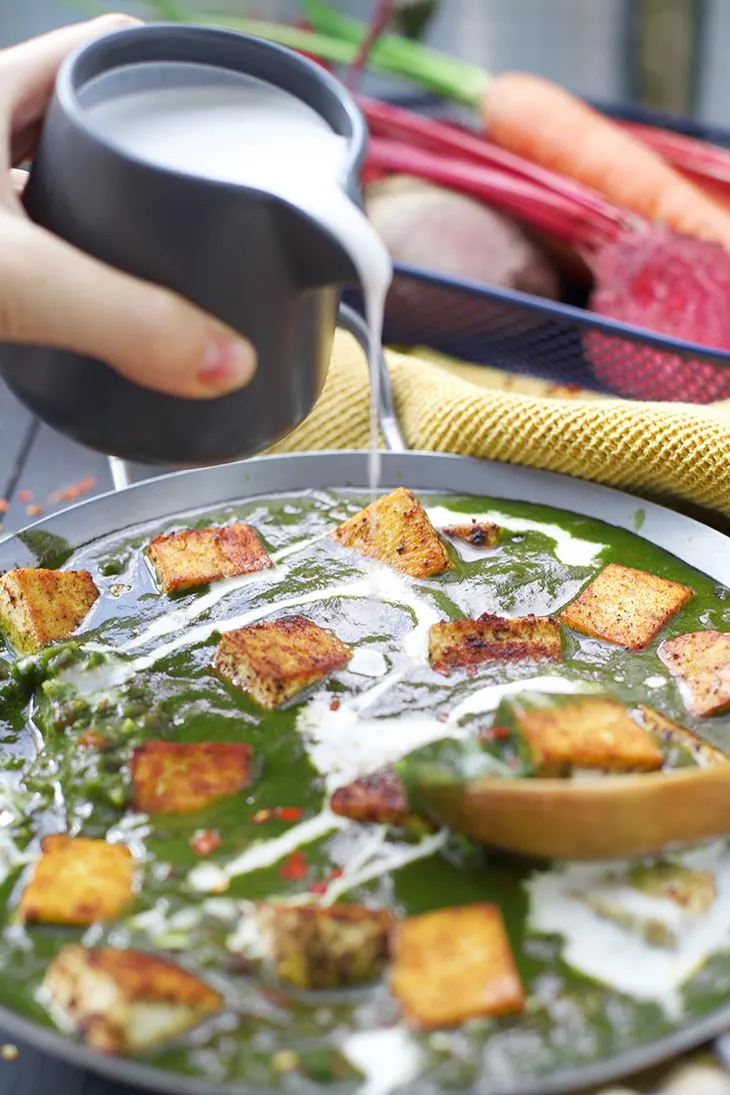 So, as I mentioned, the main ingredients for the Palak Panner are the Palak cheese (which, in our case, will be replaced with a tasty vegan option) and the spinach. Yet these two ingredients couldn't be enough to create the rich taste of the Indian cuisine, right? Absolutely right! Just wait for it!
While we have a basis packed with nutrients, we can control the depth of the taste with spices and additional vegetables. No Palak Paneer would be complete without tomatoes, garlic, and ginger, while spices such as cayenne pepper add an absolutely wonderful touch to the final taste. At this point as I am writing this description, I am already thinking of reaching for a second bowl of Palak Paneer. Yes, it's that good! 🙂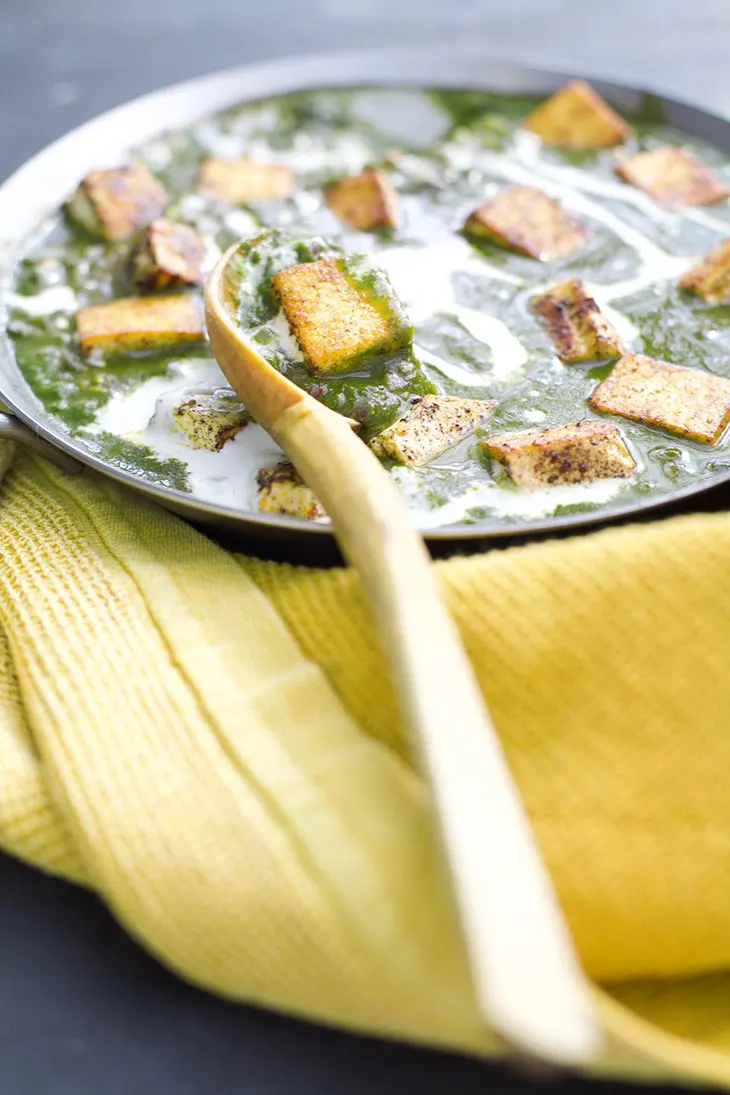 The process of making this dish is also quite easy – so you can venture into making this Indian classic even if you are still a beginner in the culinary arts!
The creamy spinach basis is made by blender mixing together the ingredients, then cooking it in a pan for a few minutes together with the paneer and after that, it's ready to be served! As I promised – simple and fun to make! 🙂
The nutritional aspects of this dish are also to be taken into consideration. The main ingredient of this dish is the spinach and we're in luck today because spinach is a superfood. It is loaded with nutrients while maintaining a low-calorie aspect.
It is also an important source of iron, calcium, vitamin C and magnesium and it shouldn't miss from anybody's diet. The benefits of spinach range from improvement in skin, hair, and bone health to improving blood glucose control in people with diabetes and lowering the risk of cancer.
And all this stands for just one of the ingredients of the Palak Paneer! You can't go wrong with this recipe, as all the ingredients together form a delicious and absolutely healthy meal option, with real health benefits! 🙂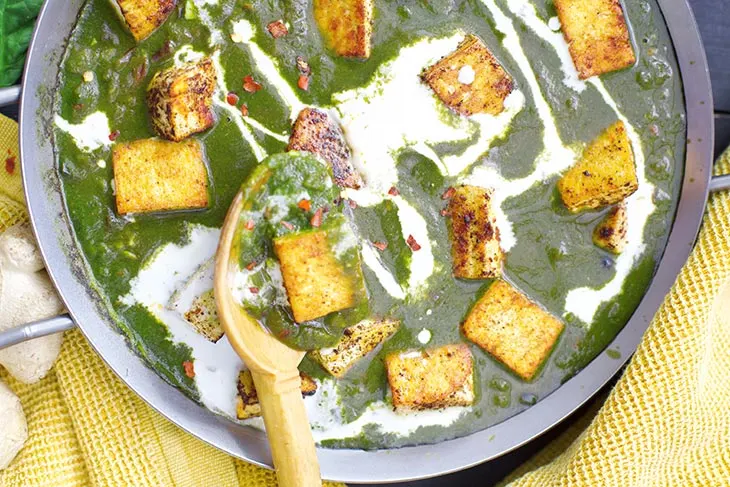 I couldn't think of any reason not to include this recipe into your usual list of go-to recipes. It's not only flavorful, healthy and easy to make, it's also suitable for any meal of the day – breakfast, lunch or dinner!
And, as a bonus, it can also easily be packed in a casserole and brought to work, so you can enjoy this meal anytime you want. What more can you wish for?
Today's recipe is totally vegan, so you can enjoy this knowing that you are making the best choice. If you are still not sure if this recipe is suitable for you, just take into consideration the fact that the vegan version of the paneer is much easier to make, as the paneer cheese could be quite hard to procure.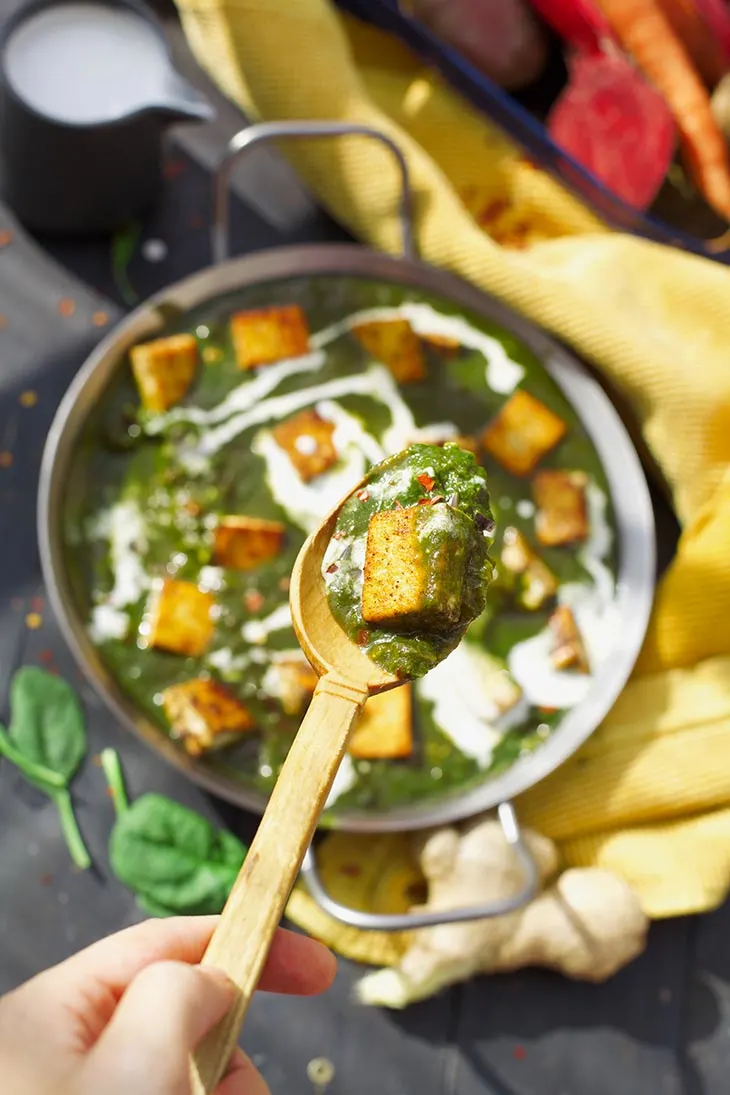 Now that all the details are settled, let's gather all the ingredients and start cooking! Bon appetit! 🙂
Yield: 4
Vegan Palak Paneer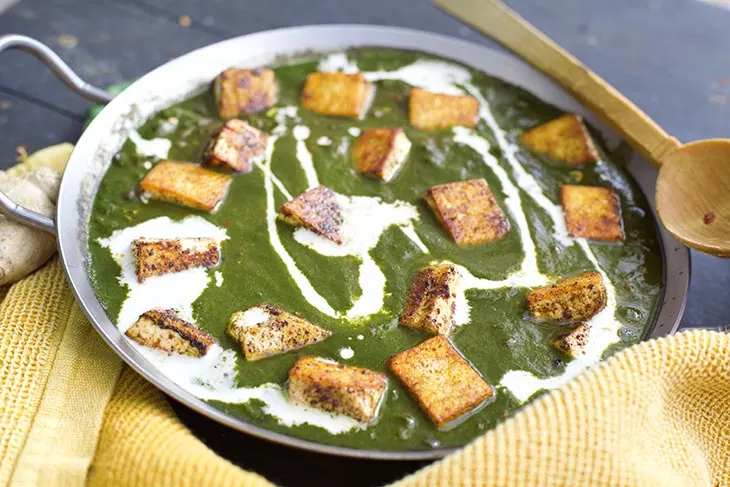 If you are in the mood for a tasty, deep-flavored and healthy recipe, then look no longer, then look no longer - here is how to make the best vegan palak paneer!
Ingredients
For the paneer:
1 block of firm tofu, cubbed
1 tsp smoked paprika
1 tsp garam masala
½ tsp salt
½ tsp white pepper
¼ tsp chili
2 tsp coconut butter
For the spinach mixture:
4 cloves garlic
1 tsp ginger, chopped
1 red onion
2 ripe tomatoes, chopped
120g (4 cups) spinach, washed and dried
120ml (½ cup) veggie broth
1 tsp cumin seeds
1 tsp hot curry powder
2 tsp chili flakes
½ tsp salt
2 tsp vegan butter
220g (1 cup) full-fat coconut milk
Instructions
Heat a skillet on medium-high heat.
Add the coconut butter, smoked paprika, masala, salt, white pepper, and chilli.
Fry for about a minute and add the tofu cubes.
Fry the tofu, stirring, until it's golden and crispy on the outside. Set aside.
Add the spinach to the boiling water and let sit for about 5 minutes.
Discard the water and let the spinach cool.
When cool, add to a food processor and blend until smooth. Then add the veggie broth.
In a large skillet on medium heat, add the cumin seeds, curry powder, chili flakes, and dry fry for about a minute.
Add the vegan butter and let it melt.
Add the chopped garlic, ginger and fry for about one more minute.
Add the onion and continue to fry until fragrant and begins to soften.
Add the chopped tomatoes, salt and cook until soft and mashy for about 7 minutes.
Add the spinach puree, mix and cook for about 2 more minutes.
Top with cooked tofu and coconut milk.
Enjoy!
Nutrition Information
Yield
4
Amount Per Serving
Calories

380
Total Fat

25g
Carbohydrates

36g
Fiber

6g
Sugar

11g