Looking for a healthy and delicious vegan dip to pair with your favorite snacks? Search no more, as this vegan spinach dip is the perfect answer!
Spinach dip is pretty much loved by everyone for various reasons. Firstly, it's delicious! 🙂 Secondly, it's incredibly easy to make. And thirdly, it's one of the best party appetizers around the world.
Who doesn't love a recipe that you can throw together in a matter of minutes and one that has the benefit of making everybody around the table happy? Plus, this spinach dip is an amazing way to sneak those dark leafy greens that everyone brags about these days into your diet. Even children are going to love this one!

But it's one of those recipes that seems impossible to "veganize", and for good reasons. A good, creamy, classic spinach dip contains huge amounts of high-fat cream cheese and butter. These are the things that push the spinach out of the ordinary and make this dip such a decadent, hearty and delicious appetizer… which can pretty easily turn into a main course, actually.
So what would you say if I told you that I know no bounds when it comes to veganizing recipes? And that this one can be converted as well? …And that it can even be a lot healthier than the original one? Yep. Just hear me out! 🙂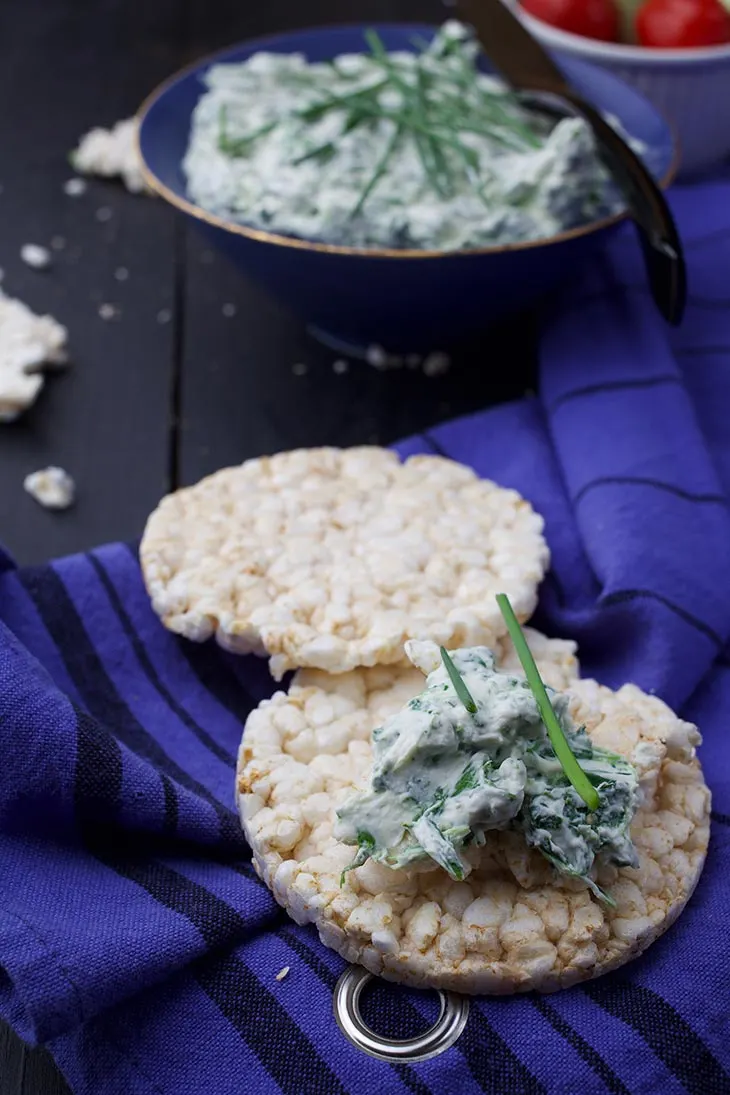 While I cannot tell you that this vegan alternative tastes 100% just like the real thing (only maybe… 99%), what I can tell you is that it's amazing and you won't be able to stop eating it. When I took the first bite out of this, I had mixed feelings. It felt familiar, yet different at the same time. By the second bite, there was no way back. I'm not gonna lie to you, it's gonna be pretty hard not to finish a whole loaf of bread with this dip!

There are many vegan alternatives to cheese. From my experience, the best results come from mixing these alternatives and tasting. Trial and error.
For example, tofu might be something that comes to everyone's mind, but cream tofu in itself will not taste like cream cheese. It's too bland and the soy flavor a bit too present. Soaked and blended cashews are also a good alternative, but the cream eaten on its own will not have a cheesy enough taste and might be a bit too sweet.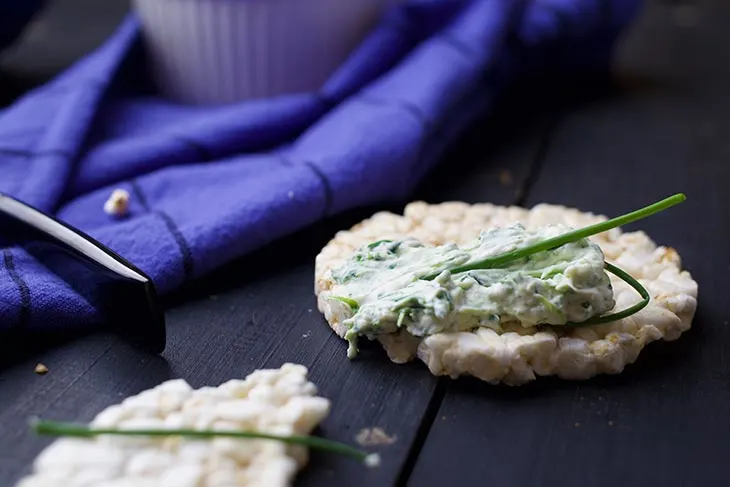 So an amazing (and super quick!) solution would actually to use vegan cream cheese! And mix it with a secret ingredient – nutritional yeast. Yes, nutritional yeast is a vegan's secret weapon to make everything cheesy and divine.

To take this vegan spinach dip 1000 steps further, I urge you to add garlic. Why? Because spinach, cheese, and garlic are a match made in heaven. Serve this with fresh bread right out of the oven and you've got yourself one of the most amazing meals you will ever be able to make.
You can also experiment with tons of other spices and condiments, but garlic is a must! 🙂 Along with the cheese, it works in a mysterious way to complement the otherwise pretty non-existent flavor of the spinach.
If you don't have garlic around or don't have the patience to peel the cloves, you can also use garlic powder, but in my opinion fresh is always better and we should try incorporating as much fresh produce into our diets as we can!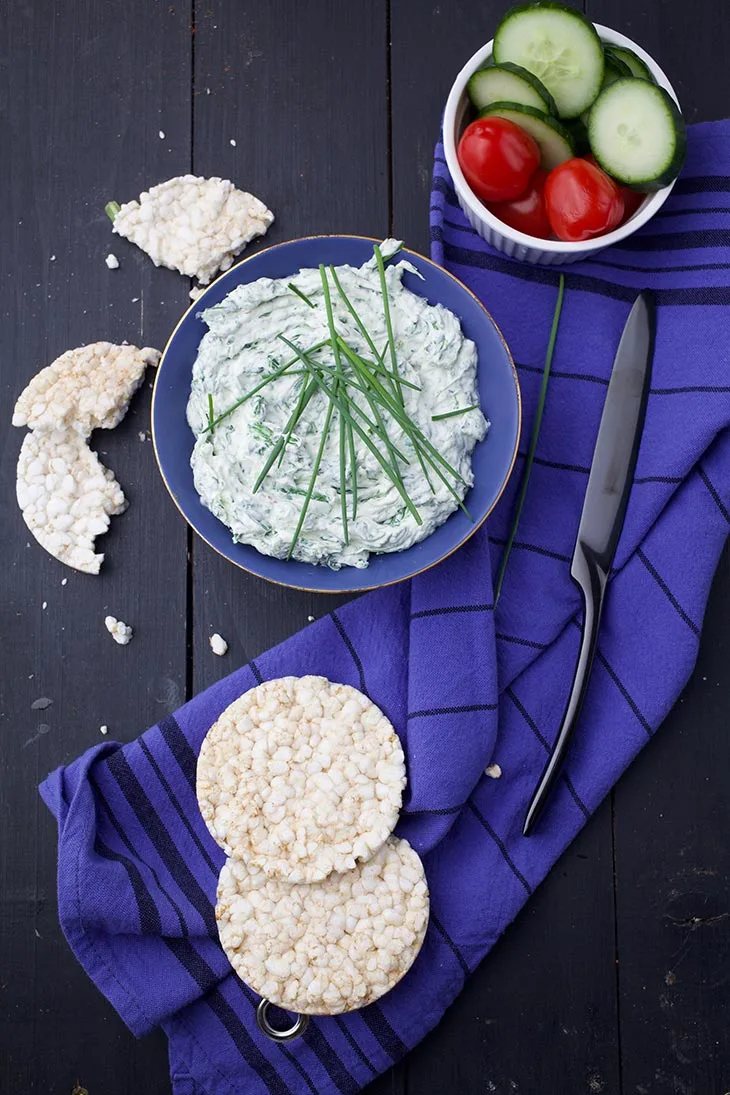 Not to mention the health benefits, y'all! Dark leafy greens such as spinach are packed with nutrients and are essential for the health of your hair, nails, and bones. They're an important source of vitamins, iron, minerals, even protein, thus making them an essential food in any vegan's diet.
However, as I've mentioned above, spinach can taste kinda bland when eaten on its own, so it's no wonder why children won't jump with joy when you urge them to eat it. Spinach needs to be paired with other yummy ingredients in order to be fully enjoyed, and this recipe is very much the case.
The vegan cream cheese also contains less fat than regular cream cheese, so your arteries won't scream for help. And garlic… well, I think it's pretty much basic knowledge nowadays that garlic is an amazing anti-inflammatory ingredient, packed with tons of benefits.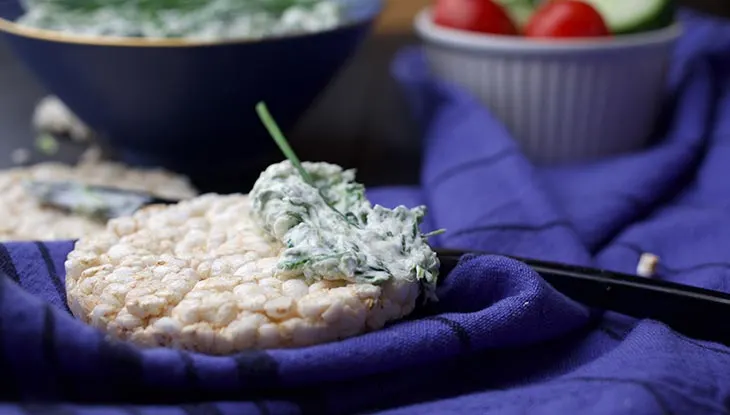 You can serve this vegan spinach dip either warm or cold, alongside fresh bread, chips or crackers, on top of salads, on top of pasta, eaten with a spoon right out of the bowl etc. It's best when enjoyed with your friends and family, around a large table – though you won't be able to stop at a single serving. You have been warned! 🙂
Yield: 4
Vegan Spinach Dip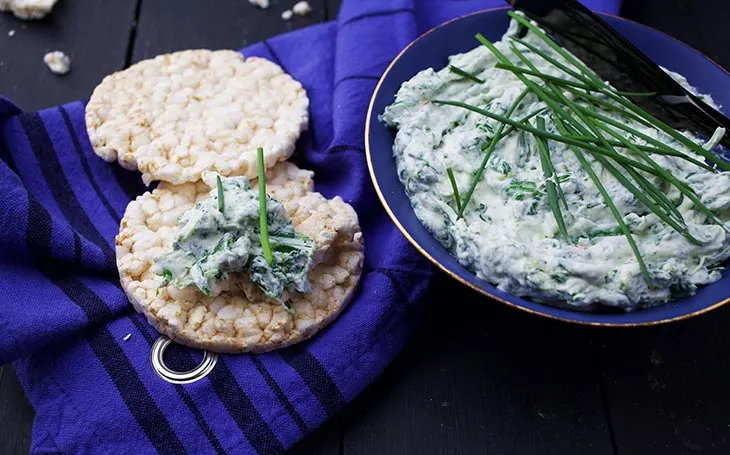 Looking for a healthy and delicious vegan dip to pair with your favorite snacks? Search no more, as this vegan spinach dip is the perfect answer!
Ingredients
1 Tbsp olive oil
150g (1 cup) frozen spinach, defrosted and squeezed
2 cloves of garlic, crushed
½ yellow onion, finely chopped
1 Tbsp flour
225g (1 cup) vegan cream cheese
110ml (¼ cup) coconut milk, full fat
2 Tbsp nutritional yeast
¼ tsp salt
⅛ tsp ground black pepper
Instructions
Head a skillet on a medium heat with 1 Tbsp olive oil.
Add the garlic and onion and cook until light golden and fragrant, stirring occasionally.
Add the flour as well and cook for one more minute, stirring frequently.
Add the vegan cream cheese, stirring, until melted and incorporated.
Stir in the spinach, milk, nutritional yeast, salt, and pepper.
Cook for about 2 more minutes.
Serve with toasted baguette or fresh veggies!
Nutrition Information
Yield
4
Amount Per Serving
Calories

237
Total Fat

22g
Carbohydrates

5g
Fiber

1g
Sugar

1g