Learn how to prepare the best homemade salsa recipes (Mexican sauces) – Salsa Roja, Salsa Verde, Pico De Gallo, Mango Salsa, and Avocado salsa.
Mexican cuisine is full of delicious, flavorful dishes, loved by people from all around the world. But there is something more to these dishes, something that gives them that extra special taste – and you know what I'm talking about: it's the salsas, of course!
Mexican dishes are almost always paired with a special salsa: be it a red one, a green one, a spicy one or a refreshing one. Salsas are some special sauces, either with a liquid or chunky consistency and most of them are made with a variety of tomatoes, hot peppers, lime, cilantro, avocado, onions and sometimes even fruits such as mango, papaya etc. Different combinations create different types of salsas that must be consumed together with traditional dishes such as steaks, wraps, seafood, chips etc.
Even though some traditional Mexican dishes might be considered a bit on the unhealthy side, as some are fried, deep fried or full of oil – salsas, on the other hand, are super healthy! Because they're made with fresh or cooked vegetables, salsas are a great way to include healthy veggies into your diet in a fun way and also transform a boring dish into a delicacy!
Let's find out which are the 5 most popular Mexican salsas and what makes them so special:
Salsa Roja
In case you already went to a Mexican restaurant or if you are passionate about this type of cuisine, I am sure you heard about Salsa Roja by now! Salsa Roja is a Mexican spicy red sauce that goes well with any Mexican dish ever. One of the best things about this salsa is that it is extremely easy to make, so any beginner interested to discover the secrets of the Mexican cuisine can make it. All you need to do is to take your fresh vegetables – tomatoes, chili peppers, onions, and garlic – and cook them in a pot. Then you have to blend them together with cilantro and olive oil and that's it, you will have the perfect Salsa Roja to pair with your favorite Mexican dish! There is also a different way of making this salsa in which you blend the ingredients together and then you cook the mixture. Or you can even roast the vegetables and then blend them. Regardless of which method you choose, the results will be spectacular! Of course, you can make this salsa as spicy or as mild as you wish.
Salsa Roja goes perfectly with enchiladas, tacos, quesadillas, and other traditional Mexican dishes.
Salsa Verde
Salsa Verde (which basically means "green salsa") is very similar to Salsa Roja, as they are both spicy liquid sauces, but Salsa Verde has a vibrant, green color. This beautiful color is given by the tomatillos (small green tomatoes) or tomates verdes (big green tomatoes) used to make it, combined with serrano hot pepper or jalapeno. The cooking process is the same one used for Salsa Roja, as you have to cook your fresh ingredients and then blend them together to perfection.
Salsa verde has a very vibrant taste and is a perfect match for tacos, quesadillas, enchiladas and, of course, chips!
Pico de Gallo
Pico de Gallo salsa, also known as "salsa fresca", "salsa cruda" or "Mexican salsa" – because its colors resemble the Mexican flag – is probably the most famous and refreshing Mexican salsa! It is also the easiest and simplest salsas of them all and it goes perfectly with grilled meat or fish or in a delicious Mexican taco or even fajita.
Pico de Gallo actually means "rooster's beak" and the salsa is traditionally made with chopped tomatoes, onions, fresh chili (usually serrano but jalapeno works just as well), cilantro, salt, and lime.
This salsa goes perfectly with tacos, beans, rice, tortilla chips or you can even consume it as it is, in place of a salad.
Avocado Salsa
Avocado Salsa is another type of chunky, chopped salsa full of fresh and delicious vegetables. This amazing salsa is super easy to make – all you have to do is chop all the veggies, mix them with some lemon or lime juice, olive oil, garlic, salt, and pepper and refrigerate for at least 30 minutes so that the flavors can mix together. Add the star of this salsa – the avocado, of course! – and serve it with tortilla chips, tacos, soup or any other vegetarian or meaty Mexican dish you prefer. I chose to make this avocado salsa super refreshing and not spicy at all, but of course, you can add some fresh chopped chili peppers as well.
Mango Salsa
If you are a fan of spicy and sweet dishes just as I am, then you will surely love this mango salsa! Just like all the other salsas in this list, this mango salsa is extremely easy, simple and healthy. It only requires a few ingredients (mango, bell pepper, onions, hot chili pepper and of course some lime juice and cilantro) that you have to chop in a bowl and let refrigerate for at least 30 minutes. The result is a colorful and super refreshing salsa that can be paired with fish dishes, tortilla chips, tacos etc.
Trust me, it's so good that you will want to eat it plain, directly from the bowl!
Yield: 5
Homemade Salsa Recipes | Salsa Roja, Salsa Verde, Pico De Gallo, Mango Salsa, Avocado salsa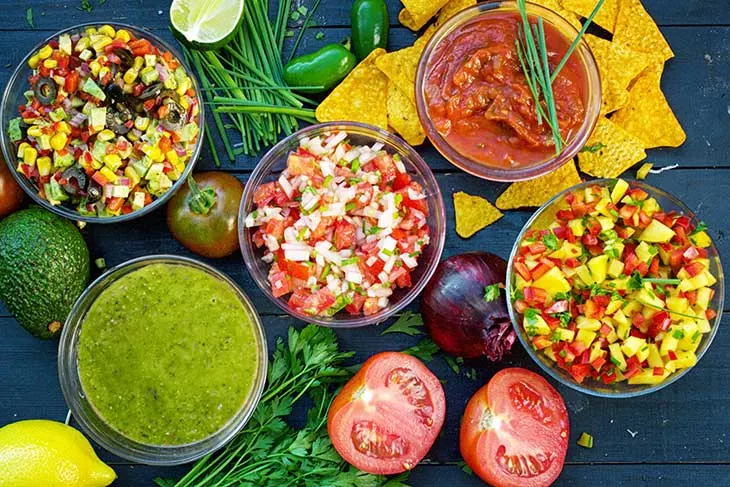 Salsas are healthy and delicious Mexican sauces that can transform any dish into a delicacy! Let's learn how to prepare homemade salsa recipes with authentic flavors!
Total Time
1 hour
5 minutes
Ingredients
Salsa Roja:
2 Ancho dried chili peppers
3 tomatoes
1 small onion, peeled
3 garlic cloves, peeled
½ tsp oregano
1 tsp salt
1 tsp black pepper, ground
2 Tbsp chopped cilantro
olive oil
Salsa Verde:
5 Tomatillos
8g (½ cup) fresh cilantro finely chopped
2 garlic cloves
¼ onion
1 jalapeño
salt, to taste
olive oil
Pico de Gallo:
2 Roma tomatoes, diced
25g (½ cup) onion, diced
½ jalapeño, seeded and finely chopped
1 Tbsp freshly chopped cilantro
1 Tbsp freshly chopped scallions
1 tsp salt
2 Tbsp lime juice
½ tsp garlic powder
Avocado Salsa:
80g (½ cup) sweet corn
1 avocado, peeled, pitted and diced
2 Tbsp black olives, drained and sliced
40g (¼ cup) red bell pepper, chopped
½ small red onion, chopped
2 small cloves of garlic, minced
1 Tbsp olive oil
1 Tbsp lemon juice
½ tsp dry oregano
salt and pepper to taste
Mango Salsa:
1 mango, peeled, seeded, and chopped
40g (¼ cup) of finely chopped red bell pepper
2 Tbsp scallions, chopped
2 Tbsp cilantro, chopped
1 fresh jalapeño pepper, finely chopped
2 Tbsp lime juice
1 Tbsp lemon juice
½ tsp red pepper flakes
Instructions
For Salsa Roja:
Bring to boil 2 cups of water in a medium pot.
Add the tomatoes, chilies, onion, and garlic to the pot.
Boil for about 5 minutes.
Take the veggies out and let cool.
Peel the tomatoes, and add to a blender. Add the chilies, onion, garlic, oregano, cilantro and olive oil. Blend until smooth. Add salt and pepper.
For Salsa Verde:
Sautee the tomatillos, onion, and jalapenos in a preheated skillet with some olive oil, for 5 minutes.
After 5 minutes, add the garlic cloves and continue cooking until the tomatillos are slightly browned.
Remove from heat and blend the ingredients with the cilantro and salt in a blender.
For Pico de Gallo:
In a medium bowl, mix together all of the ingredients. Once the mixture is thoroughly combined, refrigerate for at least 30 minutes to overnight.
For the Avocado Salsa:
In a medium bowl mix the corn, olives, red bell peppers, and onions.
In a small bowl add garlic, olive oil, lemon juice, oregano, salt, and pepper.
Mix the corn mixture with the garlic mixture and refrigerate overnight.
The avocados should be added into to the mix before the dish is served.
For the Mango Salsa:
In a medium bowl, mix together all of the ingredients. Once the mixture is thoroughly combined, refrigerate for at least 30 minutes to overnight.
Nutrition Information
Yield
5
Amount Per Serving
Calories

277
Total Fat

15.8g
Carbohydrates

30g
Protein

3.7g