This tofurkey roulade with mushrooms is a great vegetarian recipe even your omnivore friends will love! This is perfect for both Christmas and New Year's Eve!
Oh my, oh my, oh my!!! This is probably one of my best recipes, ever! EVER! I loved every bit of it and Costin liked it even more! I made this wonderful tofurkey roulade with mushrooms for this year's Christmas and everybody liked it! 🙂 I wanted to create a recipe that has a meaty texture and taste and I succeeded! This one resembles the taste and texture of a real turkey roulade. It also has a subtle smoked flavor, as I combined smoked tofu with simple tofu.
I always enjoy cooking for my friends and family! It is so relaxing and it makes me really happy to see that they enjoy the food I cook. This year I also spent Christmas with two of our best friends. Even the Grinch in me liked this holiday! 🙂 …and trust me, I'm not a Christmasy kind of person. I even hate winter.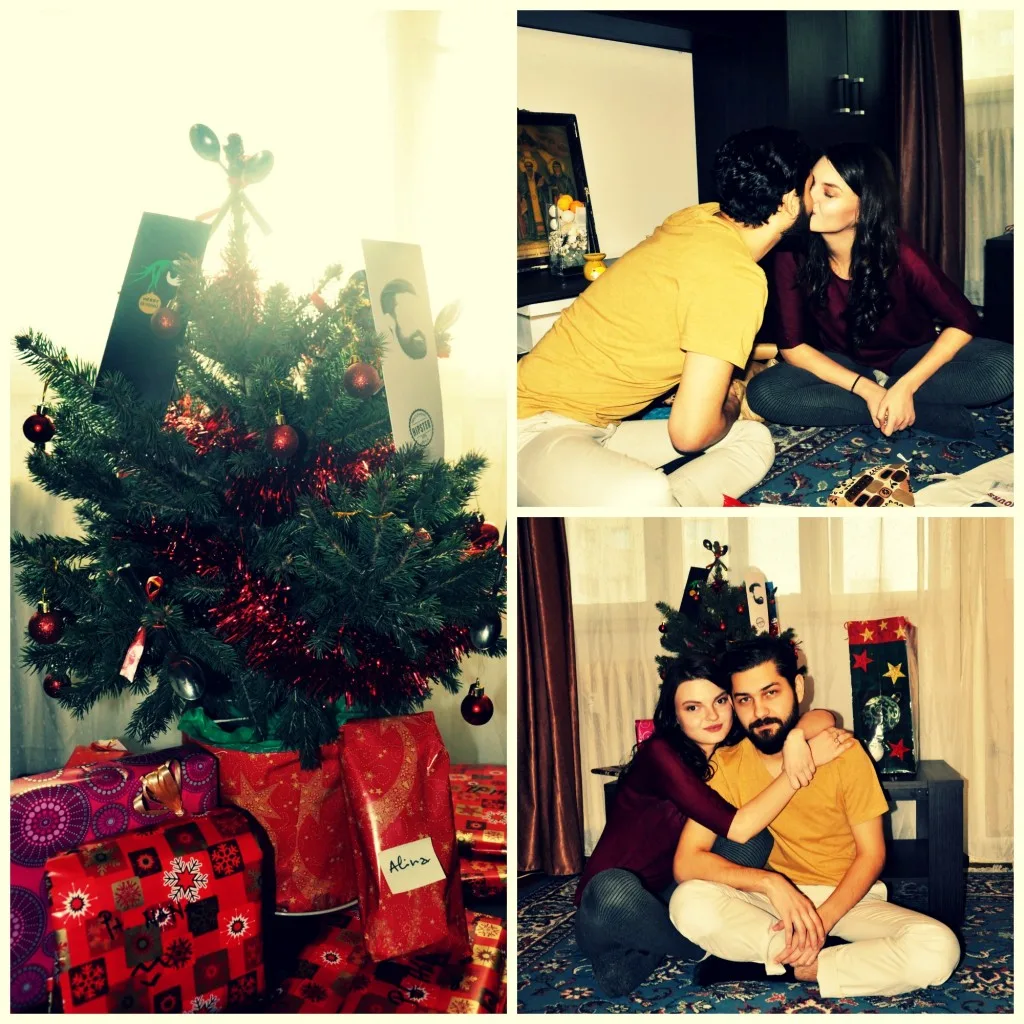 Here are some pics from this year's vegetarian Christmas! 🙂 We cooked together, we played Settlers of Catan, we drank hot spiced wine… it was perfect! How did you spend this Christmas?
I am glad that I finally had some free time to write this recipe on the blog. You can make it for the New Year's Eve party too, as it is delicious cold also, served as an appetizer. I have a few other Christmas recipes to write, but you'll probably make them for next year's Christmas! I am a bit late, I know. I wanted to have just a few days of relaxation before the madness begins in January!
So, here it is – my awesome tofurkey roulade with mushrooms! Save it, bookmark it, pin it, print it, you definitely have to try it! 😀
P.S. The photos are not the best, I had to shoot them with the flash on, as the light was really poor.
P.P.S. Next time I will try to cook the tofurkey roulade in aluminum foil, so that it will maintain its round shape. As you can see, without cooking it in aluminum foil it loses its shape a bit and flattens. It doesn't bother me at all, but I think it will look nice all round.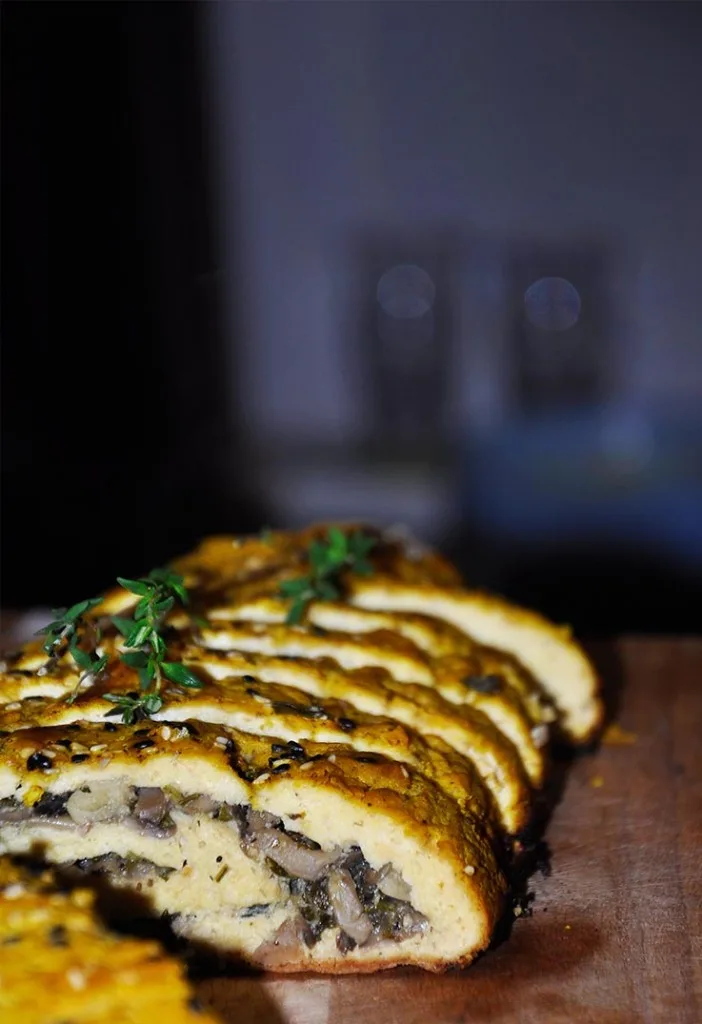 Yield: 4-6 servings
Tofurkey Roulade with Mushrooms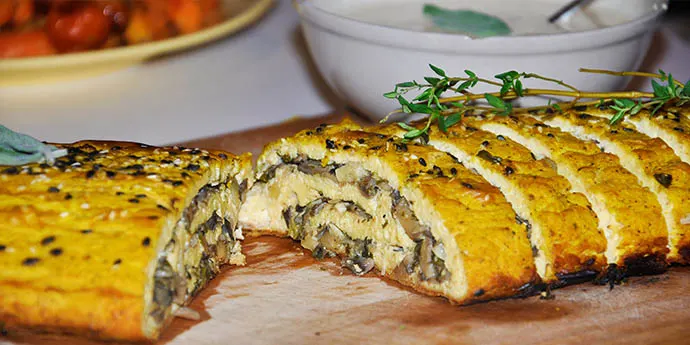 This tofurkey roulade with mushrooms is a great vegetarian recipe even your omnivore friends will love! This is perfect for both Christmas and New Year's Eve!
Ingredients
Crust:
700g (25oz) tofu, smoked tofu mixed with simple tofu
2 eggs, beaten
60g (½ cup) gluten-free flour, or breadcrumbs, or regular flour
Stuffing:
180g (2 cups) chopped button mushrooms
120ml (½ cup) white wine
4 Tbsps olive oil
½ cup chopped dill
½ cup chopped parsley
1 large onion, diced
6 garlic cloves, sliced
2 Tbsps corn starch - or 4 Tbsps flour
1 whole egg + 1 egg white, beaten (we'll use the egg yolk for coating)
sea salt and pepper, to taste
½ Tbsp coriander seeds
½ Tbsp dry thyme
5-6 fresh sage leaves, chopped
3 Tbsps golden raisins
Coating:
1 Tbsp mustard
1 Tbsp olive oil
1 egg yolk, beaten
1 Tbsp honey
½ tsp turmeric powder
sesame seeds
Instructions
Crust:
Mash tofu using a fork or your hands. Put tofu in the food processor (you may need to divide it in two and process separately) and process until crumbled. You don't need to over-process it, just enough to crumble it, not turn it into a paste.
Mix in beaten eggs and flour and set aside. Do not add salt if tofu was preserved in salty water, as it is salty enough already.
Stuffing:
Heat oil in a large pan.
Add onion and garlic. Saute for 2 minutes.
Add chopped mushrooms, white wine and condiments. Cover with a lid and cook for 10 minutes.
Remove lid and add the rest of the ingredients, except egg. Cook for another 5 minutes.
Remove from heat and add beaten egg. Mix.
Coating:
Mix all ingredients in a medium bowl.
Assembly:
Move crumbled tofu from the food processor into a large bowl.
Cut a 40cm piece of aluminum foil or parchment paper and place it on your table. Grease it with some oil.
Add a layer of tofu (1-1,5cm thick) all over the aluminum foil/parchment paper. Leave a 3-4 cm margin. Cover with another layer of stuffing, all over the tofu layer. Now start rolling slowly. The aluminum foil will help you roll the roulade (Be careful not to roll the aluminum foil into the roulade! It should remain on the outside only.) The role of the aluminum foil/parchment paper is to simply help you roll the roulade easily. It will be removed afterwards.
Put the roulade on a parchment lined oven tray.
Brush with the coating sauce mix.
Bake in the preheated oven at 190C for 40 minutes.
Notes
Serve with sauce - either vegan gravy with white wine or sour cream sauce.
Nutrition Information
Yield
6
Serving Size
1
Amount Per Serving
Calories

465
Total Fat

19g
Saturated Fat

3g
Trans Fat

0g
Unsaturated Fat

15g
Cholesterol

124mg
Sodium

167mg
Carbohydrates

55g
Fiber

4g
Sugar

8g
Protein

15g
I strive to keep the information as accurate as possible but make no warranties regarding its accuracy. I encourage you to make your own calculations using your preferred nutrition calculator.