Sounds crazy, but it can be done! Let's learn how to make vegan salmon using two different recipes that will help you achieve the same taste, texture, and versatility as real salmon! Give it a try!
Going vegan might seem like you have to leave out a lot of your favorite dishes, but let me tell you that this is not true at all. Being vegan doesn't mean you said bye-bye to ever taste your favorite foods again because you can make a plant-based version of any recipe. You just need to do a bit more research and be open to what may seem like crazy ideas at first – such as vegan salmon.
Yes, it's a thing. Yes, it's amazing. Yes, you can totally make this yourself.
Vegan salmon is super healthy as well, and it involves some basic ingredients which everyone can afford. Just like normal salmon, it's perfect for a variety of recipes such as sushi and salads.
---
It's time to stop worrying about what you're going to eat! I created the meal planner app to help you! Get your personalized meal plan with delicious, healthy, and budget-friendly recipes! GET YOUR MEAL PLAN!
---
So how in the name of God can you make this? Well, long story short, either carrot or tomato-based. I'm going to tell you more about both options.
Vegan Salmon from carrots
For the carrot version of vegan smoked salmon, you'll need about 3 carrots which you're going to wash and place onto a baking tray, covered in salt.
You're gonna bake those for 40 minutes, and make sure to not peel them, as it adds texture. During the baking process, you're going to make the marinade – this is going to transform your carrots into salmon. You make the marinade by basically blending water, soy sauce, vinegar, and salt, but you can add other ingredients to taste, such as pepper, nori or garlic powder.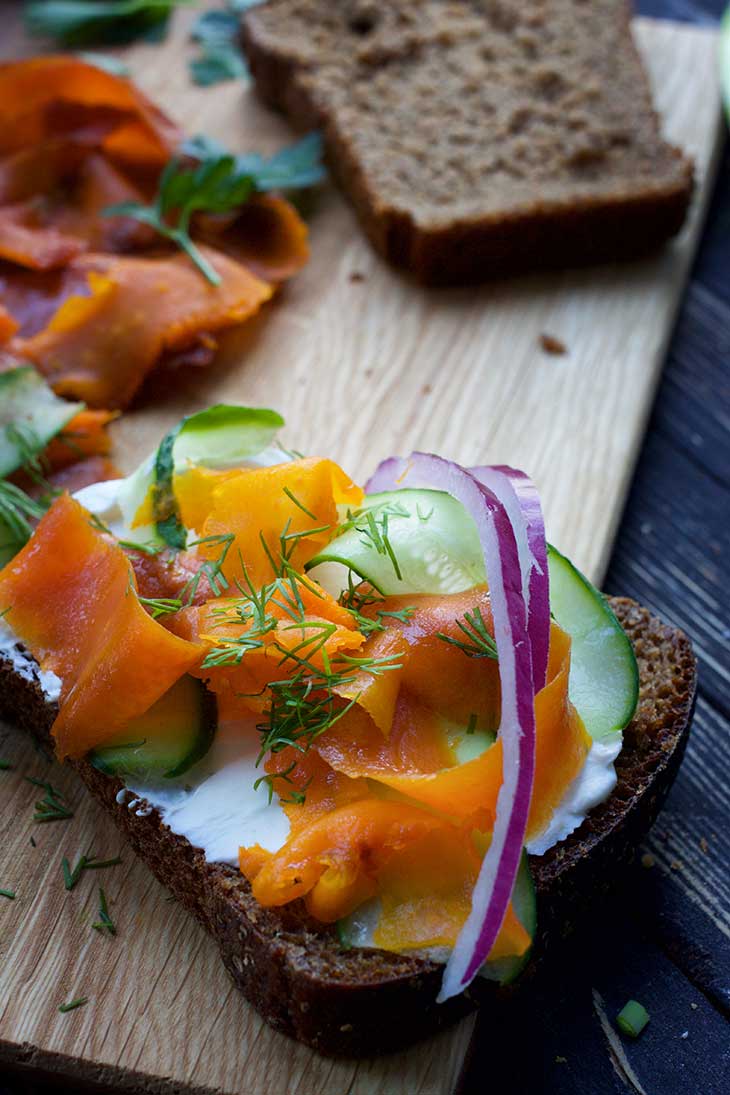 Once the carrots are cooked and cooled off, you'll want to peel them in thin strips and put them in a sealed container with the marinade. Leave those in the fridge for at least 24 hours to do their magic. Honestly, it's best if you have the patience to leave them in the marinade for up to three days so they can soak up all the flavor.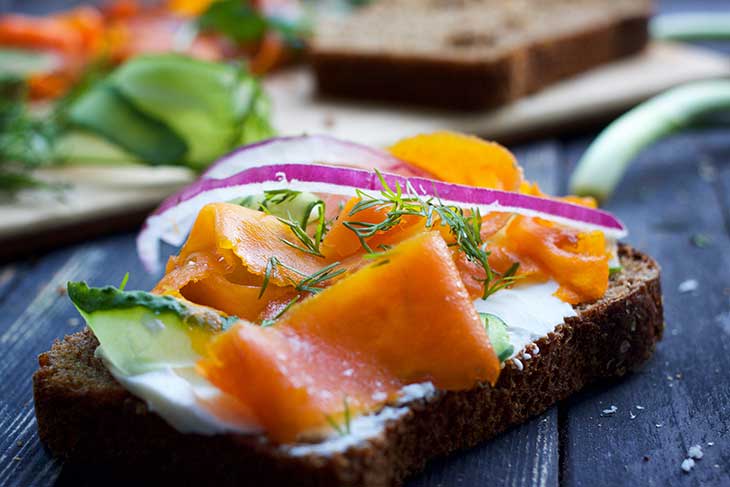 And yeah, that's about it really!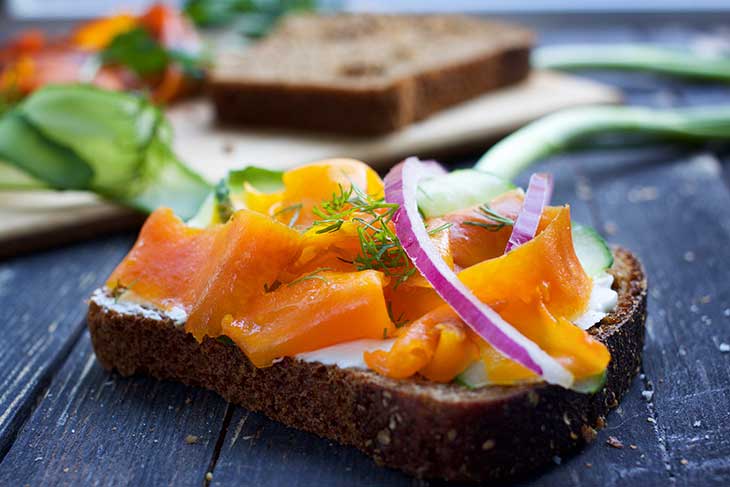 Vegan Salmon from tomatoes
Now, for the tomato version.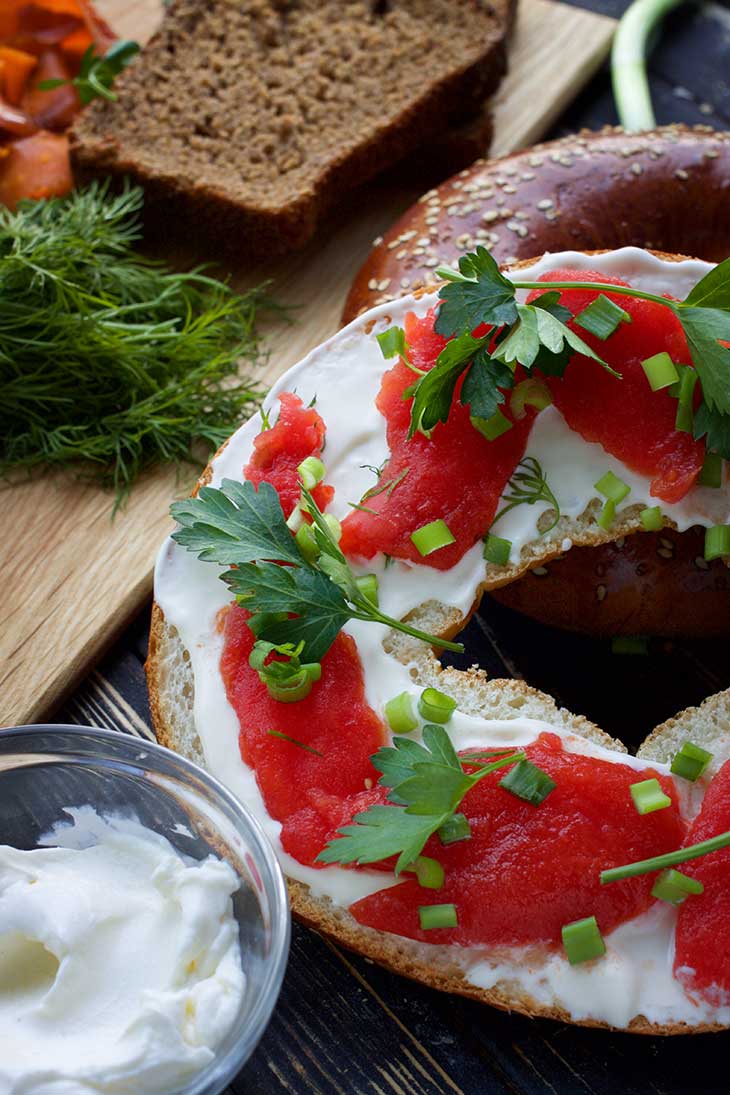 You'll need to cut an X at the bottom of 4 medium tomatoes before boiling them for only a minute and putting them in an ice bath in order to peel them. Once the tomatoes are boiled and peeled, you cut them in half and scoop out all of the seeds and the excess moisture.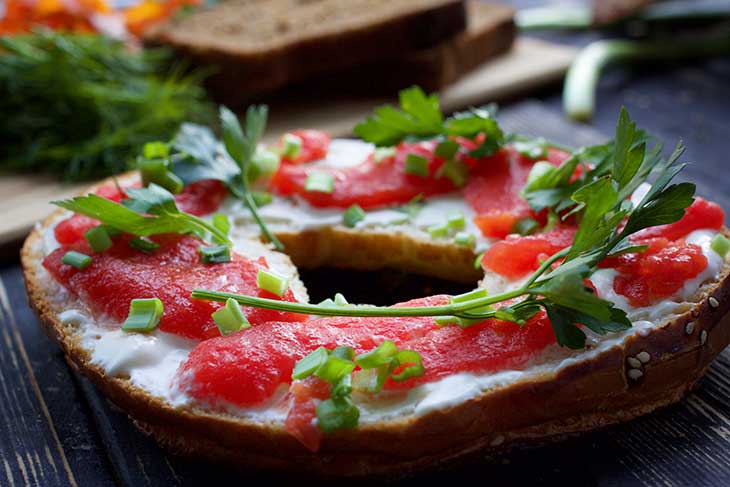 You then make the marinade in much the same way as before. You throw your tomatoes in the mixture and let them marinate for at least 30 minutes – the longer the better.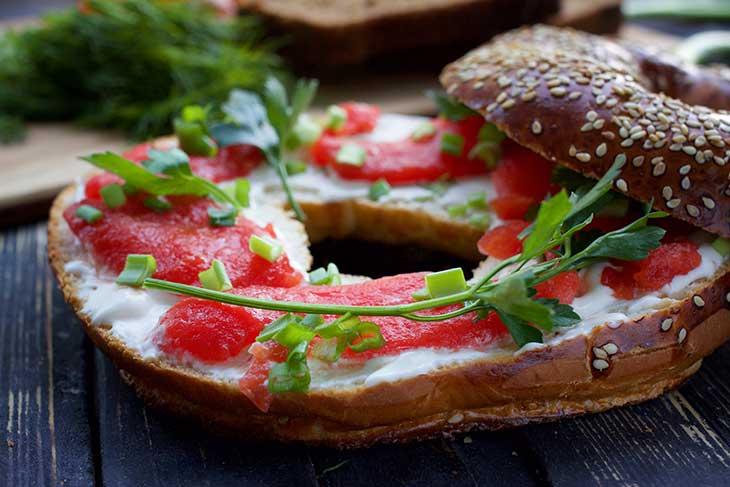 The difference between those two recipes is that the tomato version is more moist, while the carrot is resembling salmon in a much better way. However, both are delicious and they're pretty easy to make, too! Sure, the whole process is not as easy as buying smoked salmon from the supermarket, but it can be done by anyone and it's a lot more cost efficient, so you can make more for a fraction of the price.
Try this on crackers or a bagel with vegan cream cheese, in sandwiches, on top of salads, whatever you prefer and you won't miss real salmon ever again.

Vegan Salmon - 2 ways!
Sounds crazy, but it can be done! Let's learn how to make vegan salmon using two different recipes that will help you achieve the same taste, texture, and versatility as real salmon! Give it a try!
Ingredients
#1 Carrot salmon:
2 large carrots, peeled
1 Tbsp salt
For the marinade:
2 tbs miso paste
1 tsp lemon juice
1 tsp liquid smoke
1 cloves garlic, minced
2 cups water
½ nori sheet, cut into short strips
1 Tbsp fresh dill
#2 Tomato salmon
5 medium plum tomatoes
For the marinade:
2 tsp olive oil
1 tsp lemon juice
1 Tbsp soy sauce
½  cup warm water
1 tsp liquid smoke
1 Tbsp vegan fish sauce
Instructions
For the carrot salmon:
Preheat oven to 200C
Coat the carrots with salt and place them on a baking tray.
Bake the carrots for about 45 minutes.
Meanwhile, add all marinade ingredients in a medium bowl. Set aside.
Once the carrots are baked, let them cool.
Cut the carrots with a vegetable peeler into thin strips.
Place the carrots into the marinade.
Refrigerate the marinate carrots for about 2 hours or overnight.
For the tomato salmon:
In a medium pot bring about 3 cups of water to a boil.
Wash the tomatoes and make small cross cuts at the bottom of each tomato.
Place the tomatoes into the boiling water.
Turn off the heat and leave the tomatoes in the hot water for about 4 minutes.
Discard the water and let them cool.
Meanwhile, in a medium bowl, mix all marinade ingredients.
Peel the tomatoes and cut them in 2 halves.
With a teaspoon, scoop out the seeds from each half.
Add the tomatoes to the marinade and let them soak for about an hour or overnight.
Use the "salmon" on toast or bagels with vegan cream cheese, as a starter or fish replacement on salads or sushi bowls.