This easy couscous salad is ready in just 15 minutes! It's perfect for lunch and best served cold! Give it a try!
I re-discovered couscous, while living in Italy, a couple of months ago. I went to a really nice bar with some friends and they had an amazing aperitivo there! Almost all the food was vegetarian and there were even some vegan options. They had the best couscous salad I have ever tasted! I wasn't a big couscous fan, but that delicious salad changed me! 🙂 Since then, couscous has become a staple ingredient in my pantry. I love it even more than rice! And I do cook with rice quite often.
Couscous can be a delicious and exotic dish with many benefits to our health. Couscous is delicious and versatile; you can mix it up with all sorts of stews and curries to make a simple and flavorful meal.

Origins of Couscous
Couscous is the name of the traditional North African dish, and it's made from Durum wheat semolina grains. Couscous was originally made by hand and it was often women's work because the process was very time-consuming. They make the couscous by taking large grains of semolina, dampening them and breaking them apart with their hands to break it up into smaller and smaller granules until they were ready to cook.
The origin of couscous is uncertain although it is thought to have been invented by the Berbers. Couscous is a staple food in North Africa and it's the national dish in Algeria, Morocco and Tunisia. Couscous spread to Libya, Mauritania, Egypt, sub-Saharan countries and also the Middle East. Eventually, it managed to make its way to the rest of the world through the influence of the aforementioned cuisines.
Couscous' popularity is due to its many health benefits and also to the fact that it is a very inexpensive food and it can be preserved for long periods of time. It fits every occasion and it is extremely versatile; it can be mixed with vegetables, meat, legumes, fish, curry, butter, and even fresh fruit to make desserts.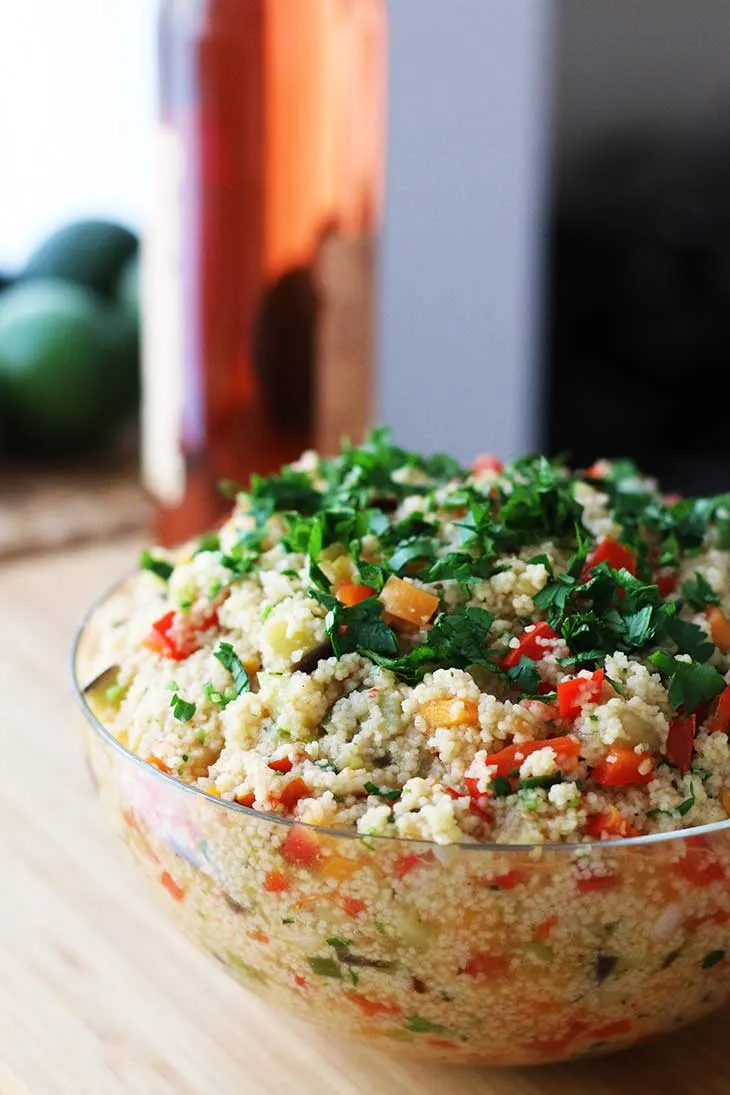 Benefits of Couscous
One of the main benefits of couscous is that it provides a great amount of lean, vegetarian protein; which is why it's very popular for vegans and vegetarians as a substitute for animal protein. A cup of cooked couscous provides 6 grams of proteins, that equals 12% of the daily recommended values. The presence of dietary protein in your diet is extremely important because it supports healthy skin, organs and other body tissues, it also strengthens the muscles.
Couscous is virtually fat-free because there are only 0.5 grams of fat per serving. Another great thing about couscous is that is rich in fiber; a cup of it provides 2 grams of dietary fiber. Fiber is very beneficial for weight loss because it makes you feel full for longer and it takes a lot of calories for your body to digest it and absorb it. It also keeps your digestive system healthy and it helps keep cholesterol levels low.
Couscous is also known for being a great source of vitamins. Since it is a type of whole grain food, it provides more vitamins, minerals, and fiber than refined grains. Couscous is rich in B vitamins that your body needs to keep being healthy! It provides thiamin, niacin, riboflavin, B6, folate and pantothenic acid. These are nutrients that boost your metabolism, maintain healthy red blood cells, they provide energy and they also keep some of the most important organs functioning smoothly, such as your skin, blood, brain, nervous system, heart and immune system.
There's also a presence of minerals and couscous. Among them, you'll find selenium manganese. They make your bones healthy, and they keep your blood, hormones, nerve function and brain function healthy. They also help you regulate your metabolism and your blood sugar levels.
How to make couscous salad?
This is ready in 15-20 minutes tops. I prefer it cold, so I put it in the fridge right away, but you can also eat it hot if you're very hungry. 🙂 Also, I eat a lot of olive oil. I try to eat 1-2 teaspoons per day at least. So I'm not afraid to drizzle lots of olive oil on this delicious couscous salad. That's why, in this couscous salad recipe below, I didn't add a quantity for olive oil. You can but as much or as little as you want.
You can have it with vegetable stews, stir-fries, curries, and any other combination you'd like to try. Remember it's a very versatile food, so you're free to have a little fun with the flavors!
I want to hear more about your favorite recipes with couscous! Drop me a comment below!
P.S. The awesome bar I mentioned above is Turné, and it's in Milano, near Porta Venezia metro station. You should visit it!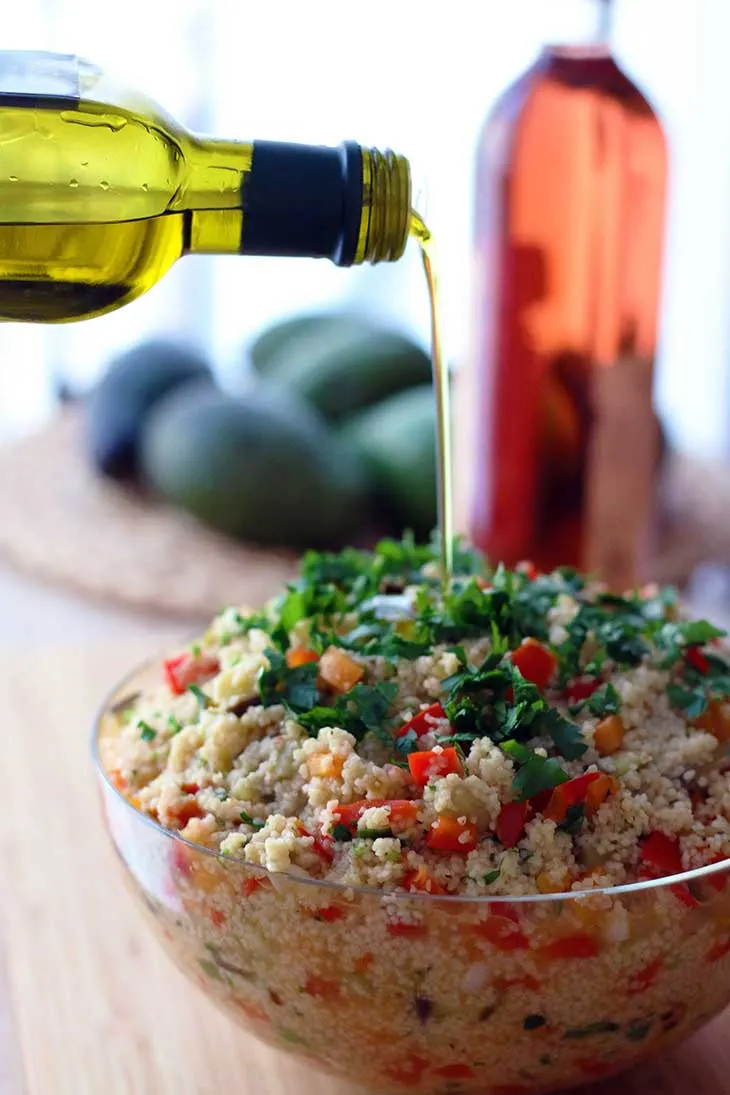 Yield: 4 +
Couscous Salad | Ready in 15 minutes!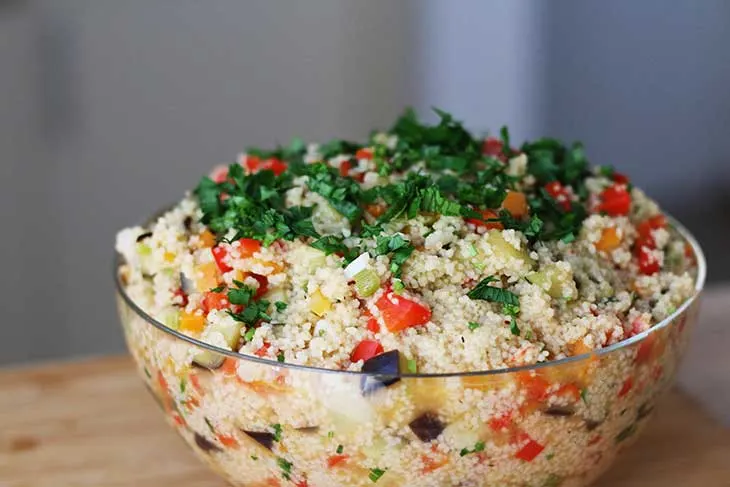 This easy couscous salad is ready in just 15 minutes! It's perfect for lunch and best served cold! Give it a try!
Ingredients
200g (1 ¼ cups) couscous
400ml (13.5oz) water
1 red bell pepper, diced
1 carrot, diced
1 cucumber, diced
1 tomato, diced
1 small eggplant, diced
1 onion, diced
5 Tbsps sliced olives
fresh parsley, chopped
olive oil, to taste
salt and ground pepper, to taste
smoked paprika, to taste (optional, but recommended)
Instructions
Heat some oil in a large pan.
Add all the veggies, except tomatoes, olives, and cucumber. Season with salt and pepper and saute for 5 minutes.
Add couscous and water. Cover, then boil until fluffy and all the water has been absorbed.
Remove from heat. Add diced tomatoes, cucumber, olives, and chopped fresh parsley. Add olive oil to taste. Mix.
I prefer this couscous salad served cold, but you can also eat it while it's hot.
Nutrition Information
Yield
4
Amount Per Serving
Calories

332
Total Fat

8.7g
Carbohydrates

54.4g
Protein

9g