This easy couscous salad is ready in just 15 minutes! It's perfect for lunch and best served cold! Give it a try! 
I re-discovered couscous, while living in Italy, a couple of months ago. I went to a really nice bar with some friends and they had an amazing aperitivo there! Almost all the food was vegetarian and there were even some vegan options. They had the best couscous salad I have ever tasted! I wasn't a big couscous fan, but that delicious salad changed me! 🙂  Since then, couscous has become a staple ingredient in my pantry. I love it even more than rice! And I do cook with rice quite often.
Couscous salad – perfect for hot Summer days!
Because summer in Romania sometimes is like summer in the Middle East, temperature-wise (40+C…wtf?), I had no desire to heat up the oven these past few days. Eating just fruits was an option, but I craved for something a little bit more filling as well. That's how I remembered about that amazing couscous salad and decided to make one myself.
---
It's time to stop worrying about what you're going to eat! Get your personalized meal plan with delicious, healthy, and budget-friendly recipes! GET THE MEAL PLAN!
---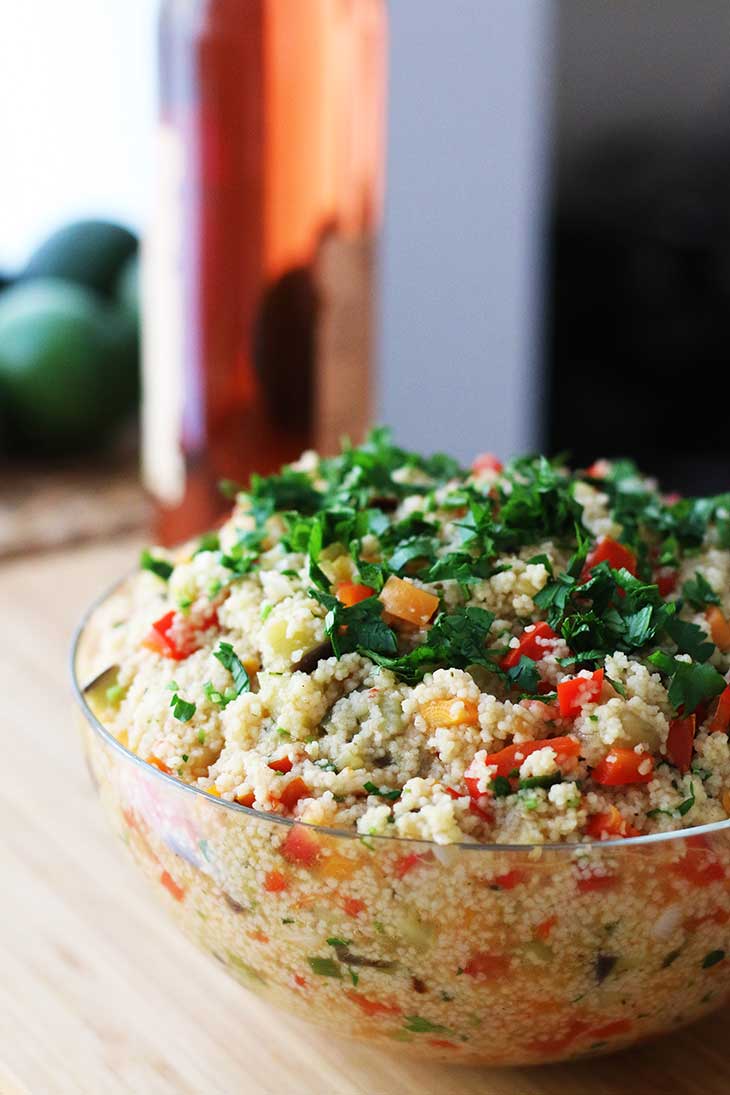 How to make couscous salad?
This is ready in 15-20 minutes tops. I prefer it cold, so I put it in the fridge right away, but you can also eat it hot if you're very hungry. 🙂 Also, I eat a lot of olive oil. I try to eat 1-2 teaspoons per day at least. So I'm not afraid to drizzle lots of olive oil on this delicious couscous salad. That's why, in this couscous salad recipe below, I didn't add a quantity for olive oil. You can but as much or as little as you want.
I want to hear more about your favorite recipes for couscous salads, in the comments section below.
Enjoy!
P.S. The awesome bar I mentioned above is Turné, and it's in Milano, near Porta Venezia metro station. You should visit it!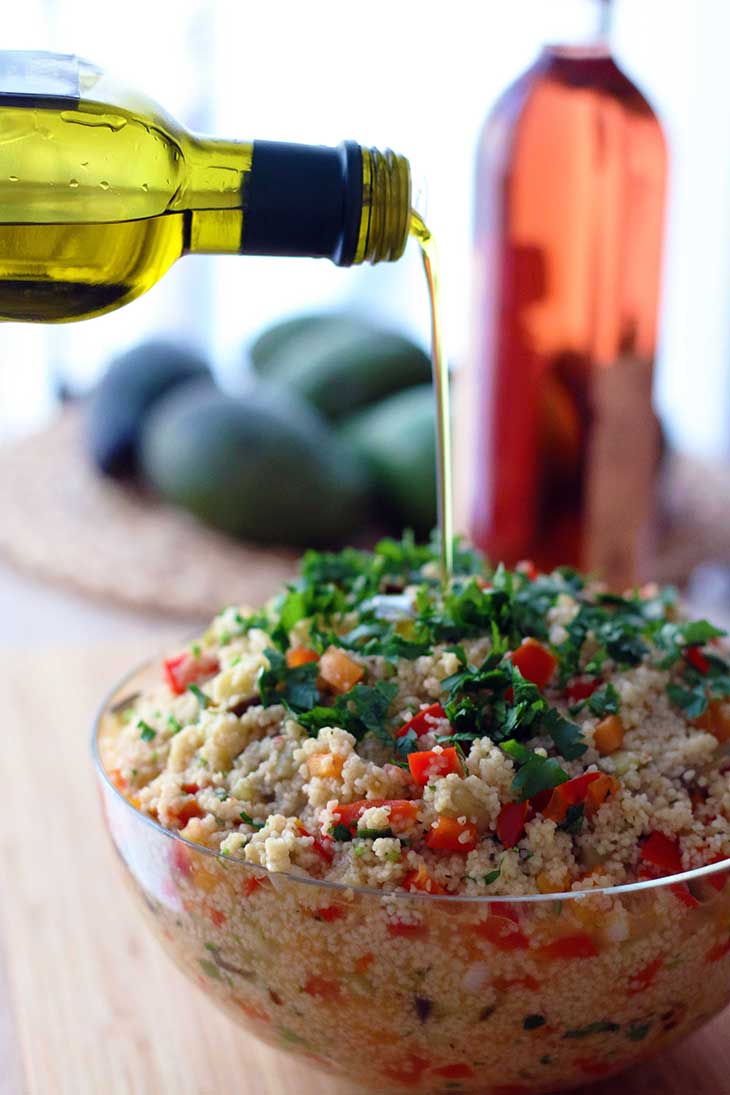 Couscous Salad | Ready in 15 minutes!
This easy couscous salad is ready in just 15 minutes! It's perfect for lunch and best served cold! Give it a try!
Ingredients
200g couscous
400ml water
1 red bell pepper, diced
1 carrot, diced
1 cucumber, diced
1 tomato, diced
1 small eggplant, diced
1 onion, diced
5 Tbsps sliced olives
fresh parsley, chopped
olive oil, to taste
salt and ground pepper, to taste
smoked paprika, to taste (optional, but recommended)
Instructions
Heat some oil in a large pan.
Add all the veggies, except tomatoes, olives, and cucumber. Season with salt and pepper and saute for 5 minutes.
Add couscous and water. Cover, then boil until fluffy and all the water has been absorbed.
Remove from heat. Add diced tomatoes, cucumber, olives, and chopped fresh parsley. Add olive oil to taste. Mix.
I prefer this couscous salad served cold, but you can also eat it while it's hot.