This leek stew with black olives is a budget-friendly, vegetarian recipe ideal for the cold months of the year. You'll love the unique flavor of white wine in this delicious stew.
Leek stew is one of my favorite Spring recipes. I love onion and I love leeks even more, so for me, this recipe has the perfect flavor. The addition of black olives and white wine gives the stew a unique and flavorful twist that sets it apart from other stews. This recipe is very easy to cook, no special cooking skills needed, but the preparation part will take a while.
Leek stew is a classic, hearty and comforting dish that is loved by many. The origins of this stew are not clear, but it's thought to have been popularized in Mediterranean and European cuisines. It is a staple dish in many households, particularly during the colder months, as it's warm and comforting.

Here's everything you need to know to make the best leek stew, with variations, tips and history included.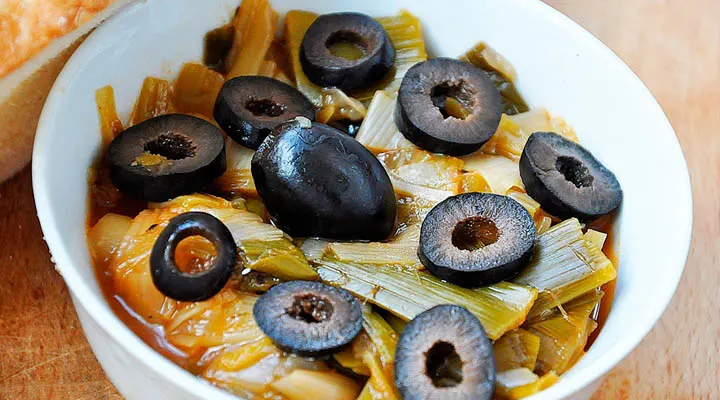 Variations
To make a creamier leek stew, you can add a cup of heavy cream or coconut cream during the last 5 minutes of cooking.
For a more rustic and filling leek stew, you can add diced potatoes or carrots during the initial cooking process.
To give the leek stew a smoky flavor, you can add a tbsp of smoked paprika to the stew during the last 5 minutes of cooking.
If you want the non-veg version, you can also eat this with cooked lamb. They go amazingly well together.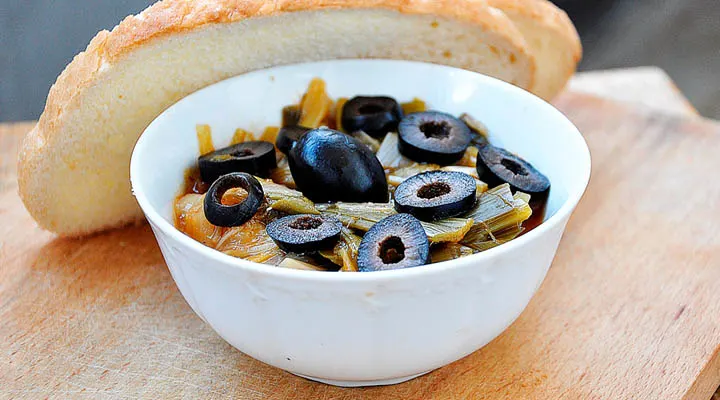 Tips for making the best leek stew
Make sure to thoroughly wash the leeks before slicing them, as dirt can often get trapped between the layers. Here's a great guide on how to clean leeks. Maybe it will help you out. I remember the first time I cooked this leek stew recipe… it turned out great, but unfortunately I didn't know that leeks have to be carefully rinsed inside their layers as well and an unwanted, earthy "extra-ingredient" was added to my meal.
To save time, you can use pre-minced garlic or garlic paste.
If you can't find pitted black olives, you can use pitted green olives instead.
This dish is perfect for those of you who are on a diet too. It's low in calories and high in nutrients and fibers. So there you have it! A detailed guide on how to make the best leek stew with black olives and wine. This dish is simple, delicious and perfect for a comforting meal any day of the week. Enjoy!
Yield: 4+
Leek and Black Olives Stew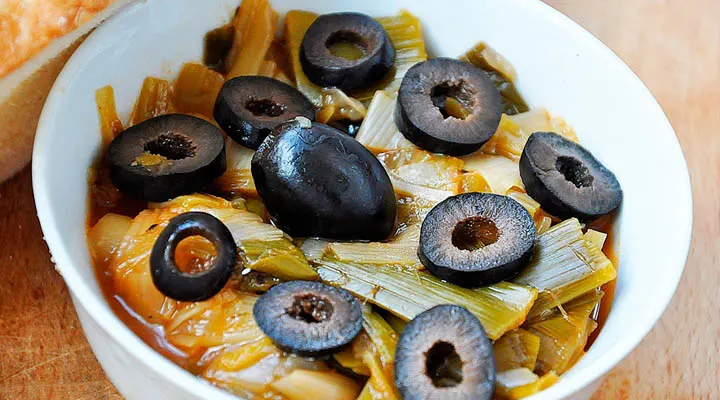 This leek stew with black olives is a budget-friendly, vegetarian/ vegan Spring recipe. The white wine flavor is subtle but surely makes the difference!
Ingredients
1 kg (35oz) coarsely chopped leeks
100g (½ cups) black olives, pitted (and sliced - optional; I let mine whole)
1 medium onion, diced
120ml (½ cup) white wine
1 Tbsp tomato paste
1 bunch of dill
1 bunch of parsley
1 Tbsp sunflower oil
1 tsp sea salt, or more, to taste
½ tsp ground pepper
Instructions
Heat oil in a large saucepan.
Add diced onion and sauté for 5 minutes until golden.
Add the chopped leeks.
Add 1/2 cup of white wine and cover with a lid.
Check every 10-15 minutes and add more water if necessary.
Let it stew over medium heat until tender (about 30-40 minutes).
Add chopped dill and parsley, ground pepper, salt, olives and tomato paste.
Stew for another 10 minutes.
Serve! It can also be served cold, but I prefer it warm.
Nutrition Information
Yield
4
Amount Per Serving
Calories

153
Total Fat

4g
Carbohydrates

25.5g
Protein

3.5g