Are you ready? I'm up with another Mexican dish for you! Here is how you can prepare cauliflower tacos with an incredible BBQ flavor that will make you fall in love!
If you clicked on this recipe then it's probably because you enjoyed my last taco recipe! If that's not the case, then hello and get ready for a super delicious taco recipe, this time with an even better summer vibe because we're adding some BBQ flavors!
You don't have to think that your barbecue days are over just because you decided to follow a vegan diet – moreover, the recipe I am going show you will help you make your friends fall in love with vegan food and encourage them to try it themselves! 🙂
I'm excited to tell you that I've managed to come up with this incredibly tasty technique that resulted in something amazingly close to BBQ wings. This version, though, is vegan and cruelty-free, so I'm saying it's much better than the original version!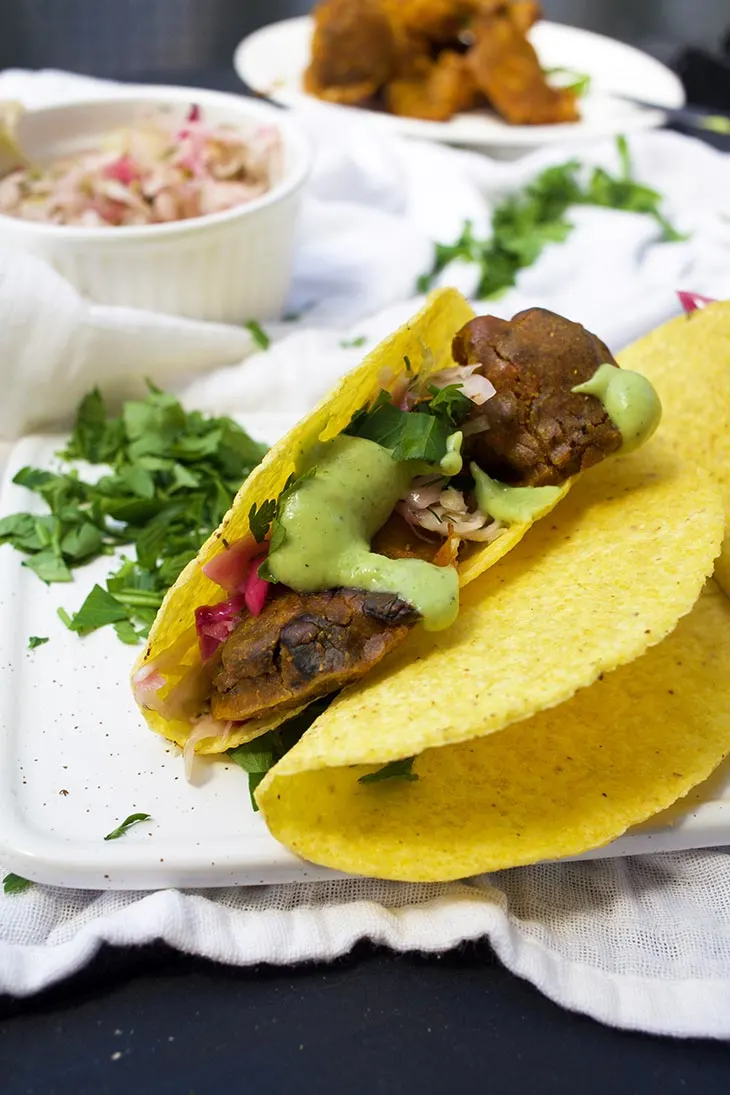 For health benefits, I'm constantly trying to sneak in more cruciferous veggies into my diet such as cauliflower, cabbage, kale, garden cress, bok choy, broccoli, Brussels sprouts, and similar green leafy vegetables, which are loaded with vitamins, fiber, and even contain cancer-fighting properties.
By the way, did you know that cruciferous vegetables are vegetables that belong in the Brassicaceae family, getting their name from the New Latin word "Cruciferae," which means cross-bearing, due to the cross-like shape of their flowers!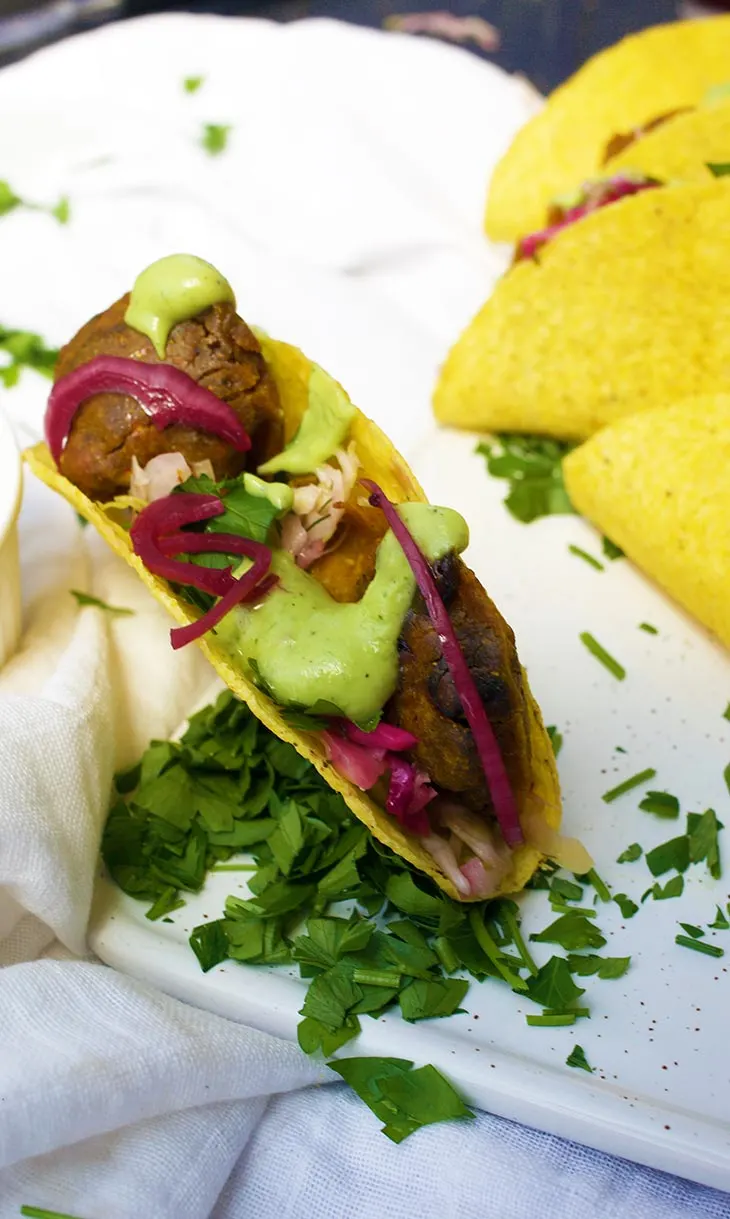 Just so you know, cauliflower has this super awesome power to shapeshift into several meals, but only if cooked properly. Among its abilities, we have cauliflower rice, cauliflower wings, steaks and…cauliflower pizza crust.
Hold on a minute, pizza crust? Yep, you're not seeing double my friend, I have another surprise coming for you – but for now, let's get back to our BBQ tacos! 🙂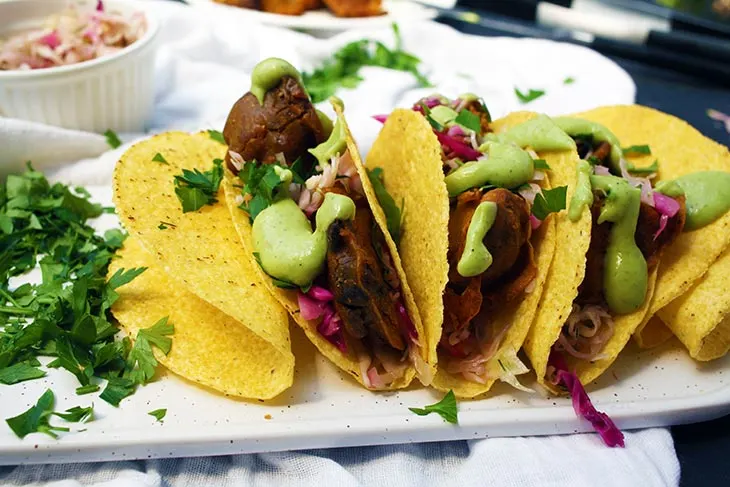 By the way, did you know that there are some groups of Mexican entrepreneurs who have tried to make an official Taco Day ("Dia del Taco") on March 31st? Right now, unfortunately, it is not official, but we can organize to have a Dia del Taco in our kitchen right now! 🙂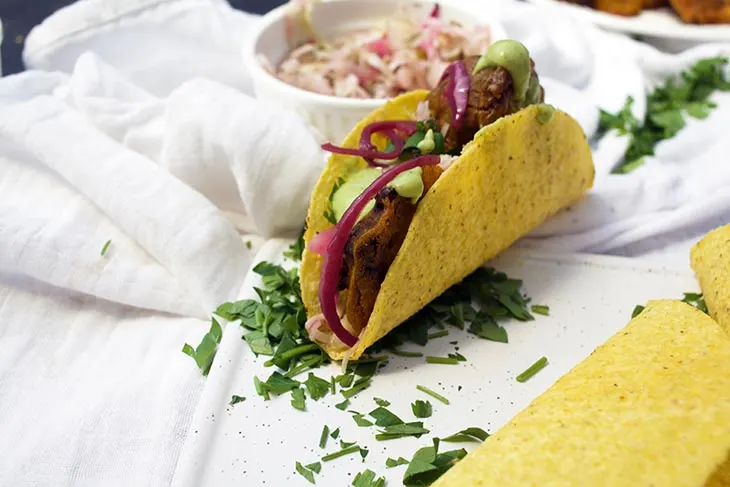 For inspiration, we can take a look at these traditional ways in which we can prepare tacos:
A wrapped tortilla seasoned just with salt – taco con sal (salt taco);
The dorado tacos (golden tacos) or flautas (flutes), which are fried in oil;
The taco canasta (or taco sudados, tacos al vapor ) are steam-heated in an oven;
The al pastor, often presented as one of the most popular tacos in Mexico are filled with meat, that can be cooked on a vertical rotisserie. This preparation, originally called taco arabe, was an adaptation of Shawarma by Lebanese immigrants in central Mexico in the 1950s and 1960s.
The tacos ahogados, which are bathed in a spicy sauce after being fried a little bit.
As we can see, there are lots of possibilities on how to improvise with this versatile Mexican dish, and the main components of a taco are usually tortillas, meats, toppings and optional fillings such as onion, coriander, guacamole, hot sauce, and lemon juice.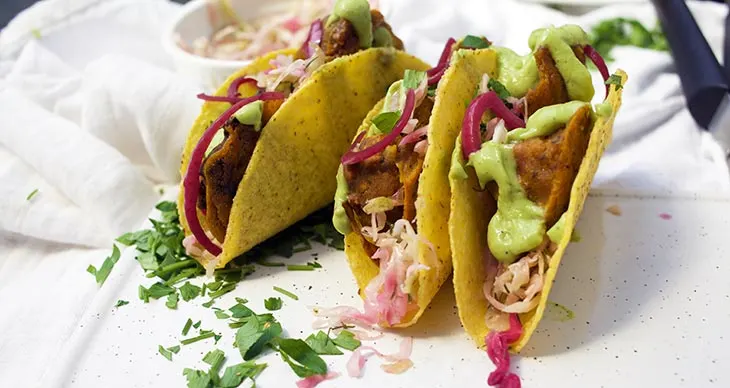 This version of cauliflower tacos, even though it can be classified as "vegan comfort food", I assure you that it's a whole lot healthier than any of that pre-packaged stuff in the store.
In Mexican cuisine, the traditional base is corn, as well as other indigenous foods such as beans, avocado and tomatoes, and pepper, accompanied by rice. But for today's recipe, I have come up with a "magical" mix of spices and herbs that will transform some simple cauliflower into a delicacy! By the way, these vegan cauliflower tacos are served with guacamole dip!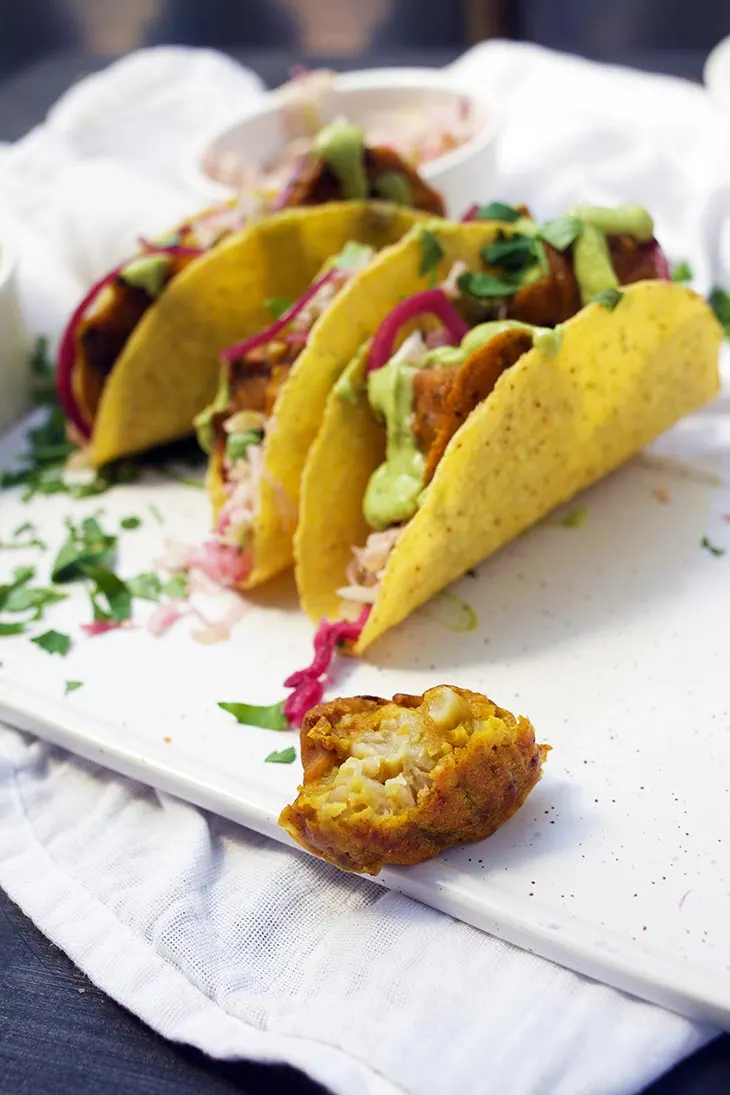 But please be warned – with the right amount of spices, you may end up unable to stop yourself from feasting on these right over the kitchen sink before serving up dinner for everyone! 🙂 Guilty as charged here, but I know you're guilty too, so we're not to blame because it's just so tasty!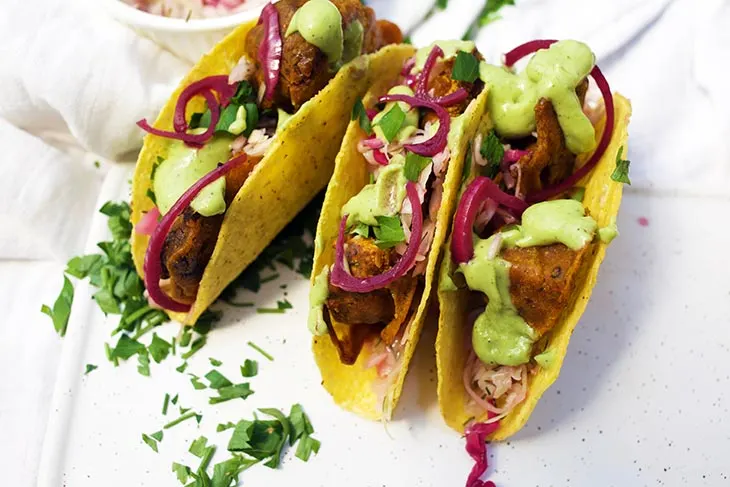 Yield: 10
Cauliflower tacos - BBQ flavored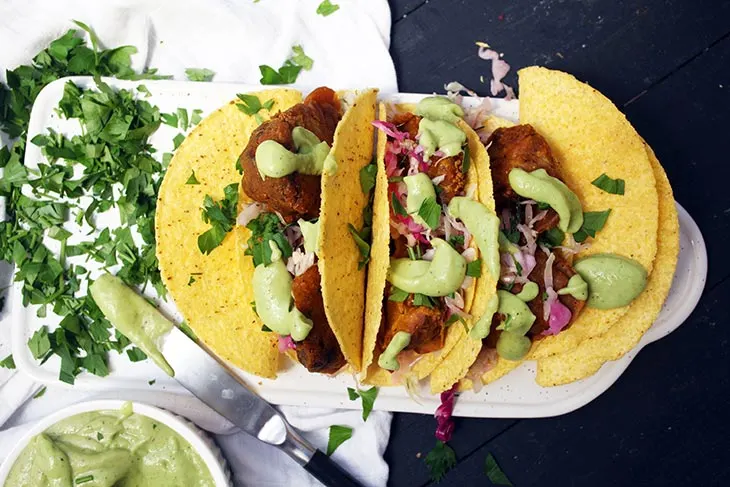 Are you ready? I'm up with another Mexican dish for you! Here is how you can prepare cauliflower tacos with an incredible BBQ flavor that will make you fall in love!
Ingredients
10 corn tacos shells
1 small cauliflower head, broken into florets
For the dough:
300g (1 cup) coconut milk
4 Tbsp flour
2 tsp flax meal
1 Tbsp taco seasoning
1 Tbsp nutritional yeast
½ brown sugar
1 tsp thick soy sauce
½ tsp black pepper
For the guacamole dip:
2 medium avocados
2 tsp chopped jalapeno
2 Tbsp cilantro
1 Tbsp lime juice
salt and pepper to taste
2 Tbsp water
For the slaw:
170g (½ cup) chopped cabbage
100g (¼ cup) chopped red cabbage
2 Tbsp chopped dill
1 tsp olive oil
1 tsp apple cider vinegar
salt and pepper to taste
For the topping:
1 pickled red onion
chopped parsley
Instructions
Preheat the oven to 200 C.
Cover a baking tray with some parchment paper.
Mix all the dough ingredients in a bowl until well-combined.
Dip every cauliflower floret into the dough mixture, then put in on the prepared baking tray.
Repeat with all cauliflower florets.
Bake for about 25 minutes, flipping them halfway. Let them cool and set aside.
Meanwhile, combine all the slaw mixture ingredients in a bowl, mush by hand, and set aside.
To assemble the tacos, add a teaspoon of slaw into a taco shell, add the baked florets, pickles, more slaw and sprinkle with some avocado sauce, chopped parsley and a splash of lime if needed.
Enjoy!
Nutrition Information
Yield
10
Amount Per Serving
Calories

163
Total Fat

4g
Carbohydrates

28g
Fiber

5g
Sugar

9g