Nothing is impossible when it comes to being vegan, not even enjoying bacon! Yup, you read that right – here is how you can make vegan bacon in 5 different ways.
While we can all agree that bacon is not the healthiest food in the world (on the contrary, actually), it surely is one of the most beloved and popular. Some love it so much that they sneak it into any type of meal, be it savory or sweet. And while some people's love for bacon is just a tad bit exaggerated, I think even vegans are missing the unmistakable taste of this food from time to time.
Vegan bacon is a thing nowadays, and even though it takes a while to prep up and doesn't resemble the original thing 100% (but it's so close!), it's still a very good match that's sure to at least satisfy your occasional bacon cravings. So for all of you who thought you'd never taste bacon again once you've adopted a plant-based diet… I've got some amazing alternatives!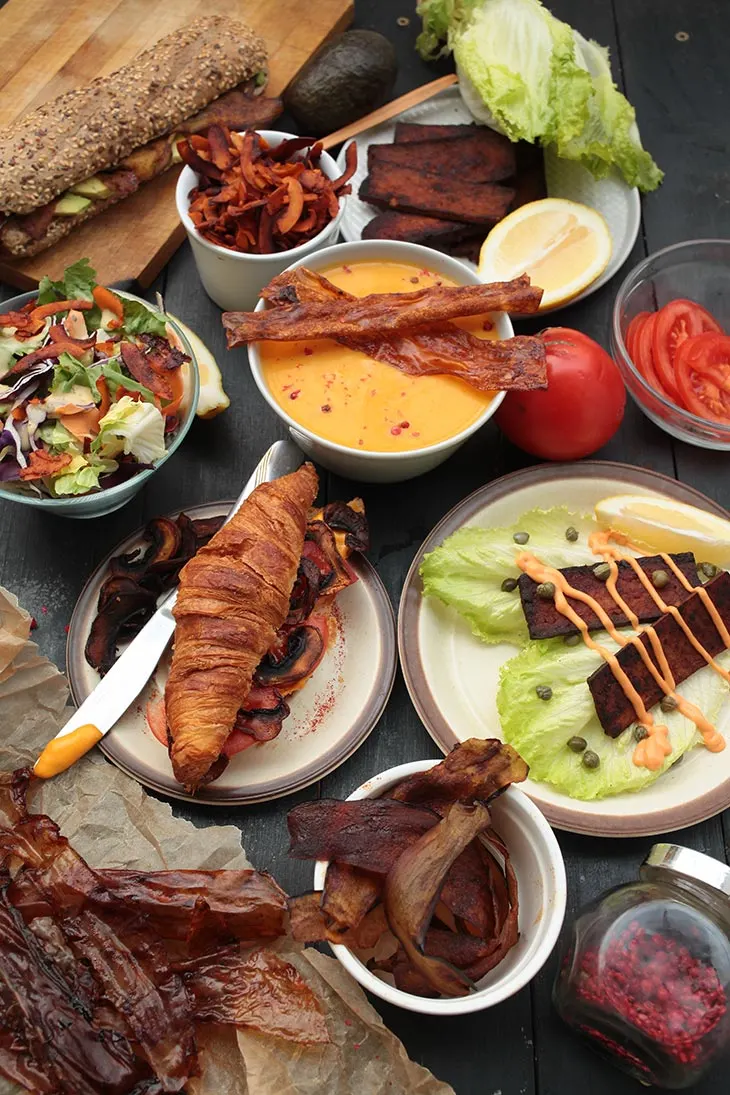 There are 5 different methods of preparing a pretty good vegan bacon – at least that I know of. We're talking about rice paper bacon, smoked tofu, eggplant, coconut, and mushrooms. Wait, what? Yeah, I know. None of these sound like anything close to bacon, but try what I'm about to tell you and you just might be surprised! 🙂 You know, the best results come from the most unexpected places!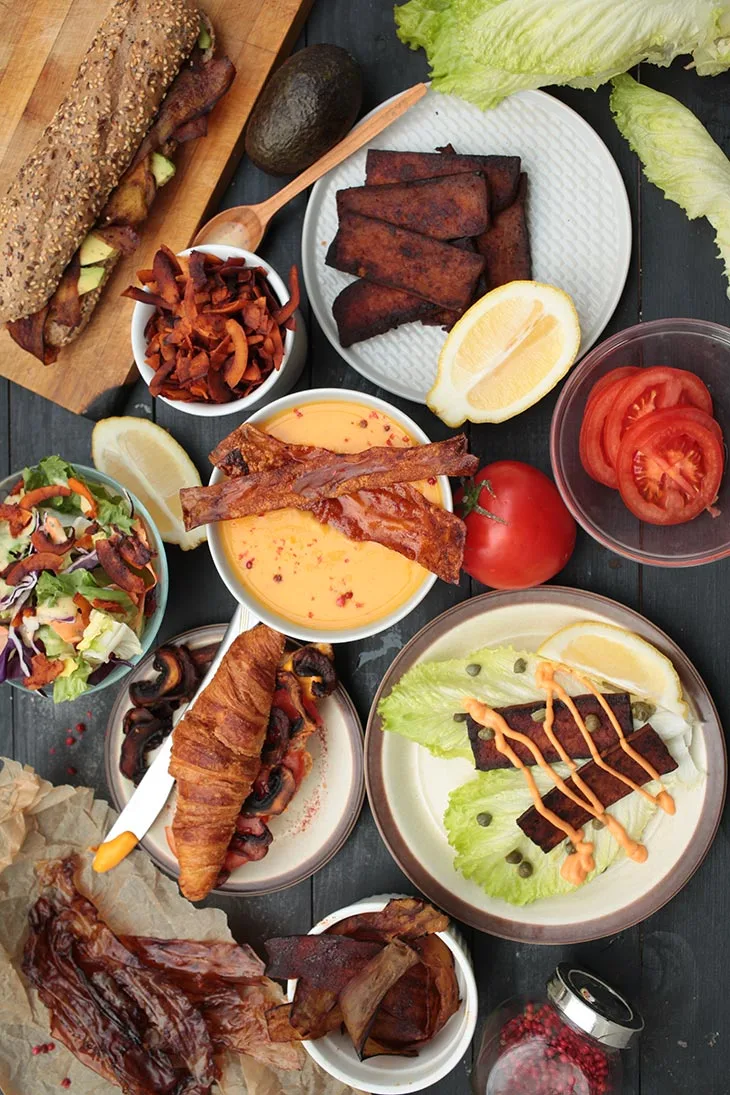 Rice Paper Bacon
Let's start with rice paper bacon. If you are not familiar with rice paper, it's a very thin edible sheet made from rice flour or rice straw. You would most commonly use it for making spring rolls, wraps or sushi and it's pretty amazing. But it works amazingly well for bacon imitation too!
Rice paper is pretty much flavorless, but its thinness will result in the crunchiest of textures. The bacon flavor is then obtained using a marinade consisting of ingredients such as tamari, olive oil, nutritional yeast, garlic powder, liquid smoke, and maple syrup.
This combination resembles bacon flavor excellently – smoky, salty, a little sweet. I truly believe it's one of the best bacon recreations out there. And if crispy, almost-burnt-bacon used to be one of your favorites, I can guarantee you're going to be thrilled by this!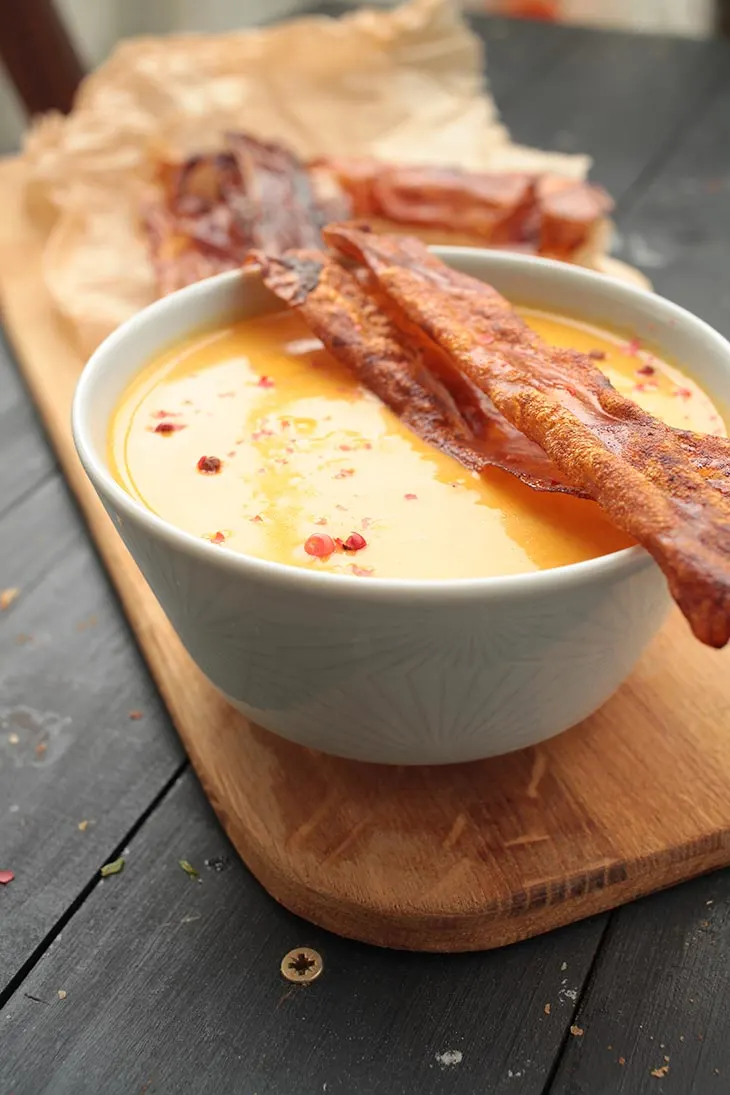 Smoked Tofu Bacon
Another popular method is the one that's using smoked tofu. Let's face it, tofu is one of the most versatile vegan foods out there, and I'll be amazed if it doesn't come on top of everyone's list of vegan products. It's simply the best! And this recipe is one of the easiest for sure. Rice paper does require more try-outs as it can be pretty difficult to work with, but tofu is easy and I'm pretty sure anyone can master it from the first try.
You simply need to press the tofu so that the excess moisture will come out (and believe me, we're talking about lots of moisture). The next step is slicing it thinly, mixing up a marinade similar in ingredients with the previous one and popping it in the oven or frying it in the pan. This resembles the chewier versions of bacon, so if that used to be your thing, you're going to absolutely love it!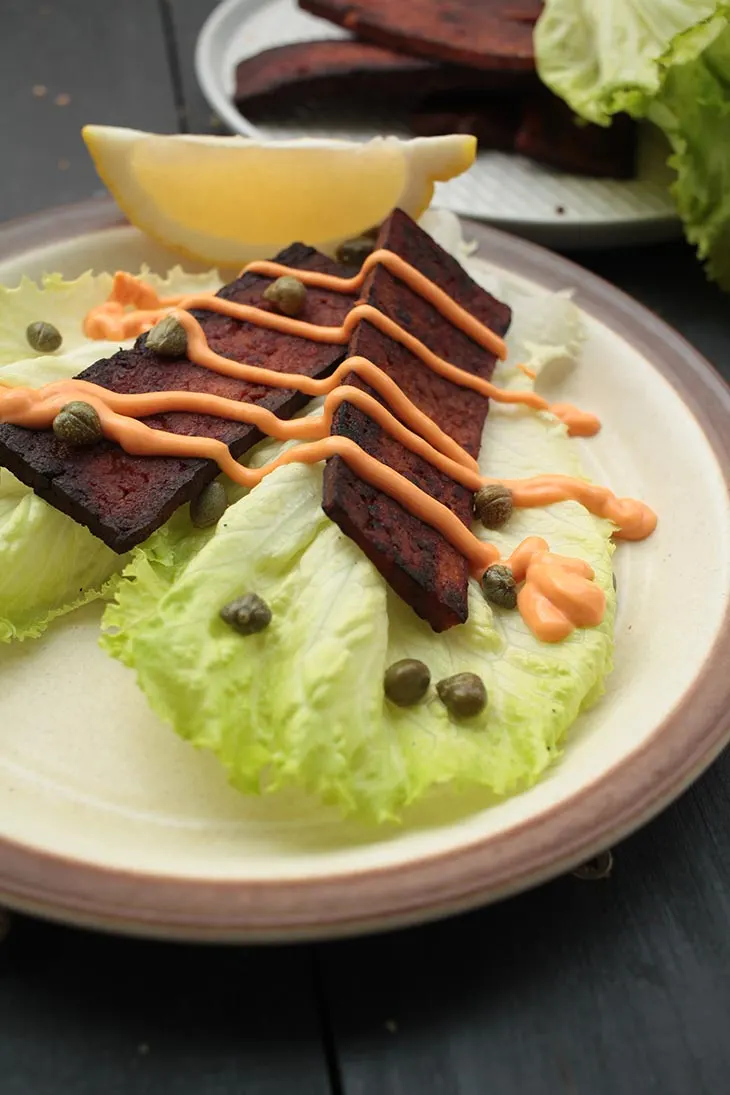 Eggplant Bacon
One much weirder version is bacon made of eggplant. Believe me when I say this is brilliant, though. The recipe is very simple and it requires a minimum amount of ingredients.
As for any other vegan bacon recipe, the marinade is the thing that's giving all of the flavors, so you'll want to slice the eggplant into thin, long strips which you will then soak into the marinade mixture. You will then bake the eggplant, which will result in the most wonderful crispy bacon texture. Yum!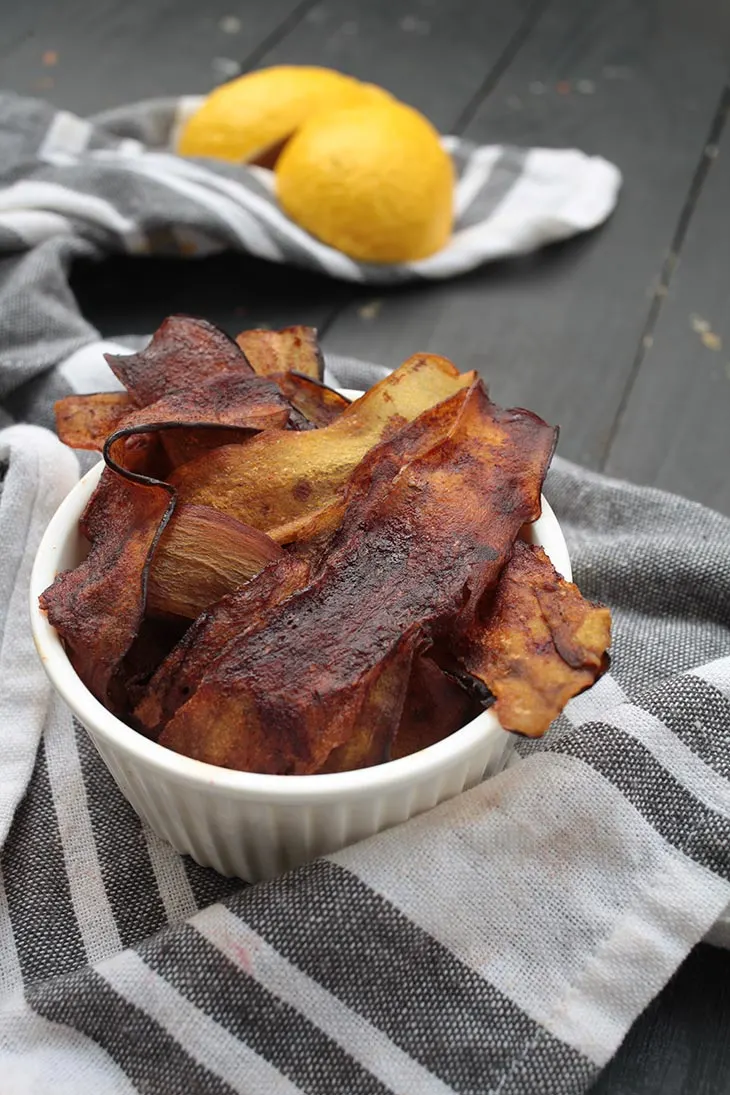 Coconut Bacon
Coconut bacon, anyone? I know it sounds unusual and counterintuitive. The coconut has a sweet flavor that makes you think of baked goods and cakes. I know. That's why it's probably the most surprising recipes of all! You will want to use large desiccated coconut flakes which – yeah, you guessed it by now – you're going to marinade and pop into the oven.
You will end up with a crispy, heavenly, packed-with-flavor and oh-so-amazing treat. As this one has a finer texture, it's perfect to add on top of salads or inside sandwiches – or, why not, even eat it as a snack.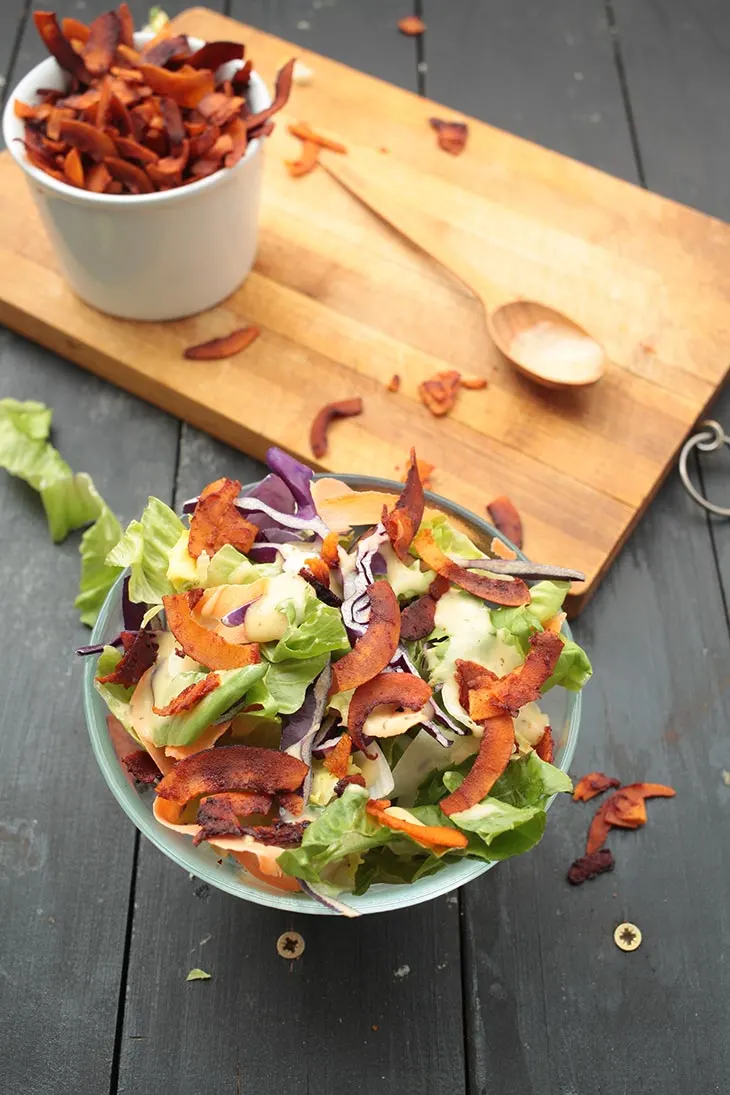 Mushroom Bacon
Finally, there's mushroom bacon, and my mouth has started to water right now. If you love mushrooms, you're going to love this. Alongside the amazing flavor, you'll get a ton of protein and healthy nutrients. So how can this be done? Basically by dehydrating thinly-sliced mushrooms into the oven and giving them flavor thanks to the marinade. This one's the perfect combination: crisp on the outside, chewy on the inside.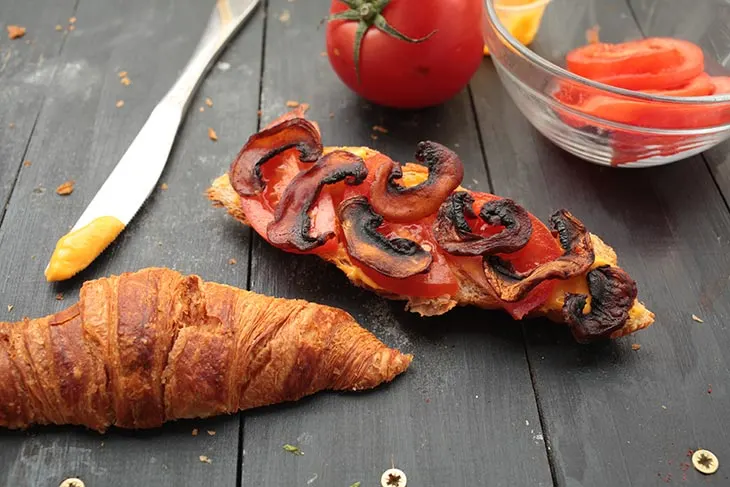 I hope you found these recipes interesting and surprising and that you'll try them out for yourself or for your family and friends. Everybody will be amazed, to say the least – I can guarantee it! And hey, tell me which one was your favorite! I just can't decide for myself 🙂