What do bacon and eggplant have in common? Oh, you'll be surprised! Just try this recipe for vegan eggplant bacon and you'll be amazed to discover a unique way of making vegan bacon!
I don't think anyone would hold it against you if you said you liked bacon. After all, everybody seems to do, on a certain level. Bacon is one of the most popular meat products in the world, representing a huge cultural phenomenon, appearing in a huge number of movies and TV shows, especially those that have breakfast scenes.
Bacon is an absolutely iconic food in American cuisine, making its way all over the world where people eat pork. The problem with bacon, tasty as it may be, is that it is overly fattening, and overconsumption might lead to some health problems later in life. So what is there to be done, if you want to taste that delicious bacon flavor without damaging your arteries or if you are following a vegan diet?
Well, one solution is to replace bacon with a substitute. I know, you might say that nothing can come close, regarding crispiness and texture, not to mention flavor. I, however, would beg to differ! 🙂
There are many vegan recipes for bacon that are made from plant-based ingredients, which not only succeed in capturing that essential bacon flavor but even the crunchy texture that is all too familiar! The best way to get convinced is not to take my words for granted… but to try it yourself!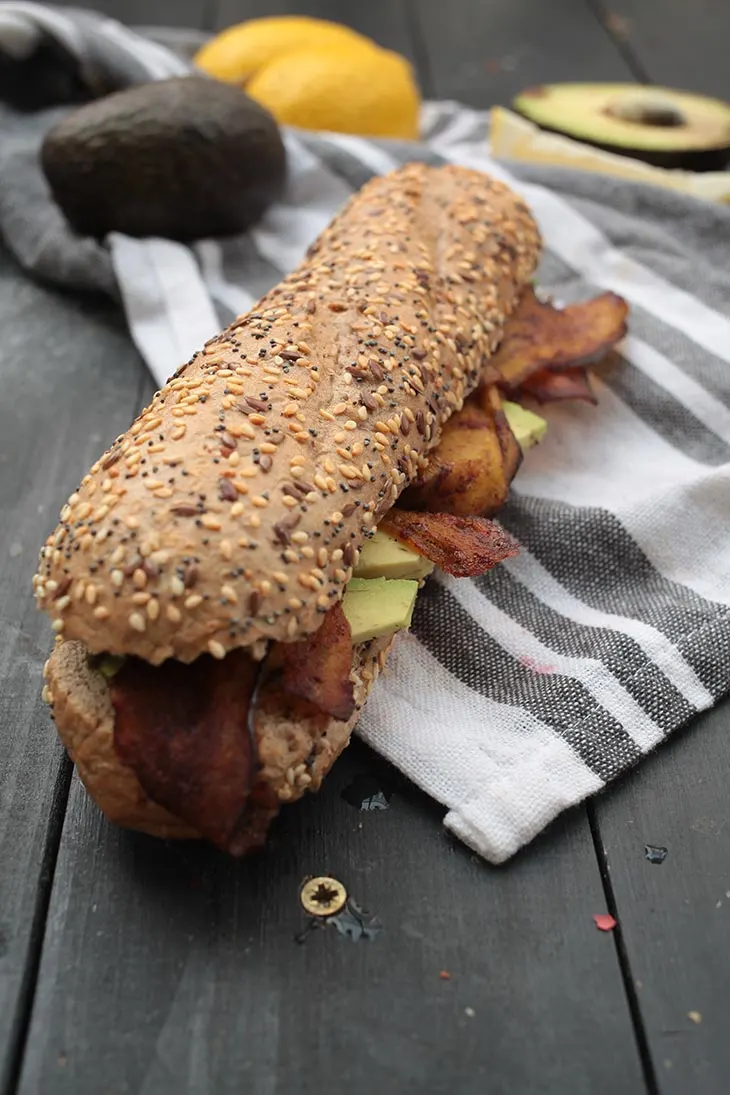 As out of place as it might sound, one of these recipes involves eggplant. Your first impression might be that eggplant is the polar opposite of bacon – it tastes nothing like bacon and is actually a healthy thing to eat on its own. And you might be right, but eggplant isn't the only ingredient in this recipe! 🙂
But first things first. You will have to slice your eggplant in very thin slices, as large as you prefer your bacon to be. Next, you will apply a special marinade sauce that is prevalent in all of my vegan bacon recipes. This marinade is made so that it will infuse anything with a tasty helping of bacon flavor, with none of the fats that come with the original.
You can swap around some of the ingredients for the sauce, but I used lemon juice, agave syrup, sweet paprika, soy sauce, garlic powder and more… sounds amazing, right?
The next step is to use a brush – or a spoon if you like – to spread the marinade on your eggplant strips. Do this as generously as possible, as eggplant has its own distinct flavor and you might like to subdue it in a lower or a greater amount, depending on taste. The bacon is then baked in an oven.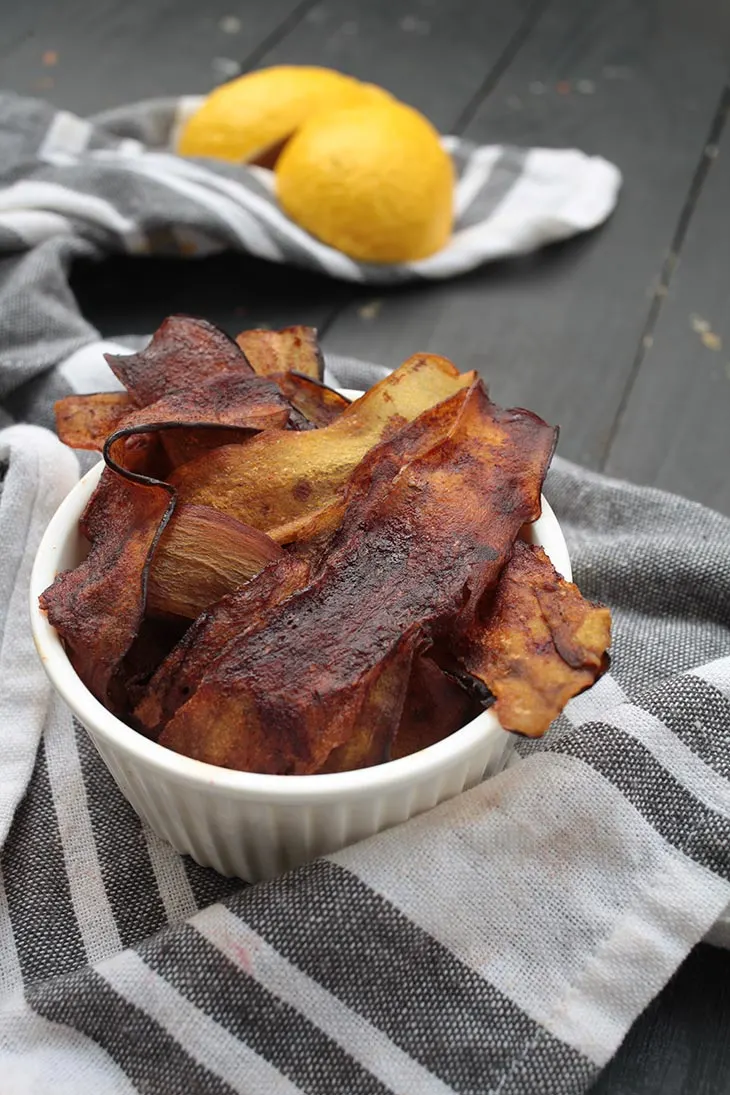 This recipe is very simple actually and is a great entry-level dish if you want to start cooking vegan! 🙂 Eggplant bacon is a great replacement for real bacon, as it will be of higher nutritional value, less fattening, and will go absolutely splendidly with any of your favorite vegan dishes. Put it in a tofu salad, or a vegan burger, it will be as delicious as real bacon and will definitely make for a tasty dish!
Naturally, you can serve this type of vegan bacon for a balanced breakfast. If you wake up early in the morning and have no mood or patience for cooking, you can prepare your marinade in the evening before you go to bed. Same with the eggplant, you can slice it up and store the slices in the fridge.
The simplicity of this recipe allows you to customize it as you desire. And furthermore, if you have children, you can safely give them this type of vegan bacon, as it doesn't harm their sensitive metabolism. Give them eggplant bacon at breakfast time, or for lunch, and they will be the happiest! 🙂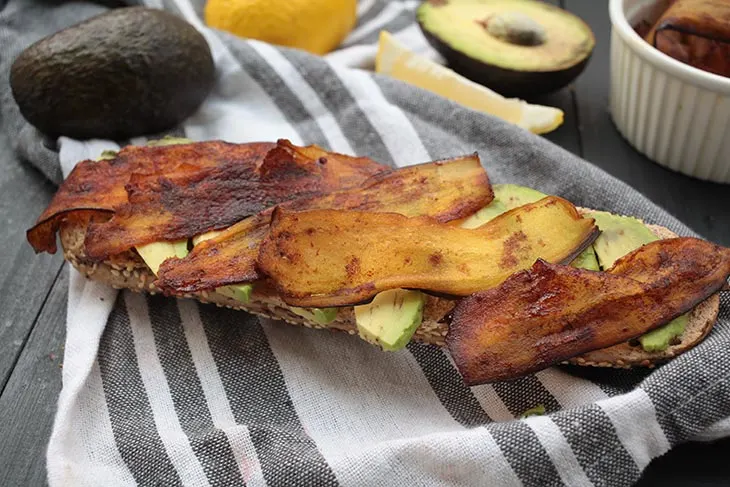 I definitely recommend that you try this recipe at home, if either you want to get started with vegan cooking, or if you want to try a less-fattening version of traditional bacon. It's a great party starter, in that you can add it to a tray of appetizers and everybody will be curious to try. Even your meat-loving friends might find something good in this eggplant bacon, or they might not even notice it's not bacon!
You can also check out some other vegan bacon recipes that are based in different delicious plant-based ingredients, served with the same delicious marinade sauce. Be sure to tell me which one was your favorite!
Yield: 1
Vegan Eggplant Bacon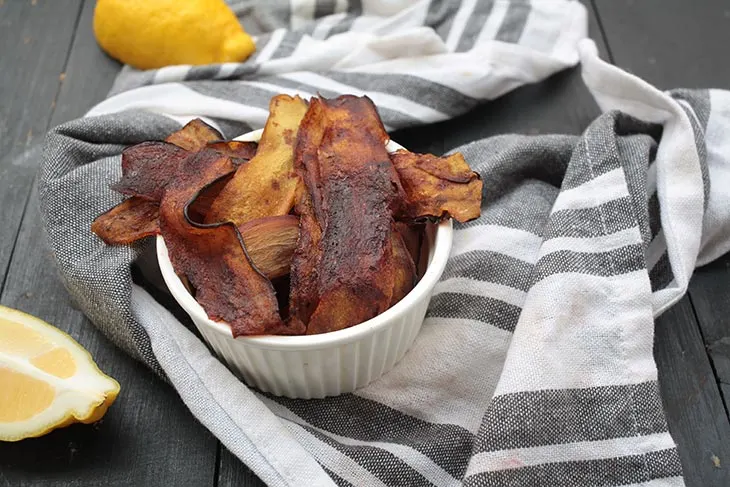 What do bacon and eggplant have in common? Oh, you'll be surprised! Just try this recipe for vegan eggplant bacon and you'll be amazed to discover a unique way of making vegan bacon!
Ingredients
1 medium eggplant, thinly sliced
1 Tbsp olive oil
For the marinade:
2 Tbsp soy sauce
1 Tbsp olive oil
2 Tbsp agave syrup
1 Tbsp lemon juice
1 tsp liquid smoke
2 tsp sweet paprika
⅓ tsp garlic powder
½ tsp ground cumin
¼ tsp ground black pepper
Instructions
Preheat the oven to 180C.
In a jar or bowl, combine all the marinade ingredients until incorporated.
Layer a baking tray with baking paper.
Lay on the eggplant slices in a single layer.
Brush every slice with olive oil and bake for about 10 minutes.
Remove from the oven.
Brush every eggplant slice with sauce, using a kitchen brush.
Place them back in the oven and let cook for about 10 more minutes or until crispy and golden.
Enjoy!
Nutrition Information
Yield
1
Amount Per Serving
Calories

564
Total Fat

26.9g
Carbohydrates

71.4g
Protein

8.9g