These lentil patties with olives and herbs are not only really easy to make but also will impress even your non-veg friends!
There are many different forms of healthy and tasty food out there, with each one being equally as delicious as the last. When we think of healthy foods, however, we often think of foods such as: quinoa, chia seeds, broccoli, kale, and so on. One food stuff that is often overlooked, however, is the humble lentil, and that is such a shame. Lentils are a proud member of the legume family, and these edible pulses not only taste fantastic, they are also very healthy and good for you as well. We have been consuming lentils for more than 9000 years thus far, and the benefits are there for all to see. If your diet lacks lentils, take a look at the following and you'll soon find yourself stocking up on these wonderful pulses.
How should lentils be prepared and used?
Before we look into the health benefits of lentils, we'll first briefly take a look at how lentils are prepared and used. Ideally, lentils should be rinsed well under clean running water and left to soak for around an hour. They should then be drained and submerged in liquid, either boiling water, or a broth. People often use lentils to bulk out soups, stews, and curries, though they can be turned into delicious main dishes as well. Ideally, they should cook for at least 30 minutes.
Key health benefits of lentils
Now that we know how to prepare them, let's take a look at what makes lentils so healthy:
Individuals following meat-free diets often lack protein. Lentils are the highest source of plant-based protein on the planet, making them great for people looking to increase their protein intake. Protein helps build muscle, plus it repairs our cells and promotes optimal cellular function.
They lower harmful cholesterol
In our bodies, we have HDL cholesterol and LDL cholesterol. HDL cholesterol is very good for us, whereas LDL is very bad for us. LDL is responsible for fatty deposits and build ups in our arteries, leading to all kinds of health problems and dangers. Lentils are packed full of soluble fiber, which has been found to significantly reduce LDL cholesterol. Therefore, lentils can significantly reduce your chances of suffering from heart disease, stroke, heart attacks, hypertension, and more.
Lentils regulate blood glucose levels
Another key benefit of lentils is the fact that they regulate blood glucose (sugar) levels. The soluble fiber helps to slow down the digestion of simple carbohydrates in the digestive system, which in turns helps to keep blood sugar levels stable. This is very useful for people suffering from, or at risk from, diabetes.
Rich in B vitamins
Often times we find ourselves lacking certain B vitamins, which are essential for a healthy metabolism. Lentils are rich in B vitamins, especially folic acid. This means that lentils help promote a healthy metabolism, and can help provide increased levels of energy for the body. Not only that, but folic acid is also very important when it comes to the formation of new red blood cells, making it great for the bloodstream. Folic acid is also very, very important and beneficial for pregnant women.

Now that you know how healthy lentils are, here's something about this lentil patties recipe. As you have probably noticed, I LOVE veggie patties!!! Lentils, chickpeas, beans, quinoa, millet… I love trying new base ingredients for my veggie patties recipes and experiment with flavors and textures. Even when I wasn't a vegetarian, I don't remember being so crazy about meatballs or meat patties. I rarely ate them, but now, not a week passes by without trying a new vegetarian patty recipe.
Red lentils are among my favorite ingredients for vegetarian patties. I use them often because they don't have to be boiled for a long time (15 minutes is enough for red lentils) and also because they're very nutritious, have a nice color and a great taste!
Hope you'll try this recipe! I promise you'll love it!

Yield: 15 lentil patties
Lentil Patties with Olives and Herbs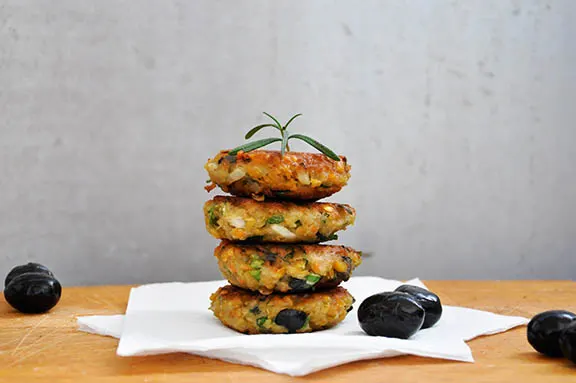 These lentil patties with olives and herbs are not only really easy to make but also will impress even your non-veg friends!
Ingredients
200g (1 cup) red lentils
1 bunch parsley, chopped
1 medium onion, diced
2 Tbsps psyllium husks , or one large egg
4 Tbsps nutritional yeast
90g (½ cup) sliced black olives
breadcrumbs – about 80g (⅔ cup), more or less
sea salt and ground pepper, to taste
oil, for frying
Instructions
Add lentils in a pot and cover them with water. From the moment they start boiling, let them boil for about 15 minutes and then remove from heat.
Strain the lentils very well and put them in a large bowl. Start mashing them a little, using a fork.
Add the rest of the ingredients, except oil.
Using a fork, or your hands, start mixing the composition. It has to be sticky and easy to shape. If it's not it means that you didn't strain the lentils very good and the composition is too wet. No problem, just add more breadcrumbs until it has a dough-like consistency.
Spray a non-stick pan with some oil. Not too much. Put each patty on the frying pan and let it fry about 2 minutes on each side.
Notes
You can bake them too. Grease a large pan and place the patties. Cook 15 minutes on one side and another 15 on the other, at 180C.
Nutrition Information
Yield
15
Amount Per Serving
Calories

158
Total Fat

3.5g
Carbohydrates

25.6g
Protein

6g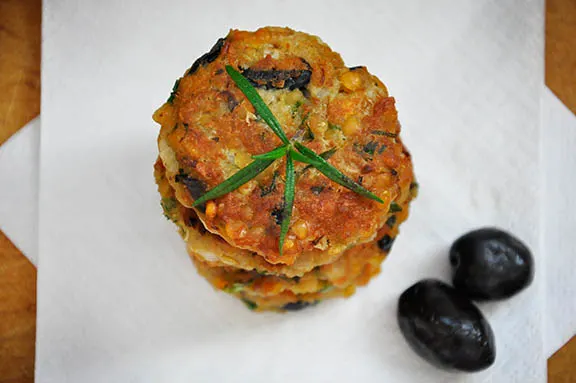 Lentils fan? Check out these delicious red lentil recipes: Lentils, Veggies and Mushroom Bake, Red Lentil Creamy Pâté, Red Lentil Veggie Burger Patties with Greens and Creamy Red Lentil Soup .