This mushroom bake is an Easter traditional Romanian recipe, made vegetarian! It's one of my favorite Easter recipes I make every year!
I had no idea how to name this recipe in English. I thought for a while before giving up and name it simply, veggie mushroom bake. This is a Romanian traditional recipe which is made every year for Easter and we call it 'drob'. Of course, as most traditional Romanian recipes, it's not vegetarian and it's made with boiled organs (bleah!).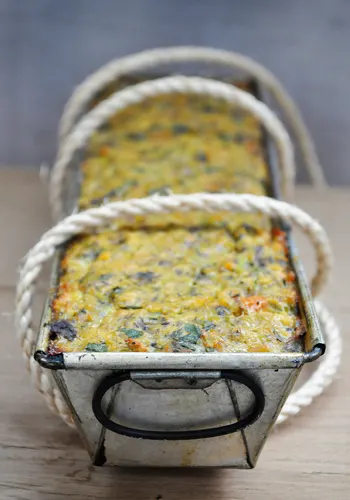 This year will be the first year when my parents won't eat any meat at all for Easter, so I thought, why not try to 'vegetarianize' all Easter recipes?! This way they won't feel like something's missing. I'm so glad I did! All the recipes turned out great and the Easter table looked more vibrant and colored as usual!
This mushroom bake was a huge success! Even better than I expected. It's actually hard to tell if it's the original meat recipe or not! Mushrooms give it a lovely taste and texture, and lentils make it even more amazing!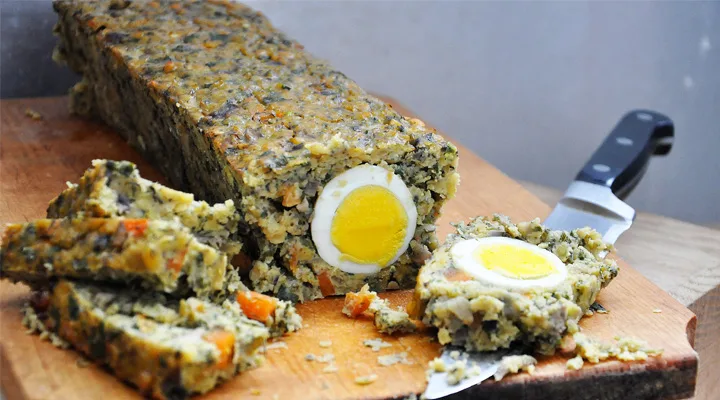 The trick for perfect, moist lentils, veggies and mushroom bake is the proportions between lentils and mushrooms. If you add too many lentils, the texture will be dry. Also, if you add too many mushrooms, it will be mushy. I found the perfect quantities which will make this mushroom bake have the perfect texture!
You have to try this mushroom bake recipe, you won't be disappointed! Also, while browsing the web for other inspiring mushroom bake recipes, I found this lovely mushroom casserole! The fresh tarragon leaves seem just like a perfect ingredient in this recipe! I would have never thought of that!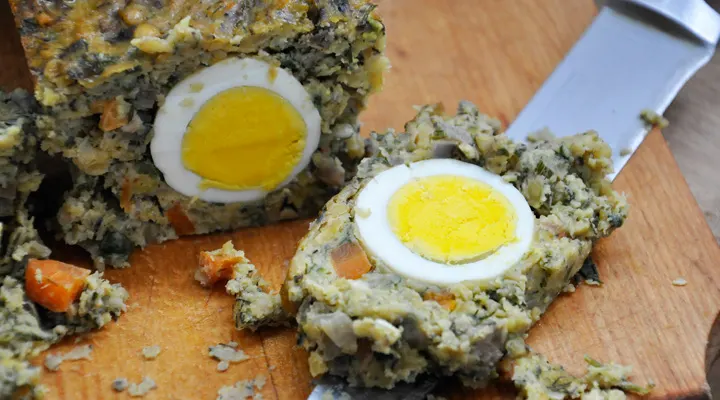 Yield: 2
Lentils, Veggies and Mushroom Bake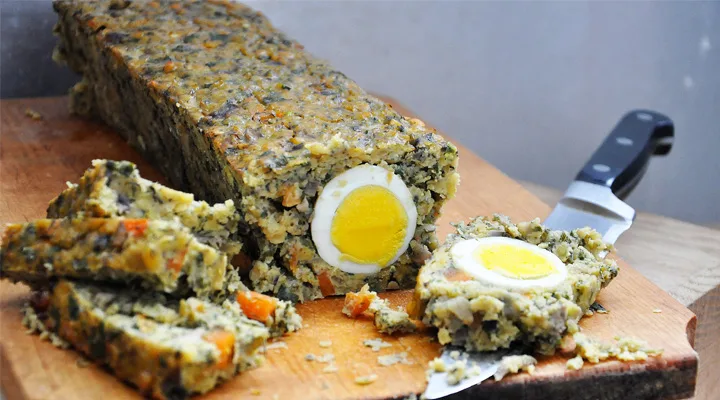 This mushroom bake is an Easter traditional Romanian recipe, made vegetarian! It's one of my favorite Easter recipes I make every year!
Total Time
1 hour
5 minutes
Ingredients
200g (1 cup) red lentils
100g (1 cup) mushrooms, chopped (I used champignons)
1 carrot, chopped
1 onion, chopped
2 eggs, for composition + 3 more (optional – to place inside the veggie bake)
1 bunch of parsley
1 bunch of dill
1 bunch green onions
2 tsps thyme
sea salt and pepper, to taste
Instructions
Boil the lentils for 15 minutes then strain them very well and place them in a large bowl.
Heat some olive oil in a large pan and saute the chopped onion, mushrooms, and carrot, for about 7-10 minutes. They don't have to be completely cooked. Place them over the lentils in the bowl.
Add 2 eggs, chopped parsley, green onions, dill, sea salt, pepper, and thyme. Start blending them all together.
Optional – Boil 3 eggs.
Place the composition in a previously greased form, any shape you want (preferably a taller one if you add the extra 3 eggs).
Add half of the composition, place the peeled, boiled eggs and then cover them with the other half.
Place in oven and cook at about 180ºC/356ºF for 30-40 minutes.
Let it cool a bit before removing it from the form.
Notes
If you wait until it cools down a bit it will come out of the form really nice. I was impatient as always and cut it immediately so it didn't stick together that well.
Nutrition Information
Yield
2
Amount Per Serving
Calories

400
Total Fat

6.8g
Carbohydrates

74.7g
Protein

10g