Reteta vegetariana pentru drob vegetarian delicios cu linte si ciuperci, ideal pentru un Paste sanatos! | This mushroom bake is an Easter traditional Romanian recipe, made vegetarian! It can also be made in a casserole dish. 
  Recipe in English
  Reteta in Romana
I had no idea how to name this recipe. I thought for a while before giving up and name it simply, veggie mushroom bake. This is a Romanian traditional recipe which is made every year for Easter and we call it 'drob'. Of course, as most  traditional Romanian recipes, it is not vegetarian and it is made with boiled organs. This year will be the first one when my parents won't eat any meat at all for Easter, so I thought, why not try to 'vegetarianize' all Easter recipes?! This way they won't feel like something's missing.
This mushroom bake was a huge success! Even better than I expected. I mean, it's actually hard to tell if it's the original recipe or not!! Mushrooms give it a lovely taste and texture, and lentils make it even more amazing! You have to try this mushroom bake recipe, you won't be disappointed!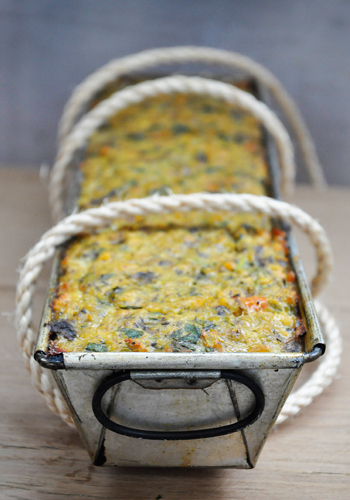 Lentils, Veggies and Mushroom Bake
This mushroom bake is an Easter traditional Romanian recipe, made vegetarian! It can also be made in a casserole dish.
Ingredients
1 cup red lentils
1 cup mushrooms, chopped

(I used champignons)

1 carrot, chopped
1 onion, chopped
2 eggs

(for composition)

+ 3 more

(optional – to place inside the veggie bake)

1 bunch of parsley
1 bunch of dill
1 bunch green onions
2 tsps thyme
sea salt and pepper, to taste
Instructions
Boil the lentils for 15 minutes then strain them very well and place them in a large bowl.
Heat some olive oil in a large pan and saute the chopped onion, mushrooms and carrot, for about 7-10 minutes. They don't have to be completely cooked. Place them over the lentils in the bowl.
Add 2 eggs, chopped parsley, green onions, dill, sea salt, pepper and thyme. Start blending them all together.
Optional – Boil 3 eggs.
Place the composition in a previously greased form, any shape you want (preferably a taller one if you add the extra 3 eggs).
Add half of the composition, place the peeled, boiled eggs and then cover them with the other half.
Place in oven and cook at about 180ºC/356ºF for 30-40 minutes.
Let it cool a bit before removing it from the form.
Notes
If you wait until it cools down a bit it will come out of the form really nice. I was impatient as always and cut it immediately so it didn't stick together that well.
http://gourmandelle.com/veggies-and-mushroom-bake-drob-vegetarian/
Copyright: 2014 Ruxandra Micu | www.gourmandelle.com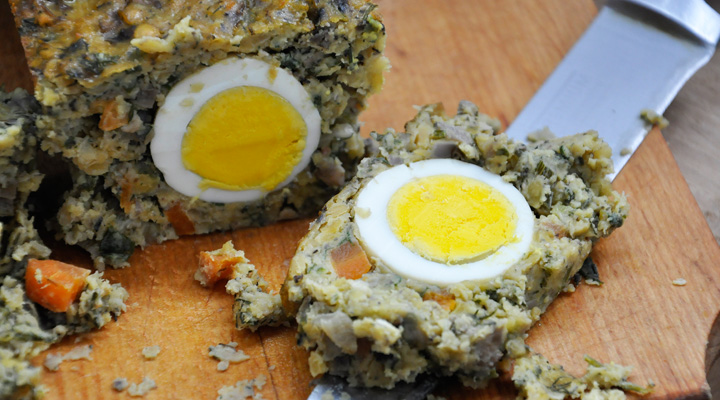 Anul asta este primul an in care parintii mei au decis ca nu vor mai manca miel de Paste. M-a bucurat atat de tare decizia lor incat m-am gandit sa creez un meniu vegetarian gustos si sanatos,special pentru Paste. Astfel, mi-a venit ideea sa fac un drob vegetarian cu linte si ciuperci.  A iesit extraordinar!! Nu vreau sa ma laud insa,  reteta asta de drob vegetarian cu linte e chiar delicioasa! Seamana enorm cu drobul clasic, si la textura si la gust. Cu siguranta o sa va placa!
Astept cu drag comentariile voastre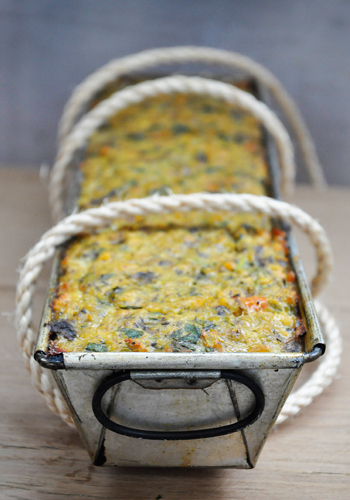 Drob Vegetarian cu Linte si Ciuperci
Ingrediente:
1 cana de linte rosie
1 cana de ciuperci, cubulete – am folosit champignions
1 morcov, taiat cubulete
1 ceapa mare, cubulete
2 oua – pentru legat compozitia si alte 3 pentru pus intregi la interior
o legatura de patrunjel
o legatura de marar
o legatura de ceapa verde
2 lg cimbru uscat
sare si piper, dupa gust
Instructiuni:
Fierbe lintea 15 minute si apoi scurge-o foarte bine. Pune-o deoparte intr-un bol mai mare.
Incinge putin ulei de masline intr-o tigaie maricica si adauga ceapa taiata cubulete, ciupercile si morcovul. Soteaza-le 7-10 minute. Nu trebuie sa fie complet gata. Se pun peste lintea din bol.
Adauga peste compozitie: 2 oua, verdeturile taiate, sare, piper si cimbru. Amesteca-le foarte bine.
Fierbe 3 oua.
Pune compozitia intr-o forma de chec pe care ai unso bine inainte, astfel: adauga jumatate dupa care pune cele 3 oua fierte si decojite si apoi acopera-le cu cealalta jumatate de compozitie.
Pune la cuptor, la 180ºC pentru 30-40 de minute.
Lasa sa se raceasca bine inainte sa o scoti din forma pentru a nu risca sa rupi drobul.
P.S Eu m-am grabit ca imi era pofta si fomica si se vede ca s-a rupt un pic insa l-am mai facut o data de atunci si a doua oara l-am lasat sa se raceasca complet cand l-am scos. A iesit perfect :) .