The classic recipe of Koulourakia – traditional Greek Easter cookies, easy to prepare and delicious. Learn how to make these tender and aromatic biscuits with vanilla and orange to impress family and friends at the Easter table.
The Koulourakia recipe is a must-have for any Easter meal! These traditional Greek biscuits are soft, tender and have a delicate taste of vanilla and orange. I'm glad I discovered them and they will definitely find their place in this year's Easter menu.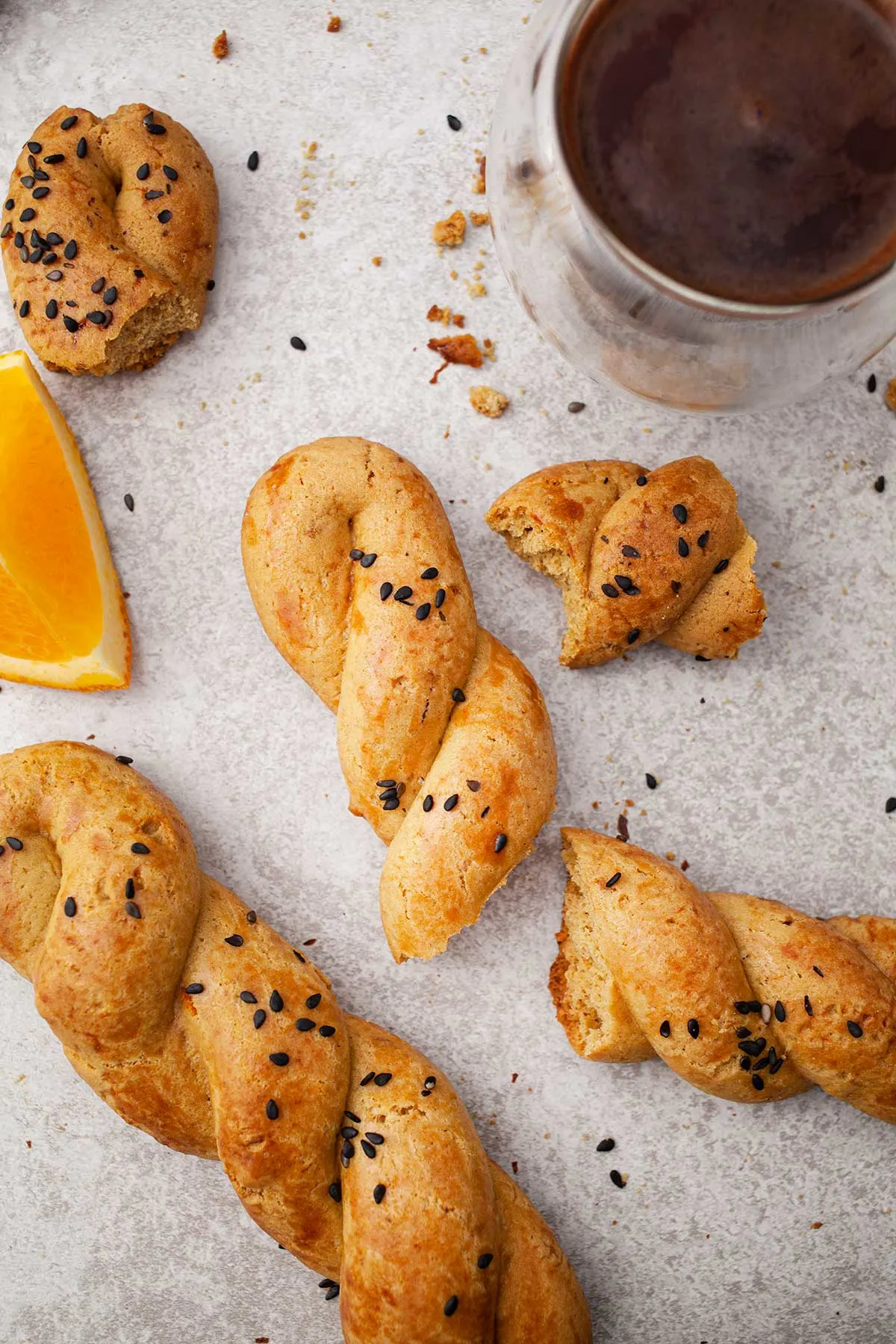 Also check out my other recent Easter bread recipes here: Tsoureki – Greek Easter Bread, Italian Easter Bread | Pane di Pasqua. And get inspired with more Easter recipes here.
How do you pronounce Koulourakia?
It is pronounced as koo-loo-RAH-kyah.
What is the history of the Greek recipe Koulourakia?
Koulourakia is a traditional Greek cookie, which has a long history. It is believed that this cake was created since the time of the Byzantine Empire. This cake became popular throughout Greece in the modern period, especially during religious holidays, such as Easter and Christmas.
Initially, koulourakia were made from flour, butter, eggs and sugar. Over time, other ingredients were added, such as sesame seeds or orange. The traditional shape of this cake is in the shape of a ring, but other shapes can be made, such as spirals or sticks.
The sweet Koulourakia recipe has become an important tradition in Greek culture and are often offered as a symbolic gift or as a snack on special occasions, such as weddings or baptisms.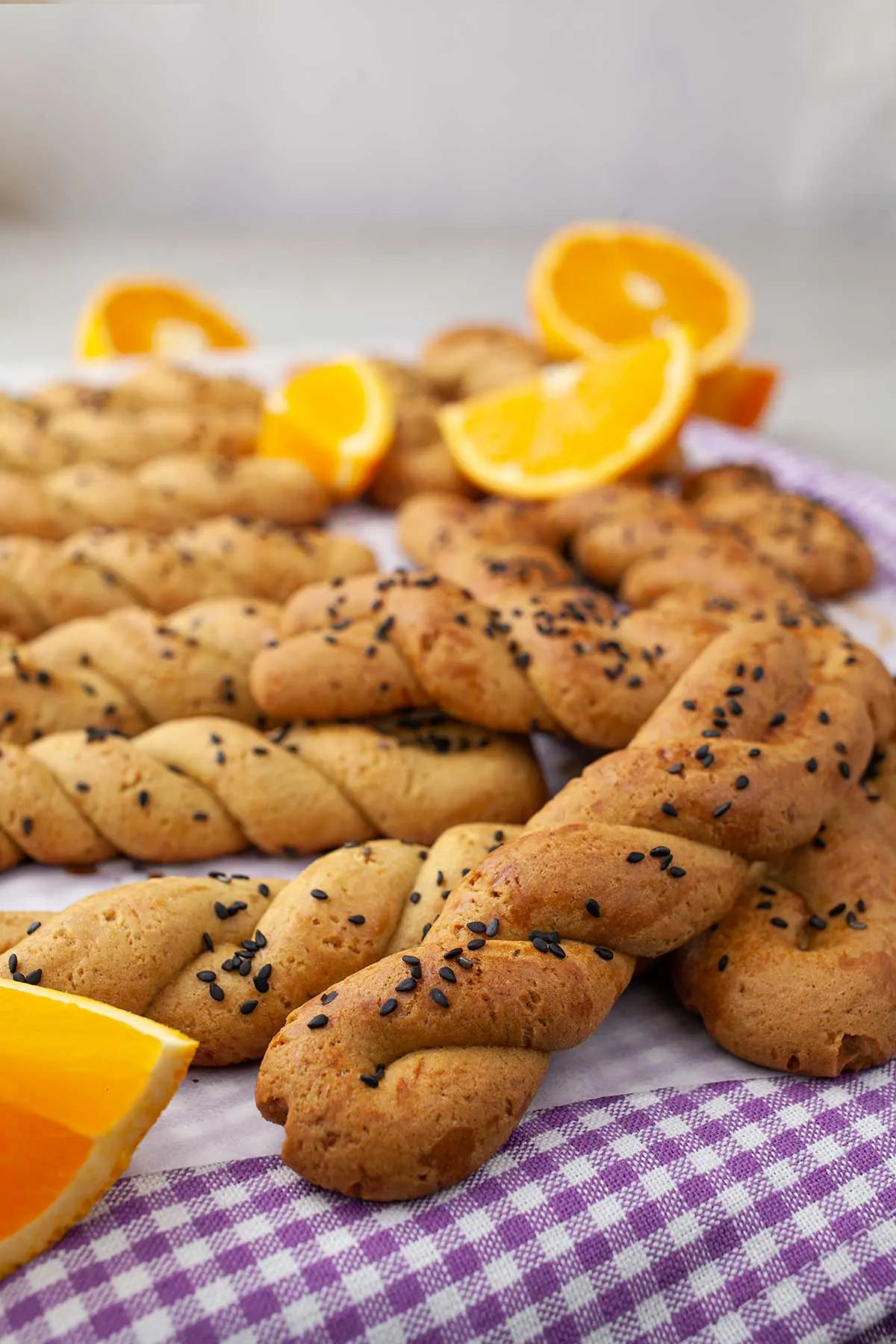 Koulourakia vs. koulouri
Koulourakia and koulouria are two similar Greek desserts, but there are some differences between them. Koulouria are simple, ring-shaped cakes made from a dough of egg, butter, sugar, milk and flour, and koulourakia are fluffy, aromatic cakes in the shape of sticks or spirals, which also contain sesame or anise seeds . Also, koulourakia are usually sweeter than koulouria and are decorated with beaten egg or sesame. Both cakes are traditional for Easter in Greece and are often served with dyed eggs and other seasonal treats.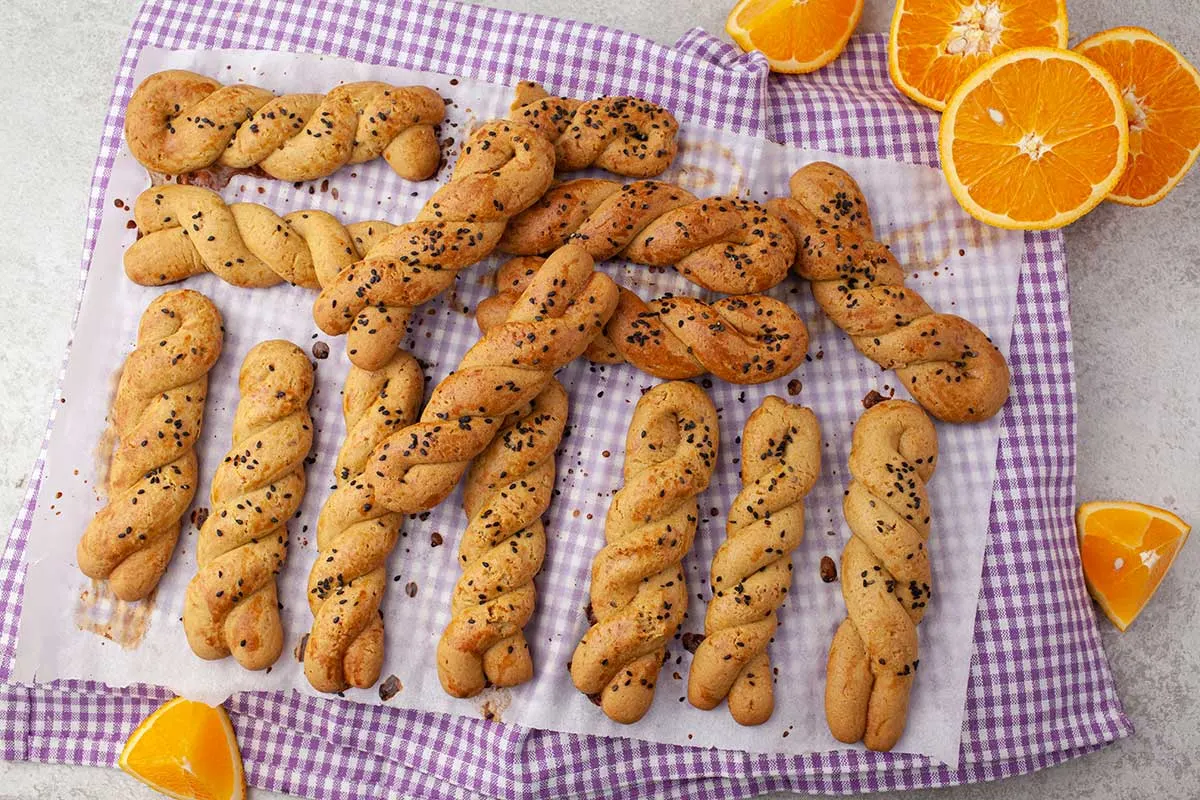 What are other names for Koulourakia?
The Greek Orthodox Koulourakia are also known as koulouria, koulourakia thessalonikis or koulouria argyroupolis, depending on the region in Greece where they are made.
Flavor variations for the Koulourakia recipe
The traditional Koulourakia recipe has simple flavors, such as vanilla or orange juice. However, you can try adding different flavors to customize your recipe. Here are some flavor ideas:
Cocoa or melted chocolate for a chocolate flavor.
Cinnamon, cloves or nutmeg for a warm and spicy taste.
Anise or poppy seeds for a more distinct taste.
Vanilla, lemon or orange for a fresh and acidic taste.
Almonds, walnuts or hazelnuts for a delicious nut flavor.
Dried fruits, such as raisins, dates or dried apricots, for a fruity flavor.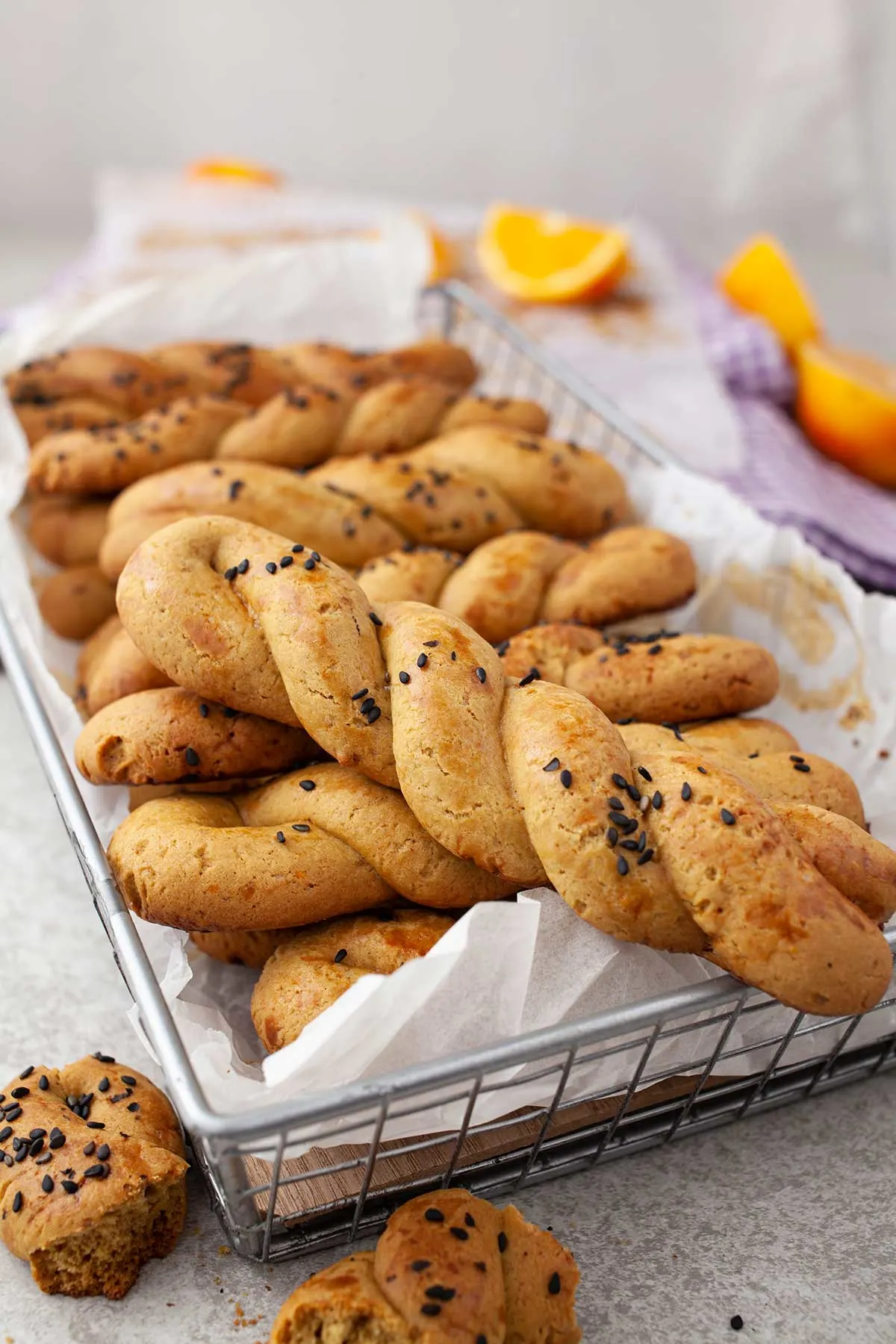 Tips and decorating ideas for Greek Easter cookies
Sesame or poppy seeds. Dip each cookie in a mixture of beaten egg and water, then sprinkle with seeds before baking.
Chocolate. Melt the dark or milk chocolate in a water bath, then pass half of each pretzel through the chocolate and let it dry before serving.
Powdered sugar or icing sugar. Let the cookies cool completely, then sprinkle with powdered sugar or cover with sugar glaze.
Honey. Heat the honey in a small bowl in a water bath, then dip each pretzel in the honey and let it dry before serving.
If you want to create a more festive look, you can wrap the koulourakia in baking paper and tie them with a bow.
Koulourakia is a delicious and traditional sweet Greek snack, perfect to be enjoyed with a cup of coffee or a glass of milk. With their unique shape and flavors of vanilla and orange, these simple but delicious cookies can be an excellent choice for any occasion, from breakfast to a party. With a little attention and care in the preparation, you can be sure that you will get the best koulourakia, which will surely delight any guest. I hope you like the recipe!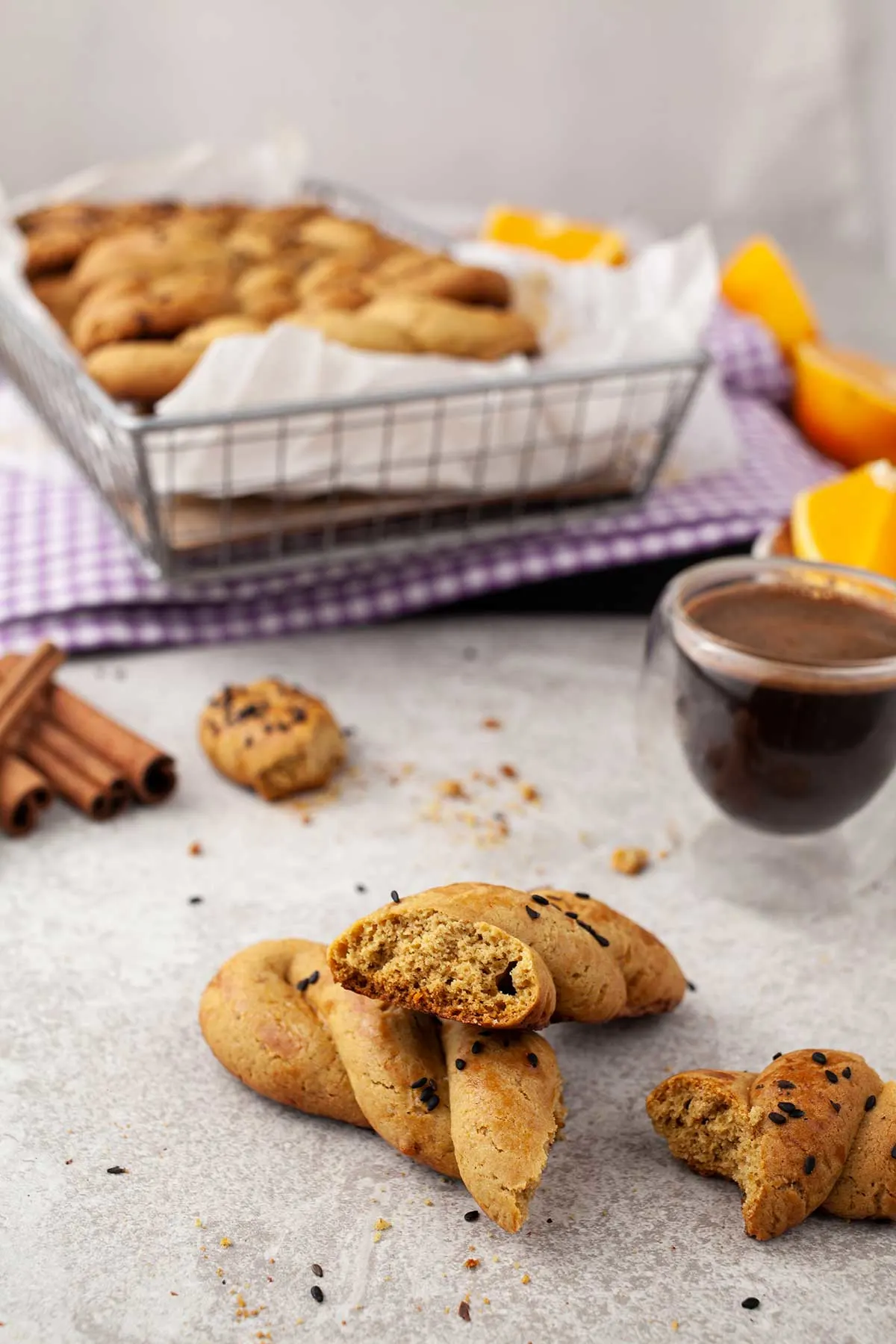 Yield: 18 cookies
Koulourakia | Greek Easter Cookies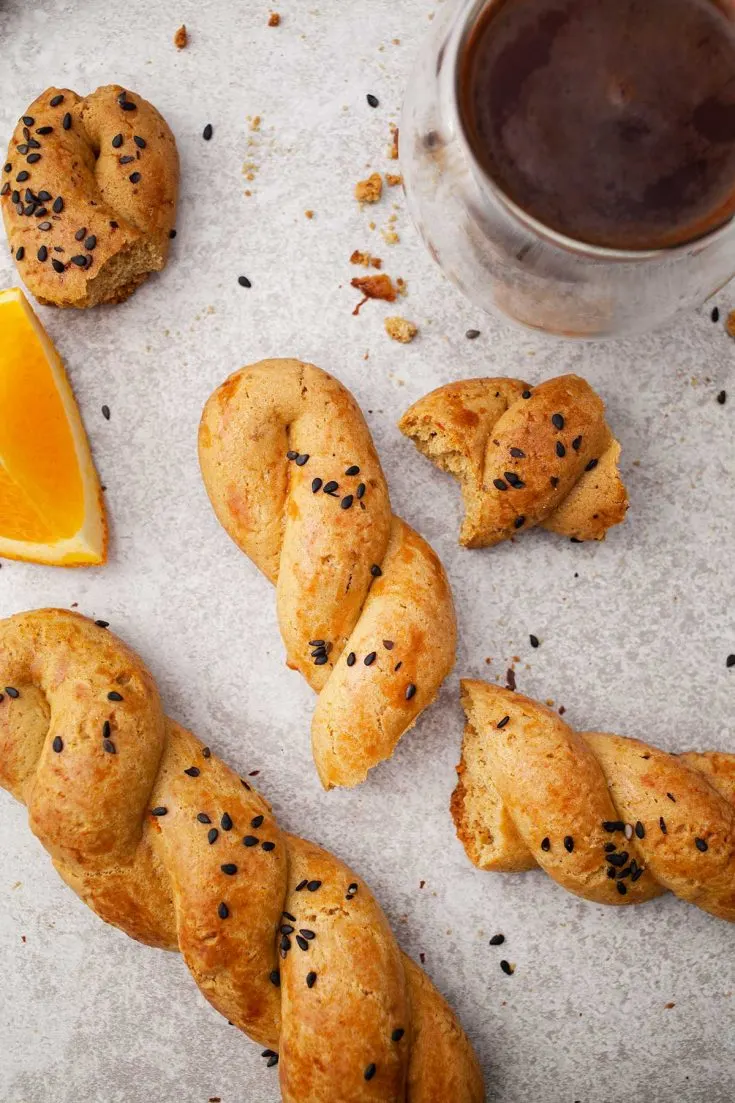 The classic recipe of Koulourakia - traditional Greek Easter cookies, easy and delicious. Learn how to make these aromatic biscuits.
Ingredients
125g (½ cup) butter, soft
250g (1 ¼ cup) sugar
2 eggs
2 teaspoons of vanilla
2 teaspoons grated orange peel
500g (1 ¼ cup) flour
1 tsp baking powder
¼ cup milk
2 tablespoons of black sesame for topping
Instructions
Heat the oven to 180C (360F) and line two large baking sheets with baking paper.
In a bowl, add butter, sugar, eggs, vanilla and grated orange peel.
Beat with a mixer until you get a creamy texture.
Add the flour and mix until you get a crumbly dough.
Tear off a piece of the dough, approximately the size of a spoon.
Shape each piece into long and thin sticks, about 30 cm long.
Fold and twist them in a spiral shape. Place the formed cookieson the prepared baking trays.
Brush the cookies with milk and sprinkle with black sesame. Put in the oven for 25 minutes or until browned.
Nutrition Information
Yield
18
Serving Size
1
Amount Per Serving
Calories

216
Total Fat

7g
Saturated Fat

4g
Trans Fat

0g
Unsaturated Fat

2g
Cholesterol

36mg
Sodium

78mg
Carbohydrates

35g
Fiber

1g
Sugar

14g
Protein

4g
I strive to keep the information as accurate as possible but make no warranties regarding its accuracy. I encourage you to make your own calculations using your preferred nutrition calculator.