Indulge in the delightful flavors of the sweet zucchini cake with lemon and thyme — a one-of-a-kind dessert that showcases how zucchini can be an unexpectedly delightful addition to sweet treats.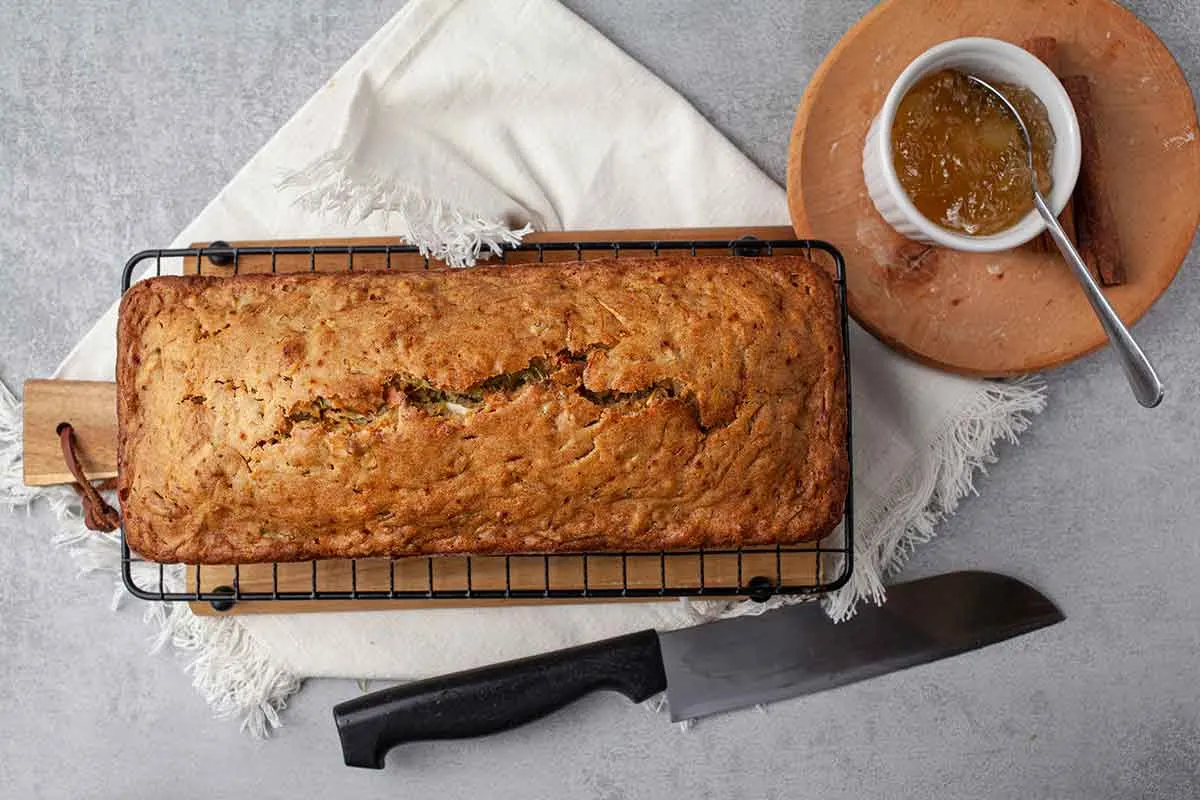 If everyone has probably already heard of the famous banana bread recipe, the zucchini bread is like a brother from another mother, a version that is less popular but just as delicious. With a unique combination of fresh zucchini, the refreshing aroma of lemon and a subtle hint of thyme, this sweet cake will surely surprise you.
And when you happen to have industrial quantities of zucchini because you planted more seedlings this year than you should (guilty as charged), this recipe is an ideal way to consume it.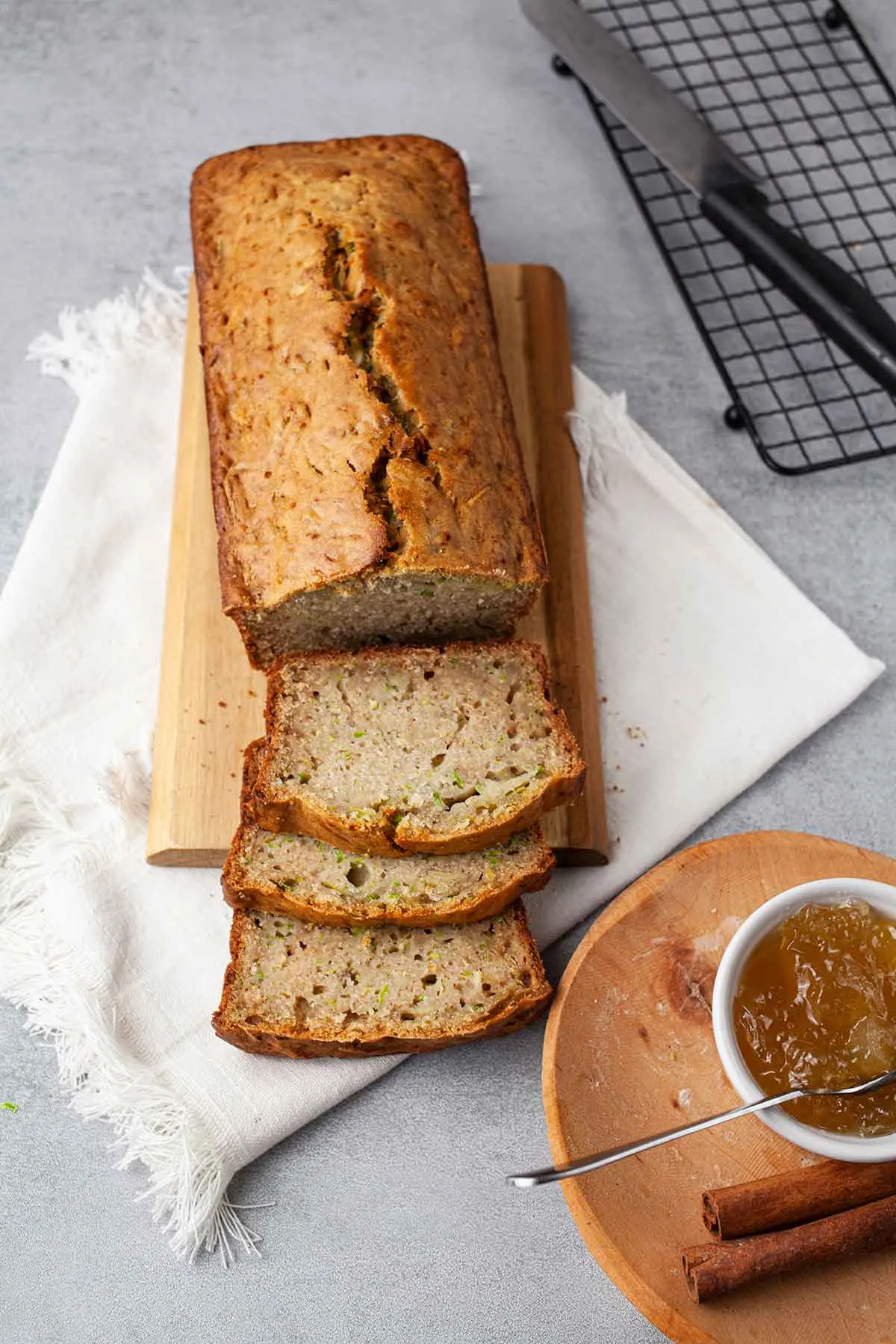 The benefits of zucchini in desserts
Zucchini, often associated with savory dishes, surprisingly brings many benefits in desserts, including in this lemon zucchini cake. Its moist texture adds a pleasant sensation to every bite, turning the dessert into a refreshing and comforting experience.
In addition, zucchini is rich in fiber, which contributes to healthy digestion and maintaining the feeling of satiety. It is also an important source of essential vitamins and minerals, such as vitamin C, potassium and magnesium, offering significant nutritional value.
Moreover, the high water content of the zucchini adds extra hydration, keeping the dessert fresh and delicious. Thus, zucchini is a versatile and healthy ingredient that enriches this recipe with flavor and freshness, inviting you to enjoy a unique combination of flavors and textures.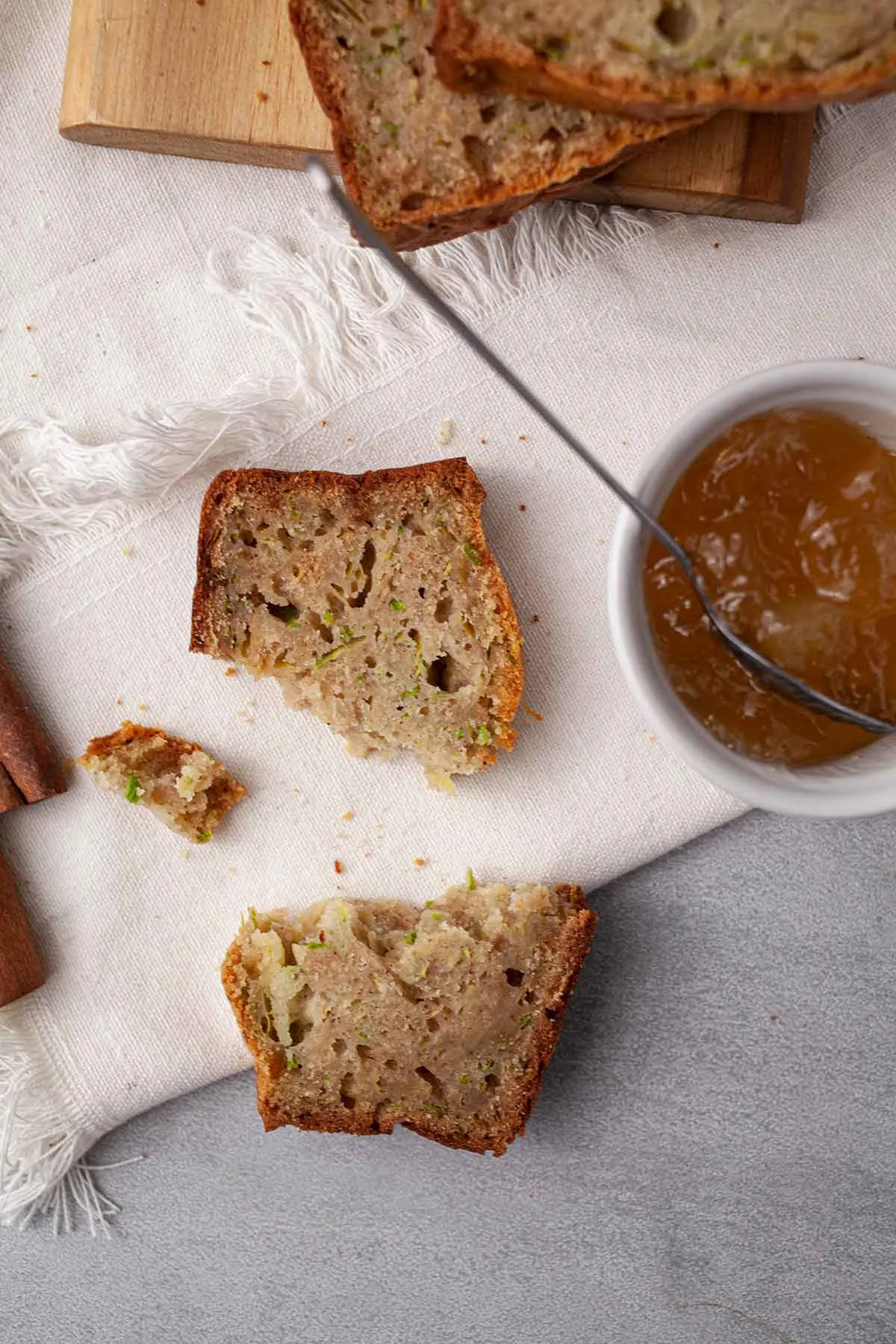 Toppings and glazes ideas
There are many delicious options for toppings and glazes that can turn this dessert into a truly special experience.
Thin layer of lemon glaze, with a fresh and slightly acidic aroma – it matches perfectly with the sweetness of the zucchini.
Sweet, light and aromatic cream cheese – this gracefully complements the sweetness and flavor of the dessert turning this into an amazing zucchini cake with cream cheese frosting.
Combination of crunchy walnuts and fresh raspberries – adds texture and a touch of freshness.
For an interesting contrast, you can try a salted caramel topping or a handful of fresh thyme leaves, which perfectly complement the flavors of lemon and zucchini.
Each option will offer you a unique experience and delight your taste buds in surprising ways. With so many options of toppings and glazes, you can customize this dessert according to your preferences and you can always create something new and delicious!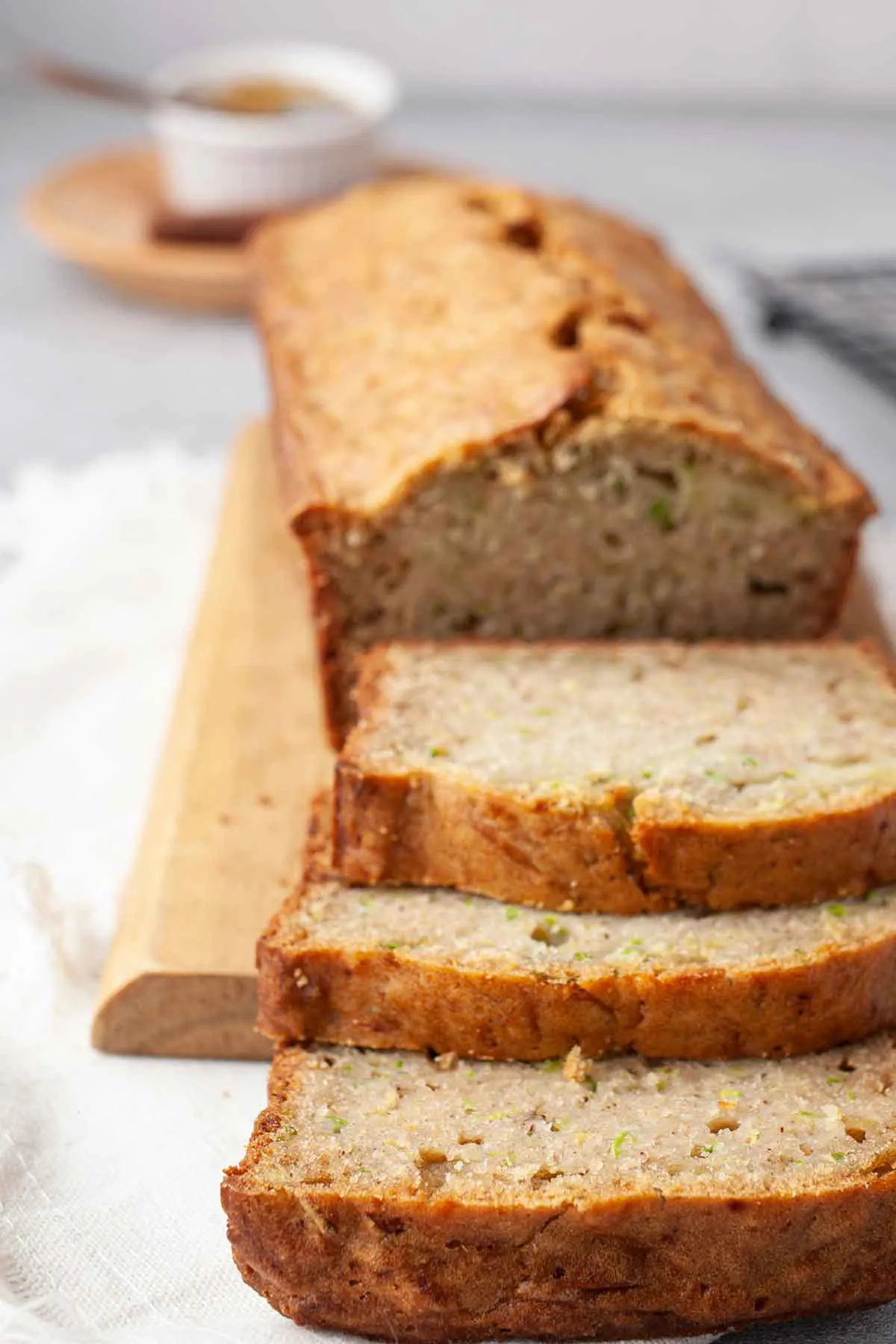 How to serve the zucchini cake
When it comes to serving this moist zucchini cake, here are some tips to present it in the most appetizing way possible:
Slice carefully: Cut the check into uniform slices to provide a beautiful and orderly presentation.
Garnished with style: Add a touch of freshness and color by garnishing each slice with a few fresh thyme leaves and a thin slice of lemon. These simple details will make the dessert look inviting and sophisticated.
Suitable toppings: You can serve the cake with a top of fresh whipped cream or a scoop of vanilla flavored ice cream. These delicious accessories will add a pleasant texture contrast and a refreshing touch.
Add a twist: To encourage diversity and offer a more complex experience, you can add some fresh fruit, such as strawberries or raspberries, in addition to the zucchini slices. This aspect will offer an interesting combination of flavors and a variety of tastes.
Elegant presentation: For special occasions or more sophisticated events, you can decorate the plate with edible flowers or thyme leaves, for a refined and aesthetic presentation. Dare to discover new flavors and enjoy this unique dessert that will surely conquer you!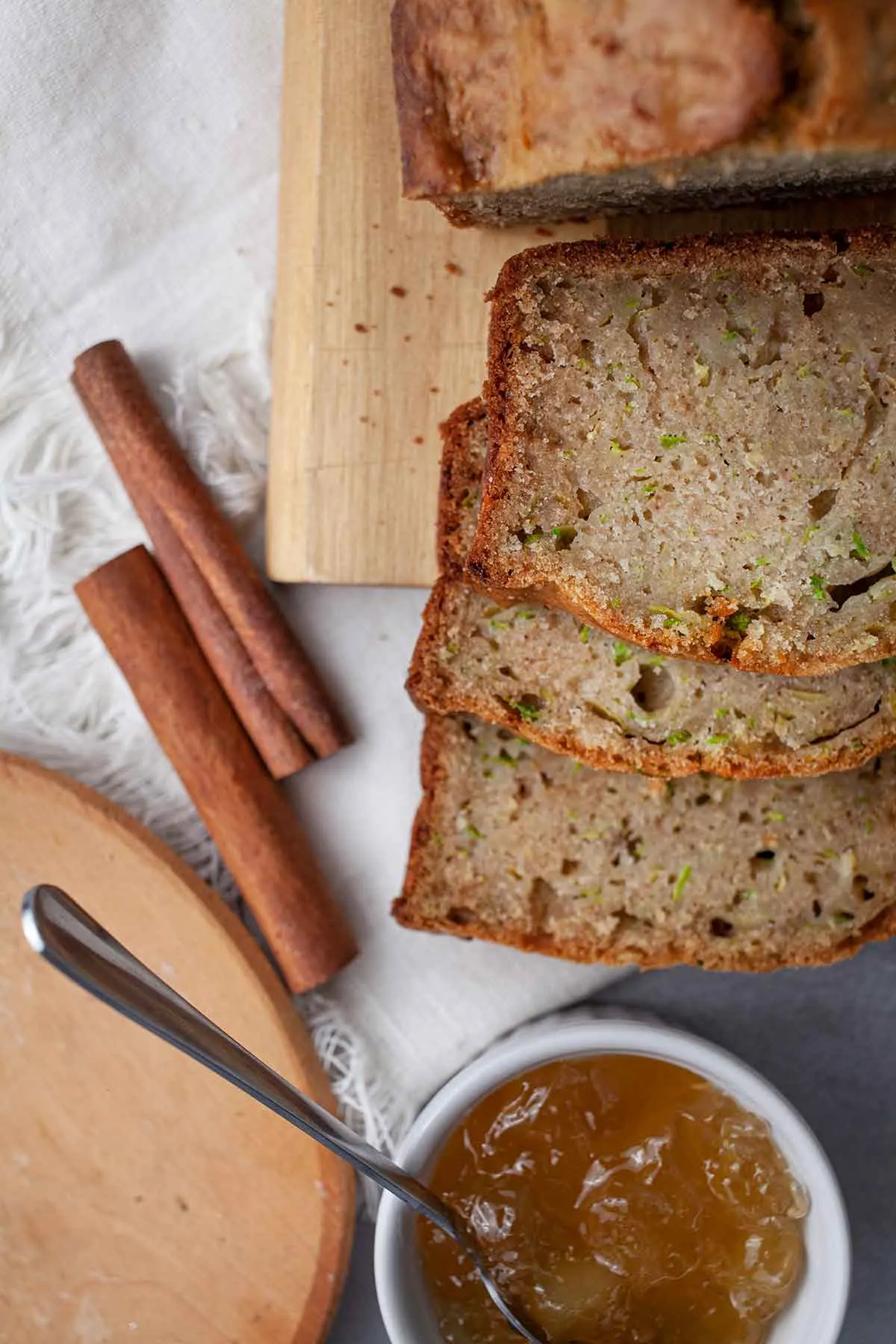 Looking for more delicious sponge cake recipes? I have quite a few on my blog. Check out: Limoncello Sponge Cake, Peach Sponge Cake, Margarita Cake – with lime and tequila and Gluten-Free Sponge Cake with Cocoa.
How to make sweet zucchini cake
Yield: 8
Sweet Zucchini Cake with Lemon & Thyme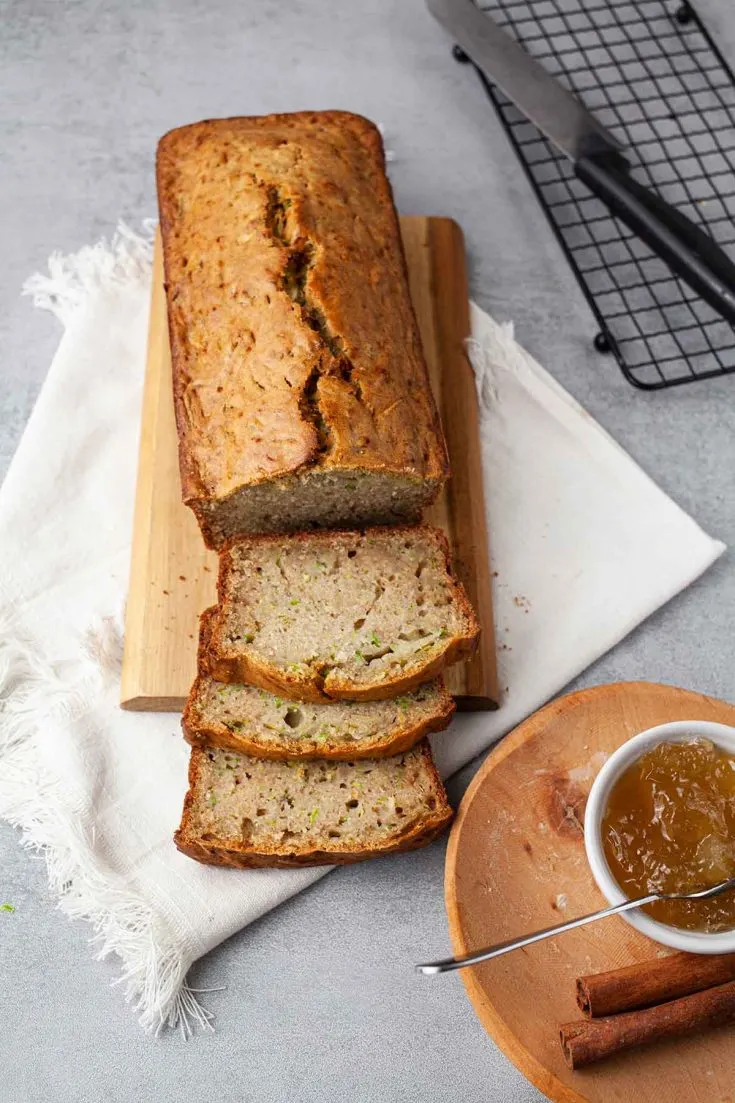 Indulge in the delightful flavors of the sweet zucchini cake with lemon and thyme — a one-of-a-kind dessert that showcases how zucchini can be an unexpectedly delightful addition to sweet treats.
Ingredients
125ml (4 fl oz) olive oil
3 eggs
150g (¾ cup) sugar
250g (2 ⅛ cup) all-purpose flour
1 teaspoon baking soda
½ teaspoon baking powder
lemon juice from one lemon
2 large zucchinis, grated
1 teaspoon grated lemon peel
½ teaspoon of fresh thyme leaves
Instructions
Heat the oven to 180 C (360F).
Cover the baking dish in parchment paper.
In a large bowl, add the oil, eggs, lemon juice and sugar and whisk with a hand mixer until you get a foamy texture.
Add the flour, baking soda and baking powder and mix well.
Add the grated zucchini, lemon peel, thyme leaves and mix well.
Transfer the batter to the baking dish and put it in the oven for 45 minutes or until the cake is golden and passed the toothpick test.
Let it cool on a wire rack. Serve with the topping ideas in the article or lemon jam.
Nutrition Information
Yield
8
Serving Size
1
Amount Per Serving
Calories

355
Total Fat

17g
Saturated Fat

3g
Trans Fat

0g
Unsaturated Fat

13g
Cholesterol

70mg
Sodium

218mg
Carbohydrates

46g
Fiber

2g
Sugar

21g
Protein

7g
I strive to keep the information as accurate as possible but make no warranties regarding its accuracy. I encourage you to make your own calculations using your preferred nutrition calculator.