Discover this broken lasagna with walnut and gruyere cheese pesto, an original recipe in which torn sheets of lasagna are transformed into a delicious recipe. Delight your taste buds with this unique combination of flavors.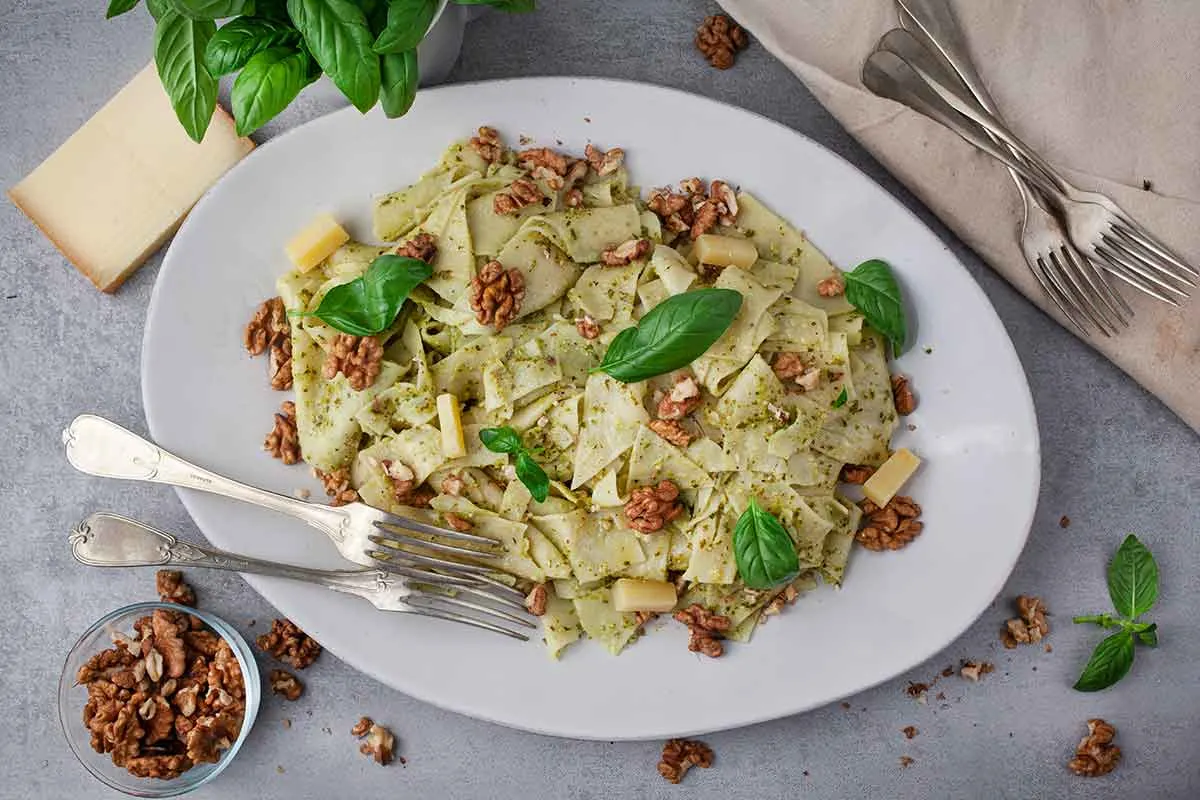 Italians would be amazed to see what I did with the lasagna sheets in this recipe! I decided to turn them into strips of pasta, something probably abominable from their point of view! And rightly so, I understand them, except that sometimes it's fun to experiment in the kitchen and take everything as a game.
Now, to be honest, the idea came from my desire to add a touch of creativity to the kitchen. You know, it's incredible how much joy a new and innovative idea brings to a plate. And, why limit yourself to traditional recipes, when you can invent our own culinary creations?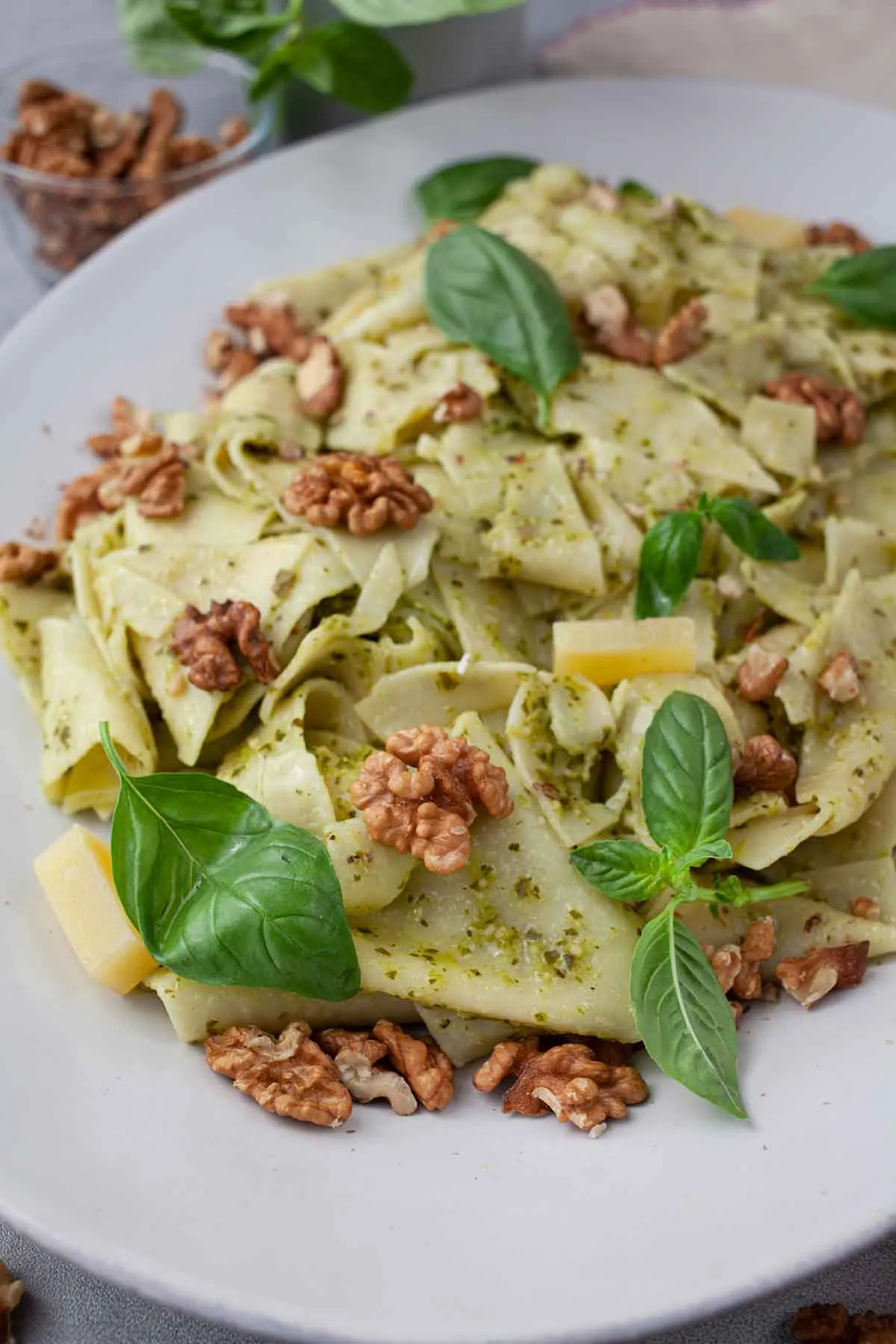 So, I took these pieces of lasagna and dressed them with a delicious walnut pesto and Gruyere cheese. Hmm, what a spectacular combination! Its creamy and aromatic taste blends perfectly with the texture of the pasta, and the result is simply delicious.
You can experiment with any pasta sauce and your favorite toppings! You can play with different combinations of ingredients and get personalized culinary preparations, to everyone's liking. So, let's dare to break tradition in the kitchen and not enjoy new flavors and innovations!
Isn't it funny to sometimes challenge culinary norms? It's time to let our imagination run wild and become real masters of the kitchen, with each piece of lasagna torn with pride!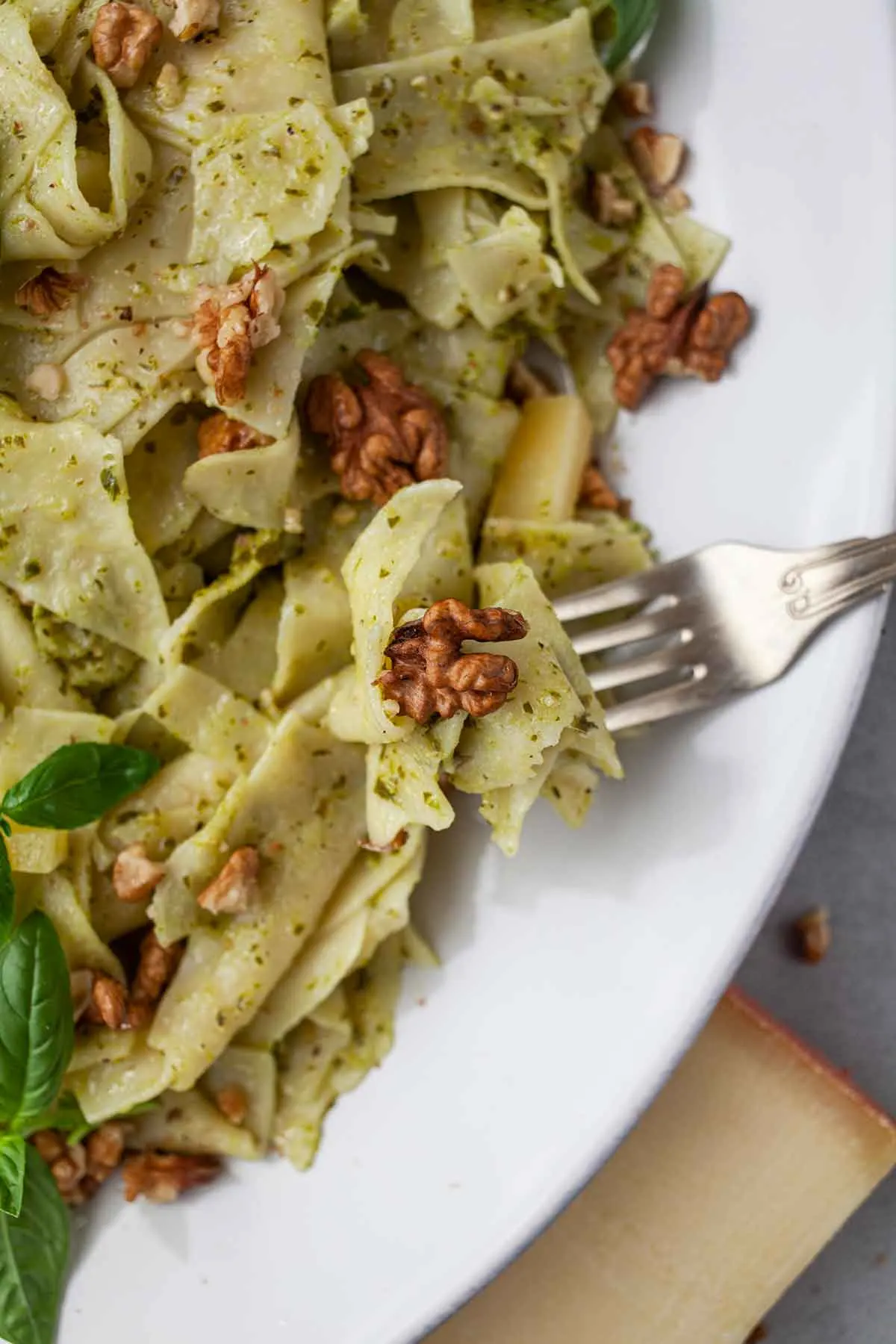 Gruyere and pesto – two ingredients with history
Walnut pesto and Gruyere cheese are ingredients with interesting origins and rich culinary traditions. Walnut pesto has its origins in the Liguria region of Italy, being initially prepared with olive oil, basil, garlic and Pecorino or Parmigiano Reggiano cheese.
Over time, variations of pesto appeared, including walnut pesto, made with walnuts, basil, olive oil and Parmigiano Reggiano or pecorino. This walnut pesto adds a touch of creaminess and flavor, being a delicious choice in combination with Gruyere cheese.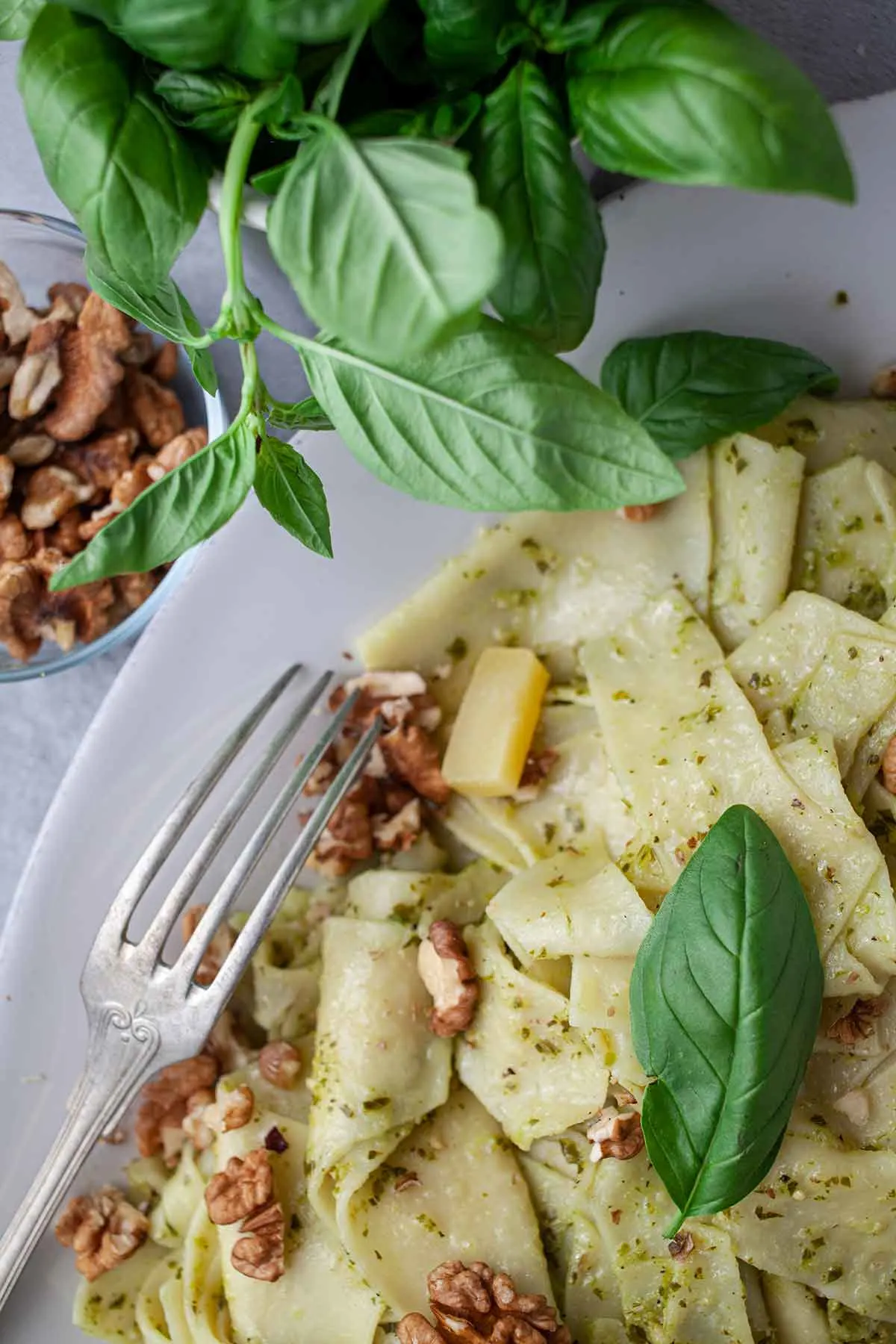 Gruyere cheese comes from the Gruyères region of Switzerland, where it has been produced since the 12th century. This is a cheese with hard paste, ripened and with a rich and aromatic taste. Gruyere is appreciated for its creamy texture and for its balanced taste between salty and sweet. Being a versatile cheese, Gruyere is used in many classic recipes, such as fondue and quiche.
The combination of walnut pesto and Gruyere cheese in the pasta recipe with torn lasagna sheets offers an authentic and refined culinary experience, combining the fresh aroma of the green pesto with the complex flavor of the Gruyere cheese. This recipe brings a touch of tradition and authentic tastes to the plate of every chef passionate about delicious Mediterranean and Swiss cuisine.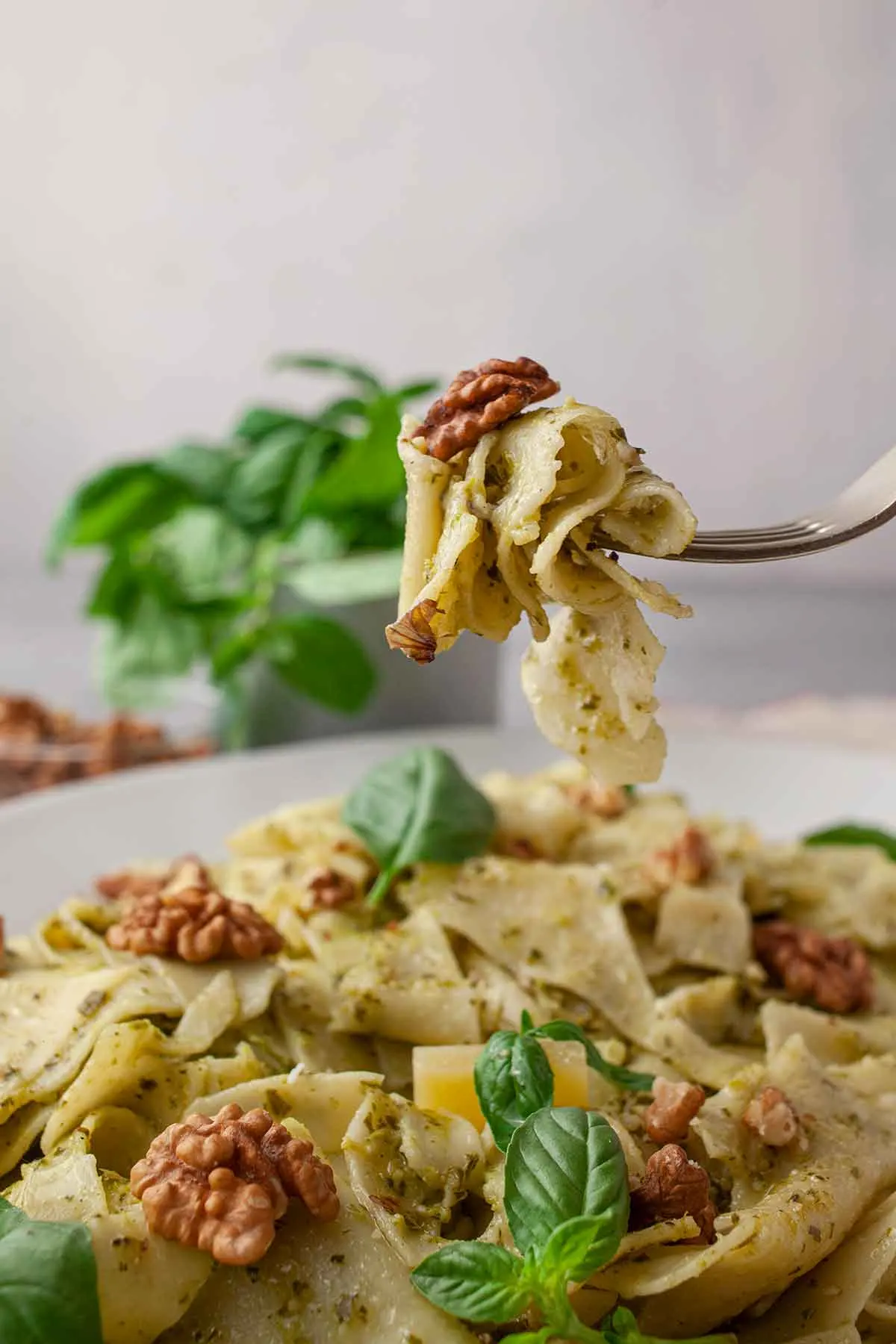 Vegan and gluten-free alternatives
There are several creative options to replace the Gruyere cheese in this broken lasagna pasta recipe with other types of cheese or to offer vegan options for those with different dietary preferences.
Instead of Gruyere cheese, you can use other hard cheeses with rich flavors, such as Parmigiano Reggiano, Pecorino Romano, or even aged Cheddar.
For a vegan version of this recipe, you can replace the Gruyere cheese with vegan cheese, such as nut-based or vegetable-flavored vegan cheese. You can also try various vegan cheese recipes made from cashew nuts or almonds, with the addition of nutritional yeast, garlic and other flavors to obtain a rich and creamy taste.
Of course, you can use gluten-free lasagna sheets from Schar to make this recipe suitable for those with gluten intolerance.
How to make broken lasagna recipe
Yield: 4
Broken Lasagna with Walnut & Gruyere Cheese Pesto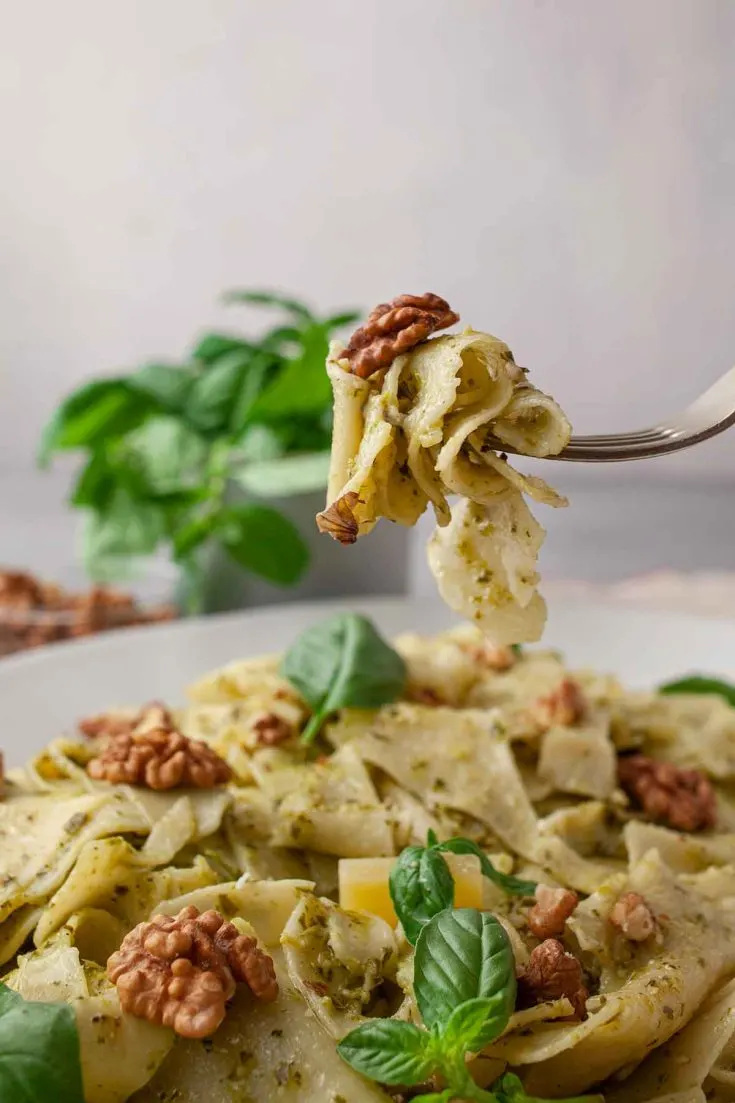 Discover this broken lasagna with walnut and gruyere cheese pesto, an original recipe in which torn sheets of lasagna are transformed into a delicious recipe. Delight your taste buds with this unique combination of flavors.
Ingredients
500g (17.6 oz) lasagna sheets, broken
1 teaspoon salt
1 teaspoon freshly ground black pepper
For the pesto:
100g (3.5 oz) Gruyere cheese, diced
60g (2.1 oz) roasted walnuts
80g (2.8 oz) fresh basil leaves
2 cloves of garlic
50ml (2 fl oz) olive oil
Instructions
Prepare the pesto: In a food processor, add Gruyere, walnuts, basil, and garlic.
Blend until you get a puree composition. Then, with the blender on, slowly add the olive oil and blend until you get a creamy pesto.
On high heat, put a saucepan or double-bottomed pan with water to boil. When it boils, leave the heat low-medium and add salt. Then add the brroken lasagna sheets and let them cook for 8-9 minutes, or until al dente.
Strain the cooked pasta, reserving ½ cup of pasta water.
Put the pasta back in the pan, on medium heat, add the pesto and water from cooking the pasta.
Mix pasta with pesto well, until it is heated and well incorporated, for 1-2 minutes.
Serve warm, with freshly ground black pepper, extra cheese and olive or walnut oil.
Nutrition Information
Yield
4
Serving Size
1
Amount Per Serving
Calories

508
Total Fat

40g
Saturated Fat

12g
Trans Fat

0g
Unsaturated Fat

25g
Cholesterol

81mg
Sodium

1223mg
Carbohydrates

15g
Fiber

3g
Sugar

4g
Protein

25g
I strive to keep the information as accurate as possible but make no warranties regarding its accuracy. I encourage you to make your own calculations using your preferred nutrition calculator.