Not a big fan of cauliflower? Well, let me change your mind with this amazing recipe for cauliflower steaks! They taste nothing like regular cauliflower, they're filling and super delicious!
So you're getting ready for the big grill party! Better check to see if you have all you need! Meat – check! Sausages – check! Onions and mushrooms – check! Corn – check! But what are you going to serve if anyone is vegan at your party? Or if you're following a vegan diet yourself? You can't just eat roasted onions and mushrooms, those are for sides!
Well, that calls for an easy-to-make recipe that will taste exactly like barbecue steak, and will go great with any sauce you might like! Introducing cauliflower steaks! 🙂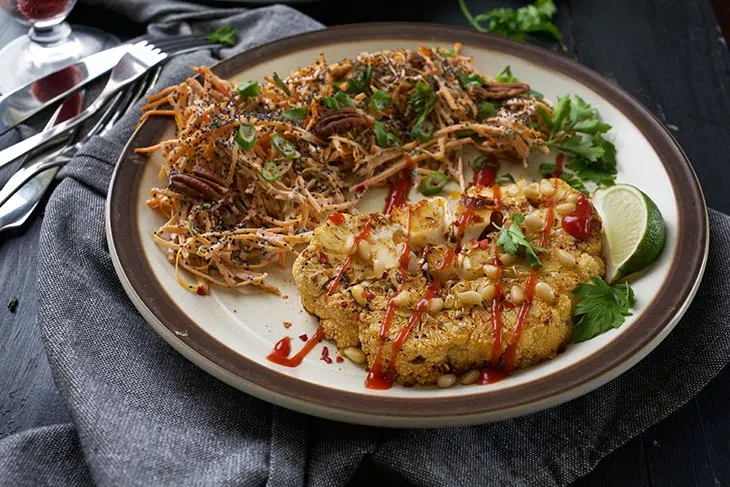 I know you might be a little confused. Cauliflower sounds like something that's as far as possible from steak on the spectrum between what you should eat and what you would eat, but you'll have to trust me when I tell you that you can absolutely, positively turn cauliflower into a steak-flavored delicacy!
Cauliflower has a history of being used as a vegan stand-in for carb-rich dishes, and it is a very versatile ingredient that can be cooked in many ways. It can be made into risotto or even cauliflower rice. So it should be no surprise that you can make steak out of it!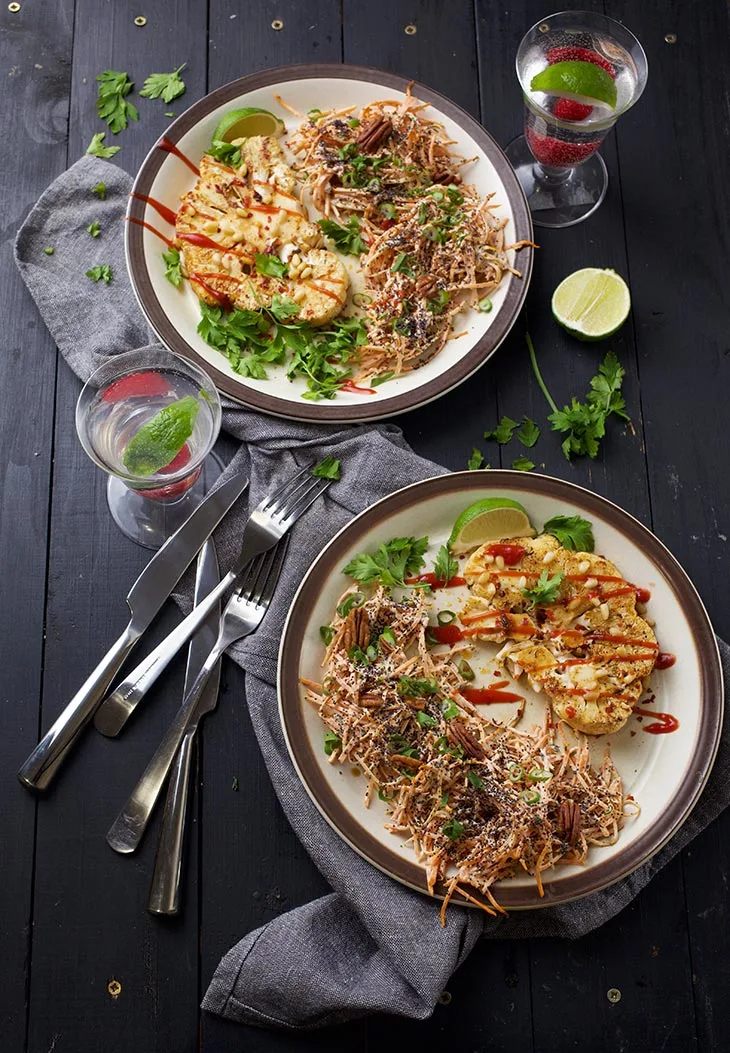 Steak, especially beef, is a true staple of worldwide grill culture. Grilling the perfect steak is considered to be real science, passed down through generations. So you shouldn't be surprised to see people taking it very seriously during grill season. But, of course, that shouldn't stop you from doing the same with your cauliflower steak.
So, if you want to go the extra mile and capture the specific texture and aroma of a mouth-watering barbecue steak, you will have to place your carefully sliced cauliflower on a hot grill, but not before slathering it in your barbecue sauce of choice. Apply generously, and the sauce will mix with the cauliflower and the heat will make them stick to each other in perfect harmony.
This entire process takes about 6 to 10 minutes, counting both sides (no one likes burnt cauliflower, I reckon). So this is a way to have your cauliflower steak in the most realistic way.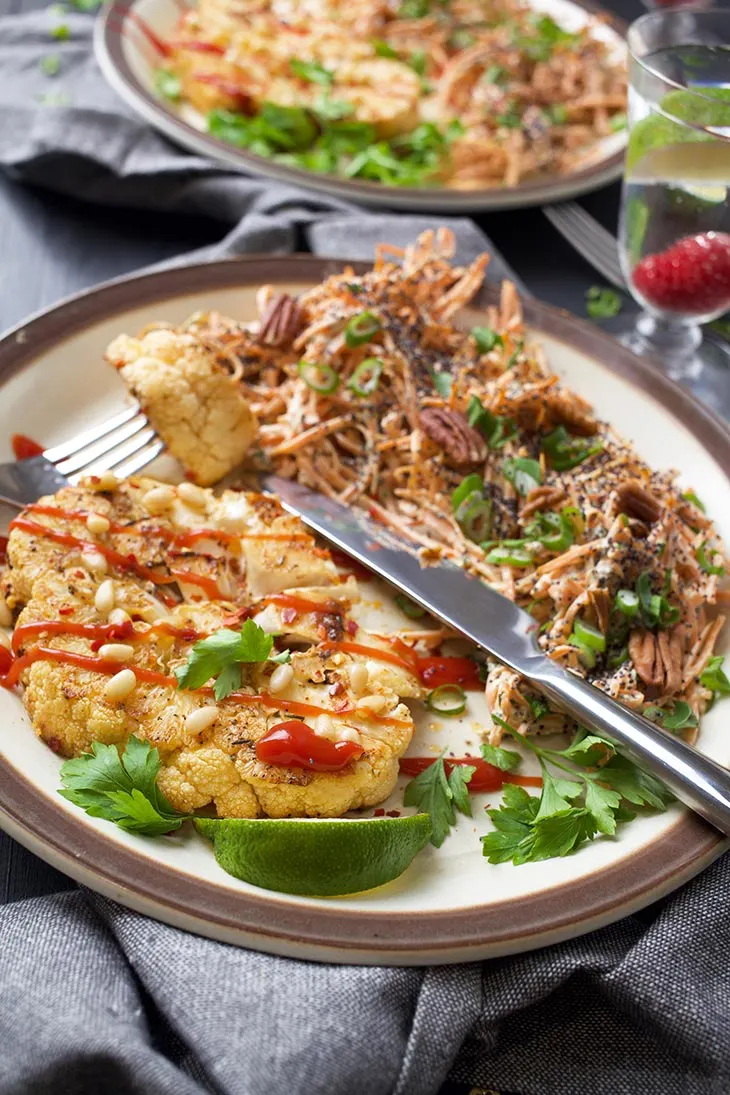 But maybe you don't even like grilling or loud social gatherings, but you still want to try a recipe of cauliflower steak. I've got you covered. Instead of putting your cauliflower slices on a grill, you can place them on a tray into a pre-heated oven.
This way will take just a tiny bit longer to be ready, coming in at approximatively 20 minutes for both sides. But if you get it right, you'll be presented with a buttery smooth cauliflower with a delightfully crunchy exterior.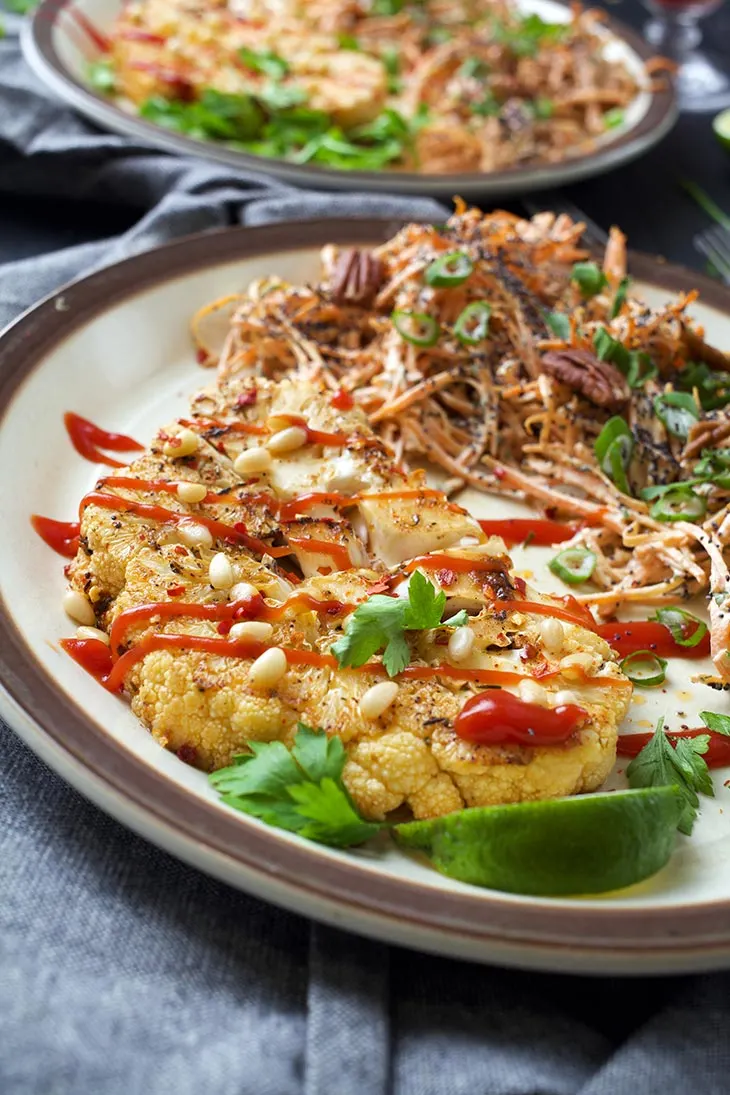 The real trick with this recipe is cutting the slices just right – you don't want them to be too thick or too thin, so that in the end they receive a nice brown crust. You can keep the outer layer flakes of cauliflower if you want to make risotto later, or cauliflower rice. If you take care while slicing up the cauliflower, the steaks should turn out great – soft on the inside, crispy on the outside, just like a real steak! Yum! 🙂
You can serve your cauliflower steaks with your favorite side or with pesto sauce. The oven version works especially well with lime oil or gravy, I definitely encourage you to experiment a bit. You can spice up your cauliflower steak of choice with whatever you want, but I definitely encourage you to try and use BBQ sauce. It will make a world of difference!
You will even forget you are eating a vegetable. If you are putting your cauliflower on a grill, you might want to experiment with some vegan cheese. Sprinkle some grated vegan parmesan or your favorite choice of vegan cheese to have it melt on the cauliflower and infuse it with moist cheesy goodness! Or, if you want, you could use a marinade sauce made with your favorite ingredients!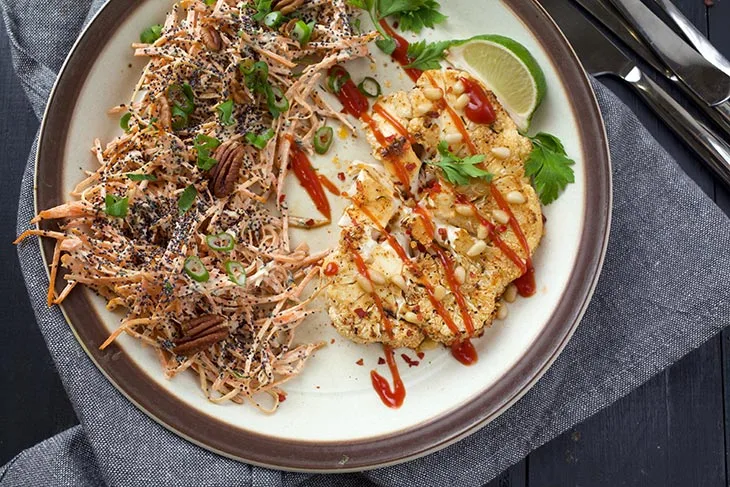 So go ahead and try making the cauliflower steak with barbecue sauce at your next family barbecue! Enjoy your time and don't let food preferences divide your family! Everybody should have a great time at a barbecue, and if you can convince some of the heavy-duty meat lovers to try your cauliflower steak, they will surely love it too!
Alas, make sure to try this recipe however you want and don't forget to enjoy yourself. Be sure to tell me how it went!
Yield: 2
Cauliflower Steaks - BBQ flavored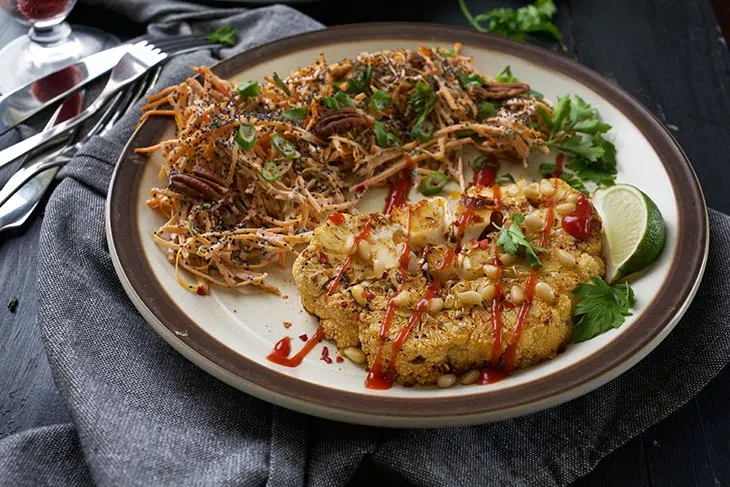 Not a big fan of cauliflower? Well, let me change your mind with this amazing recipe for cauliflower steaks! They taste nothing like regular cauliflower, they're filling and super delicious!
Ingredients
For the steak:
1 medium cauliflower
For the marinade:
3 Tbsp olive oil
1 Tbsp coconut aminos
1 tsp tomato paste
1 Tbsp coconut sugar
½ tsp ground cinnamon
¼ tsp cardamom
1 tsp ground coriander
1 ½ tsp ground turmeric
½ tsp ground ginger
2 tsp smoked paprika
2 tsp ground cumin
1 tsp lime juice
1/8 tsp cayenne pepper
a pinch of salt
For serving:
1 tsp chopped fresh parsley
2 tsp pine nuts
½ tsp red pepper flakes
2 Tbsp BBQ sauce
2 lime wedges
Instructions
Preheat the oven to 250C.
In a small bowl, whisk all the marinade ingredients. Set aside.
Remove the leaves from the cauliflower, cut off the upper side of the stem from the bottom. Slice the cauliflower into thick slices, about 2 cm thick. You'll get about 3-4 unbreached steak slices.
Place the steak on the cutting board and brush them generously with marinade. Let sit for about 10 minutes.
Heat a large grill pan brushed with olive oil on medium heat.
Carefully lay the steaks on the baking tray.
Cover the upper side of the steaks with the remaining marinade.
Bake for about 10 minutes per side or until golden.
Serve with lightly toasted pine nuts, chopped parsley and a splash of lime juice with your favorite side dish.
Nutrition Information
Yield
2
Amount Per Serving
Calories

440
Total Fat

23g
Carbohydrates

47.6g
Protein

10.3g