This roasted stuffed onions recipe is inspired by a popular Lebanese recipe and made vegan with a 'meaty', flavorful stuffing you'll love! Give it a try!
I couldn't live without onions and garlic! I simply feel that these two ingredients give flavor to any meal. I add onions to 95% of the savory meals I cook. So you can imagine I was pretty excited when I discovered a Lebanese stuffed onions recipe. 🙂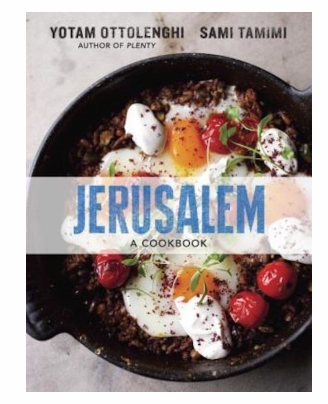 If you're planning to impress your guests with an innovative, healthy and delicious dish, this roasted vegan stuffed onions recipe is an excellent choice! These stuffed onions can be eaten as a snack, appetizer or with a side of veggies, mashed potatoes and even with a veg yogurt sauce on top. Feel free to be creative!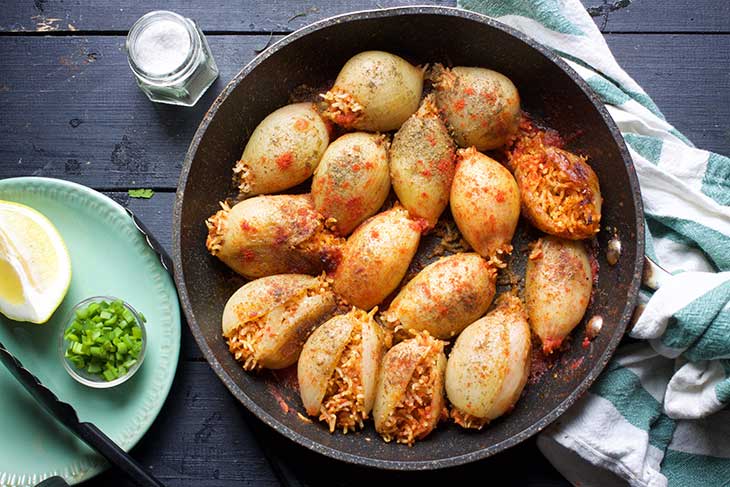 The original Lebanese stuffed onions recipe is made with ground meat which I replaced with TSP granules. They are the perfect ground meat replacement in all kinds of recipes. The texture is exactly the same as in the original recipe and I bet you could trick a meat-eating friend with it! If you don't like soy or can't find a non-GMO soy product, you can also stuff these with chopped mushrooms. The result will be delicious nonetheless!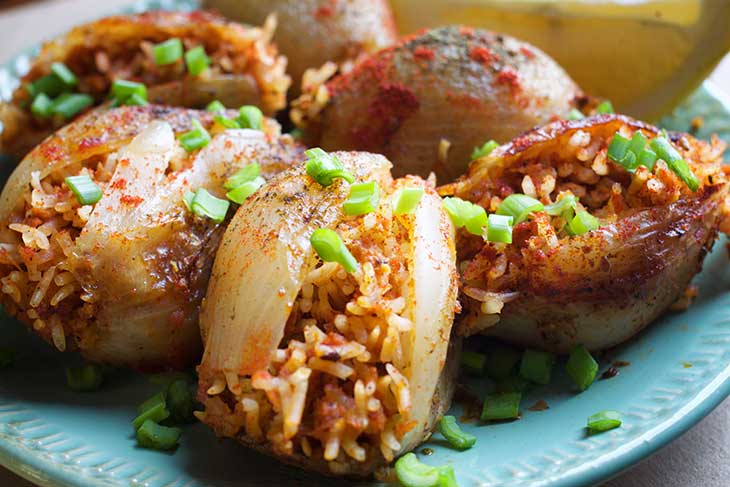 Hope you'll like this stuffed onions recipe. This is the last recipe from my Middle Eastern Cuisine challenge. I will soon start a French recipes challenge, so stay tuned! I have so many awesome recipes prepared for you. I even vegan scallops!!! I am so excited about this and hope that so are you! What Middle Eastern recipe so far did you like most? Let me know in the comments below! 🙂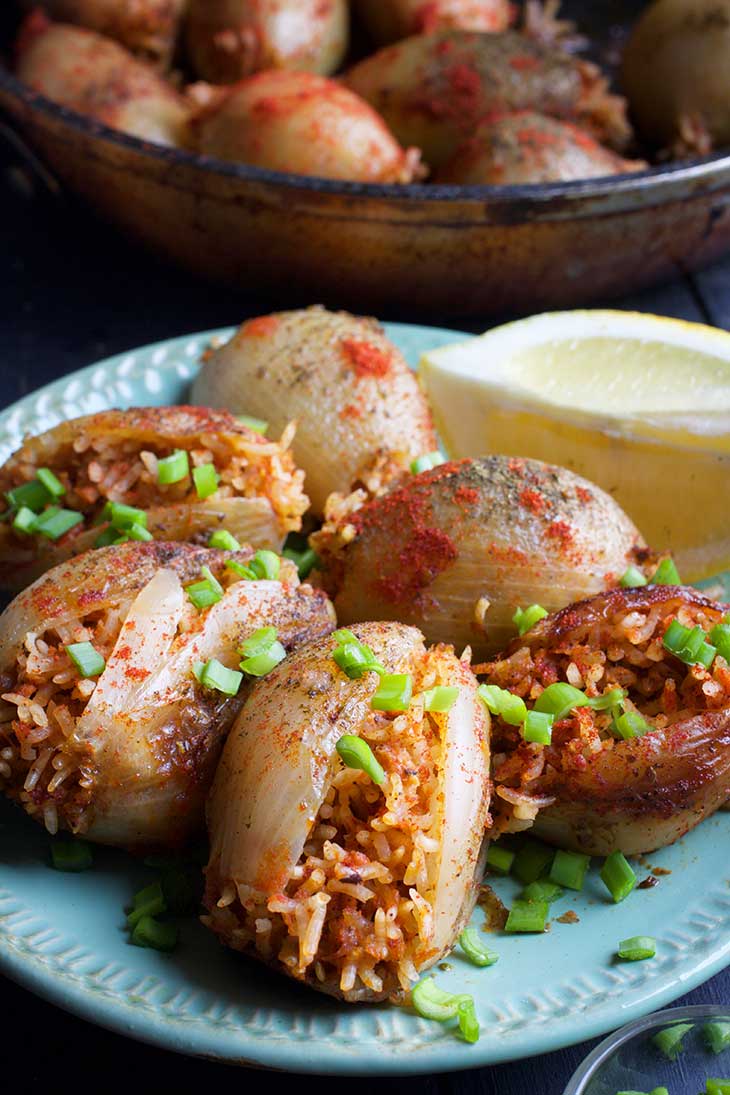 Roasted Stuffed Onions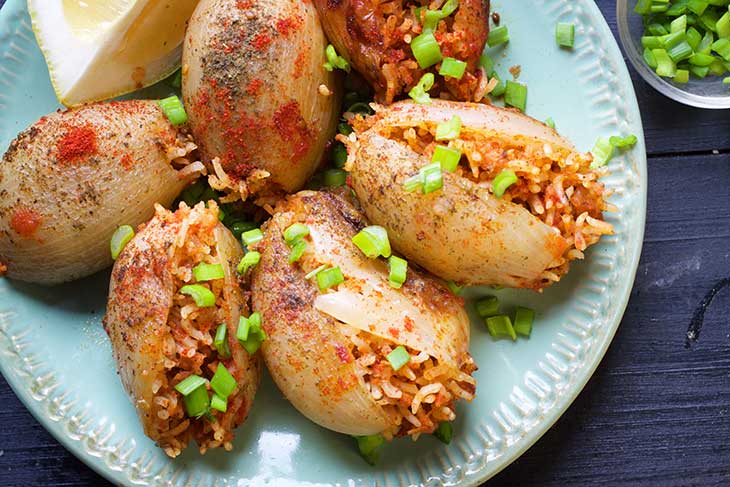 Ingredients
3 large onions
1 cup basmati rice
2 Tbsp tomato paste
1 ½ cup textured soy protein granules, soaked
1 to mato, peeled and cubed
2 Tbsp olive oil
1 Tbsp parsley, chopped
1 Tbsp spring onion, chopped
1 tsp cinnamon, ground
1 tsp allspice, ground
1 tsp cumin, ground
1 tsp coriander, ground
3 Tbsps vinegar or white wine
salt and pepper, to taste
Instructions
Soak the rice in a bowl with water.
Fill a pot with water and bring to a boil.
Cut off the top and bottom of each onion. Also, make a lateral cut on one side of each onion, into the center of the onion, from top to bottom. This will separate the onion layers when boiling.
Add the onions to the boiling water and boil them for 10 minutes, until they soften.
Drain the rice and add it to a bowl. Add all the other ingredients, except onions, vinegar/wine and oil. Mix.
Once the onions are cooked, drain them and let them cool. Separate the layers and fill each onion with one tablespoon of stuffing. Wrap the onion around the stuffing but keep in mind that the rice will increase its size during cooking.
Heat the oil in a large pan. Add the onions with the cut side down. Cook them for 2-3 minutes. Add the vinegar/wine and cover with a lid. Cook on low for 20-30 minutes and flip the onions after the first 10 minutes.
Nutrition Information
Serving Size
1 grams
Amount Per Serving
Unsaturated Fat

0g