Hungry? Uninspired? Looking for a super quick fix? Here's how to make hummus pasta, one of the quickest and easiest recipes I ever made.
If you love hummus so much you put it on everything and combine it with any vegetable possible, then you'll most like love this simple idea: hummus pasta! This recipe combines two of the best things in the world: pasta and hummus!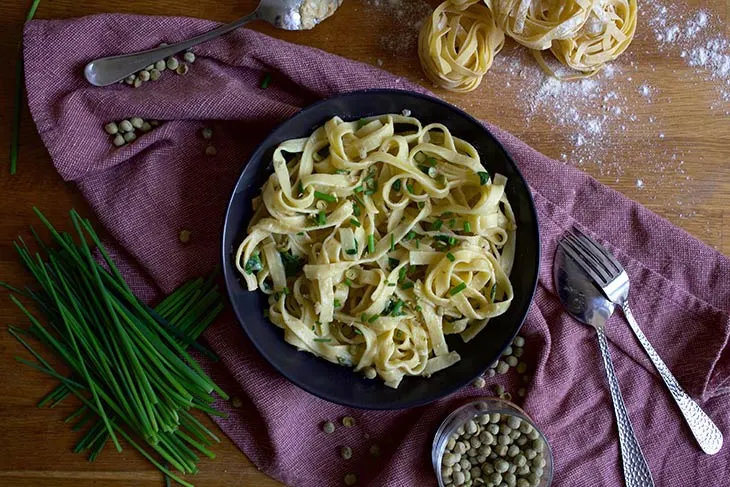 In all honesty, I've always thought about combining hummus and pasta whenever I made too much of this yummy dip, but something kept me away from actually doing it. I'm not sure what.
But I overcame this around one month ago and I finally did it! I had some leftover homemade hummus so I boiled some pasta, added some nutritional yeast (for extra yummy flavor), some chives, and some baby spinach (hummus and spinach go together perfectly, I hope you know!) and I ended up with one of the quickest lunches in my life.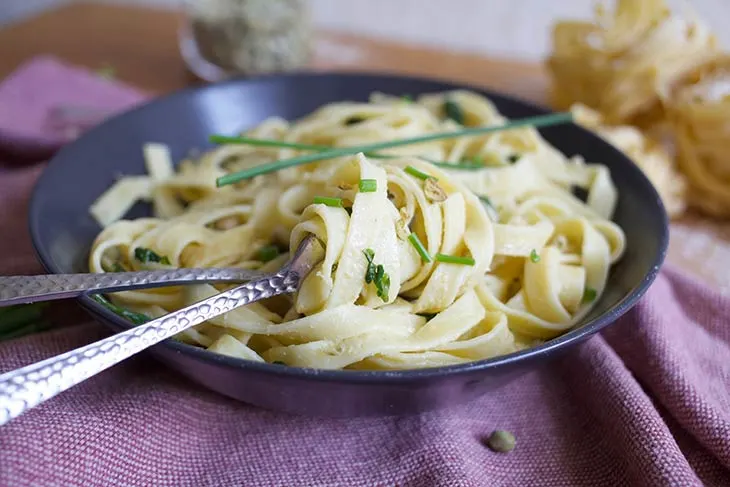 And besides the fact that this recipe is super quick and extremely flavorful, it has another great advantage as well: everything can be made in one pot, so no extra washing after the meal is done! I simply love one-pot dishes, such as this one-pot Italian pasta I did a while ago. Simple, quick, and efficient – the three main things I look for in a recipe.
But before diving into the actual ingredients and steps for this recipe, let's talk about hummus for a bit. Hummus is a Middle Eastern dip loved by everyone. We love eating it with carrot sticks, with salads, in sandwiches, with beef or lamb or in falafel wraps.
Another great thing about hummus? It's naturally vegan! The ingredients are pretty straight-forward – chickpeas, tahini, olive oil, garlic, salt – healthy, and vegan.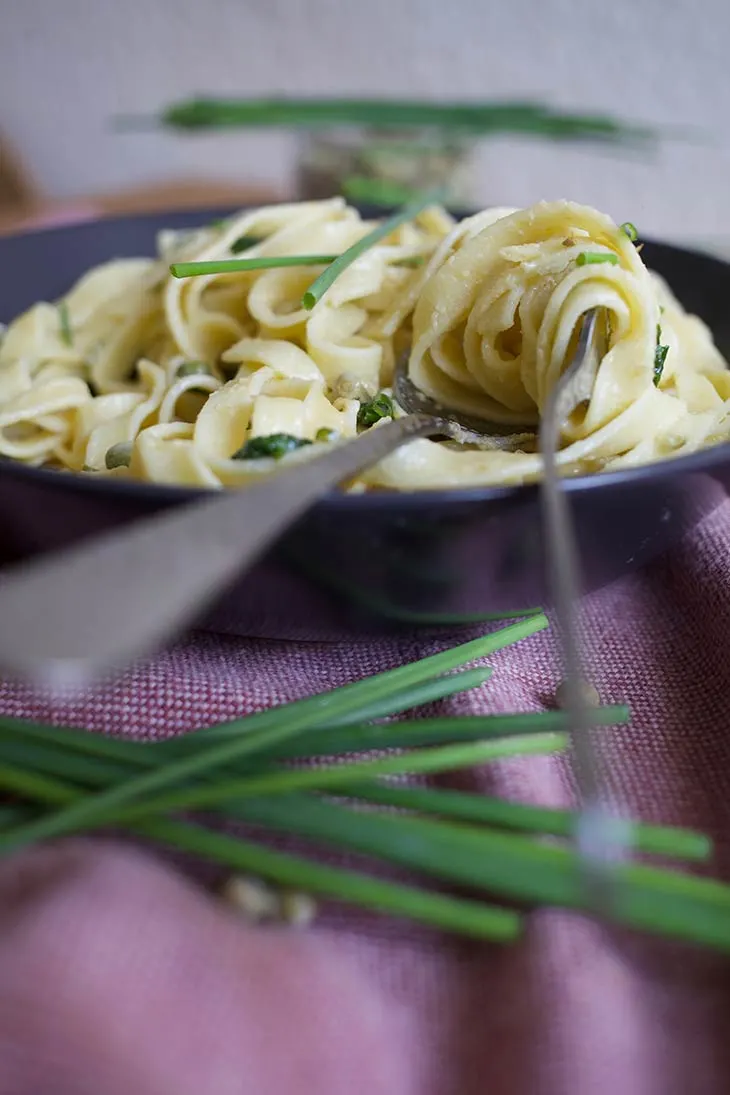 You can use other hummus variations for this recipe, not just the classic one. For example, you can make your hummus sauce with spicy hummus, beet hummus, white bean hummus, eggplant hummus, arugula hummus, avocado hummus… and the list can go on and on forever! This will offer a different flavor to this dish every time, so you'll never get bored with this pasta!
You can look at this hummus pasta as a creamy white sauce pasta, only healthier and easier on your digestion! Plus, it's extremely versatile. You can mix and match this hummus sauce with other veggies if you want such as red bell peppers, parsley, onions, or fresh cherry tomatoes. Or whatever else you have leftover in the fridge or pantry. The possibilities are endless!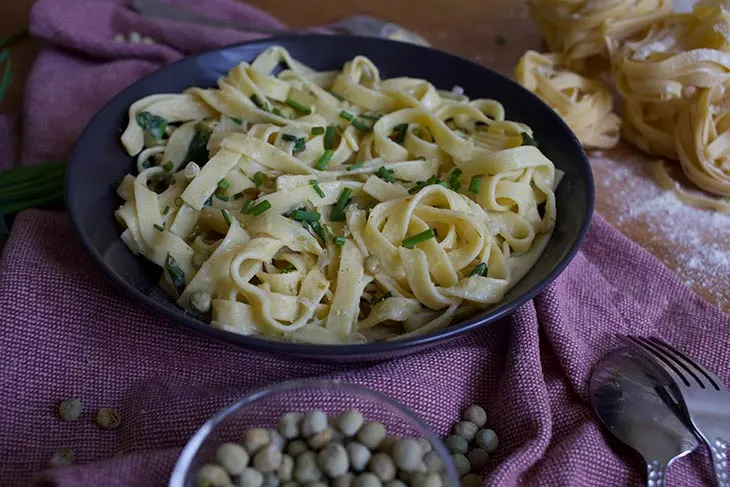 I love serving this hummus pasta for lunch whenever I have a super busy day full of work. In those days I don't really like to think about what I'm going to eat because this makes me super stressed out.
So I just think about this quick hummus pasta and the world becomes a better place again. This way, I know I'll have my lunch ready in 10 minutes. It's basically the boiling time of the pasta. During this time, the sauce will be ready to be added to the pot. That's basically it!
In case you're afraid that your hummus sauce will be too thick, no worries! One simple step that transforms a plain, old hummus into the best pasta sauce: just add some pasta water! Two tablespoons will be enough. Then you can combine your sauce with the other ingredients and lunch is served!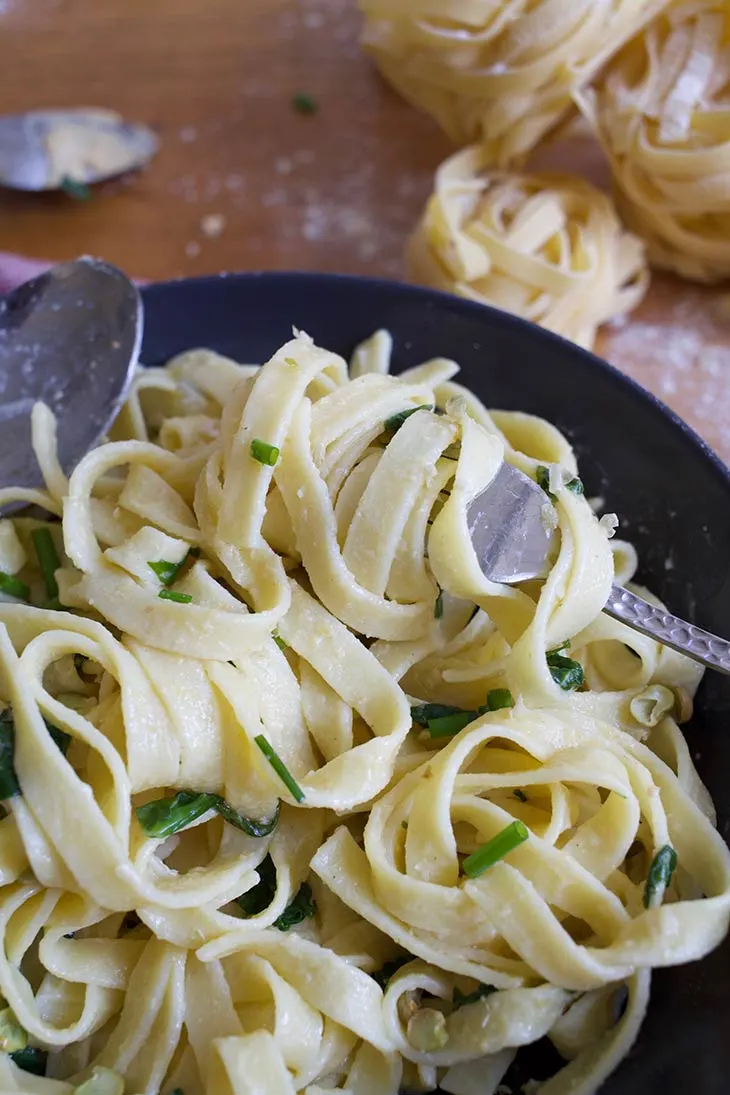 Here's a useful tip for everyone that wants to make this hummus pasta: make sure to cook your pasta al dente. Except for the fact that this is the best way to cook it, it works wonderfully in this creamy combination! Plus, you will cook the pasta in the hummus sauce for a bit in order for it to flavor the pasta, so you don't want your linguine or tagliatelle to end up all mushy and weird.
If you're feeling super lazy and don't want to spend your time making homemade hummus, this recipe can work with store-bought hummus as well. Sure, it may not have the same flavor and taste if you don't buy a high-quality hummus (which is rarely available in supermarkets, if you ask me), but it can work!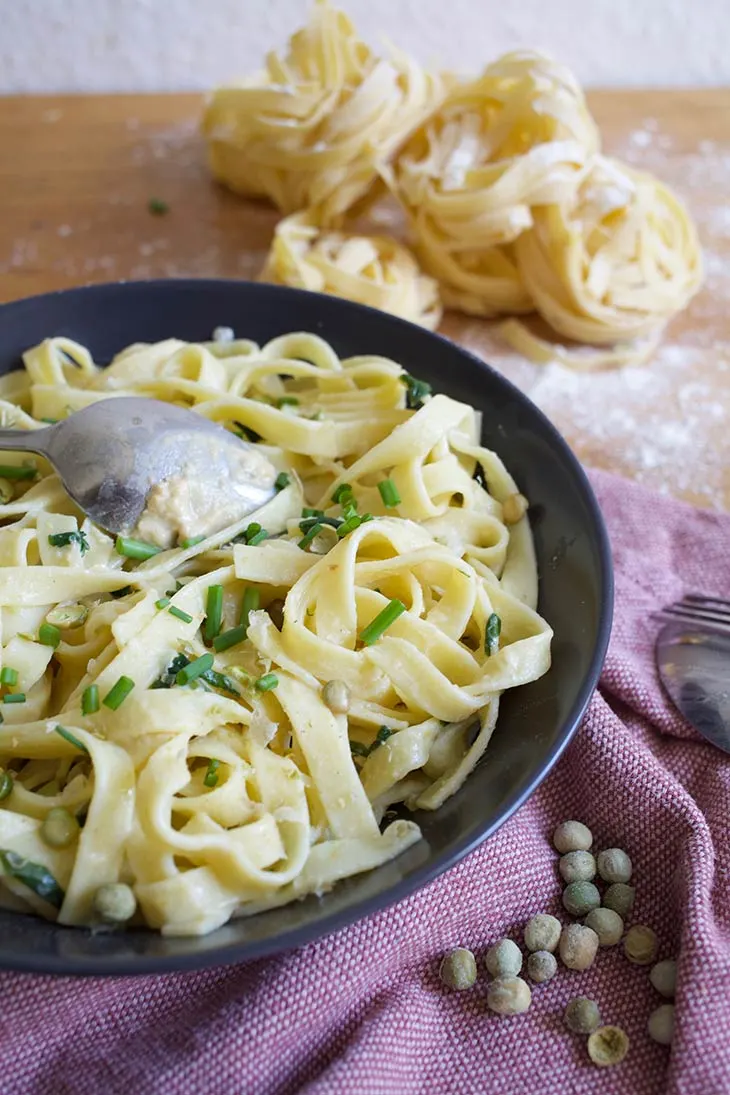 If you want to make this recipe even healthier, you can use zucchini noodles instead of classic pasta or a low-carb pasta such as lentil or chickpea pasta.
Zero effort, zero non-healthy and non-vegan ingredients, and 100% good taste! This is how I would describe this hummus pasta recipe. Only six ingredients and a few minutes of your time, That's it! And if you don't believe me, make sure and try it the next you have some leftover hummus. You'll surely love it!
Ah, I didn't speak about the "economic" side of things yet. Yep, this hummus pasta is super budget-friendly as well, which makes it great for students, families, or anyone that doesn't want to spend a lot of money on delivery or takeaway.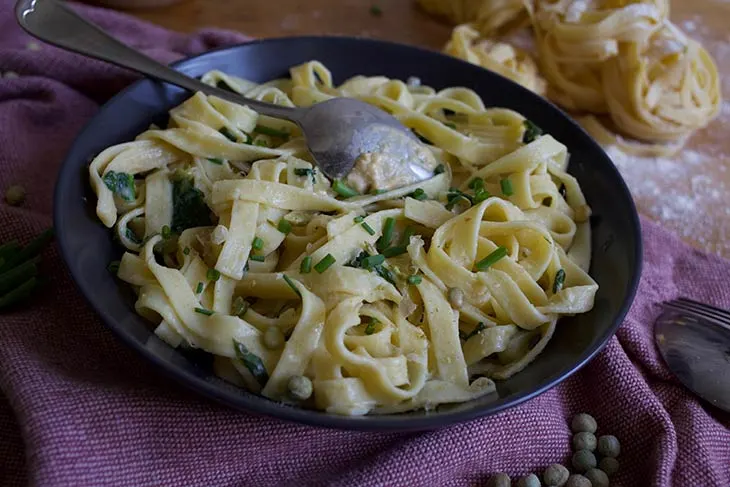 And that's about all I wanted to say about this incredibly easy hummus pasta. Give it a try and I'm sure you'll enjoy it. After all, what's not to love?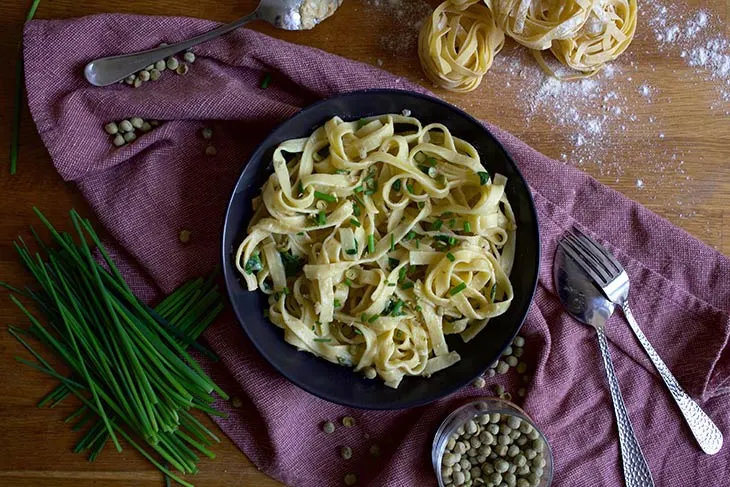 Hungry? Uninspired? Looking for a super quick fix? Here's how to make hummus pasta, one of the quickest and easiest recipes I ever made.
Ingredients
200g pasta (7 oz), linguine or tagliatelle
120g (½ cup) homemade hummus
1 Tbsp nutritional yeast
30g (1 cup) baby spinach
2 Tbsp chopped chives
extra olive oil, to taste
white pepper
salt
Instructions
In a large pot, bring water to a boil.
Add salt and pasta.
Cook about 8 minutes until pasta is al dente.
Discard the pasta water, save about 2 Tbsp.
In the same pot, add hummus and nutritional yeast and stir to combine.
Add baby spinach, white pepper, and 2 Tbsp pasta water. Set the pot back to the heat and give it a quick stir to combine ingredients, get spinach wilted and liquids soaked.
Serve immediately with chopped chives and drizzled olive oil.
Nutrition Information
Yield
2
Amount Per Serving
Calories

441
Total Fat

20g
Saturated Fat

3g
Trans Fat

0g
Unsaturated Fat

16g
Cholesterol

0mg
Sodium

767mg
Carbohydrates

51g
Fiber

11g
Sugar

1g
Protein

18g
I strive to keep the information as accurate as possible but make no warranties regarding its accuracy. I encourage you to make your own calculations using your preferred nutrition calculator.