If you're looking for a fresh, hot and spicy spinach pasta dish, then this coconut curry and spinach pasta is just perfect! This recipe is for all spicy food lovers out there! 
Love, love, love Truly Simple Foods! Ever since I talked with Dayo the first time she contacted me and told me about her business, I thought these were some really awesome products, but I didn't really believe they were this good! At first, I liked the packaging and the fact that these sauces are 100% natural, vegan and gluten-free! I was also intrigued by the ingredients they contained, as they were not regular sauces I usually find in stores here. She was so nice that she sent me some of her products just to say thanks! 🙂
I decided to test them and also write a short review here on my blog, because they deserve it! I didn't test all of them yet. I tested so far the Coconut Curry Spinach Sauce (LOVE!) and the garlic tube sauce, which is HEAVENLY! Seriously, it's like these sauces were made especially for me. I'm a huge spicy food and garlic fan, so I will add these in almost everything that I will eat from now on.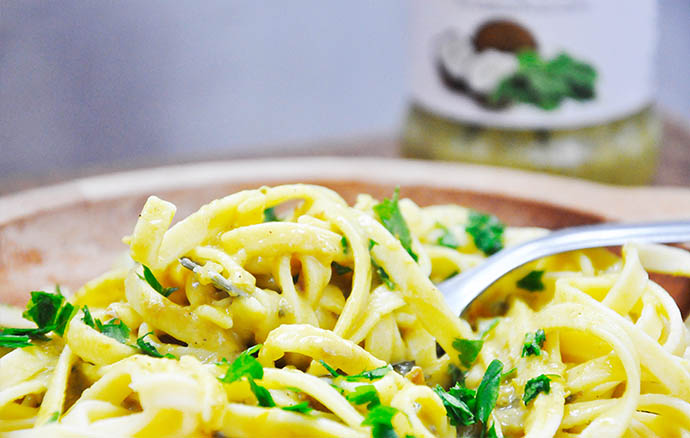 These cooking sauces go great with pasta. All you have to do is boil some pasta and add a couple tablespoons of sauce. There it is, you've got yourself an awesome meal in 10 minutes!
---
It's time to stop worrying about what you're going to eat! I created the meal planner app to help you! Get your personalized meal plan with delicious, healthy, and budget-friendly recipes! GET YOUR MEAL PLAN!
---
Caution, this coconut curry and spinach pasta sauce is HOT! Not too hot for my taste, but still.. hot! I liked that a lot! The coconut milk diminishes somewhat the spicy flavor, but the ginger, garlic and chilli still have some heat. It also has a mild sweet taste from pineapple and rasins. I recommend you to use 2 Tbsps of sauce for one pasta serving. It's enough. You can also add some fresh chopped parsley and baby spinach leaves.
I really hope that these products will be available in Romania too. I'd be a regular buyer! From what I understood they are available now in UK and maybe soon in other European countries too. Anyway, for those of you who can't buy this sauce yet, I wrote down a similar recipe you can use to make this coconut curry and spinach pasta recipe. Enjoy!
Coconut Curry and Spinach Pasta
If you're looking for a fresh, hot and spicy pasta dish, then this coconut curry and spinach pasta is just perfect! This recipe is for all spicy food lovers out there!
Ingredients
gluten-free pasta of choice (or normal pasta; I used GF tagliatelle from Schar)
Coconut Curry and Spinach Sauce:
4 Tbsps sauce from Truly Simple Foods or the ingredients below if you want to make it from scratch. Ingredients below are for 4 servings, multiply if you need more.
1 cup coconut milk
1 small onion, chopped
3 Tbsps chopped pineapple
½ Tbsp raisins
1 tsp freshly grated ginger
1 Tbsp finely minced lemongrass bulb
3 garlic cloves, mashed
1 Tbsp minced green chilli
½ Tbsp curry powder
½ tsp ground coriander
a handful of fresh baby spinach, chopped
some extravirgin olive oil
sea salt, to taste
Instructions
Boil pasta following the instructions on the package.
Add all ingredients in the food processor or blender and blend well until smooth. (Or just add 2 Tbsps of Truly Simple Foods sauce per serving)
Pour sauce over pasta and mix well. Optionally, add more baby spinach leaves and fresh chopped parsley.
Drizzle with olive oil.
Serve!