Enjoy a delicious and filling breakfast casserole with hash browns, perfect to start the day with energy. This is an easy to follow recipe, ideal for the whole family!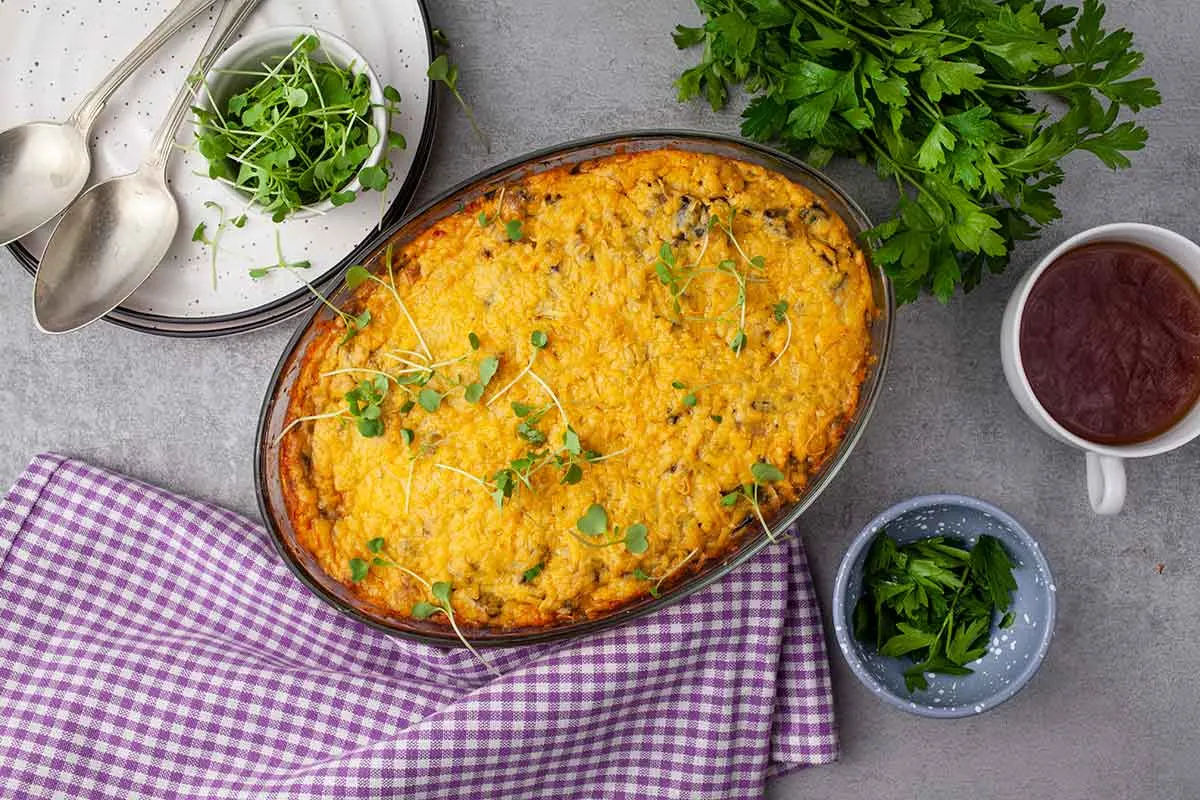 I love to prepare veggie casserole. These versatile and very easy-to-prepare recipes can easily feed 6-8 people without much effort or time spent in the kitchen. I usually prepare casserole recipes when I have guests, being an ideal solution to feed several people at once.
I hope this recipe inspires you, and if you are looking for similar casserole recipes for breakfast, here are some suggestions below: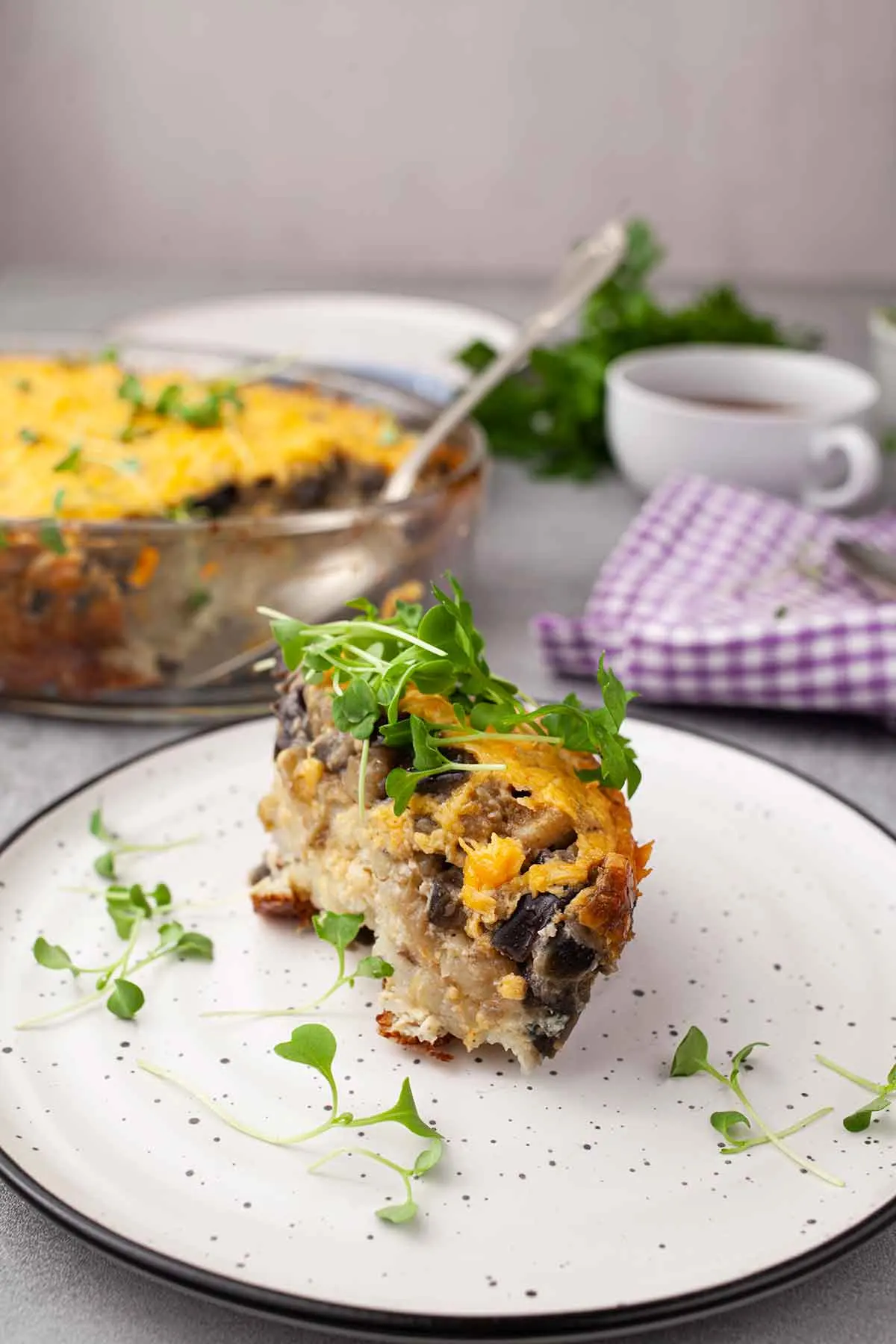 What are hash browns?
Hash browns are a traditional American food that has become popular all over the world, especially as part of the typical American breakfast. The name comes from the English term "to hash", which means "to chop" or "to shred", and "brown" which refers to the golden color that potatoes acquire during cooking.
The history of hash browns begins in the United States, where the recipe was adapted and modified in many ways, ending up being served in many restaurants and households. Initially, hash browns were simply chopped and fried potatoes, but the modern version involves grated potatoes and then fried until they become crispy and golden on the outside, but remain soft on the inside.
To make traditional hash browns, here are some simple steps:
Choosing the Potatoes: Usually, potatoes with a drier texture are used because they have less moisture and become crispier when fried.
Cleaning and Grating: Clean the potatoes well and grate them using a large grater.
Draining the Water: Remove the excess water from the potatoes, either by squeezing in a clean kitchen towel or using a salad spinner.
Seasoning: Add salt and pepper, sometimes other spices or herbs, to give more taste.
Frying: Fry the grated potatoes in a pan with a little oil or butter on medium-high heat, pressing them in the pan to form a crispy crust, then turn and fry until they become golden and crispy.
Serving: Hash browns are usually served warm, often with eggs, bacon, or other breakfast items.
This simple but delicious preparation is versatile and can be adapted to include various ingredients, such as onions, peppers or even cheese, depending on individual preferences. Over time, hash browns have become synonymous with a comfortable and satisfying breakfast, being appreciated for their crunchy texture and rich potato taste.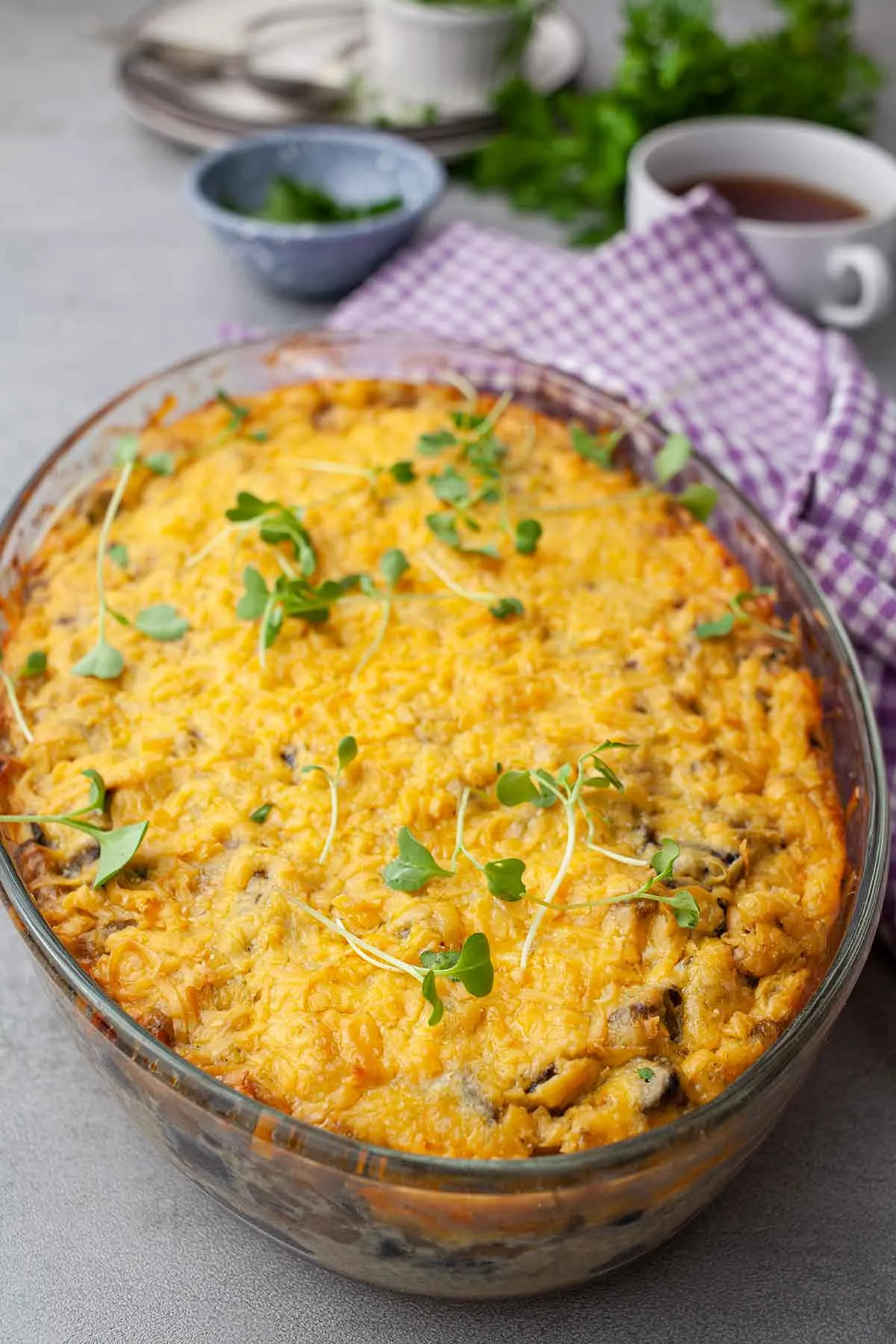 The History of the Breakfast Casserole
The breakfast casserole is an example of a culinary innovation that has spread in many cultures, due to its versatility and convenience. The roots of this dish can be traced back to Europe, where the idea of combining several ingredients in a single cooking pot was popular in large households looking to serve a hearty and nutritious meal with minimal effort.
In the United States, the popularity of casseroles increased with the advent of refrigerated products and modern ovens in the 20th century, allowing food to be stored and cooked in stages. Breakfast casseroles, in particular, have become a favorite choice for brunches and weekend gatherings, when people gather and share rich meals without the pressure of time.
Often associated with Southern hospitality, the breakfast casserole became a mainstay of breakfast buffets and brunch menus, where a single pan could feed a crowd. Besides its efficiency, this type of food allowed the hosts to experiment with different ingredients, from vegetables and meat to different types of cheeses and spices, making each recipe unique and adaptable to personal or regional preferences.
Today, breakfast casseroles are valued for their ability to be prepared in advance, making them perfect for weekday breakfasts or to feed overnight guests. From the classic versions with eggs, meat and potatoes to healthier versions with quinoa and vegetables, breakfast casseroles continue to adapt and evolve, remaining a favorite in kitchens around the world.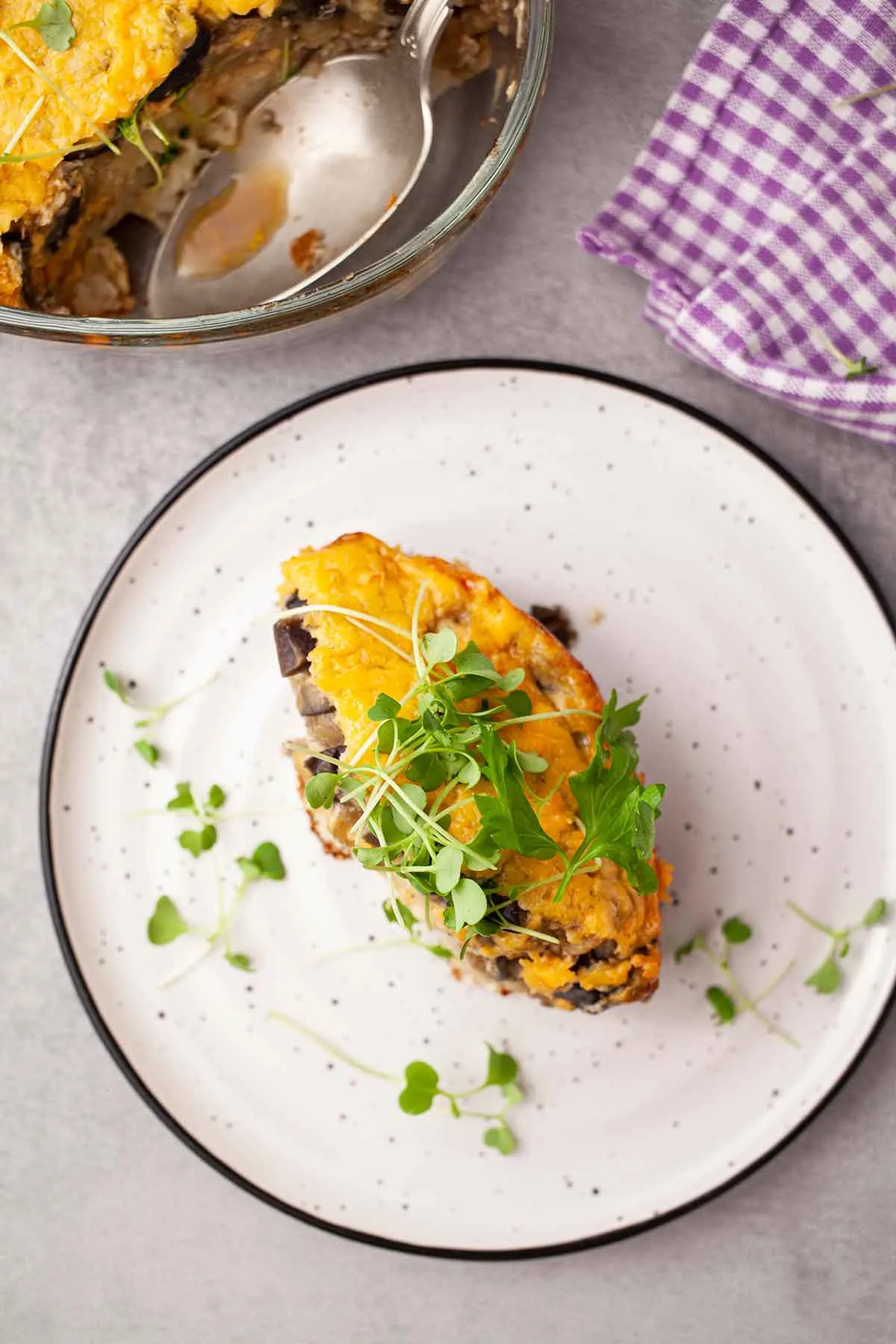 Ingredients
Breakfast casserole with grated potatoes is a versatile and satisfying recipe, each ingredient making an essential contribution to the final texture and taste:
Boiled and grated potatoes: They are the base of the casserole, providing structure and satiety. Since they are already cooked, the cooking time in the oven will be reduced, and the texture will be creamier than grated and fried potatoes.
Olive oil: This adds a rich taste and is used to grease the dish in which the casserole will be baked, as well as to saute the mushrooms. Also, olive oil contributes to a healthy fat content.
Brown mushrooms: Provides umami and depth of taste, as well as a soft texture that contrasts nicely with potatoes. Also, mushrooms add a portion of vegetables and nutrients.
Garlic powder and onion powder: These dry spices give an intense and aromatic taste without adding additional moisture, which is ideal for maintaining the texture of the casserole.
Cheddar: Cheddar cheese brings creaminess, richness and a special flavor. Melting the cheese creates a delicious texture and combines with the other ingredients.
Eggs: Bind the ingredients together, helping to stabilize the structure of the casserole. Eggs are also an excellent source of protein and give a homogeneous consistency to the mix.
Full fat milk: Together with eggs, milk contributes to the soft and creamy texture of the casserole. Milk fat adds flavor and richness.
Salt and pepper: These basic spices are essential to accentuate and balance the flavors of the other ingredients.
By combining all these ingredients, a cheesy hashbrown casserole is created in terms of texture and taste, with a variety of flavors and richness to satisfy any breakfast preference. Once all the ingredients are combined and baked together, the result is comforting food, rich in nutrients and perfect to start the day.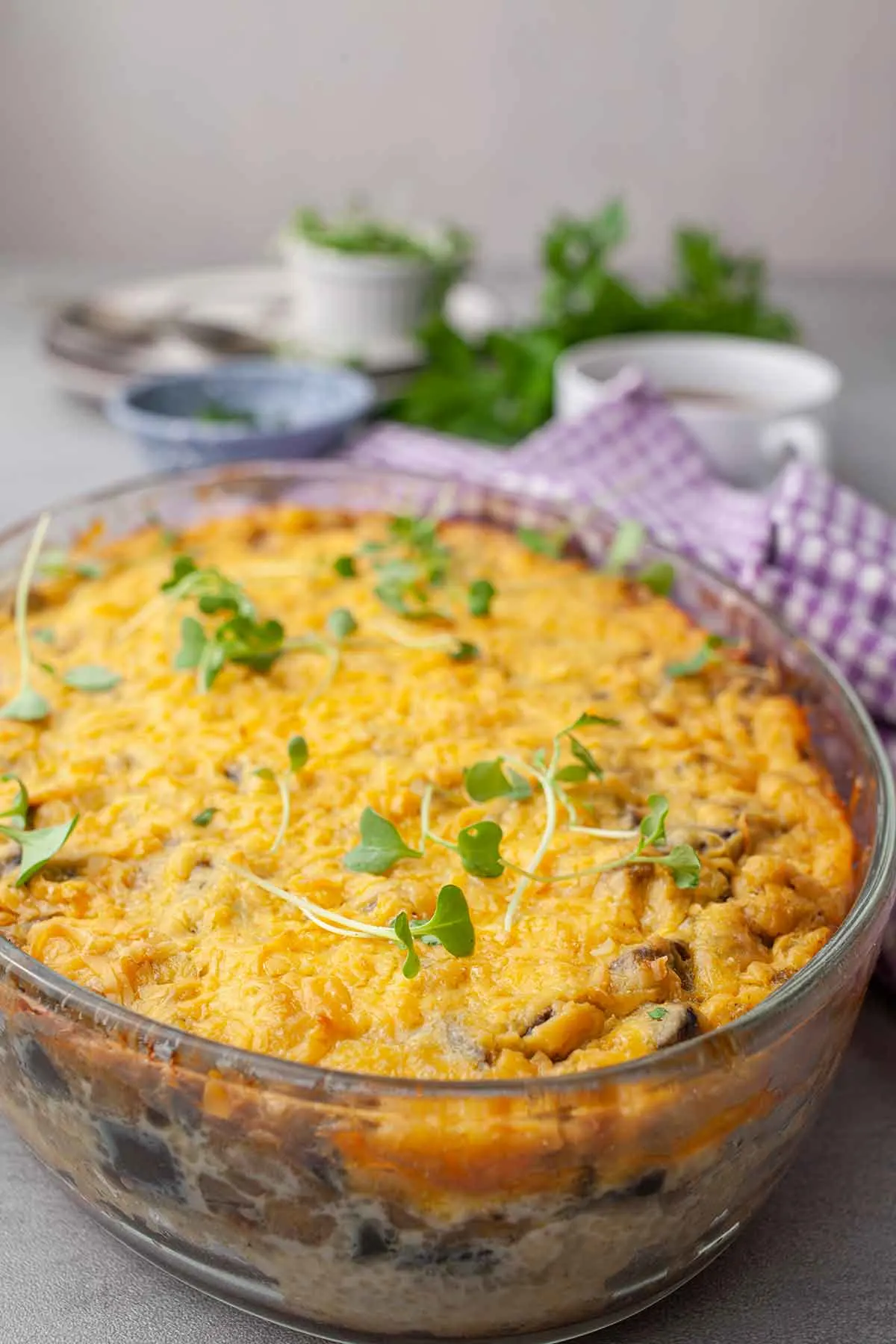 Storage and reheating
Storage:
Cooling: Allow the casserole to cool completely to room temperature before storing to prevent condensation and softening.
Packaging: Cut this easy breakfast casserole into individual portions and wrap each piece in plastic wrap. Thus, it will be easier to reheat only the desired amount.
Container: You can also keep the casserole in an airtight container, with a layer of baking paper between the portions, to avoid them sticking.
Refrigeration: The hashbrown breakfast casserole can be kept in the refrigerator for 3-4 days without losing its qualities.
Freezing: For long-term storage, this breakfast bake casserole can be frozen. Use date labels to keep track of how long it has been frozen (up to 2-3 months is recommended).
Reheating:
Defrosting: If the hash brown potato casserole has been frozen, it is ideal to leave it overnight in the refrigerator to defrost.
Oven: Reheat the portions in the oven, at a temperature of approximately 175°C (350°F), for 10-15 minutes or until evenly heated. Covering with a lid can prevent burning.
Avoiding overheating: Carefully supervise the reheating process to prevent the edge or bottom of the casserole from becoming too hard or burnt.
Recipe for hash brown casserole
Yield: 8
Breakfast Casserole with Hash Browns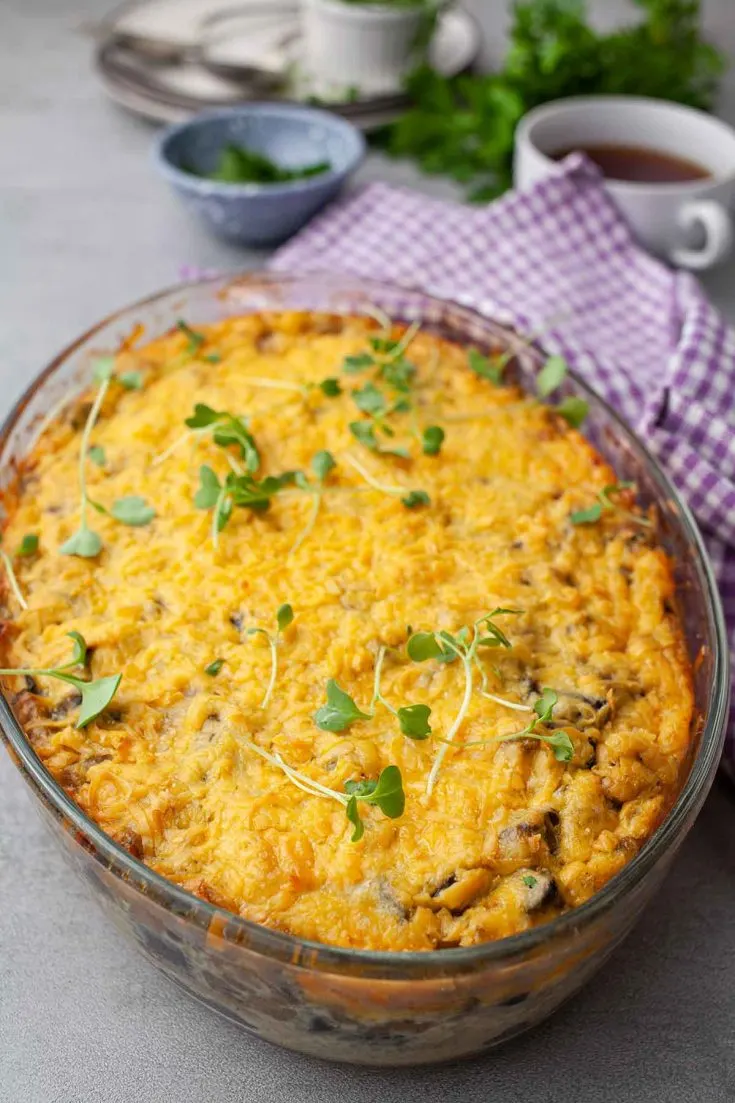 Enjoy a delicious and filling breakfast casserole with hash browns, perfect to start the day with energy. This is an easy to follow recipe.
Ingredients
5 large boiled potatoes, grated
2 tablespoons olive oil
2 cups brown mushrooms, chopped
½ teaspoon garlic powder
½ teaspoon onion powder
2 cups Cheddar, grated
6 eggs
½ cup full-fat milk
1 teaspoon salt
1 teaspoon pepper
Instructions
Heat the oven to 180 C (375F).
Grease a casserole dish with 1 tablespoon of olive oil
In a frying pan, over medium heat, add 1 tablespoon of the remaining oil, the chopped mushrooms, onion powder and garlic. Fry, stirring from time to time, until the mushrooms are browned.
Transfer the cooked mushrooms to a bowl to cool.
In a separate bowl, add eggs, milk, salt and pepper. Mix with a whisk, until it becomes a homogeneous composition.
Now place the grated boiled potatoes in the casserole, in layers, then put the cooked mushrooms in one layer, cover with the cheese layer and then pour the egg mixture over it.
Put it in the oven and let it cook for 35-40 minutes, or until the top layer turns golden.
Nutrition Information
Yield
8
Serving Size
1
Amount Per Serving
Calories

292
Total Fat

17g
Saturated Fat

7g
Trans Fat

0g
Unsaturated Fat

8g
Cholesterol

169mg
Sodium

514mg
Carbohydrates

21g
Fiber

3g
Sugar

3g
Protein

14g
I strive to keep the information as accurate as possible but make no warranties regarding its accuracy. I encourage you to make your own calculations using your preferred nutrition calculator.