Have you ever tried making cauliflower pizza crust? It's so healthy, super flavorful and, most of all, extremely easy to make! Your pizza recipes will never be the same again!
When you say pizza you think about sunny Italy, a romantic dinner in Rome, delicious tomato sauce, maybe some fresh herbs and… cauliflower? Not really, right? Well, maybe I can help you change your mind about that! 🙂
Maybe you have heard about it already, maybe not – but one of the newest hypes surrounding pizza is cauliflower! And not just as a healthy vegetable topping – what we are going to prepare today is a pizza crust made out of cauliflower!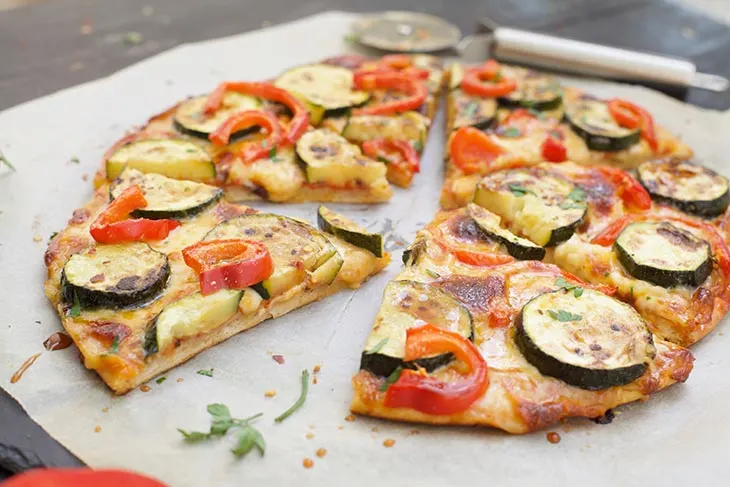 Whenever I think about perfect food, pizza automatically comes into my mind. The perfect balance of flavors, the mixture of ingredients, even the shape and colors – I simply love everything about pizza! I can't imagine a movie night with friends without a pizza by my side. And it is so versatile as well!
You can go for the gourmet version, serve it with some nice fresh herbs and a glass of wine in a fancy restaurant or do some binge eating from your local pizza delivery place. You can enjoy it in your pajamas or in your fancy dress. And not to mention the topping options – there is a pizza out there for each and every one of us!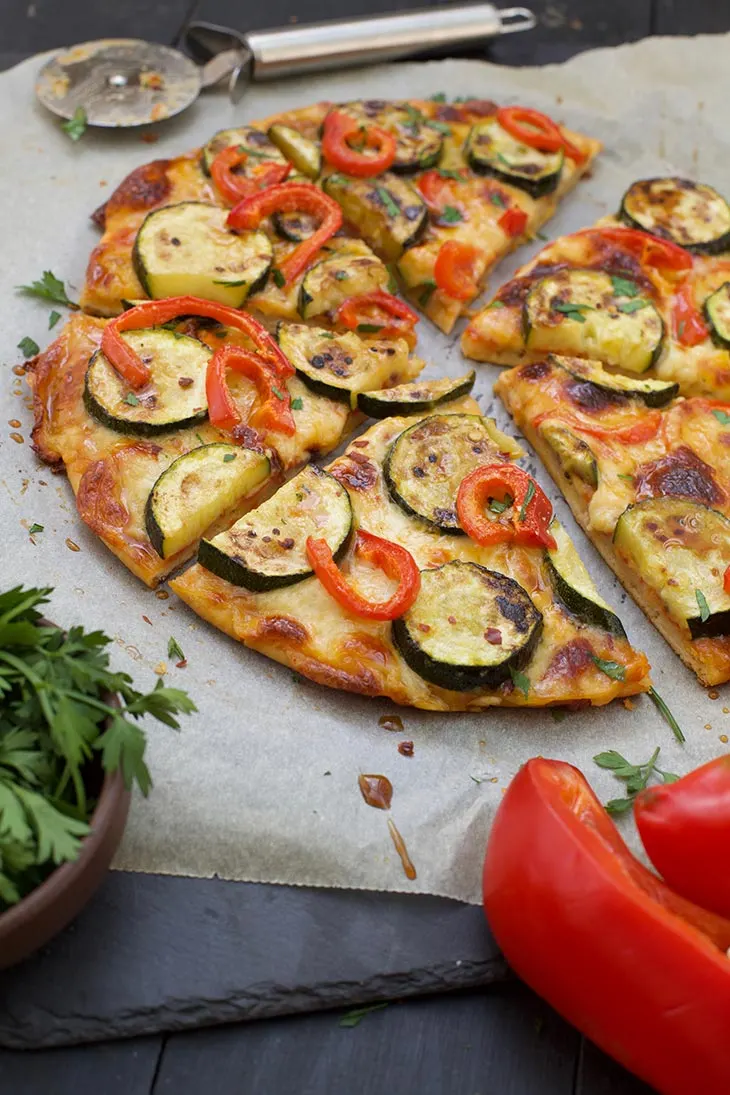 But the problem is, whenever I find myself craving for a slice of pizza I remember that pizza is not really in the "healthy eating" list. It's full of carbs, not to mention the other unhealthy and processed ingredients if you go for the frozen options.
Now, what if I told you there is a guilt-free way of indulging in a pizza? It's the cauliflower crust, guys! For the obvious health benefits, cauliflower pizza crust is becoming more and more popular.
Before you decide against it, let me tell you that it may be a very big surprise for you! It is incredibly tasty, and some even consider that there is no taste difference between the normal pizza crust and the cauliflower one! And this can only mean one thing: you can actually enjoy the taste of pizza that you love without the added guilt! 🙂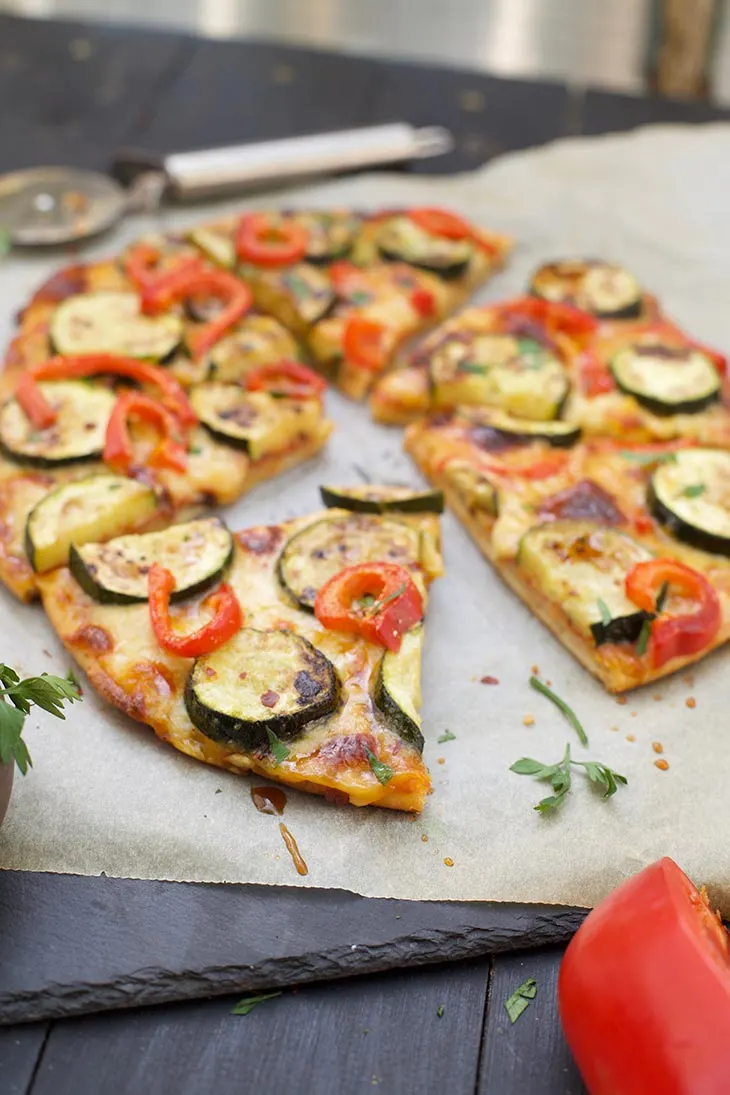 If you are still not convinced, here are a few of the benefits of cauliflower. It is weight loss friendly (given the fact that it gives you very low-calorie intake) and even more than that, it is packed with nutrients. Here is what 130 grams of cauliflower will give you:
Calories: 25
Fiber: 3 grams
Vitamin C: 77% of the RDI
Vitamin K: 20% of the RDI
Vitamin B6: 11% of the RDI
Folate: 14% of the RDI
Pantothenic acid: 7% of the RDI
Potassium: 9% of the RDI
Manganese: 8% of the RDI
Magnesium: 4% of the RDI
Phosphorus: 4% of the RDI
Quite impressive, right? I think so too. 🙂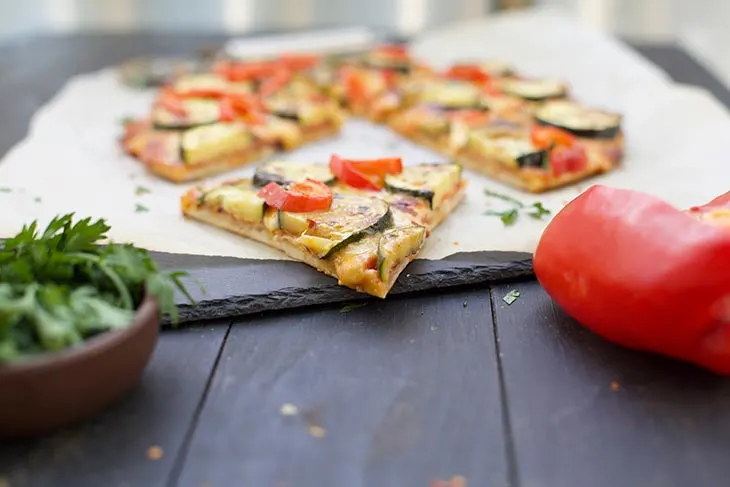 Given this nice nutritional profile, cauliflower has become a popular replacement alternative for grains-obtained foods that are high in carbs – and such is the case with our pizza crust! While the bread is full of carbs, this cauliflower alternative is much, much healthier.
And what could be even more convenient? This pizza crust is really easy to make! You will need some cauliflower, mozzarella or any other vegan cheese, psyllium husks and some other simple ingredients that will help us achieve the best texture for our crust.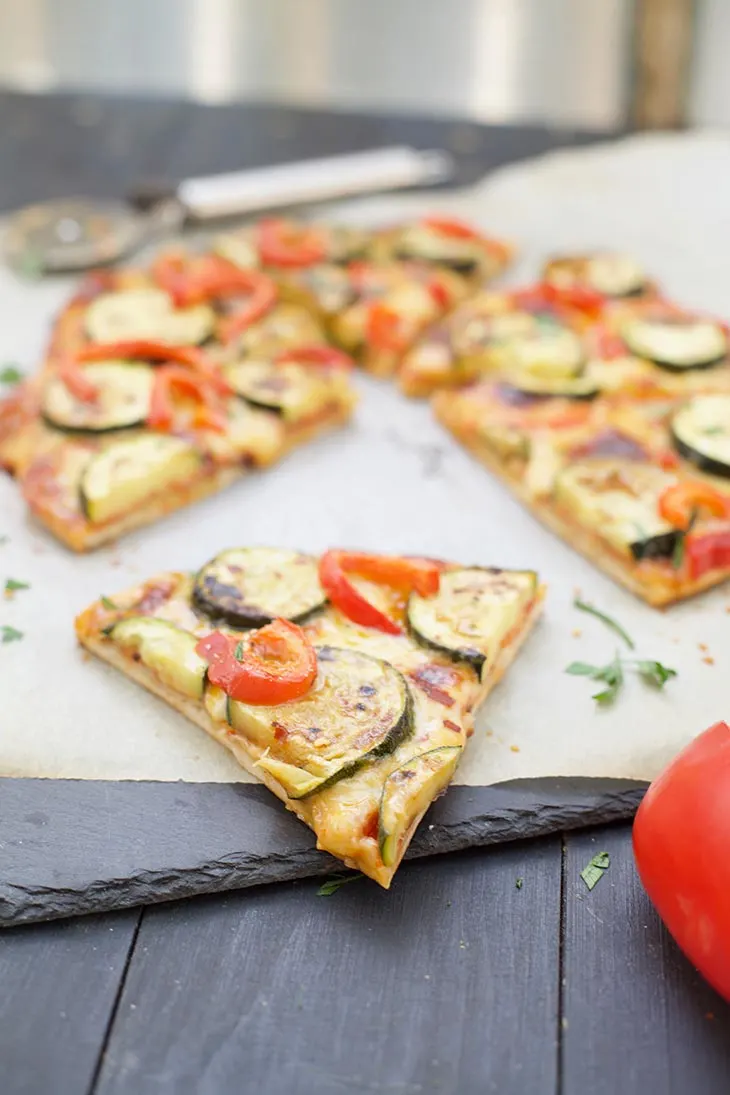 You will first have to prepare the cauliflower but don't worry, it's all super easy. You just have to break the cauliflower into small florets and put it in a food processor until it becomes fine. All that is left to do is mixing together all the ingredients, as simple as that! You then have to spread it on a baking sheet and bake it in the oven.
And don't forget about your favorite toppings, of course! That's another plus of this amazing pizza crust, you can combine it with whatever ingredients and toppings you like, just as you would with a normal pizza crust. Fully customizable, that's how I like my food! 🙂
I hope I have convinced you by now of how amazing this recipe is. The results won't disappoint you, so I suggest that you gather the ingredients and start right away. Get ready to amaze all your friends with this 100% healthy recipe, full of taste and flavor. Happy cooking!
Yield: 2
Cauliflower pizza crust - without dairy!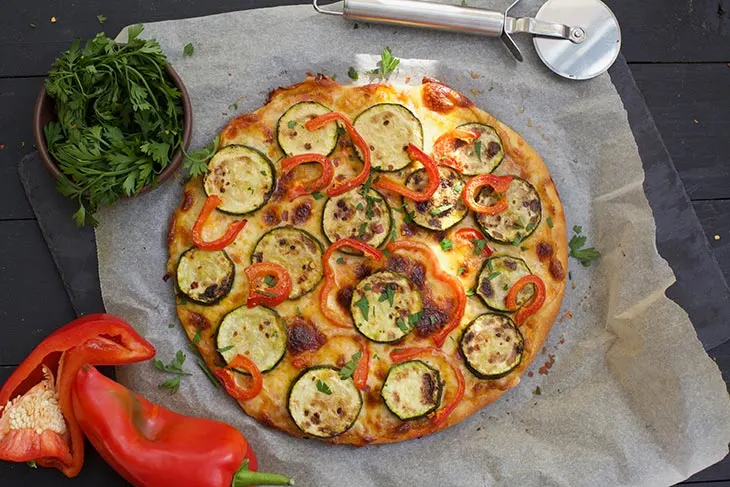 Have you ever tried making cauliflower pizza crust? It's so healthy, super flavorful and, most of all, extremely easy to make! Your pizza recipes will never be the same again!
Ingredients
For the crust:
½ head cauliflower, florets separated
120g (1 cup) flour
2 Tbsps psyllium husks
2 Tbsp olive oil
1 tsp sea salt
2 Tbsp cornstarch
40g (⅓ cup) vegan cheese
For the topping:
120g (½ cup) marinara sauce
120g (½ cup) vegan cheese mix for pizza
1 medium zucchini, sliced and grilled
½ bell pepper, sliced
greens for topping
Instructions
Preheat the oven to 200 C.
Line a tray with baking paper and set aside.
Add the cauliflower florets, psyllium husks, olive oil, and salt to a food processor.
Process on high speed, until a homogeneous, sticky puree is formed.
Add the cornstarch and flour and process again to incorporate the ingredients and form a dough.
Add the cheese and pulse until just combined.
Brush the prepared baking paper with a little oil.
Form a dough ball, then roll it into a pizza circle. Transfer to the prepared baking tray.
Bake for about 7 minutes until lightly golden.
Add the marinara sauce, vegan cheese mix, grilled zucchini, sliced bell pepper, salt and pepper to taste.
Return to the oven and bake for about 7 more minutes.
Top with some chopped greens and serve!
Nutrition Information
Yield
2
Amount Per Serving
Calories

555
Total Fat

27g
Carbohydrates

66g
Protein

12g