If you like healthy pizza recipes and mushrooms as much as I do, then you will definitely love this mushroom pizza with pesto! It's simple, quick and super yummy!
If you were to try and find something in common between you and someone who lives on the other side of the world, one of the common things you share is that you both probably had pizza at a certain point in your life, maybe even recently. Pizza has quickly become one of the most popular street foods in the world, in one form or another!
The dish has its humble beginnings in Naples, Italy, where the simple and classy Pizza Margherita became a staple dish that managed to put the small Italian town on the map. Neapolitan pizza is traditionally made from locally sourced ingredients and is currently recognized by UNESCO in their Traditional Specialty Guaranteed list.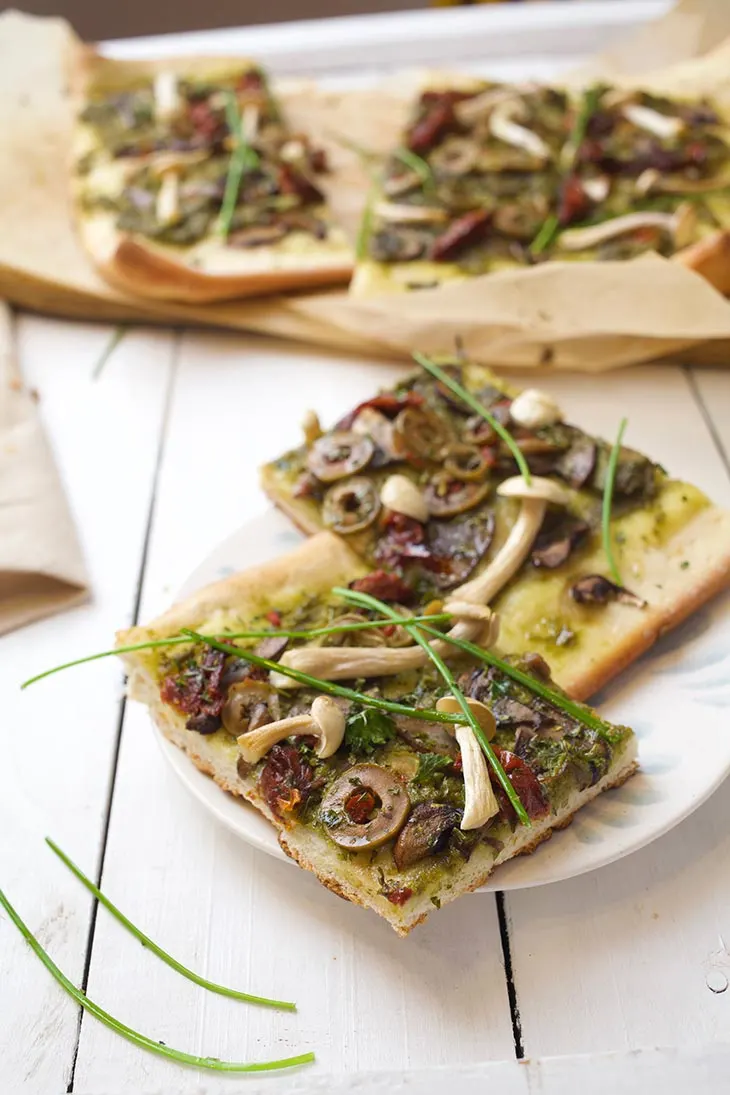 Pizza as a savory dish has become more and more popular around Italy. Its fate was sealed when Italian immigrants brought this savory dish to the East coast of the United States, laying the groundwork for what was to become the New York style slice – probably the best-known kind of pizza in the world.
I'm not even going to talk about every kind of pizza out there, because that would take us forever. The point is, pizza started out as a simple, minimalist recipe that could be made everywhere and enjoyed by everyone. I, myself, am a big fan of pizza recipes that don't really use more than three ingredients, so today I am going to put two of my favorite things into a vegan pizza recipe that I urge you to try! Mushrooms and pesto pizza. Are you kidding? My mouth is watering right now already! 🙂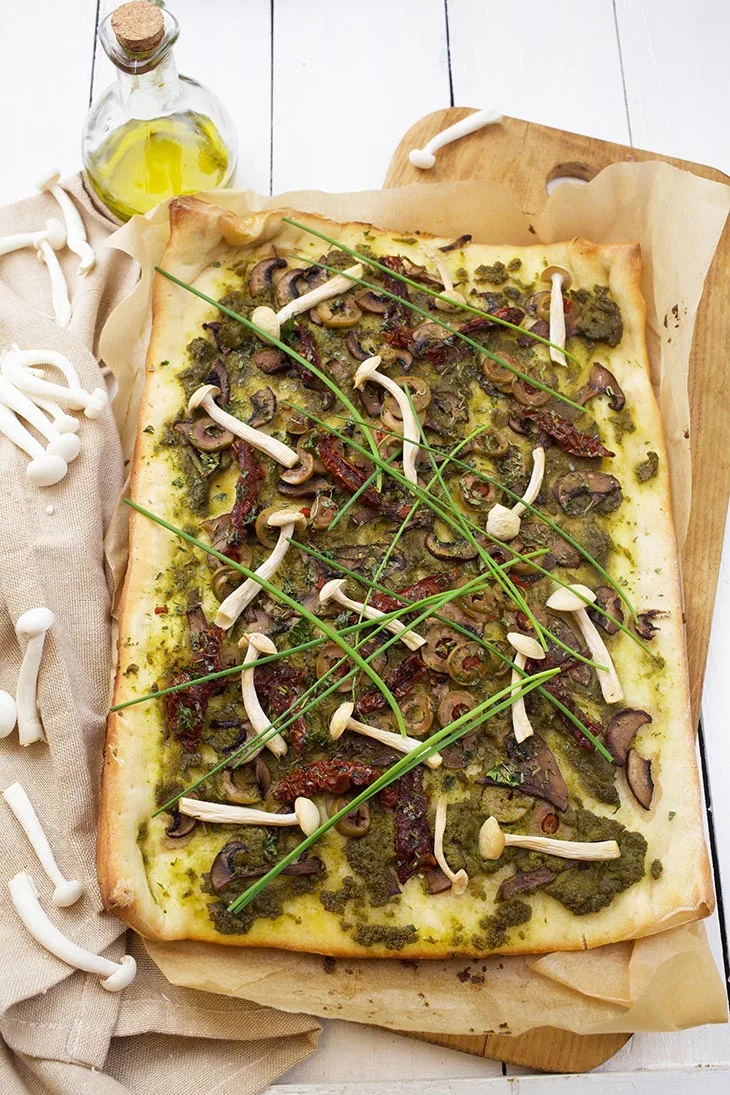 If you've been following my recipes, you might have noticed that I am an avid fan of mushroom recipes. Mushrooms are not only an excellent source of lean protein, but they're also delicious, have a meat-like texture that will satisfy even the biggest meat lovers, and are going to work cooked in a number of different ways.
But let's get back to this recipe. Mushrooms are being used in many pizza recipes, and they're really suited for this job, as they add a certain juicy texture to the slice. More often than not, mushrooms are prevalent in vegetarian pizza recipes, because they do a great job of replacing the meat and upping the nutritional value.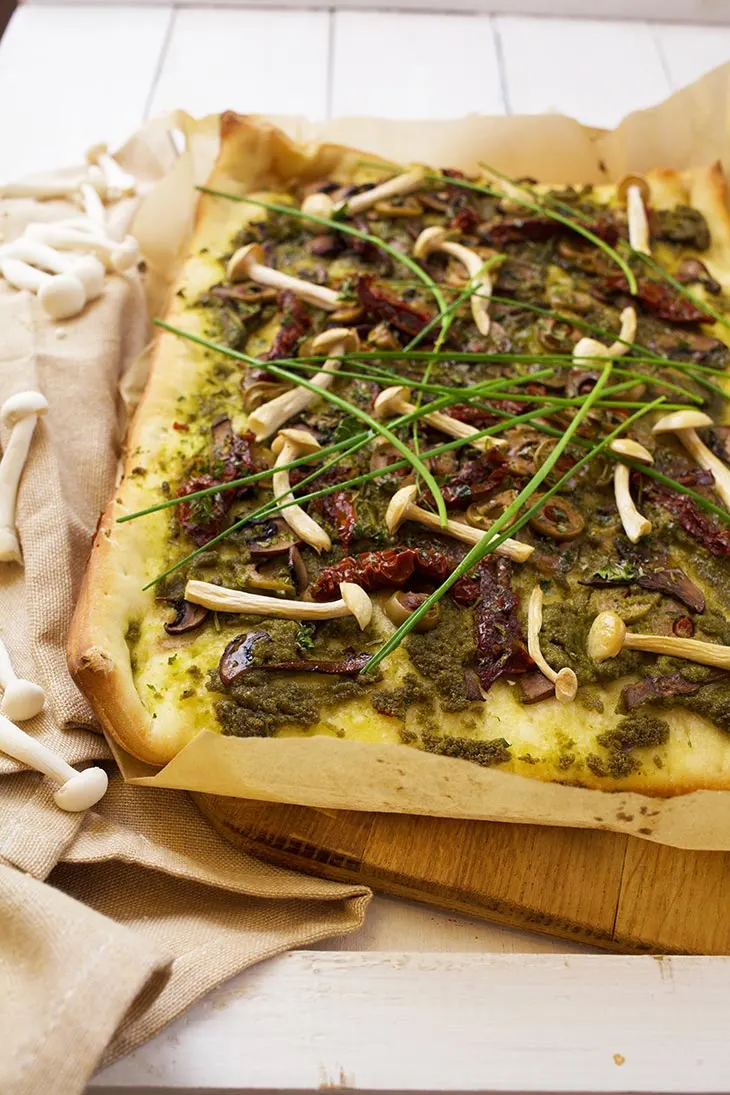 The second main ingredient of today's dish is pesto sauce, and boy, you're in for a treat! 🙂 Pesto is a delicious sauce that adds a fresh taste to any recipe, reminiscent of a forest hike during summer, and that probably shouldn't surprise anyone, since it's made out of basil and pine nuts (or almonds – in this recipe), among other things.
Pesto isn't really used in many pizza recipes, probably because of the skepticism, and because it doesn't go as well with many of the more popular pizza recipes. I can't even think about a pesto chicken barbecue pizza, that just doesn't sound right. But pesto has other qualities, and paired with the right ingredients – see current case: mushrooms – it can bring a whole other dimension to your pizza!
The process that goes into homemade pizza is usually a delight, regardless of what pizza you are trying to make. I am sure that there is room for trial and error in every instance, but the most important thing is to have fun and to understand that everybody's taste counts as an opportunity to learn better.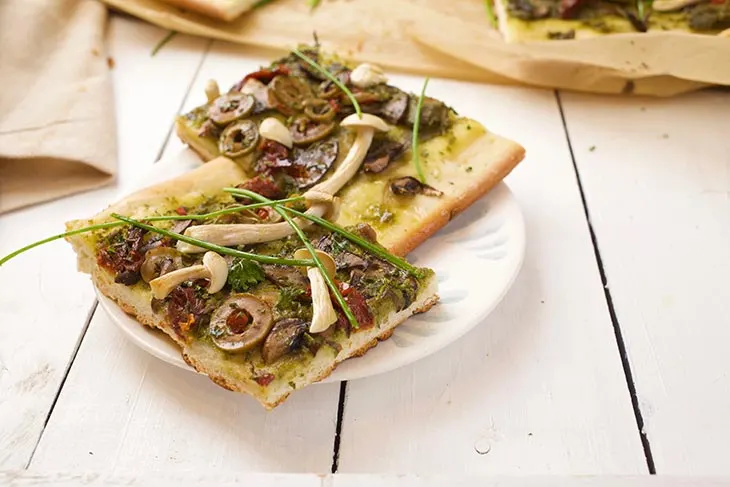 I love making this recipe of mushroom pizza with pesto, and I advise you try it out for yourself, and then change it around according to taste. But if you are making this for the first time, I am sure that you will love it to the moon and back, and I can't wait for you to tell me how it went!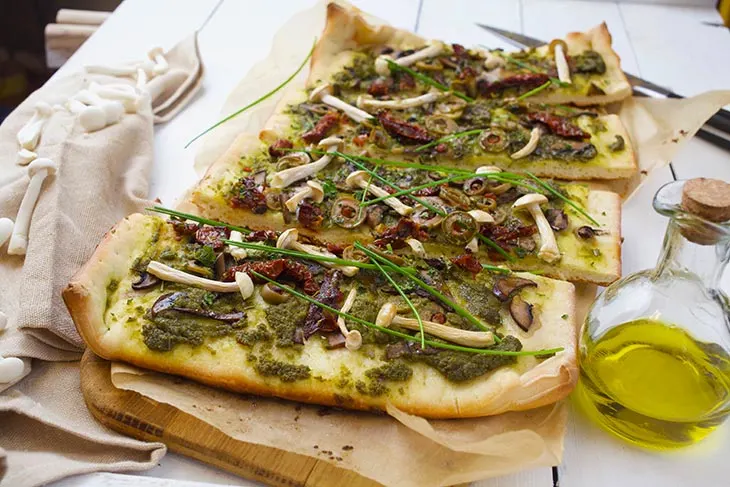 If you like healthy pizza recipes and mushrooms as much as I do, then you will definitely love this mushroom pizza with pesto! It's simple, quick and super yummy!
Ingredients
70g (1 cup) cremini mushrooms, sliced
70g (1 cup) white Shimeji mushrooms
1 clove garlic
1 Tbsp vegan butter
2 Tbsp white wine
1 small red onion, finely sliced
1 large pizza crust, use GF if needed
1 Tbsp olive oil
90g (½ cup) pepper stuffed olives, sliced
40g (¾ cup) sun-dried tomatoes, sliced
a handful of fresh chives
1 tsp dry oregano
1 tsp dry basil
For the pesto sauce:
20g (1 cup) fresh basil leaves
70g (½ cup) raw almonds, soaked overnight, drained and rinsed
20g (⅓ cup) fresh parsley
1 clove garlic
2 Tbsp olive oil
1 Tbsp apple cider vinegar
1 tsp lime juice
freshly cracked sea salt and black pepper to taste
Instructions
Preheat oven to 200 C.
Cover a baking tray with parchment paper.
Prepare the pesto sauce: Add all the pesto ingredients to the food processor. Blend until smooth and set aside.
Heat a skillet on medium heat.
Add vegan butter, garlic clove, one tarragon spring, and mushrooms.
Sautee for about 2 minutes, add wine and sautee 3 more minutes. Discard the garlic clove and set aside.
Lay the pizza dough on the already prepared baking tray.
Brush it with olive oil and cover with a generous layer of pesto.
Add the olives, sun-dried tomatoes, and sauteed mushrooms. Sprinkle with oregano and basil.
Cook for about 20 minutes or until the edges are golden.
Top with fresh chives and serve. Bon appetit!
Nutrition Information
Yield
4
Amount Per Serving
Calories

459
Total Fat

23.2g
Carbohydrates

51.7g
Protein

10.6g