Get your lunching game on with this delicious cauliflower recipe that will change the way you see this veggie forever! I present to you: whole roasted cauliflower!
As a vegan, I do believe we all experience those moments when we simply don't know what to make for lunch. Vegetables come in many shapes and sizes, but there are still a limited number of things you can do with each.
When I feel like I've hit a wall, I look back at what got me into vegan cooking in the first place – the love for simple and effective recipes that are healthy and delicious! I like to take unexpected decisions and think about what I really want to eat. Today's recipe is a very accessible, yet unconventional recipe that I'm sure you will love! 🙂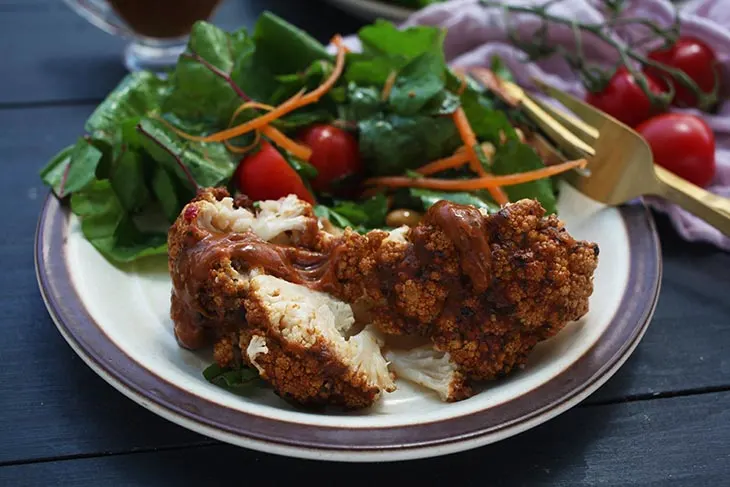 Today's recipe is also based on the fact that I love cauliflower, and I always believed in its potential as an ingredient. Growing up, I'd only had cauliflower as a side with other steamed vegetables. Not that isn't good or anything, but it's just one of a multitude of things that you can do with cauliflower.
Once I got my own kitchen, I started experimenting with easy recipes where cauliflower was the main star, like cauliflower steaks, or cauliflower risotto. They've all been very good to me!
But most of these recipes require you to cut the cauliflower into different funky shapes. So I thought that there must be a good recipe to use a whole cauliflower for. And what do you know, there actually is, and I'm here to show it to you!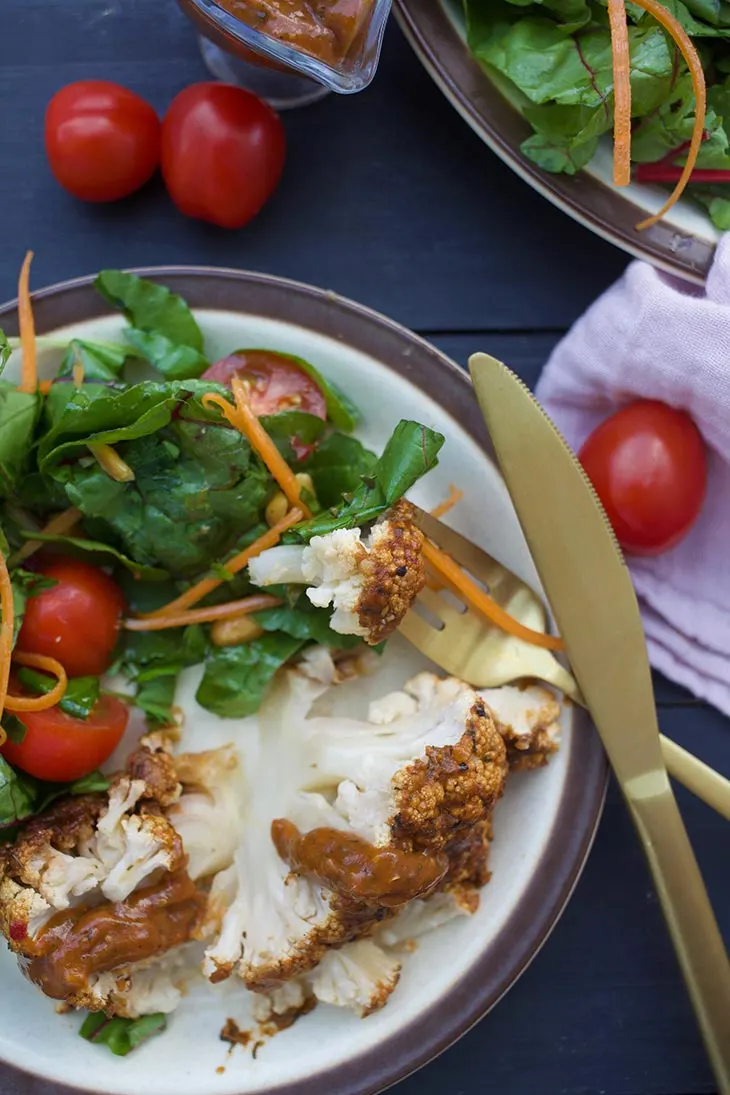 Barbecue flavored roasted cauliflower is not only a mouthful to say, but it's also going to leave your mouth watering! 🙂 I have personally served this at a grill party and it went surprisingly well with the meat lovers as well, even though some of them used it as a side dish.
What I love most about this recipe is how well the cauliflower absorbs the barbecue sauce, if you keep it in the oven long enough. It's amazing that a vegetable can do that, it's just one of the magic properties of cauliflower.
Other magical properties would include its high dose of vitamin C and being a good source of fiber. Cauliflower can be healthy, even after being roasted in the oven. But most of all, it is a tasty dish, and it goes great with a number of things! 🙂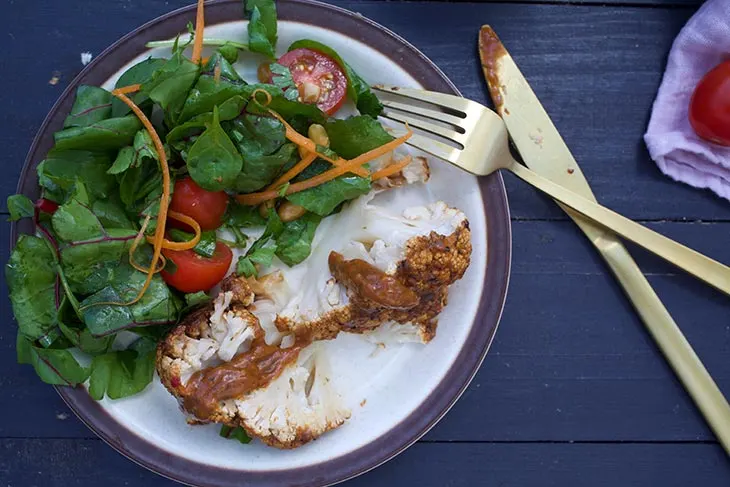 If you want to make a whole meal out of it, you can have your roasted cauliflower with some steamed veggies or french fries. It works basically like a lamb roast, but has a better nutritional set of values, if you ask me!
The roasting process itself takes about 25 minutes, so this is not really a "super quick" meal. There's not much effort involved on your part, though. You can do your thing while it roasts!
If you're willing to cook a large family dinner, you can make three of these roasted cauliflowers. I gotta say, they look really good in the middle of a vegan feast. The smell, too, is super appealing! Well, anything can smell appealing if you put enough barbecue sauce on it.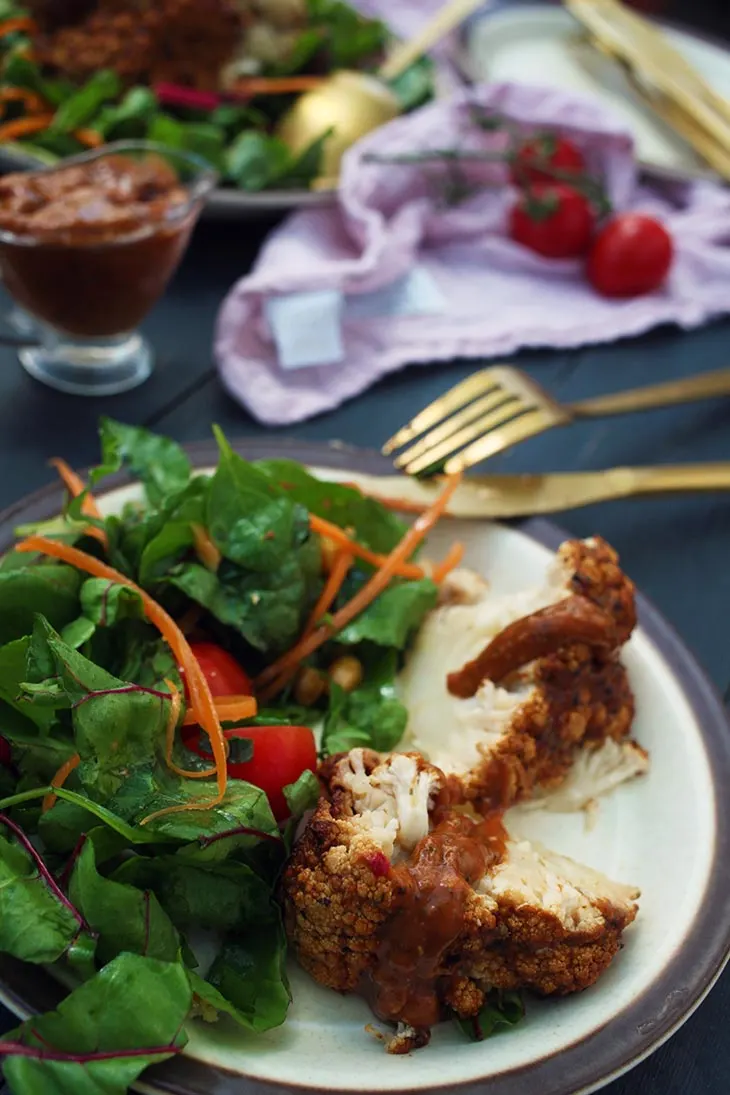 This whole roasted cauliflower is the perfect example of a scrumptious meal that takes minimal ingredients and is still very good – a true staple of amazing vegan cooking.
I've made many cauliflower recipes over the past months, but I must admit, this one takes the cake! It is by far my favorite in what regards taste and texture. Other people have said the same, too! My friends were very surprised by this recipe. One of them said they didn't expect it to taste so good!
If you put your heart into something, you will eventually get it right, and that applies so much to cooking as well!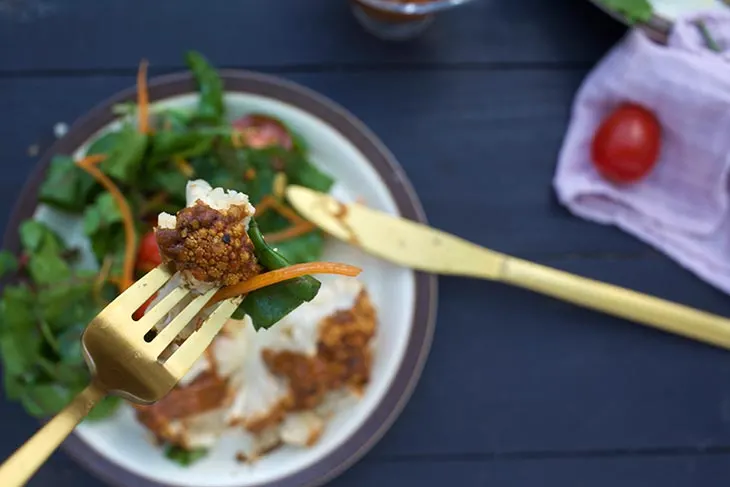 I hope that your roasted barbecue cauliflower will turn out just fine and that you'll enjoy cooking it for your family or friends (or for yourself, why not?). Safe to say, if you have any questions or comments about this recipe don't hesitate to write to me about it. I always love hearing back from you!
Yield: 4
Whole Roasted Cauliflower - BBQ flavored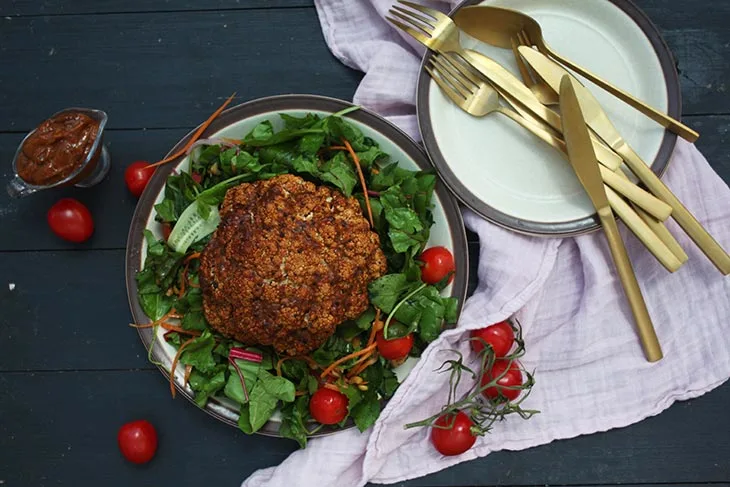 Get your lunching game on with this delicious cauliflower recipe that will change the way you see this veggie forever! I present to you: whole roasted cauliflower!
Ingredients
1 small cauliflower head
For the sauce:
100g (½ cup) tomato sauce
½ tsp liquid smoke, optional - you can replace with smoked paprika
2 tsp garam masala spice blend
1 Tbsp runny peanut butter
1 tsp sesame oil
1 tsp thick soy sauce
1 clove crushed garlic
1 tsp freshly ground black pepper
1 tsp sea salt
¼ tsp cayenne
For serving:
your favorite green salad
Instructions
Heat the oven to 200 C.
Rinse and dry the cauliflower head and carefully cut off the bottom stalk.
In a bowl, add all the sauce ingredients and whisk until well incorporated.
Use a brush to evenly coat the cauliflower with the sauce.
Place the cauliflower in an oven-friendly dish, covered with baking paper.
Bake for about 25 minutes or until nicely browned.
Enjoy with extra sauce and green salad on the side.
Nutrition Information
Yield
4
Amount Per Serving
Calories

134
Total Fat

4g
Carbohydrates

19.2g
Protein

6g