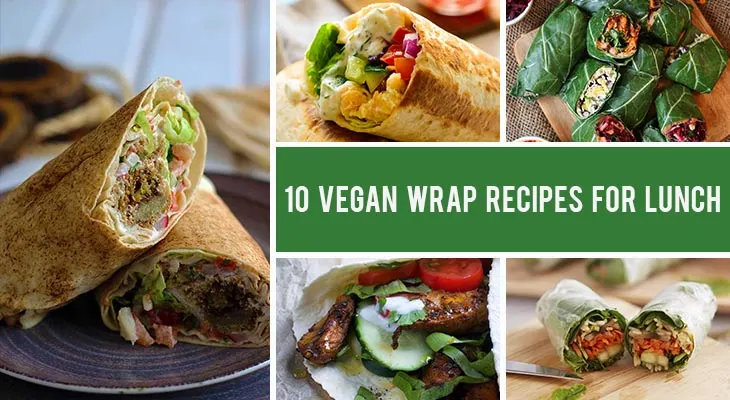 If you're looking for some simple vegan recipes that are perfect for lunch, this is a great place to get some inspiration! Whenever I lack the time or patience to cook a complicated lunch, I make some quick and delicious vegan wraps. And because wraps are so incredibly versatile, you can basically add your favorite veggies, a good source of plant-based protein, your choice of sauces and that's it – your lunch is served!
One of the best things about vegan wraps is that you can make them the night ahead, keep them in the refrigerator and they will be fresh the next day and ready to be packed for a lunch that you can take with you at school or work! How convenient, right?
Whenever I make a veggie wrap I realize that the possibilities are actually endless, even if you're making a vegan version of it! You can use white or whole wheat tortilla, pita bread, vermicelli noodles, lettuce or even collard as a base and then fill it with fresh veggies, tofu, chickpeas, mini falafel bites, baked spicy mushrooms, quinoa or whatever else you're craving at the moment. Add some extra flavor with a homemade vegan sauce and prepare yourself for a finger-licking lunch! I'm sure that all these vegan wrap recipes are fail-proof and will be enjoyed by anyone, regardless of their eating habits.
In case you want some good recipes for lunch, feel free to check out this list where I put together 10 of my favorite vegan wrap recipes. All of them are healthy, fast, tasty and will actually keep you full after you eat.
Access these vegan wraps recipes by clicking the linked titles. You will find 3 of my favorite vegan wraps here that I make frequently for lunch, but the rest of them were made by some of my favorite food bloggers out there, so feel free to check them out as well! Bon appetit!
Vegan Wraps Recipes
Falafel is one of my favorite foods in the entire world and what better way to enjoy than by having it in a yummy falafel wrap loaded with healthy veggies and tahini sauce? One of the best things about this recipe is that you can pack it for lunch at the office or school. Check it out!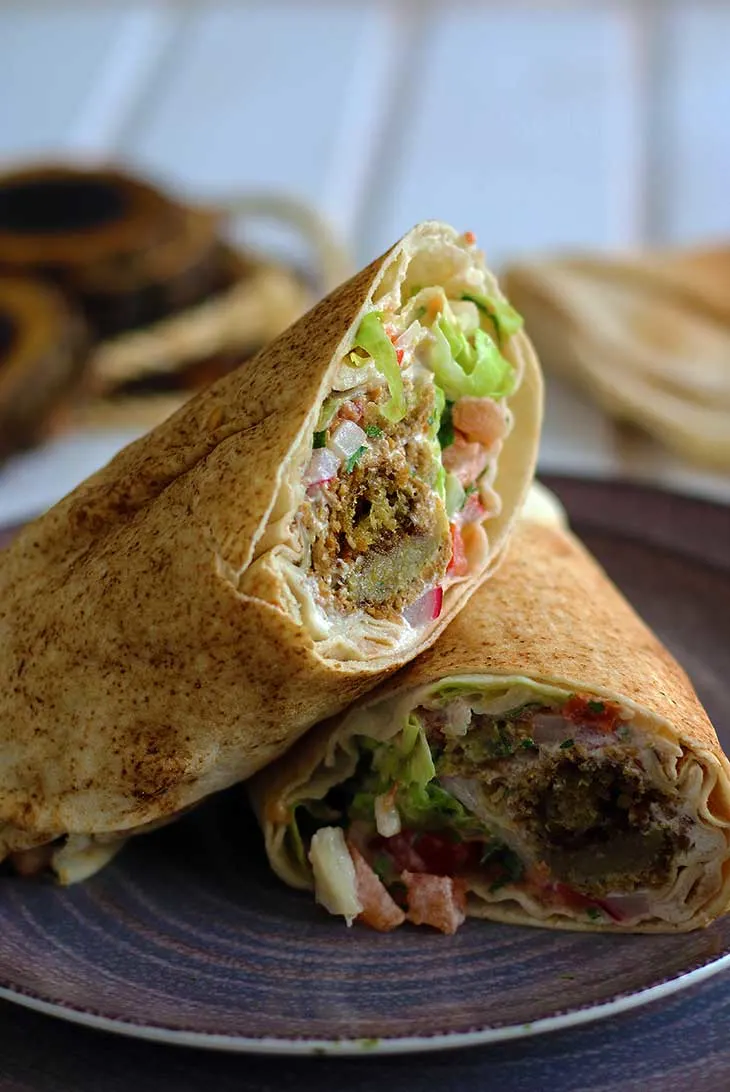 If you're a fan of the Middle Eastern cuisine, then I'm sure you heard about one of their most famous street foods – shawarma! This recipe will show you how to make it vegan by using one of my favorite type of mushrooms. Portobello mushrooms! Enjoy this vegan wrap that is easy, quick and delicious!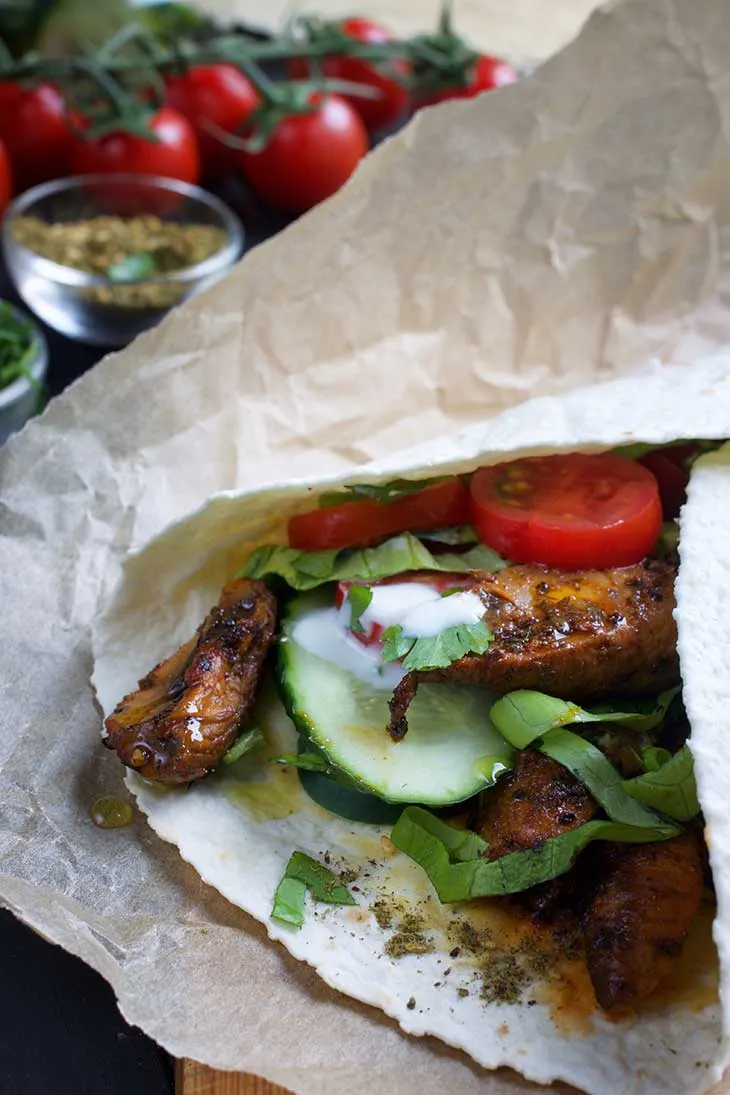 These vegan fajitas are so colorful and flavorful that it's hard not to fall in love with them! Replace the meat with TSP (textured soy protein) noodles, add some guacamole and your lunch is ready!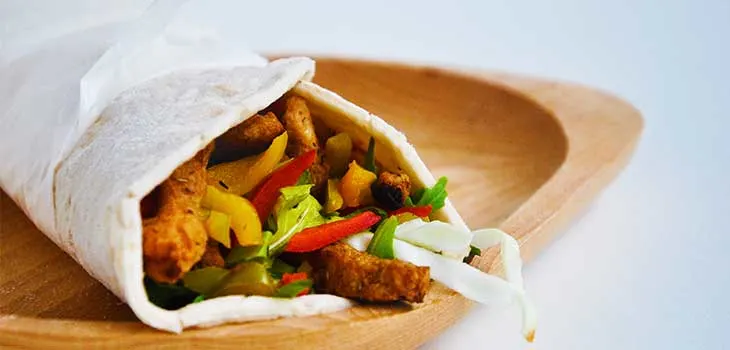 Vegan tzatziki? Yes, please! This delicious vegan Mediterranean wrap is made with smashed chickpeas, fresh vegetables and an incredible homemade vegan tzatziki sauce – perfect for lunch or a quick snack!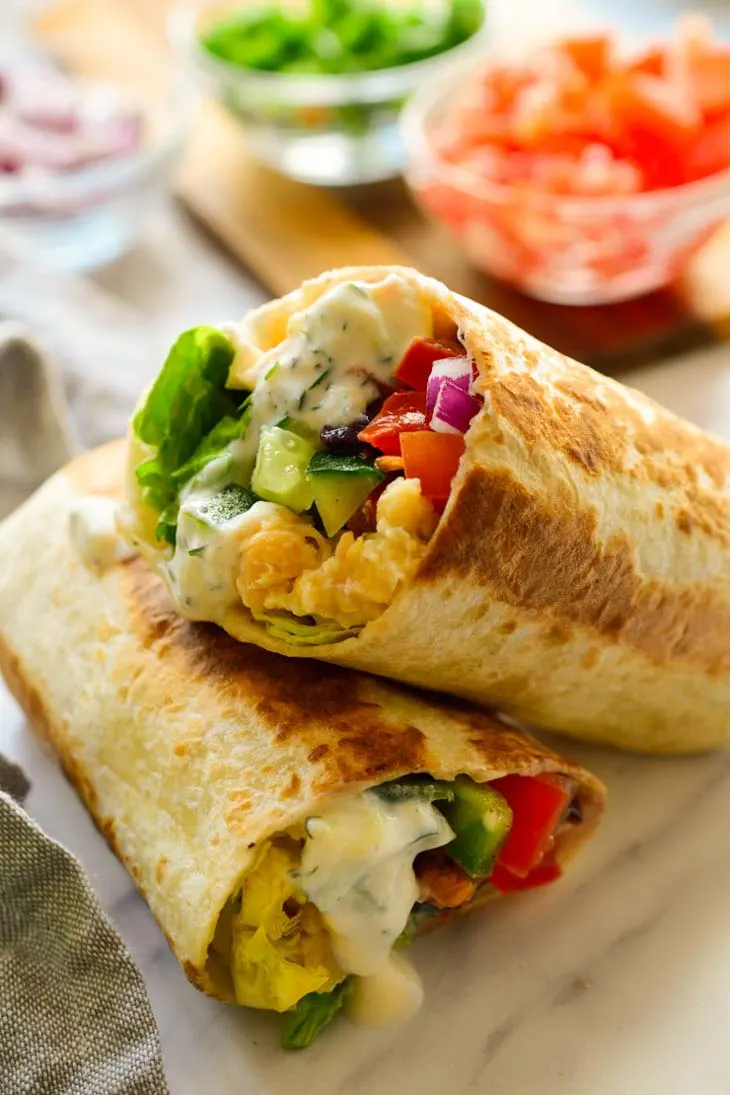 This roasted vegetable and avocado garden wrap is best served at lunch or even dinner. The roasted veggies and the lemon pepper avocado mash create a perfectly delicious taste that I'm sure you'll enjoy. Wrap everything up in a big whole wheat tortilla and you're good to go!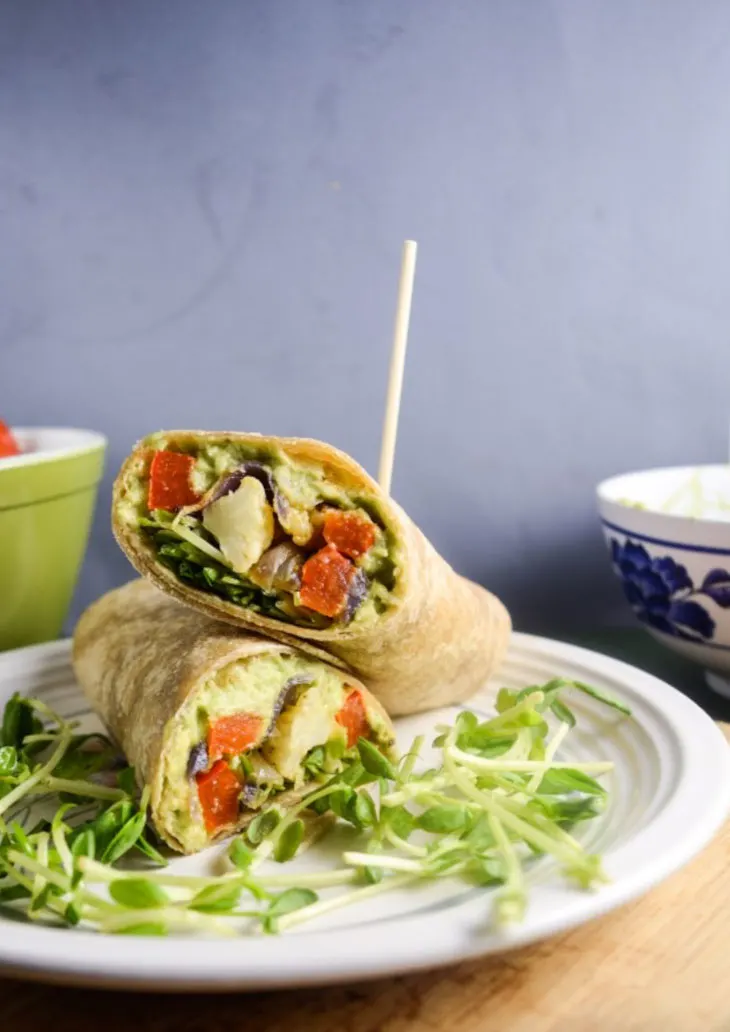 If you want a healthy, protein-packed lunch, these quinoa veggie wraps are the perfect choice for you! Just add some hummus, the quinoa, your favorite veggies and you'll end up with a perfect lunch that you can pack for school or work!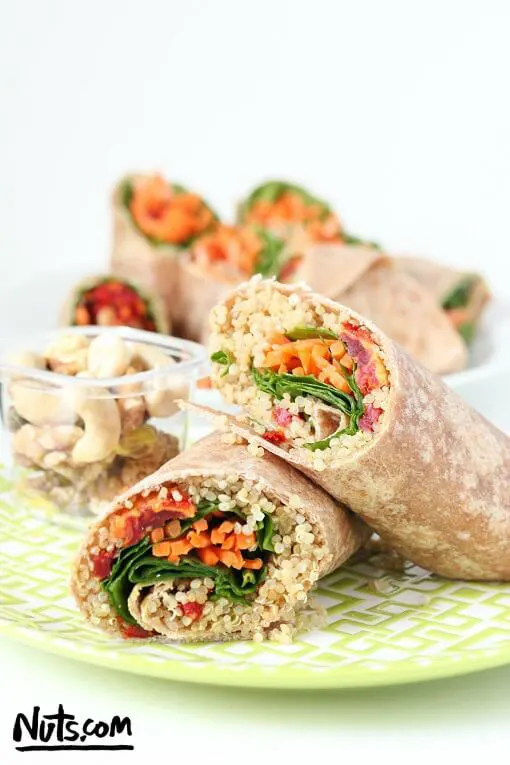 One of the best things about these Asian veggie wraps is that you can make them ahead and store them in the refrigerator for a few days, as they will stay fresh. You can use your favorite mushrooms, fresh veggies and vermicelli noodles. Your delicious Asian lunch will be ready in no time!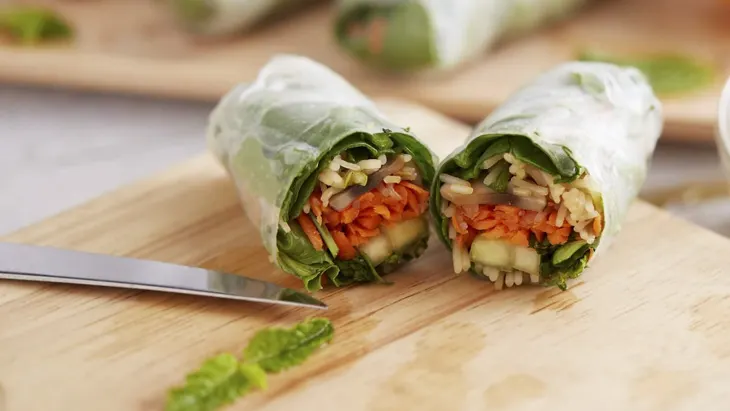 These lettuce wraps are healthy, delicious and they will actually keep you full! They are made with brown rice noodles, flavorful tofu, lettuce and an extremely delicious sauce. Check them out and enjoy a flavorful and saucy lunch!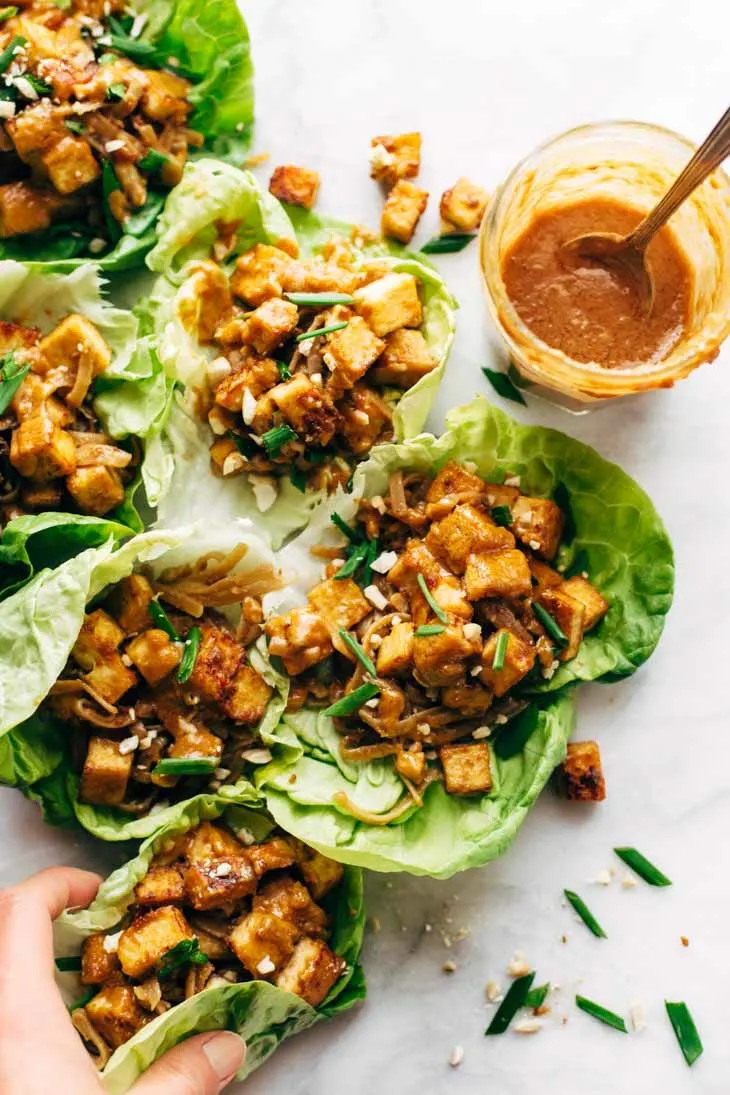 Chickpeas are a great ingredient to replace meat, and this vegan chickpea Caesar salad wrap is the perfect example for this! Combine all the ingredients with the yummy homemade vegan Caesar dressing and enjoy!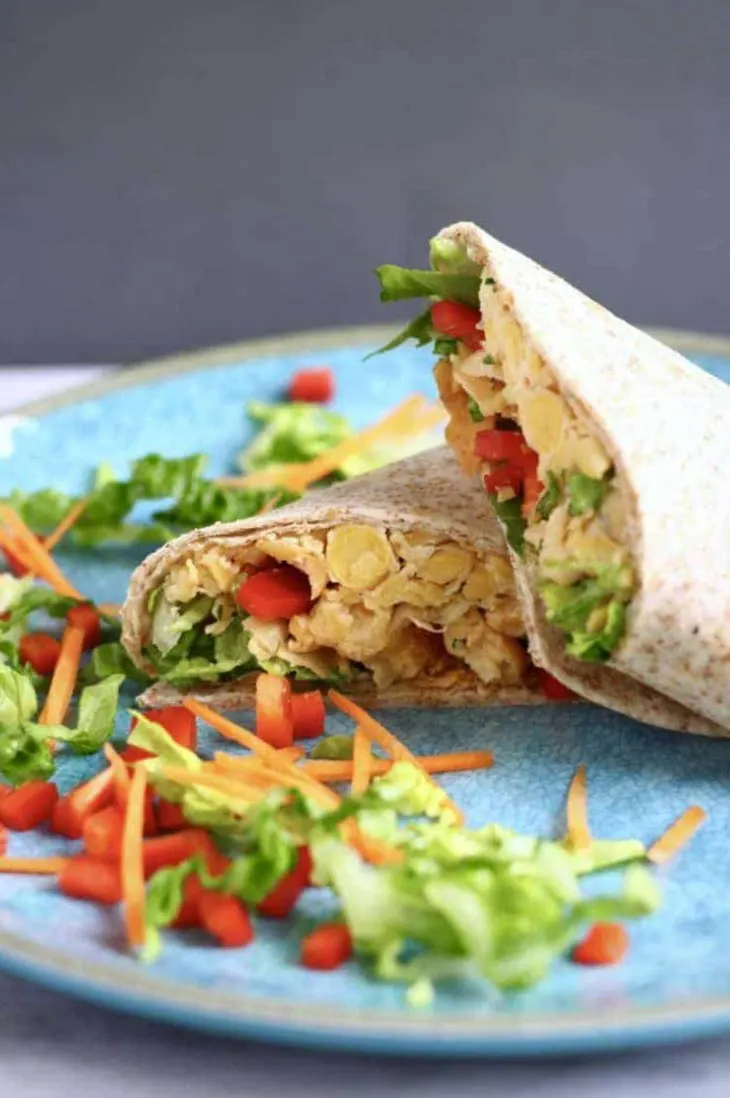 These gluten-free vegan collard green wraps are healthier than the ones with pita bread and, although the folding technique needs a little bit of practice, the results are truly worth it! You will see 3 recipe combos here, but you can twist and change the ingredients according to your preference!