This quick and easy falafel wrap can be easily packed for lunch at the office or school. Can be adapted for meal prep as well!
Give me falafel and hummus for the rest of my life and I'm happy! 🙂 These two are my top favorite recipes in the world! I have so many awesome hummus recipes on the blog and a bunch of falafel recipes as well, so if you're a fan of the Middle Eastern cuisine like I am, make sure you browse my recipe collection and give them a try. 🙂
This falafel wrap is perfect for meal prep. I would recommend doubling the quantity below and you can have the lunch ready for a whole week in just 30-40 minutes.
I used my mini falafel bites recipe but tweaked the quantities a little bit. Falafels are usually made with raw chickpeas, soaked overnight, so don't use canned chickpeas for this recipe. Also, in this recipe, they need to be fried. I didn't deep-fry them, however, and chose to lightly fry them in a non-stick pan.
If you want to use canned chickpeas and/or not fry the falafels, try my other falafel recipe which you can also bake. It's like a healthier version of the traditional falafel.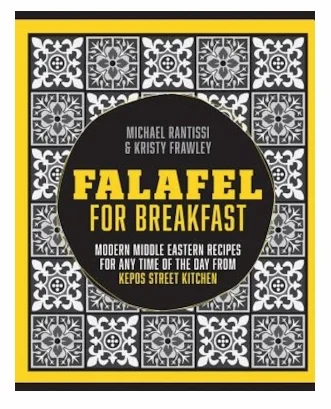 Make sure you add plenty of sauce. I combined tahini with some lemon juice and garlic. It is delicious! Added two tablespoons per wrap, plus some juicy veggies, so you won't have to worry at all that this will be dry. It has the perfect texture.
When you make the falafel wraps, close them at both ends and wrap them as tight as possible. You can cover them with parchment paper, plastic wrap or aluminum foil and pack them for lunch. Cut them in half when you are ready to serve them.
Hope you'll enjoy this healthy falafel wrap recipe! Drop a comment below and tell me if you liked it! 🙂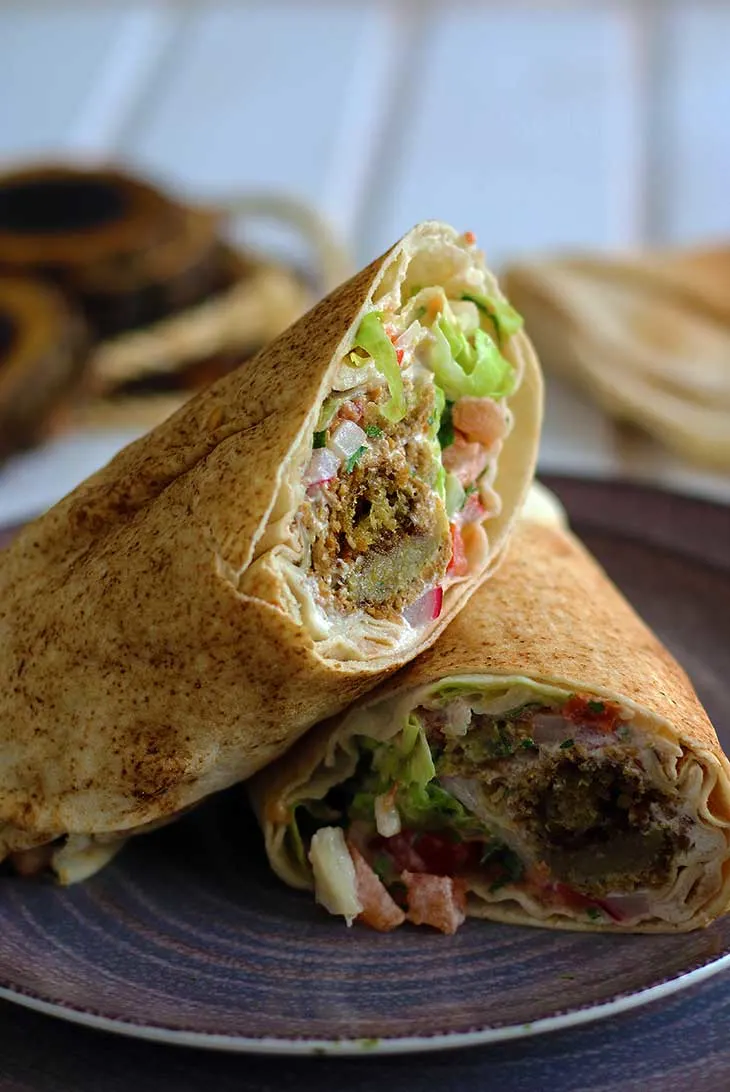 Yield: 2-3 wraps
Falafel Wrap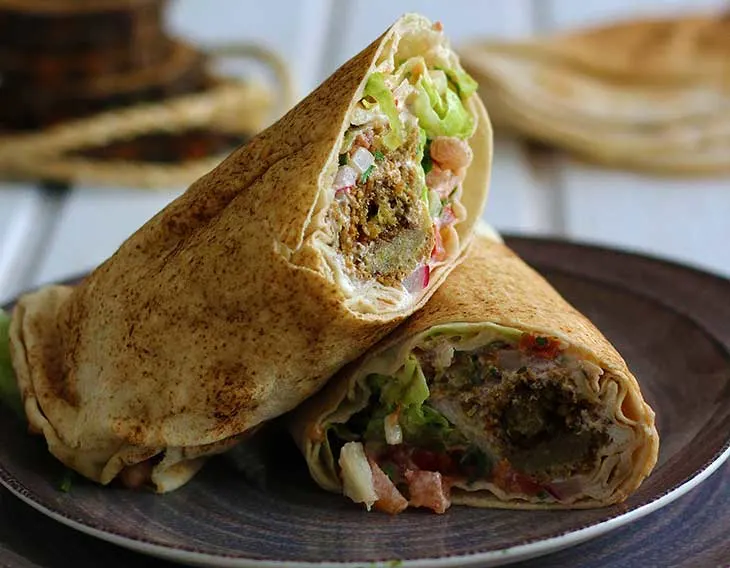 This quick and easy falafel wrap can be easily packed for lunch at the office or school. Can be adapted for meal prep as well!
Ingredients
For falafels:
100g (½ cup) dry chickpeas , soaked overnight - if you want to use canned chickpeas, though the texture will be different, you can try this recipe instead
½ onion, small, chopped
6g (¼ cup) fresh parsley, chopped
4 garlic cloves
½ tsp baking soda
1 Tbsp flour, I used chickpea flour
salt and pepper, to taste
½ tsp cumin
oil
For the falafel wrap:
2-3 large pita bread
1 tomato, large, chopped into small cubes
4 Tbsps fresh parsley, chopped
3 radishes, small, chopped
lettuce, chopped
2 pickles, chopped
For the sauce:
6 Tbsps tahini paste
½ lemon's juice
1 garlic clove, mashed
Instructions
For the falafels:
Drain the chickpeas you previously soaked overnight.
Add all the falafel ingredients in the food processor. Process until a paste is formed.
Move to a bowl and cover with a plastic wrap. Let it sit in the fridge until you prepare the other ingredients for the falafel wraps.
Cut and slice the falafel wrap ingredients and mix all the sauce ingredients together.
Heat some oil in a non-stick pan.
Note: I don't deep-fry. I just add some oil to the bottom of a pan and make the falafels flatter, not perfectly round, so they can cook evenly on both sides.
Cook each falafel on both sides, until crispy - about 2 minutes.
For the wraps:
Make the wraps. Spread 2 Tbsps of sauce over the pita bread. Add 3 falafels and a little bit of the other ingredients. Make the wrap, closing it on both sides and make sure you wrap it tightly. Repeat the process for the other wraps.
Nutrition Information
Yield
3
Amount Per Serving
Calories

551
Total Fat

30.5g
Carbohydrates

52.7g
Protein

16.2g