This is a healthy vegan falafel recipe, without deep frying and with lots of fresh parsley!  It's so easy to make and I'm sure this healthy vegan falafel will become one of your favorite recipes too! 
If you'd ask me how an ideal meal looks for me, I would tell you that it is made of veggie patties, fluffy mashed potatoes with lots of butter and a huge salad. For me, nothing is more delicious than this combination of recipes and as simple as it may sound, there's no other meal that makes me happier than this! 😀 I think it reminds me of my childhood when my grandma used to make me mashed potatoes with butter, served with a large steak or meat patties aside. Of course, I wasn't vegetarian back then, but some memories never go old. Even though I don't eat meat anymore and I don't think I will ever eat meat again, some cravings remained. That is why I try to "vegetarianize" some well-known meat based recipes, and make them healthier, and why not, even more delicious!
Honestly, veggie patties are way better than meat ones, but only if you cook them right! I make veggie patties very often, first of all, because they're ready very fast, and second, because I love them! I found on the web lots of veggie patties recipes, but some of them didn't sound that good just by reading the ingredients. Even the original falafel recipe is not that big of a deal. In many cases, I ate falafels that were either too dry, too bland or too fried! I always adapt my recipes in order to make them easier, healthier and delicious!
This falafel/chickpea patties recipe is, in my opinion, the best falafel recipe I've ever tried! It's not the traditional falafel recipe! This is how I make falafels and how I like them. 🙂

Hope you'll like this falafel recipe as much as I did 🙂
P.S. I LOVE Lebanese cuisine. If you love it too, check out Ottolenghi: The Cookbook. His recipes are truly inspiring!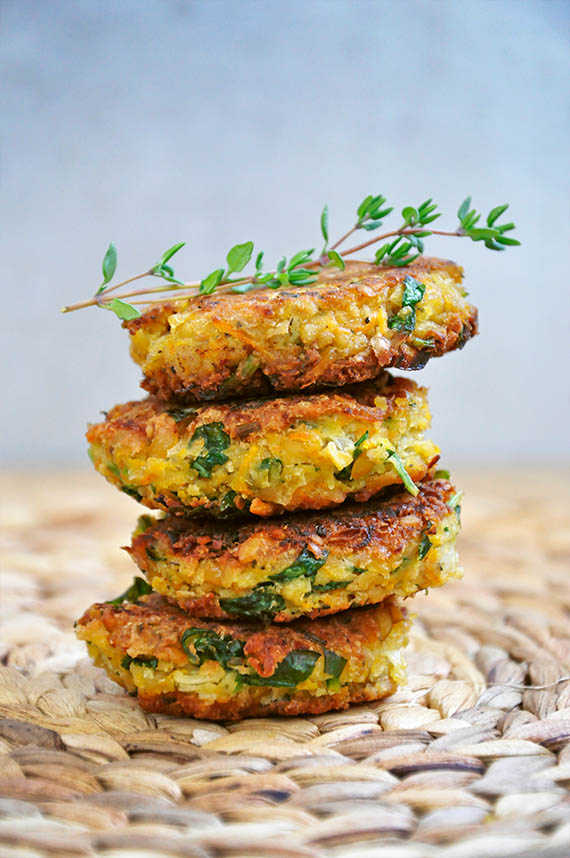 Healthy Vegan Falafel
Healthy vegan falafel recipe, without deep frying, GF flour and with lots of fresh parsley!
Ingredients
2 400g cans boiled chickpea (You can use dry too, but if you want to have these chickpea patties ready in 25 minutes, then you should use canned chickpeas. If you'll use dry chickpeas, you have to soak them overnight)
2 Tbsps psyllium husks or ground flax seeds
1 cup fresh parsley, chopped
1 carrot, grated
1 onion, diced
6 garlic cloves, mashed
4 Tbsps chickpea flour, or any other type of flour
1 tsp sweet paprika
½ tsp ground cumin
salt and pepper, to taste
2 Tbsps tahini paste
oil (3-4 Tbsps) for frying
Instructions
Add boiled chickpeas in the food processor and blend well until they have a paste-like consistency.
Put them in a large bowl and blend in all the other ingredients, except oil.
Heat some oil in a non-stick frying pan.
Make the patties – 1 Tbsps per patty.
Fry them 2 minutes on each side.
Put the falafels on a plate covered with a paper towel, in order to absorb all excess oil.
Serve!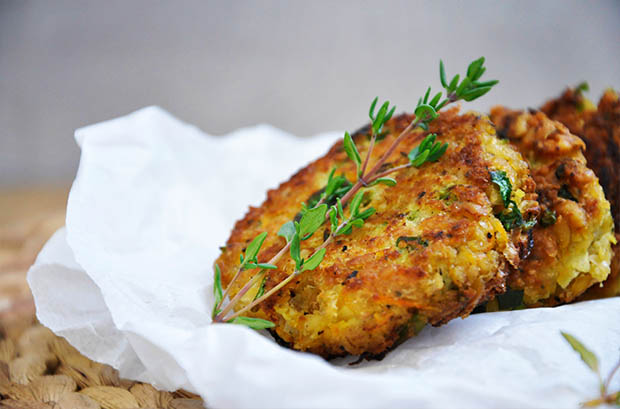 Want more veggie patties recipes. Try these: