Change language | Schimba limba: Romanian
This quinoa patties with sweet corn and fresh herbs recipe is a healthy vegetarian / vegan recipe ready in just 30 minutes.  
I became the no. 1 fan of quinoa patties! I absolutely love them! The first time I cooked quinoa, was not so long ago, when I made these delicious Quinoa Patties with Feta Cheese and Olives. They were among the best veggie patties I've ever made and ate and they were shared like crazy on Pinterest! I decided to cook more with quinoa. I'm currently exploring new quinoa patties recipes, and got the idea to try them with sweet corn and fresh herbs. Well…I had a great idea! These quinoa patties turned out great!
If you love quinoa, then you'll surely like this quinoa patties with sweet corn recipe. They're delicious and ready in about half an hour!
Looking forward to reading your comments! Let me know how they turned out

Quinoa Patties with Sweet Corn and Herbs
Healthy vegetarian / vegan recipe for quinoa patties with sweet corn and fresh herbs, ready in just 30 minutes.
Serves:
20+ quinoa patties
Ingredients
1 cup quinoa, boiled
1 onion, diced
1 can sweet corn
a bunch of parsley, chopped
1 potato, boiled with its skin on, peeled afterwards and mashed
4 Tbsps nutritional yeast
breadcrumbs _(GF or not)
salt ground pepper, to taste
Instructions
Add all ingredients except breadcrumbs, in a large bowl. Mix well.
It may be a little watery, so add breadcrumbs. Start by adding 3 Tbsps and wait a little so they absorb the excess water. Add more untill all liquid is absorbed and the composition has a paste-like consistency.
There are 2 ways you can cook the patties. A. Low fat frying or B. Baking.
A. Grease a non-stick pan with some oil and add the patties. 1Tbsp per patty. Fry 1-2 minutes on each side.
B. Grease an oven tray with some oil. Add patties and cook for 25-30 minutes at 200C.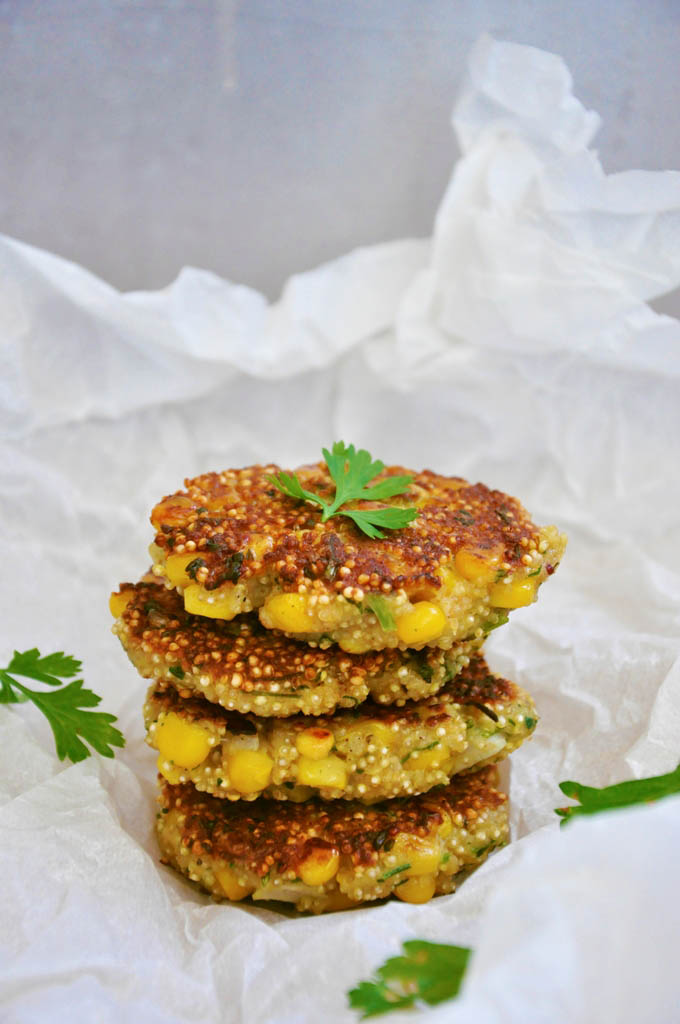 Quinoa Patties with Sweet Corn and Herbs
was last modified:
May 20th, 2015
by