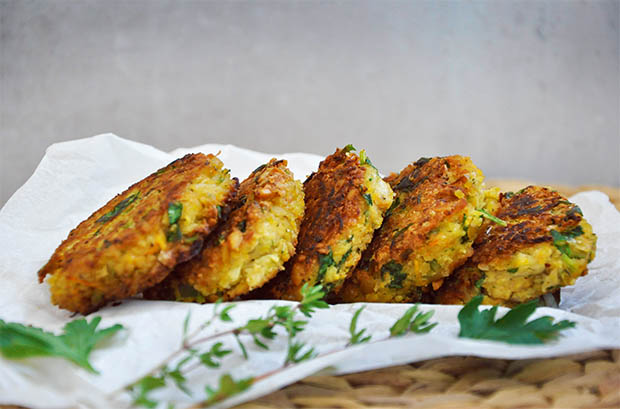 Healthy vegan falafel recipe, without deep frying, GF flour and with lots of fresh parsley! | Reteta vegana, de chiftelute de naut (falafel) in varianta mai sanatoasa, fara prajire in baie de ulei si cu mult patrunjel proaspat. 
  Recipe in English
  Reteta in Romana
If you'd ask me how an ideal meal looks for me, I would tell you that it is made of veggie patties, fluffy mashed potatoes with lots of butter and a huge salad. For me, nothing is more delicious than this combination of recipes, and as simple as it may sound, there's no other meal that makes me happier than this!
I think it reminds me of my childhood, when my grandma used to make me mashed potatoes with butter, served with a large steak or meat patties aside. Of course, I wasn't vegetarian back then, but some memories never go old. Even though, I don't eat meat anymore and I don't think I will ever eat meat again, some cravings remained. That is why I try to "vegetarianize" some well known meat based recipes, and make them healthier, and why not, even more delicious!
Honestly, veggie patties are way better than meat ones, but only if you cook them right! I make veggie patties very often, first of all because they're ready very fast, and second, because I love them! I found on the web lots of veggie patties recipes, but some of them didn't sound that good just by reading the ingredients. Even the original falafel recipe is not that big of a deal. In many cases, I ate falafels that were either too dry, too bland or too fried! I always adapt my recipes in order to make them easier, healthier and delicious!
This falafel / chickpea patties recipe is, in my opinion, the best falafel recipe I've ever tried! And I know what I'm talking about. I've been eating at Lebanese restaurants for a long time and I've tried many falafel recipes.
Also, these falafels / chickpea patties, are ready in 20-25 minutes. Anyone who says that stays longer in the kitchen when making veggie patties, is either a liar or has absolutely no basic cooking skills whatsoever!
Hope you'll like this falafel recipe as much as I did
Want more veggie patties recipes. Try these: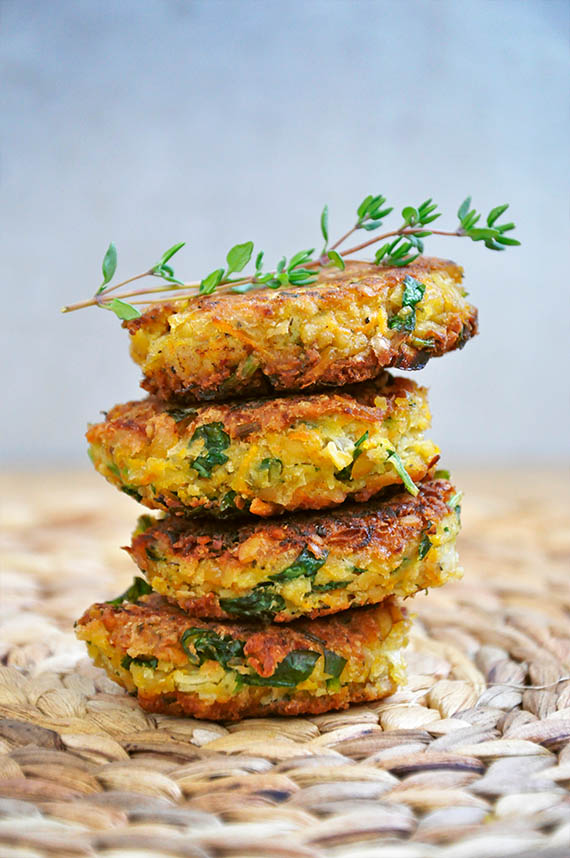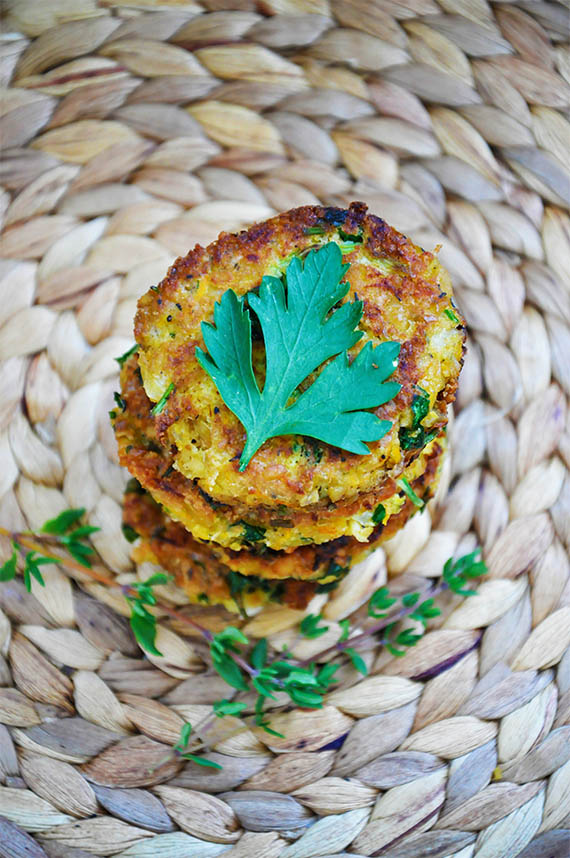 Healthy Vegan Falafel
Ingredients for approx. 20+ chickpea patties / falafels: 
1 cup dry chickpeas or 2 cups of canned, boiled chickpeas (if you want to have these chickpea patties ready in 25 minutes, then you should use canned chickpeas. If you'll use dry chickpeas, you have to soak them overnight and boild them for at least two hours)
a big bunch of fresh parsley, chopped
1 carrot, grated
1 onion, diced
6 garlic cloves, mashed
4 Tbsps chickpea flour, or any other type of flour
1 tsp sweet paprika
1/2 tsp ground caraway seeds
salt and pepper, to taste
1 Tbsp tahini paste (optional)
oil (3-4 Tbsps) for frying
Directions:
Add boiled chickpeas in the food processor and blend well until they have a paste-like consistency.
Put them in a large bowl and blend in all the other ingredients, except oil.
Heat some oil in a non-stick frying pan.
Make the patties – 1 Tbsps per patty.
Fry them 1-2 minutes on each side. Alternatively, you can bake them. Put the patties in a greased oven tray. Bake 15 minuts on each side.
Put the falafels on a plate covered with a paper towel, in order to absorb all excess oil.
Serve!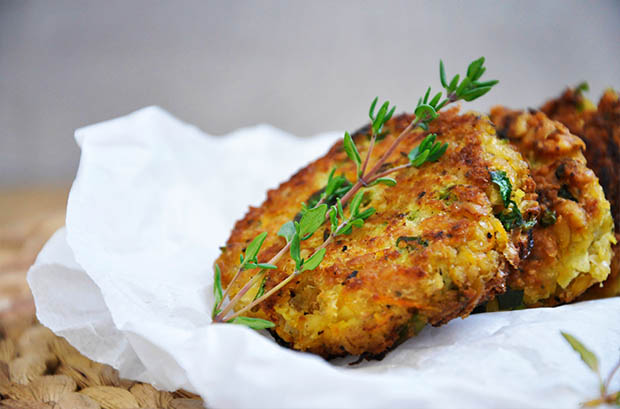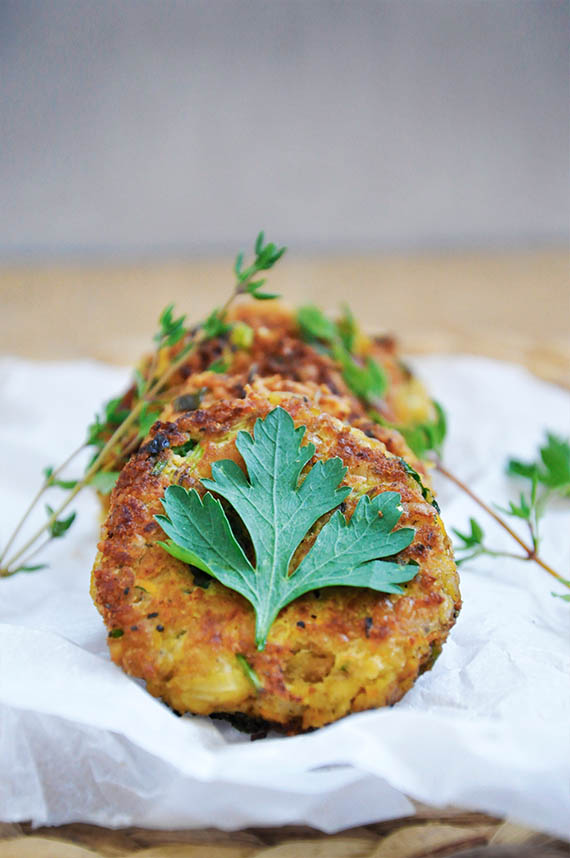 Daca m-ati intreba cum arata o masa ideala pentru mine, v-as spune ca e formata din chiftelute vegetale, piure de cartofi cu unt si o salata imensa cu de toate. Pentru mine nimic nu e mai delicios ca mixul asta de retete, si pe cat de simpla ar parea combinatia, pe atat de fericita ma face !
 Cred ca imi aminteste de copilarie, cand bunica imi facea piure de cartofi pufos, cu mult unt si punea langa ori o friptura ori niste chiftelute. Bineinteles ca pe vremea aia nu eram vegetariana, insa ceva reminescente au ramas. Desi nu mai mananc carne si nici nu cred ca voi mai manca vreodata, anumite pofte au ramas. De aceea incerc sa transform cat mai multe retete cu carne in retete vegetariene sanatoase!
Va spun sincer, chiftelutele vegetariene sunt de 1000 de ori mai bune decat cele cu carne, dar asta doar daca le faci cum trebuie! Eu pregatesc destul de des chiftelute vegetariene, in primul rand pentru ca se fac repede, si in al doilea rand, pentru ca imi plac la nebunie! Am intalnit pe net si retete de chiftelute vegetariene mai putin reusite, imi dau seama de asta doar citind ingredientele. Chiar si reteta clasica de falafel sa stiti ca nu e cine stie ce. De multe ori mi s-a intamplat sa mananc chiftelute de naut si sa fie ba prea uscate, ba prea prajite, ba fara gust! Eu mereu adaptez retetele in asa fel incat sa se faca rapid si sa fie si gustoase si sanatoase!
Reteta asta de chiftelute de naut (falafel) este dupa mine, cea mai buna reteta de falafel pe care am mancat-o, si credeti-ma, sunt "abonata" la restaurante libaneze si am testat cateva retete
. De asemenea, ca toate retetele de chiftelute vegetariene, se fac foarte repede! Cine spune ca sta mai mult de 20-25 de minute in bucatarie ca sa le pregateasca, minte!
Sper sa va placa si voua la fel de mult!
Vrei mai multe retete de chiftelute vegetariene? Incearca si: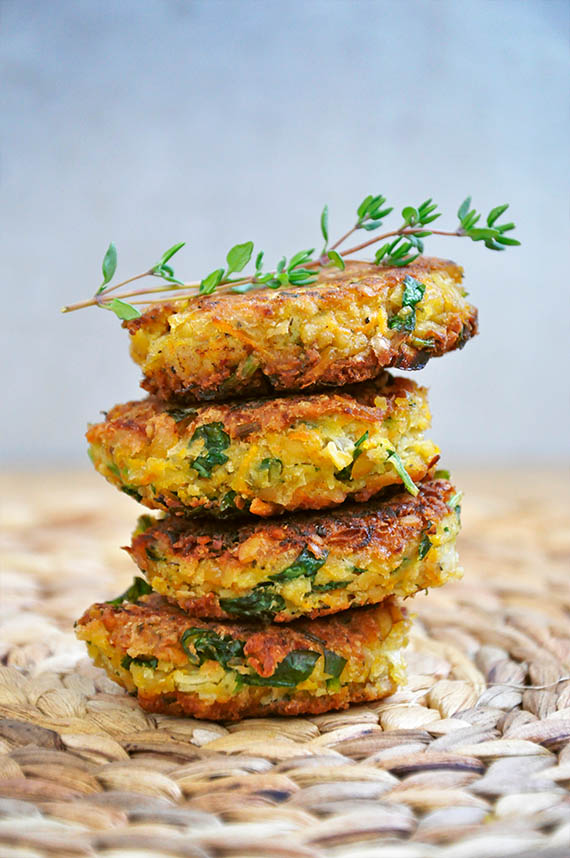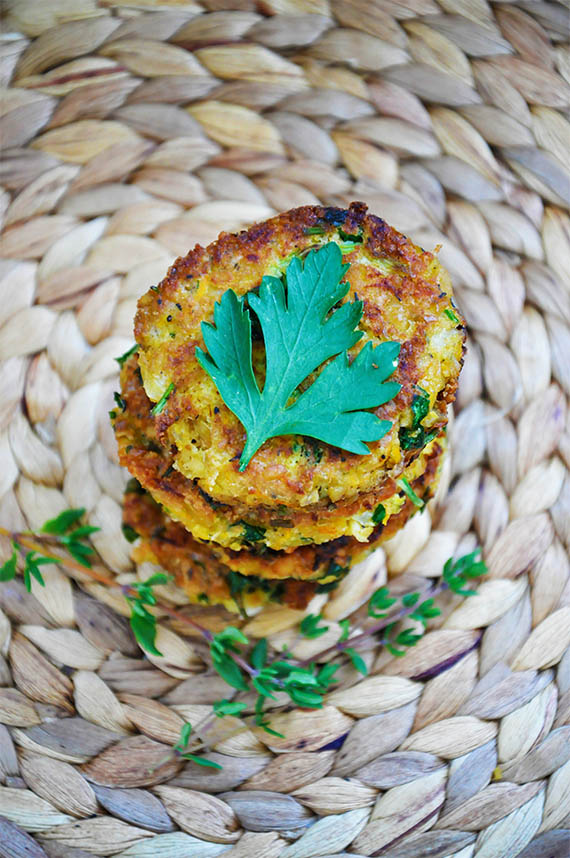 Chiftelute de naut | Falafel
Ingrediente pentru aprox. 20+ de chiftelute de naut: 
o cana de naut uscat sau 2 conserve de naut fiert (daca vrei sa pregatesti chiftelutele in 25 de minute, iti recomand sa folosesti naut deja fiert. Pentru prima varianta trebuie sa lasi la inmuiat nautul, cu o seara inainte, si sa il fierbi a doua zi macar 2 ore)
o legatura mare de patrunjel, maruntit
1 morcov, dat pe razatoarea mica
o ceapa, maruntita
6 catei de usturoi, pisati
4 linguri de faina de naut sau orice alt tip de faina
1 lingurita boia dulce
1/2 lingurita chimen macinat
sare si piper, dupa gust
1 lingura tahini (optional)
putin ulei (3-4 linguri) , pentru prajit
Instructiuni:
Adauga nautul fiert in robotul de bucatarie si mixeaza-l bine pana devine pasta. Poti folosi si un blender de mana sau blender normal. In cazul in care folosesti un blender normal, ai grija sa adaugi cate putin si sa blenduiesti in etape, pentru a nu se bloca.
Pune pasta de naut intr-un bol mai mare si adauga celelalte ingrediente, exceptie facand uleiul. Amesteca bine.
Pune putin ulei la incins, intr-o tigaie antiaderenta, mai mare.
Modeleaza chiftelutele si pune-le la prajit, 1-2 minute pe fiecare parte. Sfat: Se pot face si la cuptor. In acest caz, coace-le 15 minute pe o parte si 15 pe cealalta. 
Pune chiftelutele de naut prajite intr-o farfurie mare acoperita cu servetele de hartie. Astfel uleiul in exces va fi absorbit de servetele.
Se servesc cu salata, piure de cartofi, hummus, orice doresti!