Are you bored of the plain old gnocchi recipes? No worries, I have something that will make your day better! Here's how to make sweet potato grilled gnocchi, simple and super delicious!
I hope you are all familiar with gnocchi by now. But if you aren't, I'll make a short introduction. Gnocchi is a variety of pasta, or let's call them pasta replacement. They're most often made out of a mixture of flour and potatoes, though it is not unusual to use other things as well, such as semolina, ordinary wheat flour, egg, cheese, or breadcrumbs.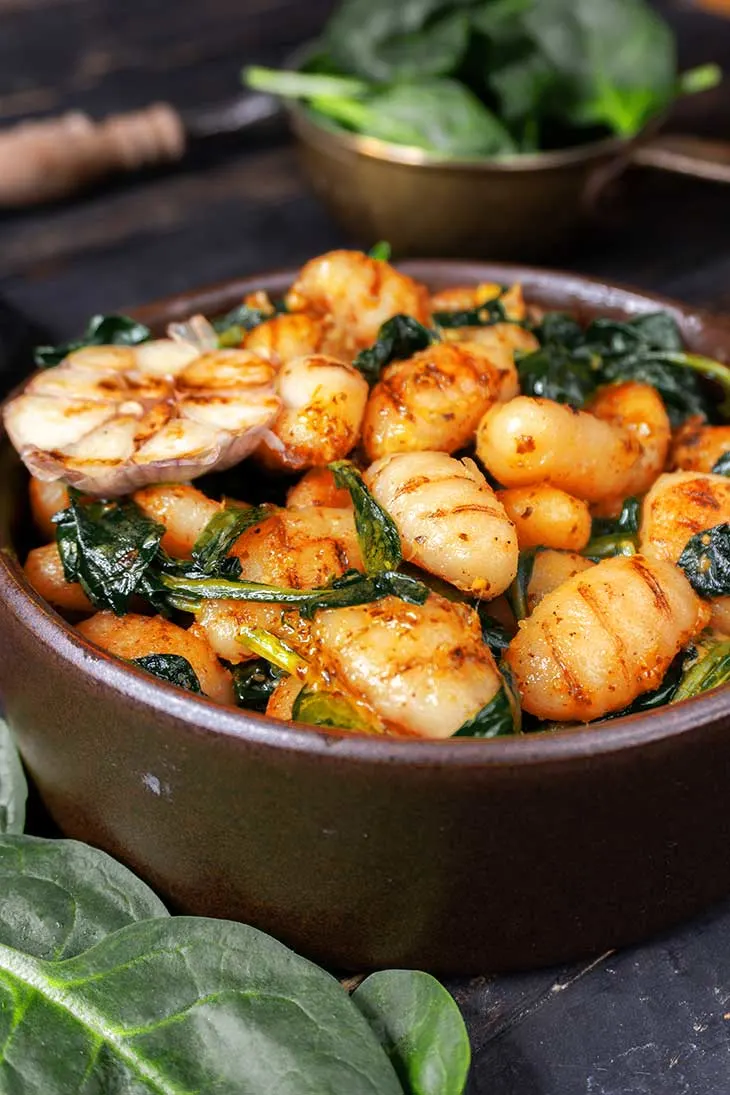 By itself, this kind of mixture has little to no aroma. That's why it makes for such a good blank canvas to which you can add all sorts of flavorings. These can be pretty diverse as well, ranging from herbs, vegetables, and other savory stuff, to cocoa, prunes, and other things that tend more towards desserts. Basically, you can add whatever you like – feel free to experiment.
Today I'm going to make gnocchi from scratch and I'm gonna teach you as well, in case you don't know the procedure. I know, I know, we're so used to buying the pre-packed, already-made gnocchi from the supermarket, to just unzip the bag and throw these guys in the pot. They may even seem intimidating – how can you possibly make them from scratch if you're not a pro chef? But trust me, they're really easy to make – and fun as well. 🙂
However, I had to give this recipe a twist… or two. Didn't I?
The main twist is that we are going to use sweet potatoes instead of regular ones. Sweet potatoes provide amazing flavor and are packed with health benefits. They're full of fiber, which regulates your digestion and keeps you fuller for longer, they're incredibly rich in vitamin A and are also high in antioxidants. Though I don't really believe in superfoods, sweet potatoes are as close as you can get.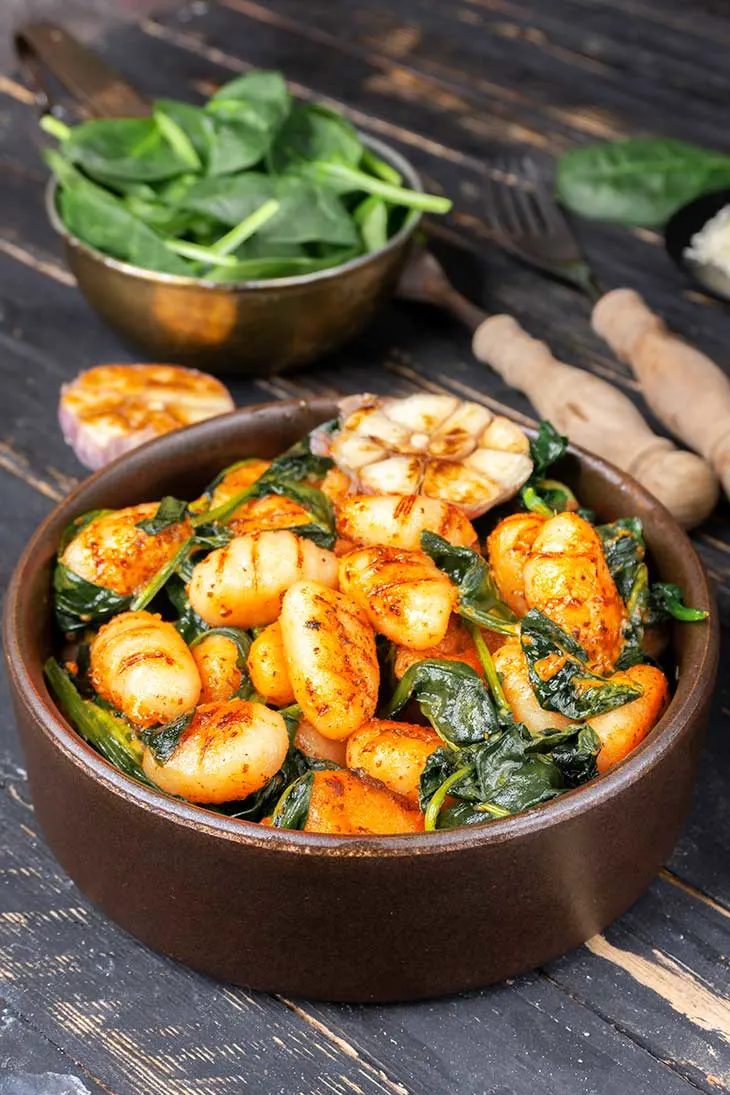 And I try incorporating them in more and more meals, so I figured, why not try adding them into this delicious gnocchi recipe as well? Plus, I love their color and I love colorful, bright dishes – they just cheer me up so much and make the eating experience a lot better. 🙂
The other twist I added to the basic gnocchi recipe is that I chose to grill the gnocchi instead of boiling them. This adds amazing crunch to each and every bite, plus a beautiful, toasty aroma which, believe me, is to-die-for.
What we basically need to do is make a vegan dough which we are going to roll out into little pieces, a little smaller than a wine cork. We're then going to give these dumplings those nice ridges. Anyway, how do we even make these? That's the easiest part (and the funniest), so if you have kids, make sure to bring them into the kitchen as well. I'm sure they'll be glad to help. All we're going to need is a basic fork on which we are going to roll each little gnocchi (gnocco?) individually. Voila! You got yourself a nice little pattern. 😉
By the way, in case you didn't know, those ridges are there for more than just aesthetic reasons. Their main purpose is catching the sauce – just so you can have the perfect bite each time you're picking them up with a fork. So, in this way, they're similar to fusilli pasta.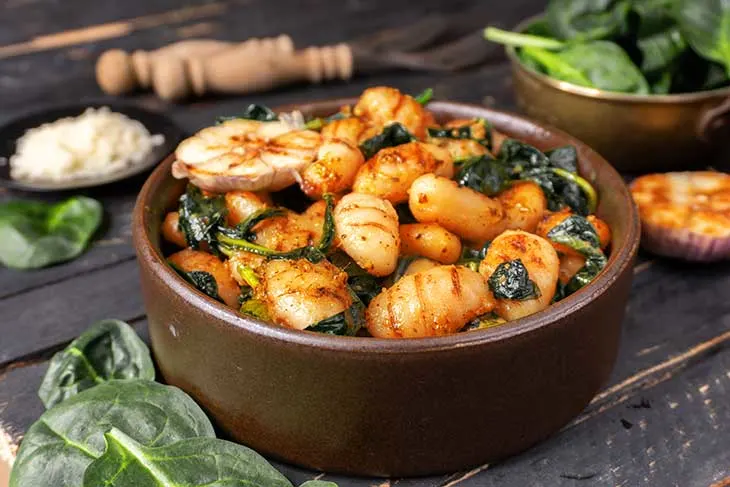 Now, of course, you might not be in the mood to make gnocchi from scratch Thursday night, coming home tired from work. That's why you can always make a bigger batch during the weekend and have them reheated throughout the week. They keep amazingly well in the fridge. And when you come home, you can help yourself with a nice, big serving – maybe sprinkle a little vegan parmesan on top.
They're the perfect comfort food, but they're still super healthy, so you're going to feel good afterward as well, inside and out, and get all those nice health benefits from the sweet potatoes. I'm sure kids would love this gnocchi recipe as well – even the fussy ones. They're just too good!
You can, of course, eat them as a main dish, but you can also play around and serve them as a side, with maybe a little mock meat. They also make for an amazing brunch dish – just imagine a nice, big bowl in the middle of the table at your next family reunion. Gnocchi – bringing people together since… the 16th century (I had to Google that out, of course).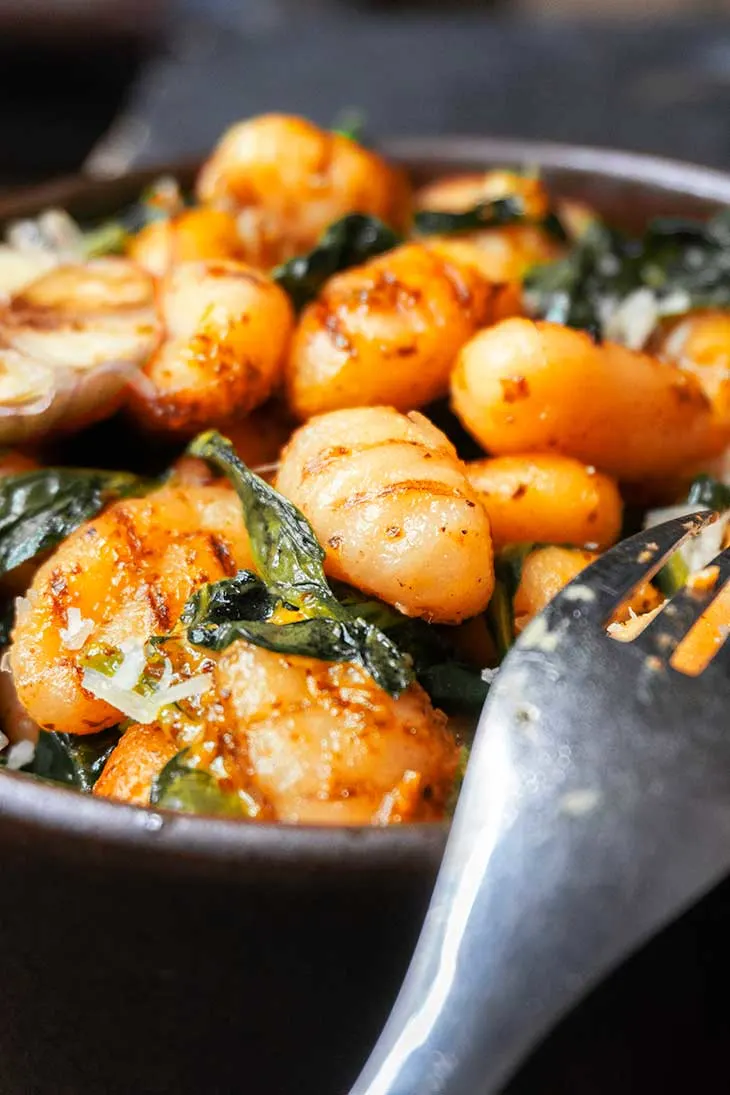 Make sure to try out this recipe for sweet potato gnocchi and tell me what you think about it! And don't forget to share it with your loved ones! 🙂
---
Yield: 2
Sweet Potato Grilled Gnocchi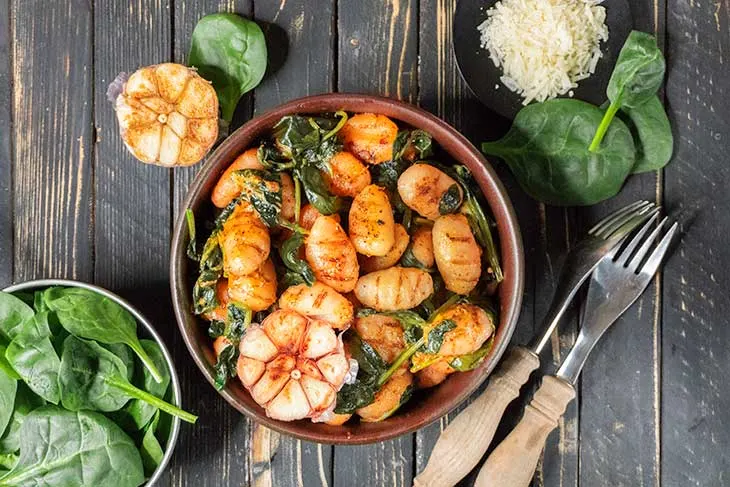 Are you bored of the plain old gnocchi recipes? No worries, I have something that will make your day better! Here's how to make sweet potato grilled gnocchi, simple and super delicious!
Ingredients
1 large sweet potato, boiled and mashed
120g (1 cup) flour + more for dusting
½ garlic head, cloves peeled and minced
50g (1 ½ cups) spinach
2 Tbsp pesto
Italian seasoning herb mix
Olive oil
Salt
Pepper
Instructions
In a bowl, mix the sweet potato mash with flour, season with salt and pepper and make the dough.
Roll the gnocchi - check out this guide on how to make gnocchi.
Cook in boiling water. Take them out as soon as they rise to the top and transfer to an oiled, hot grill pan for a few seconds, just until they get grill marks.
In a separate pan, heat up 2 Tbsp of olive oil with minced garlic and cook the spinach.
Add the gnocchi, pesto, dry herb mix of choice and season with salt and pepper.
Stir together and take off the heat.
Nutrition Information
Amount Per Serving
Calories

524
Total Fat

32g
Unsaturated Fat

0g
Carbohydrates

50g
Protein

8.8g