Here's a proposal you won't be able to refuse: this Christmas, gather around the table with your family and friends and indulge in a big plate of vegan mince pies!
In many countries around the world, there is a special moment each year that makes people reunite and enjoy their time together. I am obviously talking about Christmas, specifically the Christmas dinner! 🙂
It's always fascinating to find out what different people like seeing on their Christmas table, and what they consider to be Christmassy. Whatever you might like yourself, what most traditional Christmas meals tend to have in common is their ability to simultaneously fill your stomach and your heart. This (and many other reasons) is probably why Christmas is my favorite time of the year!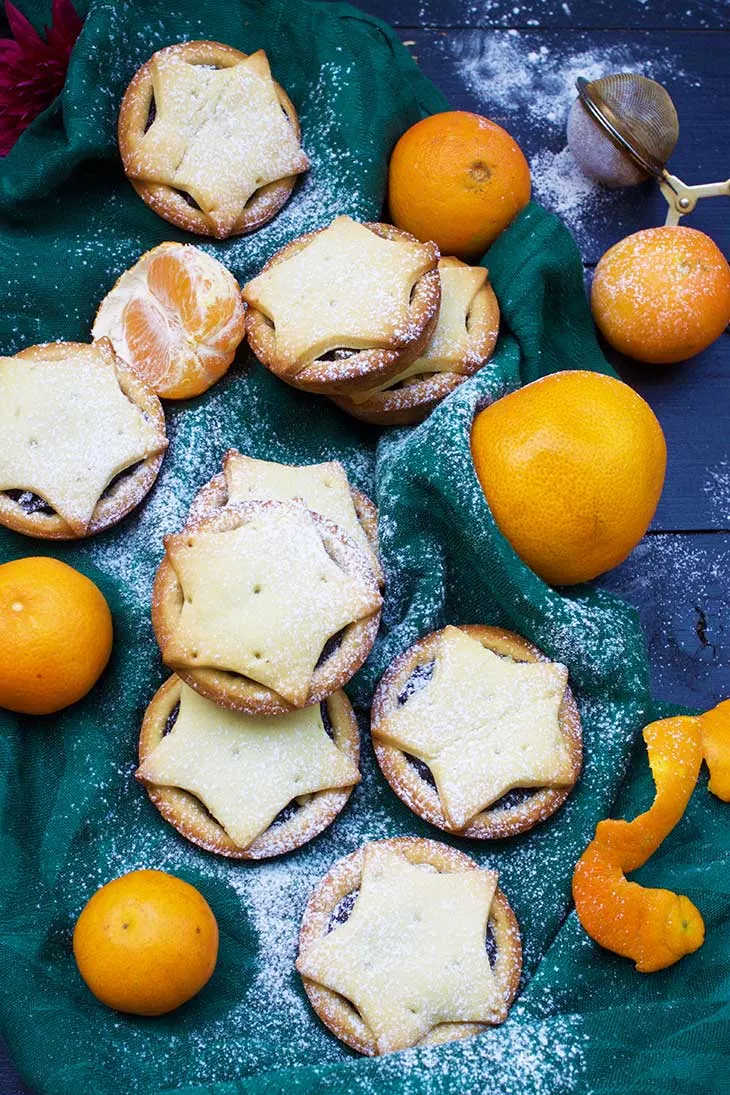 It so happens that when many people think of Christmas, they think of dessert. It's no wonder that such a jolly holiday might invoke thoughts of powdered sugar over sweet cake, fruit tarts, hard candy, and tree bonbons. But there's one all-time champion at bringing the whole family together – the Christmas mince pie.
Mince pie is a traditional English dessert that is usually made and served around Christmas time in the United Kingdom and certain parts of the United States. It is an oven-baked pie filled with "mincemeat" – which in spite of its name doesn't always contain meat.
It is both sweet and savory, sometimes spicy, and absolutely always a good idea for your belly. Mince pie can be either a snack or dessert, even though nowadays it is usually the latter, due to the contents of its delicious filling.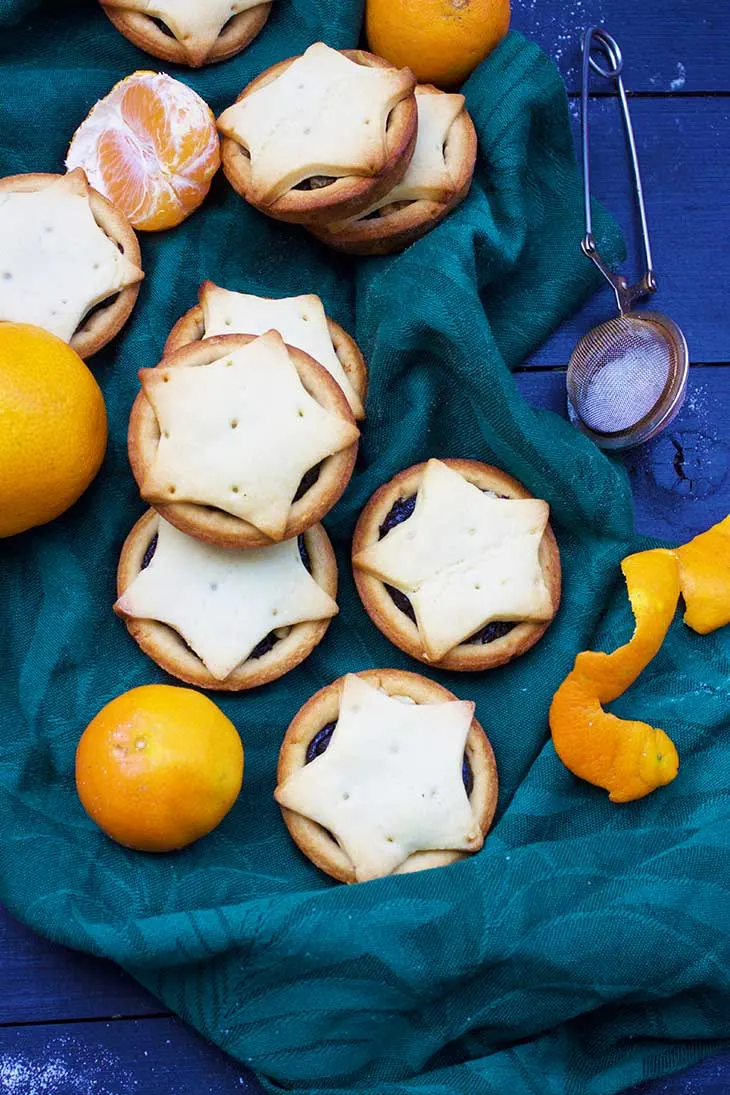 "Mincemeat" is a mixture of dried fruit, spices, actual minced meat, suet, and distilled spirits – absolutely and positively British, I know! 🙂 There are however a lot of different ways to make this filling in order to appeal to every taste.
Early mincemeat recipes contained different types of vinegar and wines before they were eventually replaced with spirits, like brandy. Also, meat used to figure in each and every authentic mince pie.
Nowadays, the mince pies are usually vegetarian, except for the ones made with beef suet, which itself can be replaced by vegetable shortening.
This pie used to be considered less of a dessert and more of a main course in the past. It used to be baked in a larger oblong shape. Pies as a culinary art form are old inventions, although they haven't always involved buttery, flaky pastry.
For many centuries, they seem to have been primarily shells of flour and water paste wrapped around a filling to keep it moist while baking. You could say that the actual pie dough was first used as a sort of primitive Tupperware – people rarely even ate that! How cool, right?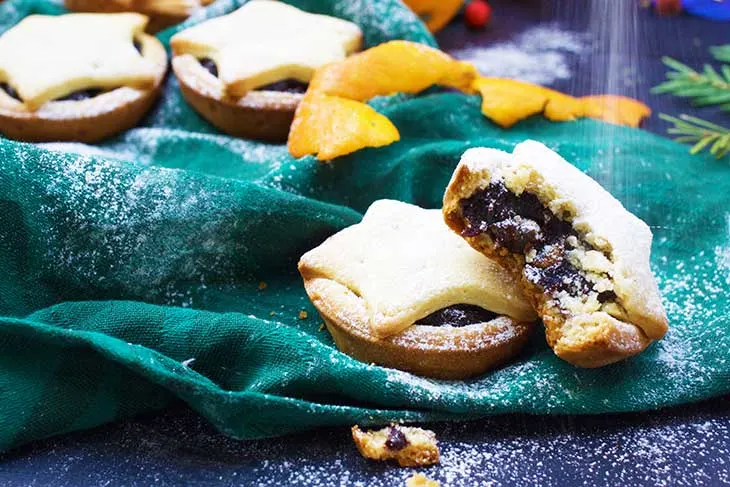 However, shortly after the Victorian era, the mince pies reduced in size, and the mincemeat filling itself became sweeter, having added several sweet-tasting spices that made the pie to be viewed as a dessert.
Mince pies have a history as varied and rich as their filling. Their origins are implanted deep in history, and they've even been caught up in some intriguing, longstanding legends, which reveal perhaps more about people's prejudices and desire for a good story than about the dessert itself.
The cooking method and ingredients of the mince pies have first been brought to England by the European crusaders who were returning from the Middle East, where recipes that combined meat and dried fruits were really popular.
The English added three different spices to the recipe, namely cinnamon, cloves, and nutmeg, apparently to honor the three Eastern Magi. As the pies' popularity increased, several influential people gave their interpretation of this super famous snack. John Selden, an English jurist, thought that the mince pies which were then cooked in an oblong shape were a representation of the cradle of Jesus Christ.
Now, here is an interesting fact: this pie has had many more religious connotations over the years than you might think. Being linked to Catholicism, it was banned during the English Civil War on account of the Puritans' disdain for Catholic traditions, which included the "Christmas pie", as the mince pie was called in that time.
During Oliver Cromwell's rule over England, Christmas pies remained banned – among all the anti-Christian laws and regulations his Puritan Parliament came up with, one of them had to do with holy day feasting and ceremonies of any kind.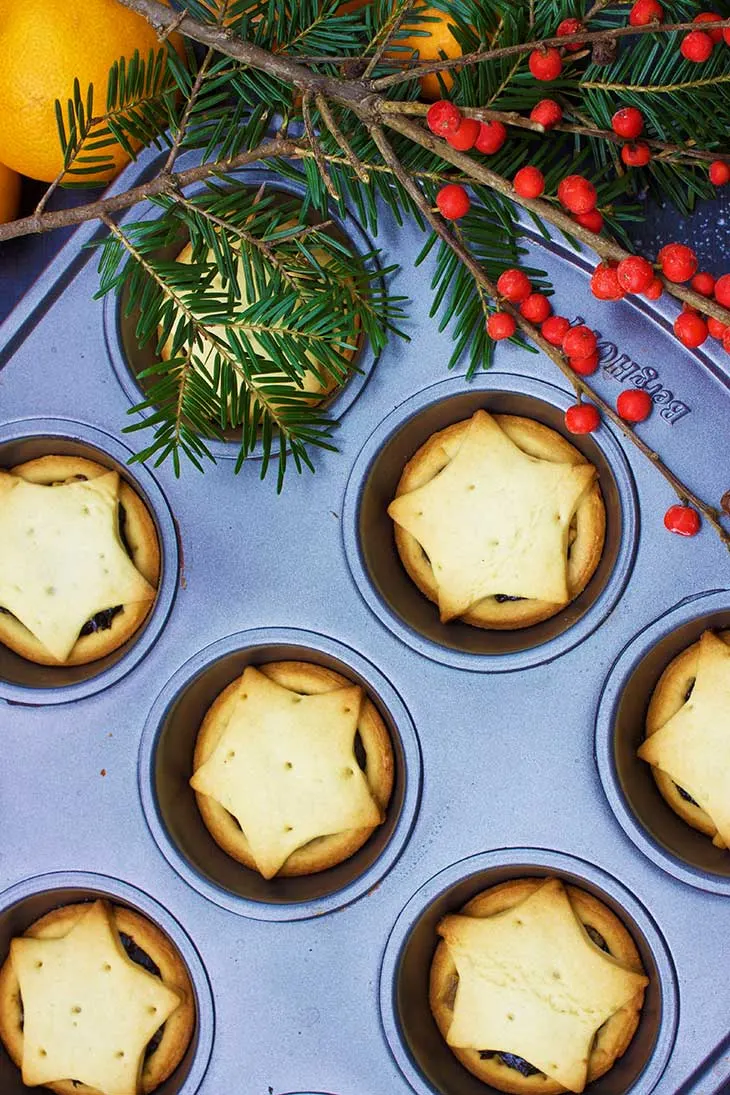 After a turbulent past, the mince pie returns to the English table as a dish to fill stomachs and hearts on Christmas day. But it doesn't only have to be Englishmen – you can make this recipe at home this Christmas using this super easy recipe for a vegan mince pie! Be it sweet, savory, spicy or anywhere in-between, it's always welcome on the Christmas table!
Yield: 5
Vegan Mince Pies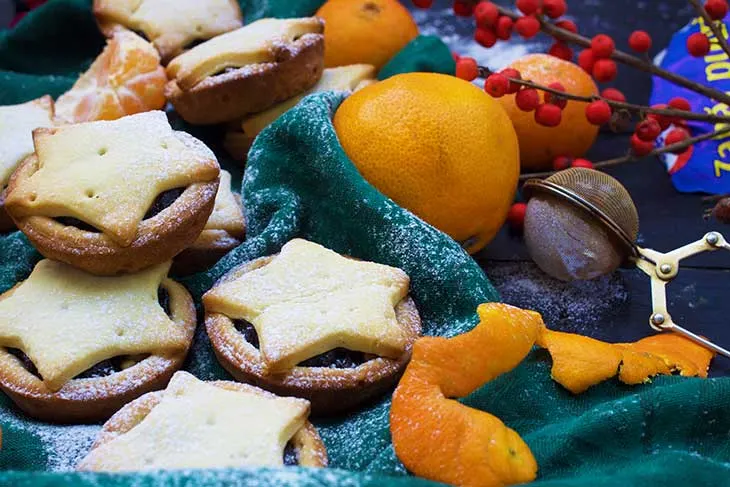 Here's a proposal you won't be able to refuse: this Christmas, gather around the table with your family and friends and indulge in a big plate of vegan mince pies!
Ingredients
For the dough:
250g (2 cups) all-purpose flour
½ tsp salt
185g (¾ cup) vegan butter, cut into small pieces
4 Tbsp ice cold water
For the mince:
100g (½ cup) Medjool dates, pitted
80g (½ cup) raisins
80g (½ cup) currants
80g (½ cup) prunes
120ml (½ cup) orange juice
90g (½ cup) vegetable suet
25g (¼ cup) ground almonds
35g (¼ cup) pine nuts
1 Tbsp vanilla extract
2 Tbsp orange zest
½ tsp cinnamon ground
½ tsp cloves ground
½ tsp nutmeg ground
2 Tbsp brandy
Instructions
To make the mince:
Add all mince ingredients to a food processor and blend until combined and homogeneous. Transfer to a bowl and set aside.
To make the dough:
Put the flour into a large bowl, add the salt and butter.
Mix the ingredients with your hands, in order to form small crumbs. Add ice cold water and mix to form a firm dough.
Heat the oven to 200C.
Form a ball, wrap it into a foil and put it in the fridge for about 20 minutes.
Roll out the dough on a lightly floured surface.
Using a cookie cutter, cut out the same number of stars and circles.
Grease a baking mince pie tray (or a muffin tray) with a bit of oil.
Place the circles on the bottom of each shape, fill the pies with the mince and cover with the star-shaped cookies.
Bake until golden, for about 20 minutes.
Cover with powdered sugar.
Nutrition Information
Yield
5
Amount Per Serving
Calories

500
Total Fat

15.6g
Carbohydrates

80.5g
Protein

9.5g