Let's talk about the queen of English desserts today: the trifle! Creating a vegan trifle is a simple process that will result in the most beautiful, easy and delicious dessert ever!
English trifle is a traditional English layered dessert. Its name comes from the old French term trufle, which means "something whimsical".
It consists of fruit, a thin layer of sponge "fingers" soaked in some type of alcohol, custard, and most importantly, jelly. One very important aspect about it is that it has to be made in a circular shape – otherwise it's not a trifle, just another jelly-based dessert. Or so the English say! 🙂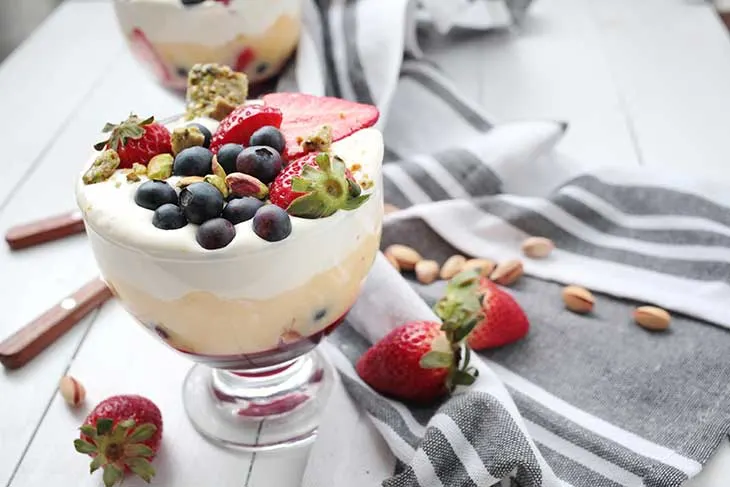 The recipe has been around for quite a while, evolving from another popular English dessert called a fool. The earliest depiction of the trifle can be found in Thomas Dawson's 1585 book, The Good Huswifes Jewell.
This particular recipe consisted of a thick cream flavored with sugar, ginger, and rosewater, which went by the name of trifle. However, it was going to take a while for the preliminary trifle to evolve into what we call a trifle today – that is before it included jelly and all!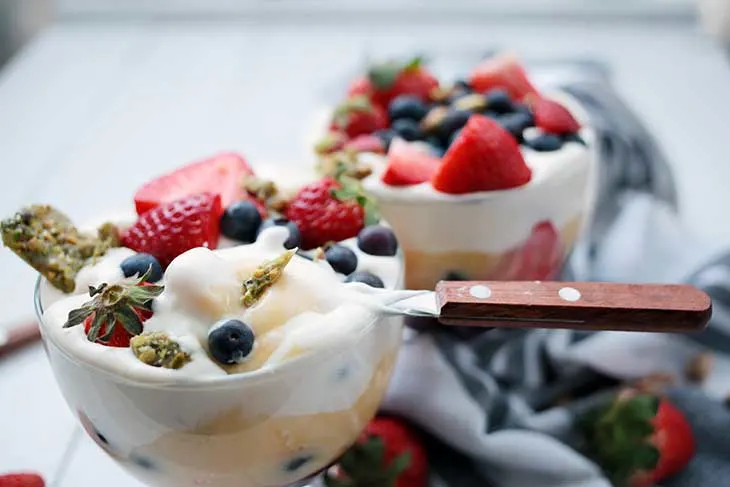 The first time jelly was ever recorded as part of the recipe was actually in the eighteenth century, in Hannah Glasse's book, The Art of Cookery. This version starts to resemble the modern trifle a lot, as it contained jelly, but still no trace of fruit.
By the way, you're probably wondering how they made the jelly back then, given the fact that there was no gelatin around. Well, the answer is hartshorn or bones of calves feet. So yeah, it was definitely harder to make a good trifle in the eighteenth century than it is nowadays! 🙂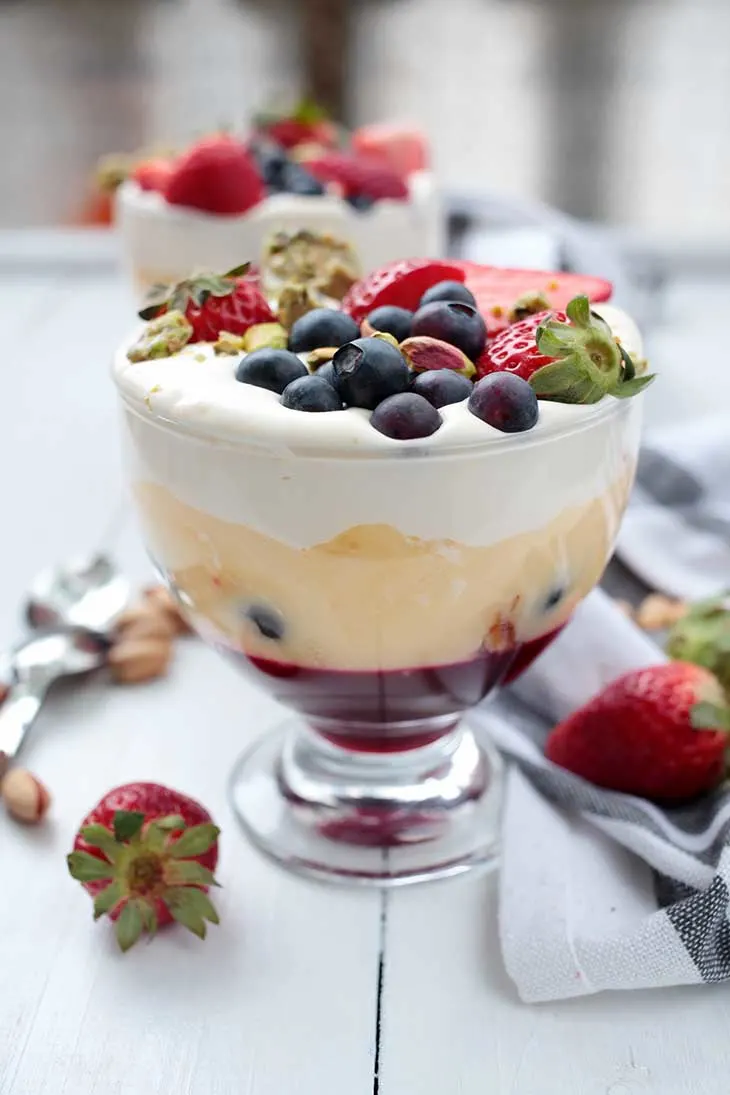 Originally, trifles were prepared as a means to use stale cake, as the soaking part would make it taste good. A small amount of alcohol is traditionally used for soaking the sponge fingers.
Most commonly, the English use sweet sherry or Madeira wine, although Port is a lovely option as well. Non-alcoholic options are available also, and they call for fruit juice or soft drinks instead. You can even use plain jelly to soak the sponge while preparing the trifle and let it cool in the refrigerator. The texture is quite spectacular, I must say!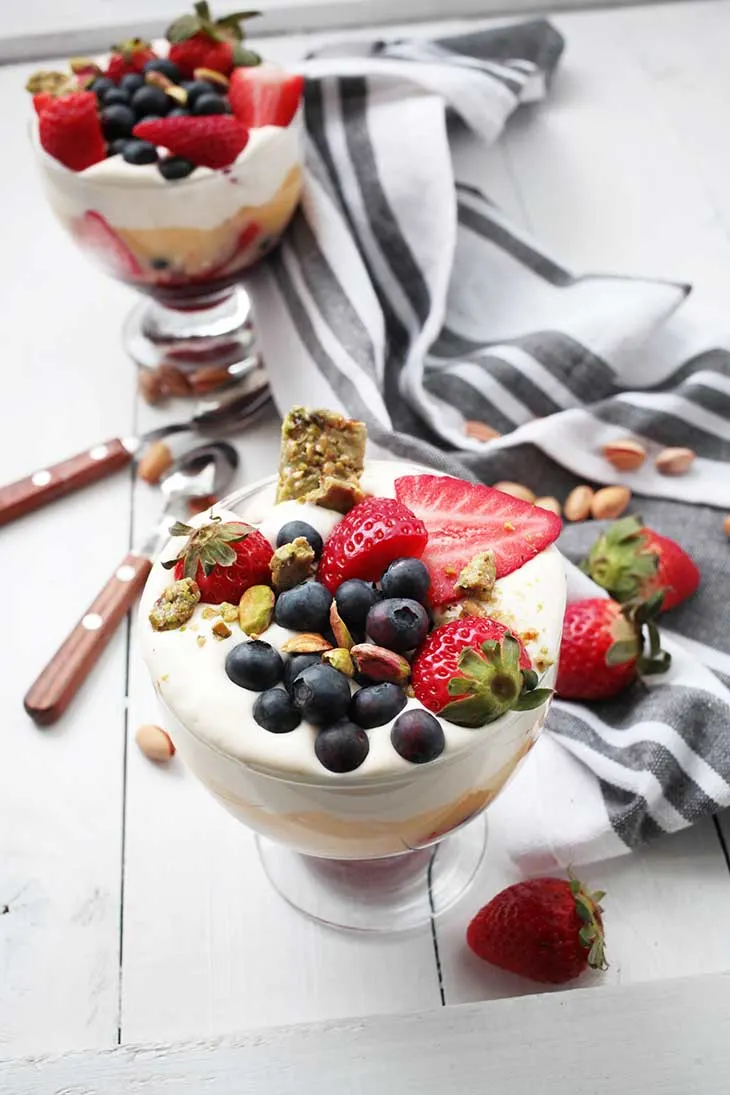 The Georgian and Victorian styles called for intricate (and extremely beautiful) presentations of the English Trifle. During that time, it would be decorated with sweetened and flavored piped cream, intricate arrangements of glace fruit and angelica, in tone with the glamorous, high-class parties it was served at.
The visual aspect of the trifle is actually just as important as the way it tastes. And you really can play with it thanks to the many layers of colors and textures it shows. The combination of delicious taste and scrumptious aspect makes it amazing to serve at parties or family gatherings – that's why the English often serve it during Christmas dinner. A little effort to make your trifle look pretty will really show, I promise!
Like any other famous recipe, you will find lots of variations to this one as well. Some trifle varieties leave out the fruit entirely, using other ingredients such as chocolate, coffee or vanilla instead.
Modern combinations include gingerbread pumpkin, brownie, red velvet trifle, and basically every dessert combination you can think of, so you can go wild when trying it!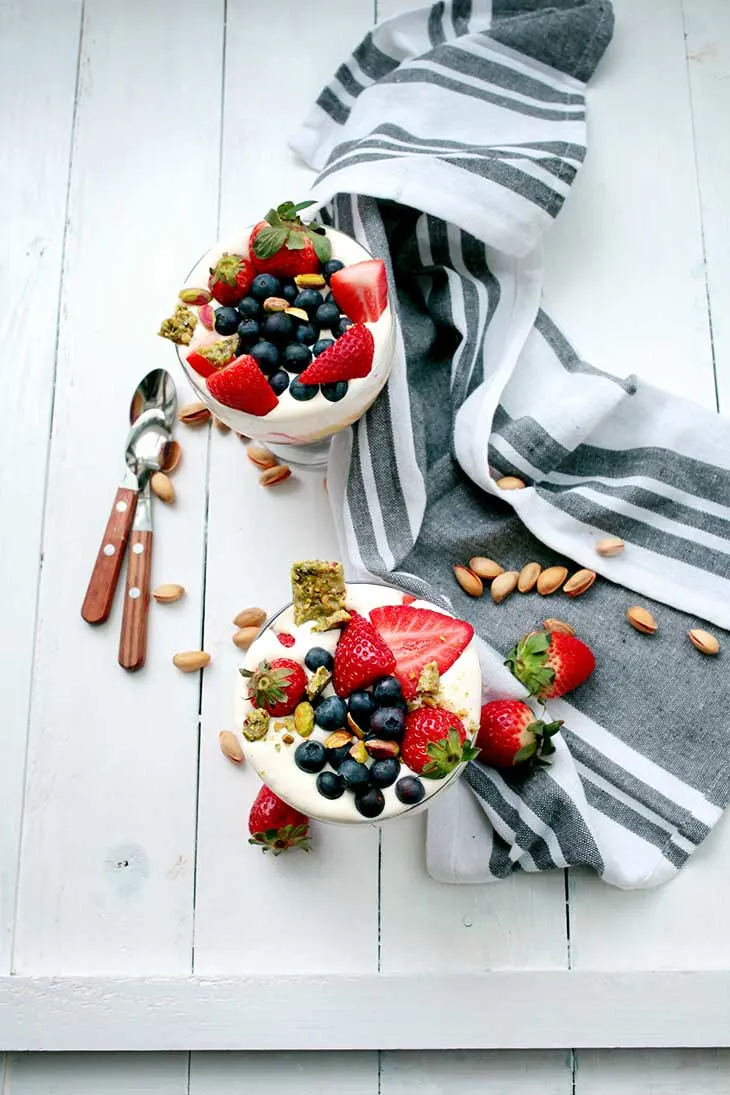 For today's recipe, I will show you a step-by-step way of achieving the best vegan trifle ever, decorated with fresh strawberries, blueberry, and pistachios.
The taste? Irresistible! Although the results look impressive and intricate, the process is not hard at all! Oh, and don't forget to tell me how it turned out if you decide to cook this yourself! 🙂
Yield: 7
Vegan Trifle Recipe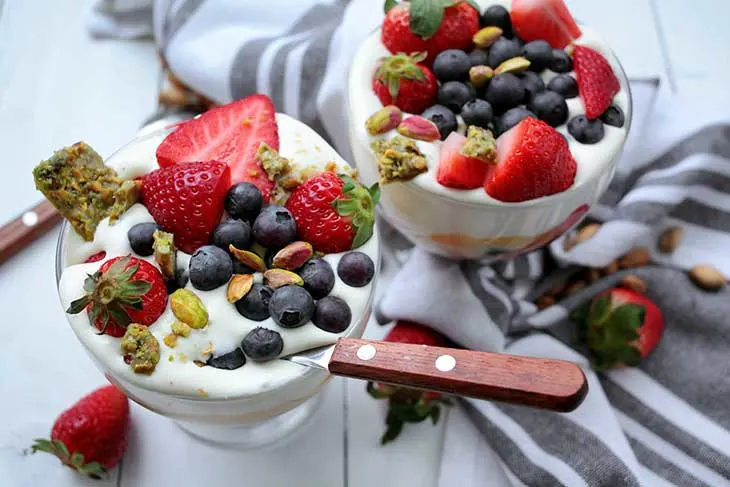 Let's talk about the queen of English desserts today: the trifle! Creating a vegan trifle is a simple process that will result in the most beautiful, easy and delicious dessert ever!
Total Time
1 hour
10 minutes
Ingredients
For the sponge:
180g (1 ½ cup) self-rising flour
170g (¾ cup) caster sugar
50g (½ cup) ground pistachios
1 tsp baking powder
½ tsp baking soda
120ml (1 cup) soy milk
100ml (½ cup) sunflower oil
1 tsp vanilla extract
For the custard:
500ml (2 cups) almond milk
100g (½ cup) sugar
1 tsp vanilla extract
1 pinch of vanilla seeds, scraped from the pod
2 Tbsp cornstarch
125g (½ cup) silken tofu
½ tsp turmeric
For the jelly:
240ml (1 cup) orange juice
2 Tbsp fresh beetroot juice
2 tsp agar agar
Instructions
Preheat oven to 200C.
In a large bowl, mix all the dry sponge ingredients.
In another bowl, mix all wet ingredients.
Combine the dry and wet ingredients until you get a smooth batter.
Transfer to a greased baking tray.
Bake for about 20 minutes until lightly golden.
Set aside.
To make the custard:
Add all the ingredients to a food processor. Pulse until smooth.
Add to a saucepan and transfer to medium heat. Cook, while stirring, until thick.
Take off from heat and set aside until it's completely cool.
To make the jelly:
In a saucepan on medium heat, add all the jelly ingredients. Bring to a boil and take off from heat. Divide the jelly between serving cups and set it in the fridge to cool.
To prepare the whipped cream:
Scoop out the thick part of the coconut milk and add it to a mixing bowl. Mix it with a mixer until creamy. Add the vanilla and the powder sugar and continue to mix until fluffy.
To assemble the trifle:
Take out the set jelly from the fridge.
Break the sponge into pieces and make a sponge layer on the top of the jelly. Add the fruits and cover with a layer of custard.
Top everything with whipped cream, berries and pistachios. Enjoy!
Nutrition Information
Yield
7
Amount Per Serving
Calories

451
Total Fat

18.4g
Carbohydrates

66g
Protein

5.3g