Here's how you can easily make tofu Banh Mi and enjoy a delicious, healthy, vegan Vietnamese meal! Check out the recipe below.
Here's my first Asian recipe for this year's challenge of 'veganizing' popular traditional recipes from various world cuisines.
I love Vietnamese food. Their cuisine is so vibrant, with lots of interesting ingredients and delicious flavors. The recipe I'm sharing with you today is one of my favorites from the Vietnamese cuisine.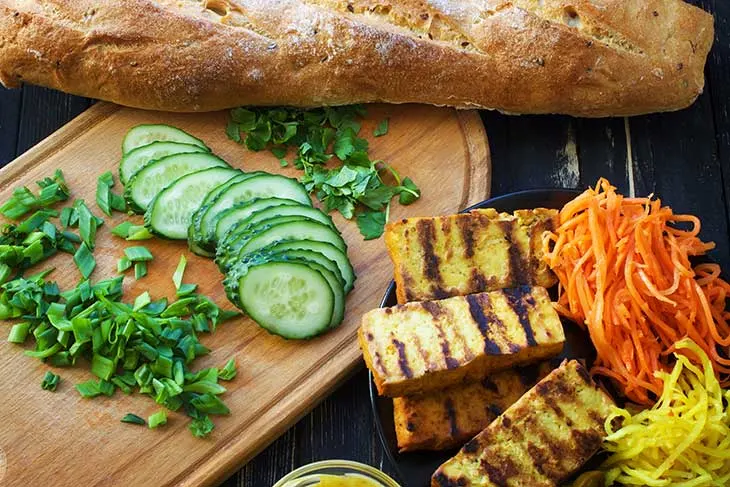 Banh Mi is a famous Vietnamese street food, a delicious sandwich made traditionally with veggies and meat. Banh actually means bread and the recipe was inspired by the French baguette that was adopted in their colonial period. Unlike the traditional French baguette, the Vietnamese baguette is made with rice flour combined with wheat flour. I used regular baguettes for my recipe, but if you want an authentic experience, try finding a Vietnamese store, maybe you'll be lucky and find these!
The Vietnamese way of making Banh Mi is with pork, but I made it vegan and used grilled tofu instead. They actually even have a name for this vegan version with tofu – Banh Mi Chay.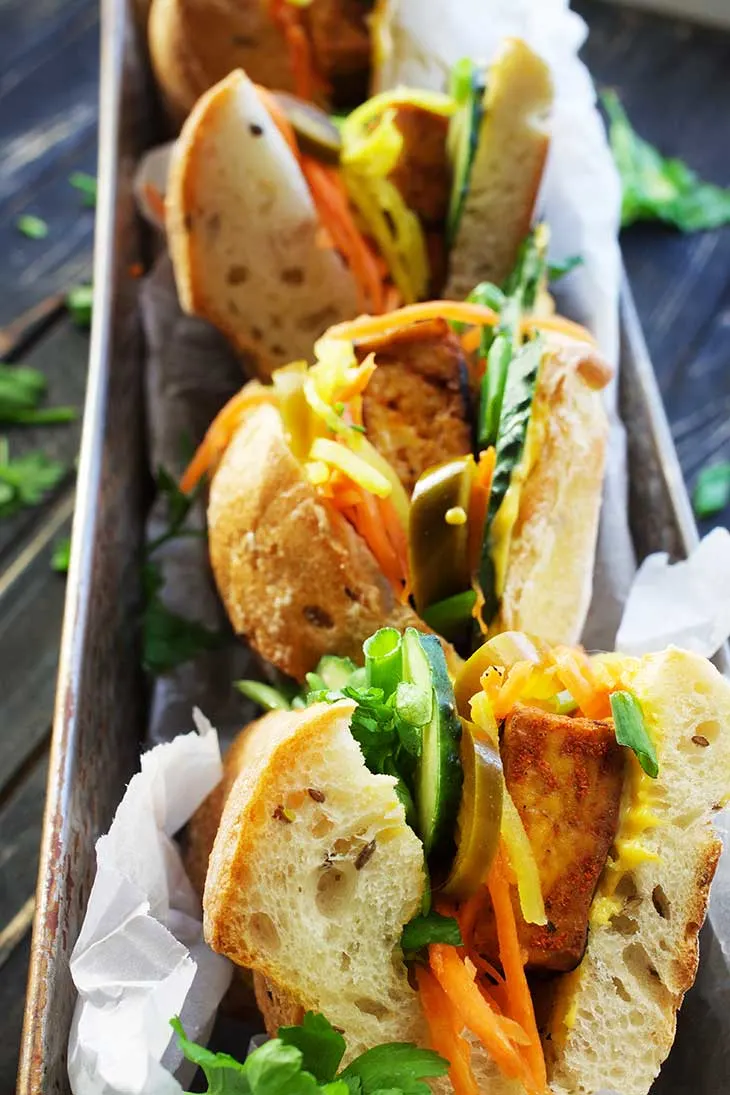 An important part of a Banh Mi recipe is marinating the veggies: Daikon radish (or regular radish if you can't find Daikon), carrots and coriander. It's best to marinate them overnight, but 15 minutes are enough too. To spice it up I also added some Jalapeños and cucumbers for some extra moisture.
Choose a whole grain baguette or a baguette with seeds, it makes the sandwich even better. I used a baguette with flax seeds on top. Also, I decided to marinate the tofu with lots of smoked paprika powder, but you can also buy already smoked tofu to skip this step.
Have you heard of coconut aminos? I'm thinking of trying it instead of soy sauce from now on. I read about it online and found out that it's healthier, gluten-free, fermented and vegan, of course. It helps control the cholesterol, aids in the weight loss process, improves the immune system, reduces the risk of the colon cancer and more. You can also use tamari if you want a gluten-free version of soy sauce.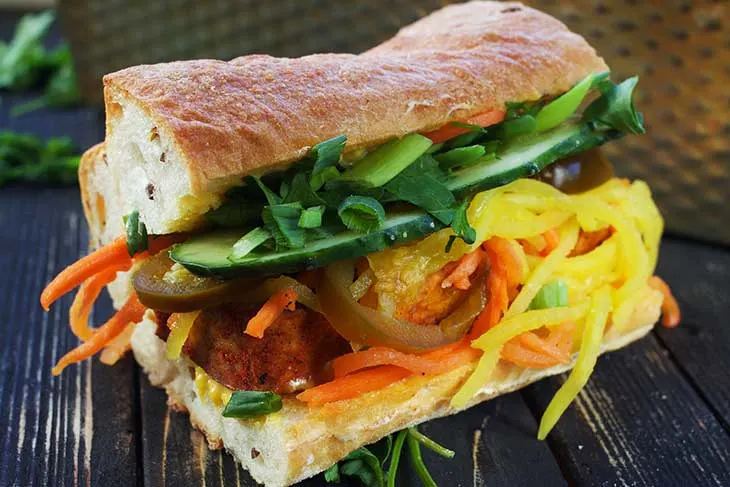 Once considered the food of the poor people, tofu banh mi now became one of the most popular Vietnamese recipes, known worldwide.
It has all of my appreciation for being nutritious and quite low in calories at the same time. It has the large amount of protein, iron, calcium and magnesium and it is perfect for lunch. You can make it gluten-free by simply using tamari instead of soy sauce and a GF baguette.
I hope you will love this recipe as much as I do. 🙂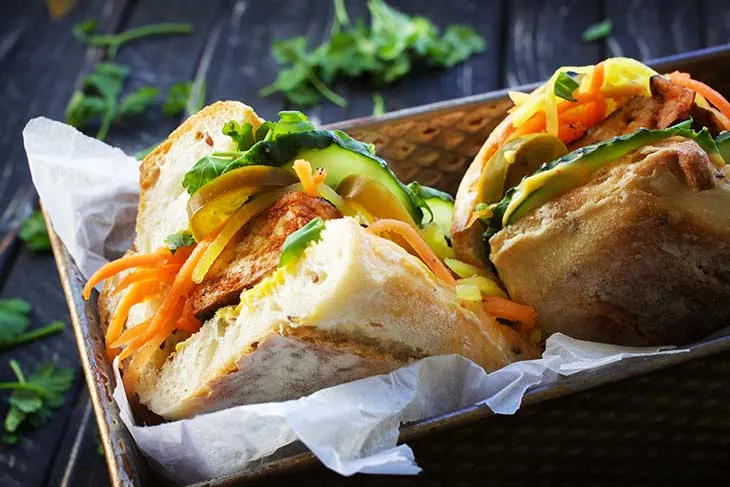 Yield: 4
Tofu Banh Mi | Vietnamese Tofu Sandwich - Banh Mi Chay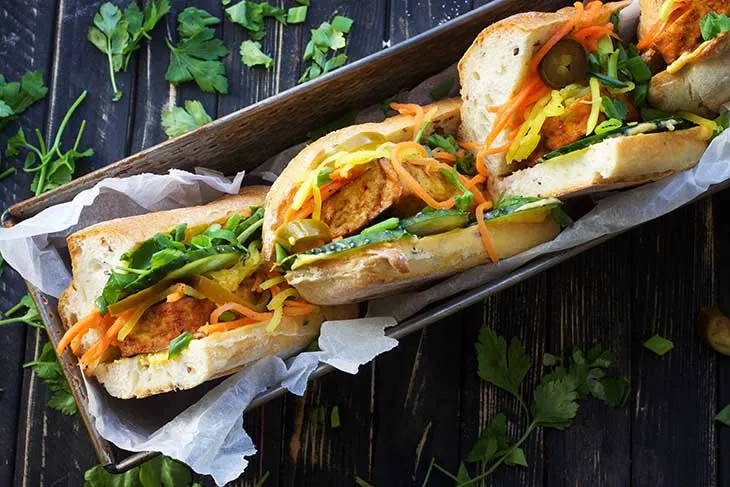 Here's how you can easily make tofu Banh Mi and enjoy a delicious, healthy, vegan Vietnamese meal! Check out the recipe below.
Ingredients
For the tofu:
1 block extra-firm tofu, drained
3 Tbsp lime juice
2 Tbsp soy sauce, or tamari, or coconut aminos
2 Tbsp maple syrup
1 clove garlic, minced
1 Tbsp smoked paprika
For the sandwich:
a fresh baguette, sliced into 4 pieces and cut in half
110g (½ cup) vegan mayo + 2 Tbsp sriracha
1-2 scallions, thinly sliced (optional)
a handful of fresh cilantro
For the pickles:
1 small daikon sliced into matchsticks
2 small carrots, sliced into matchsticks
½ jalapeño, thinly sliced
60ml (¼ cup) white wine vinegar
60ml (¼ cup) rice vinegar
a few pinches of sugar
a few pinches of salt
a dash of turmeric, optional
Instructions
For the tofu:
Drain and press the tofu.
Cut the tofu into sandwich-size slices.
In a bowl, combine all the marinade ingredients, toss the tofu in them and let this marinate overnight. It could be good enough in 15-20 minutes if you're in a hurry, but overnight it becomes perfect.
Heat a grill pan over medium heat. Grill the tofu about 4 minutes per side until it's a little crispy.
In a small bowl, mix the vegan mayo and sriracha sauce.
For the pickles:
In a bowl combine the tablespoons of vinegar, salt and sugar and turmeric. Add the carrots, jalapenos and radish and leave them to marinate for at least 15 minutes (again - the longer the better).
Spread the mayonnaise mixture evenly over the insides of each piece of baguette. Assemble 4 sandwiches by layering the ingredients as follows: tofu, pickled vegetables, fresh cucumber, top with scallion and cilantro. Press gently on sandwiches to set.
Nutrition Information
Yield
4
Amount Per Serving
Calories

438
Total Fat

12.4g
Carbohydrates

64g
Protein

17.6g