In case you're craving a delicious, elegant tart that's perfect for any season, I got your answer! Here's how to make the best mushroom blue cheese tart! Give it a try!
Summer is the perfect season for tarts. I know most of us would prefer not to turn the oven on during high heat, but trust me, this tart is definitely worth the effort! And, best of all, it can be served cold, which works absolutely perfectly for a quick lunch or a party appetizer.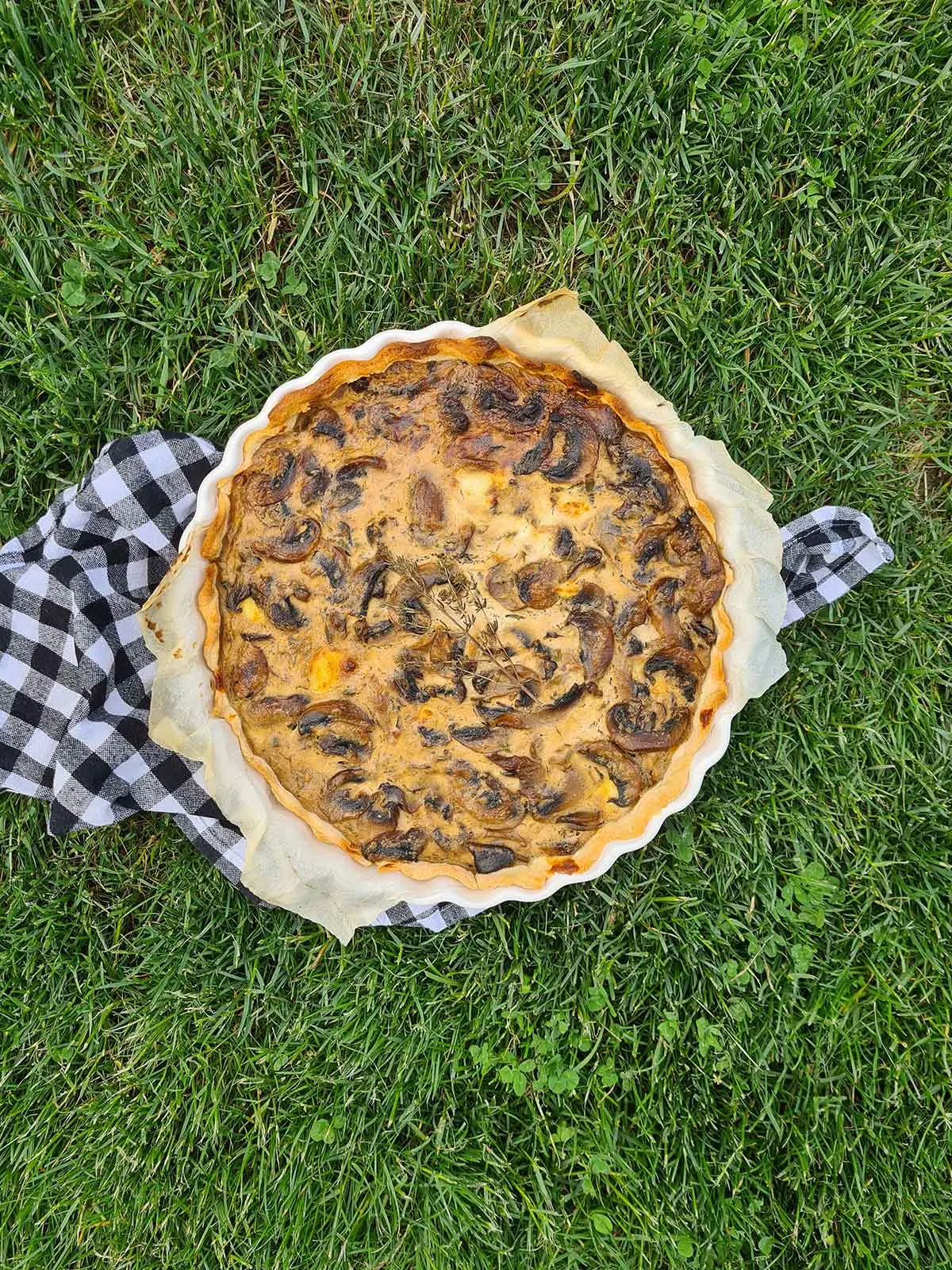 I love baking tarts during summer because they're super easy to make and the perfect excuse to use fresh seasonal veggies and fresh herbs as well – and if you have a garden, you'll be ten times more inspired to bake a different tart every single day! 🙂
For this mushroom blue cheese tart, I used a savory tart dough that I made from scratch. Although I usually use frozen store-bought dough that works just great for a quick and delicious tart, today I found the time and patience to perfect my own dough. And I'm so happy with the results!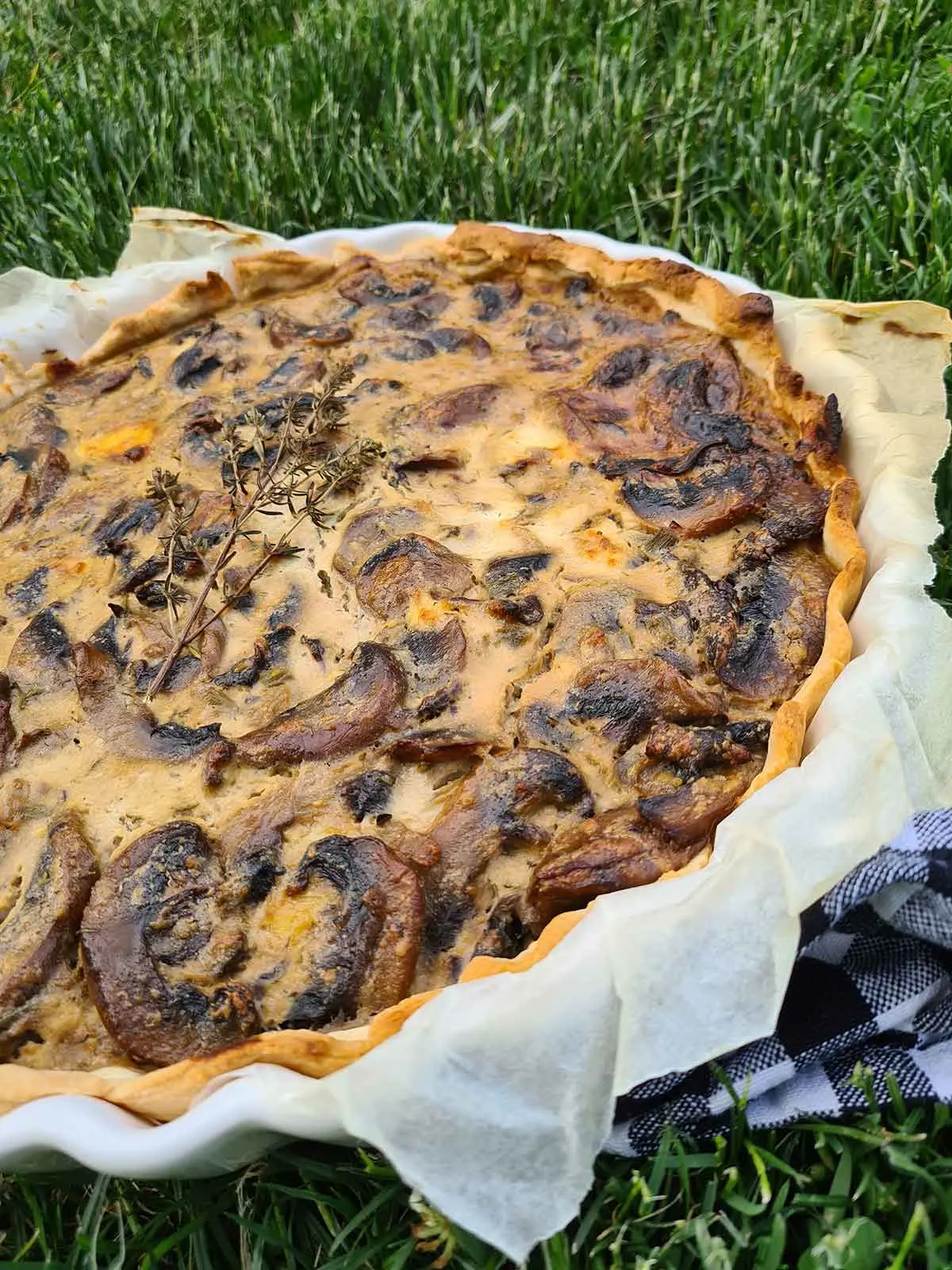 The dough I made today is super easy to make and only needs one minute of kneading. Totally doable, even if you're a total beginner when it comes to making homemade dough from scratch! Plus, the ingredients are all super simple and I'm absolutely convinced you already have them in your kitchen or pantry already – all-purpose flour, whole-grain flour, butter, water, and salt. Nothing could be easier!
Okay, now that we have the dough ready, it's time to tell you a little bit about the filling. My inspiration for this mushroom blue cheese tart was a bunch of brown button mushrooms that I had lying in my fridge. I was actually craving something that involves mushrooms, but I had no idea what.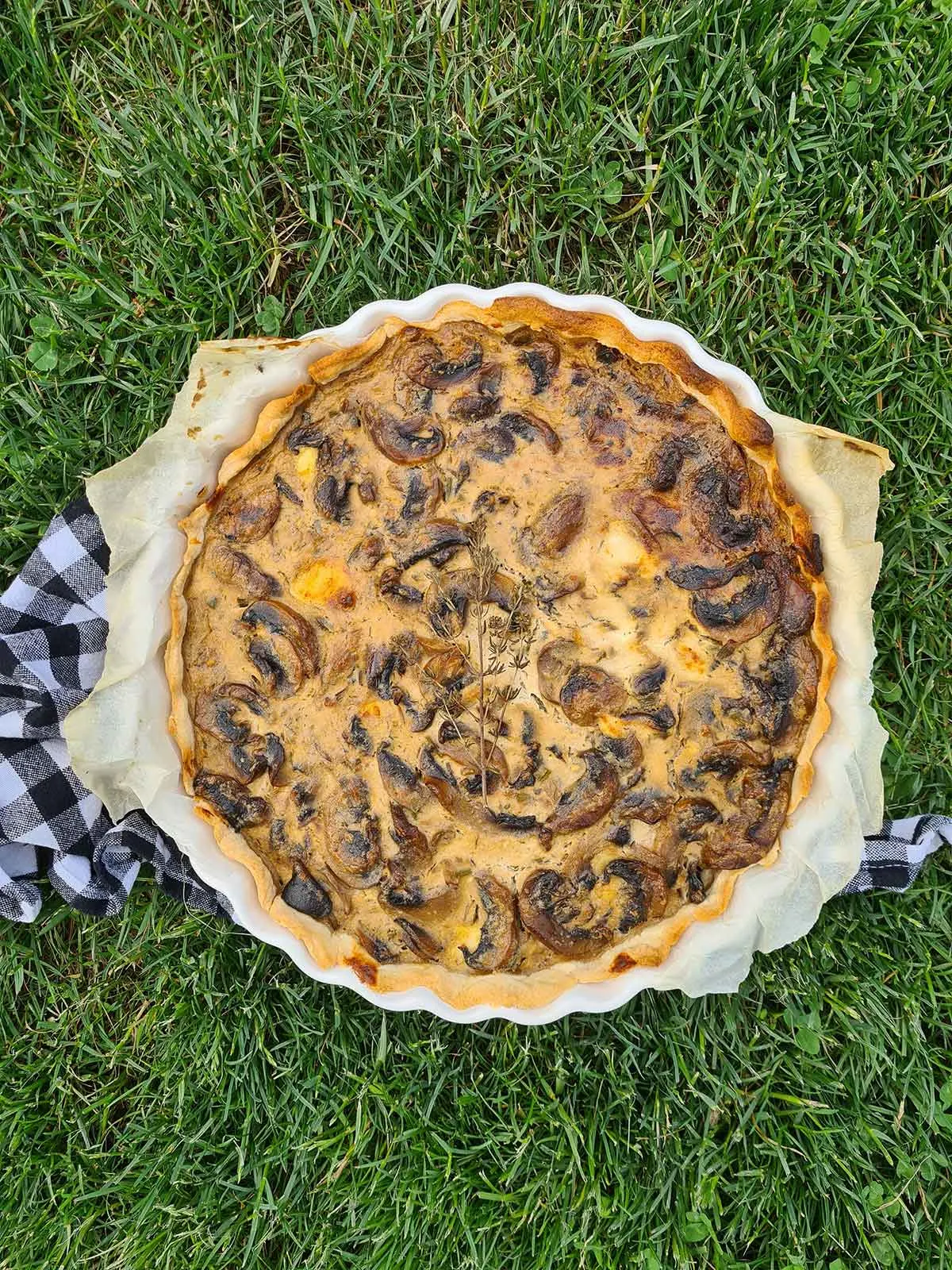 So I started thinking. Because mushrooms are kind of on the sweet side when you cook them, I thought a great addition to this tart filling would be some blue cheese. Because blue cheese is usually super salty, it perfectly complements the taste of the mushrooms – plus, we all know that mushrooms + blue cheese = love, right? 🙂
I also added some ricotta as a neutral ingredient (not sweet, not savory either, but pretty damn delicious), as well as some eggs to bind the entire composition. As for additional flavors, I couldn't help myself not to throw in some fresh garlic (you know how much I love it!), as well as some fresh thyme and fresh dill as well.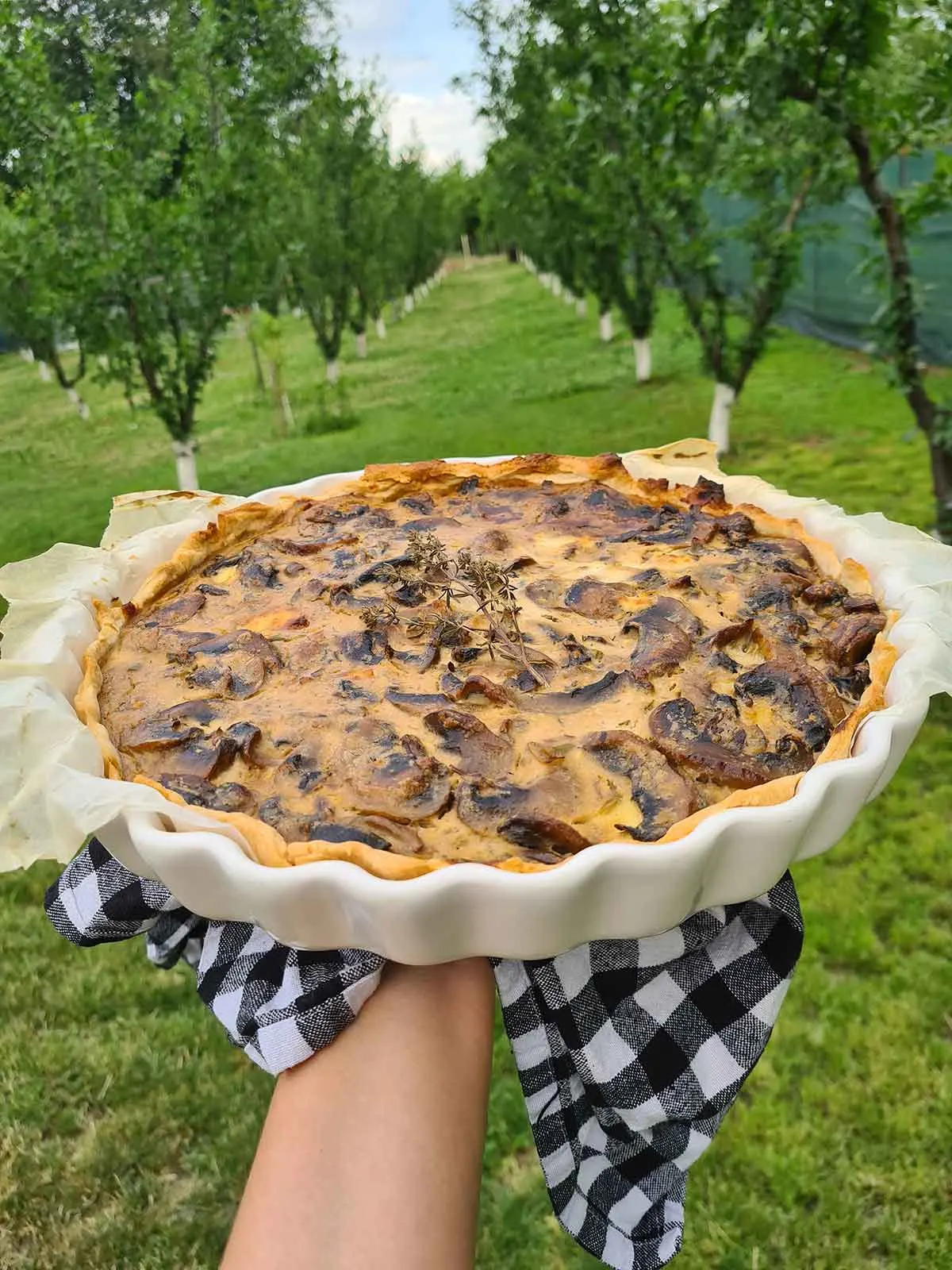 Because I wanted this specific mushroom blue cheese tart to be protein-rich, I also added 4 cups of protein powder from Gym Beam, but you don't have to do the same in case you don't need it. Instead, you can replace the 4 cups of protein with flour.
And if you don't have brown button mushrooms available at the moment, forget about them. You can use any other mushroom type – maybe Oyster mushrooms or porcini? Anything works, trust me! This tart is very forgiving when it comes to ingredients; you can even replace the mushrooms with a completely different veggie. If you ask me, I'd say that zucchini would work wonderfully in this combination, and maybe some cherry tomatoes as well.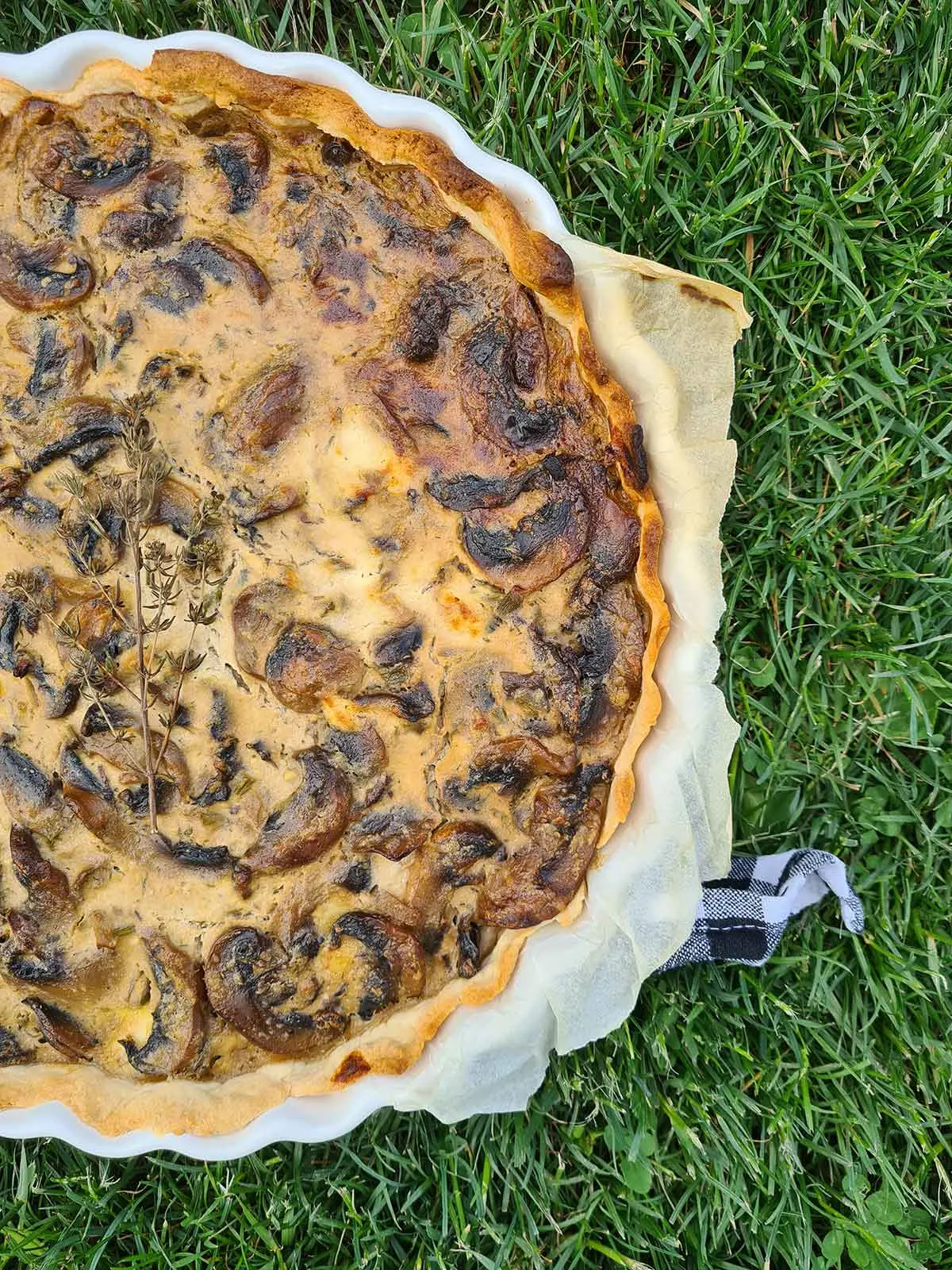 As for the process, what can I say? Everything is super easy, you basically need a food processor, an oven, and a little bit of time. Nothing complicated here, just a bit of mixing and putting everything in a pan. Trust me, everyone could make this tart, regardless if you're a complete beginner when it comes to cooking or a professional chef! 🙂
What I love best about this mushroom blue cheese tart is the fact that it's extremely delicious and healthy too. I love serving a slice of this tart for lunch, with a simple green salad (with various greens from the garden) on the side, dressed with a bit of olive oil and vinegar. This is the perfect combo and it has everything I'd ever need for lunch – it's filling, it's yummy and it's super refreshing if you serve it with the side salad.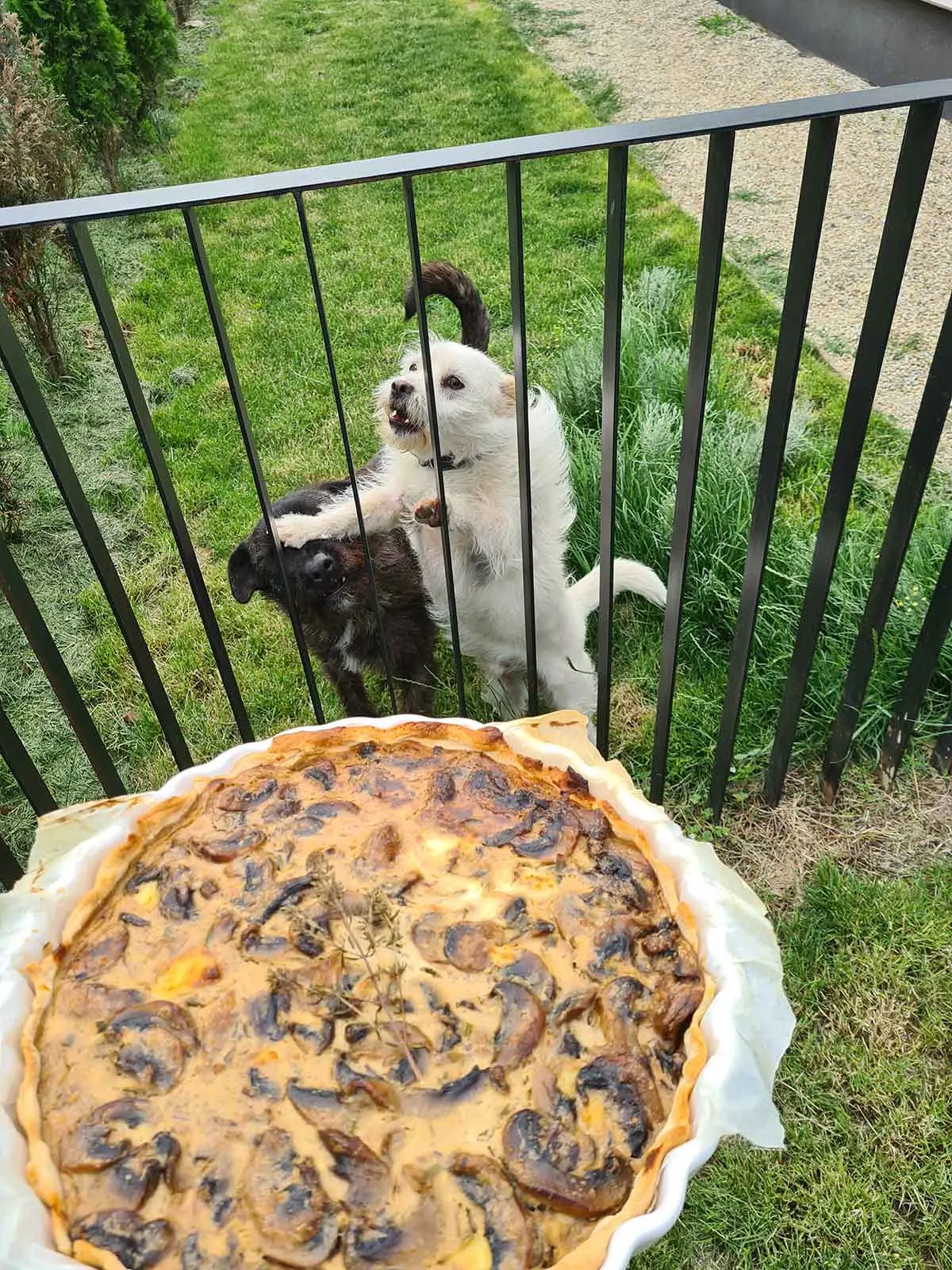 I've told you so many things about this mushroom blue cheese tart, that I'm already eager to let you try it – and I really hope you do! In case you decide to give it a try this summer, don't forget to leave me your opinions (or questions) in the comments section below. You know I love hearing from my readers!
Happy cooking! 🙂
Yield: 8
Mushroom Blue Cheese Tart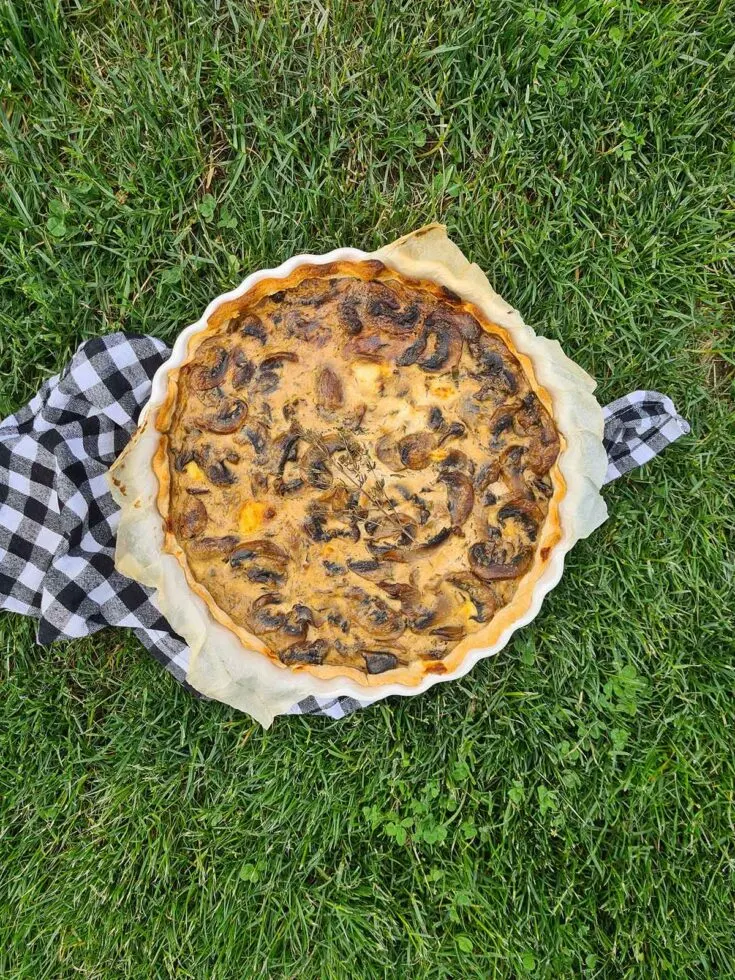 In case you're craving a delicious, elegant tart that's perfect for any season, I got your answer! Here's how to make the best mushroom blue cheese tart! Give it a try!
Additional Time
30 minutes
Total Time
1 hour
10 minutes
Ingredients
For the savory tart dough:
180g (1 1⁄2 cups) all-purpose flour
80g (⅔ cup) whole grain flour
80g (1/3 cup) butter
80ml (1/3 cup) ice cold water
1/2 tsp salt
For the mushroom blue cheese tart:
300g (10.5 oz) brown button mushrooms
150g (5 oz) blue cheese
500g ricotta
4 garlic cloves
3 eggs
120g (4 cups) Pure Whey protein powder from Gym Beam - if you don't want a high protein tart, you can replace it with flour
2 tsp dry or fresh thyme
a handful of fresh dill, chopped
salt and pepper, to taste
salt and pepper, to taste
Instructions
For the savory tart dough:
Add all the savory tart dough ingredients, except for the ice cold water, to a food processor and process on medium speed.
Gradually add the ice cold water, and when the dough has compacted, turn off the food processor.
Move the tart dough on the work table which was previously lightly powdered with flour and knead it for about 1 minute, until smooth.
Wrap the dough in plastic wrap and put it in the fridge for about 30-45 minutes before using.
For the mushroom blue cheese tart:
Add all the ingredients (except the dough and mushrooms) to a food processor. Blend until you end up with a creamy mixture.
Slice the button mushrooms. Add them to the composition and mix with a spatula.
Roll the dough into a thin, 0.5cm layer.
Put the dough in a big tart pan (approx. 35cm diameter). Press the dough and gently lift it to coat the walls of the pan as well. If you're using store-bought dough, it will come with a baking sheet included, which you can leave on. If you choose to make your own dough from scratch, make sure to add a baking sheet to the pan first.
Pour in the filling.
Decorate with a couple more mushroom slices on top and a sprig of fresh thyme.
Bake the tart at 200C for 20 minutes.
Let it cool before serving.
Enjoy!
Nutrition Information
Yield
8
Amount Per Serving
Calories

438
Total Fat

21g
Saturated Fat

13g
Trans Fat

0g
Unsaturated Fat

7g
Cholesterol

127mg
Sodium

581mg
Carbohydrates

33g
Fiber

2g
Sugar

1g
Protein

30g
I strive to keep the information as accurate as possible but make no warranties regarding its accuracy. I encourage you to make your own calculations using your preferred nutrition calculator.