From fancy restaurants to Saturday cooking sessions, pasta carbonara is always a good idea. Learn how to make the best vegan carbonara recipe!
When you take a stroll through any city center, it doesn't take long to notice the foods that are most popular in each town by checking out the colorful announcements the restaurants are brandishing proudly.
Most of them might say "Best Pizza in town" or "Check out our locally sourced cappuccino", which might make one think that Italian cuisine has taken over the world. That should come as no surprise – the Italians are masters at their trade, in delivering some of the most delicious products right to our doorsteps and into our plates.
Pasta has been the world's favorite comfort food for a while now, and it's easy to lose track of all the different types of pasta that exist. There's linguini, tortellini, tagliatelle, pasta comes in all shapes and sizes, including the most basic one – spaghetti.
Pasta can be prepared in many ways, using many sauces, fillings, ingredients and can be served as a main or side dish. Pasta can be meat-based, vegetarian or vegan, of course.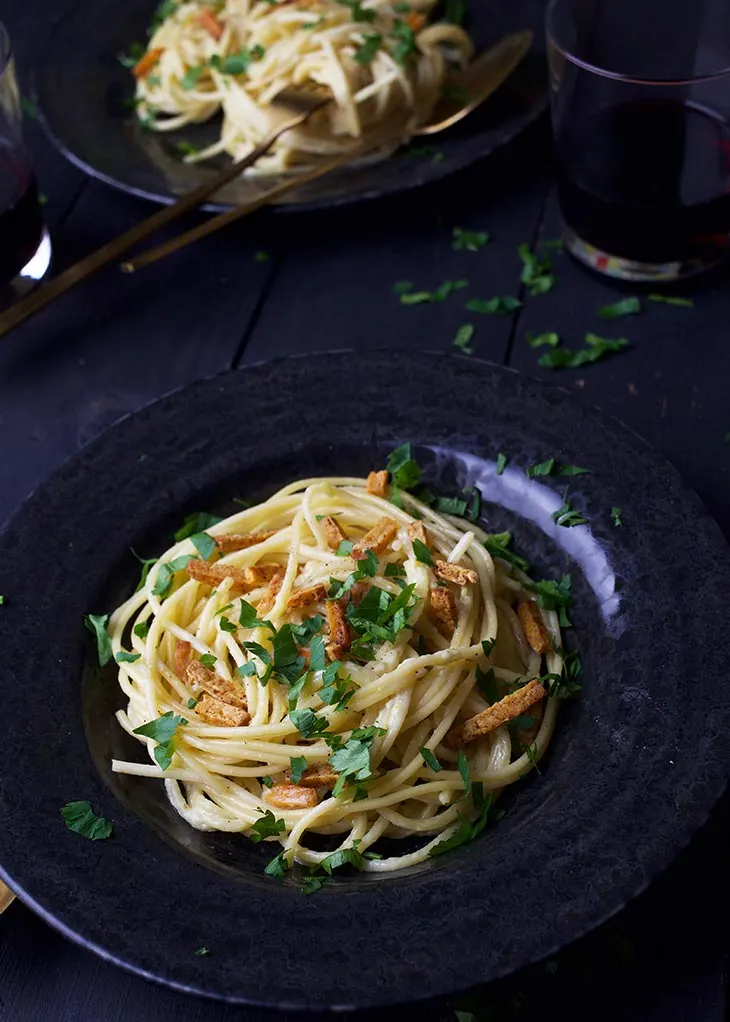 Today's recipe is a twist on an old and respected pasta recipe, coming straight from the heart of Italian cuisine. Tradition is very important in the Italian cuisine and pasta carbonara is a recipe that, as simple as it may seem, is always closely monitored and supervised by top Italian chefs, in order to get it just right. Of course, while every chef claims that the original recipe is sacred, they all end up showing their little quirks and mannerisms when making it.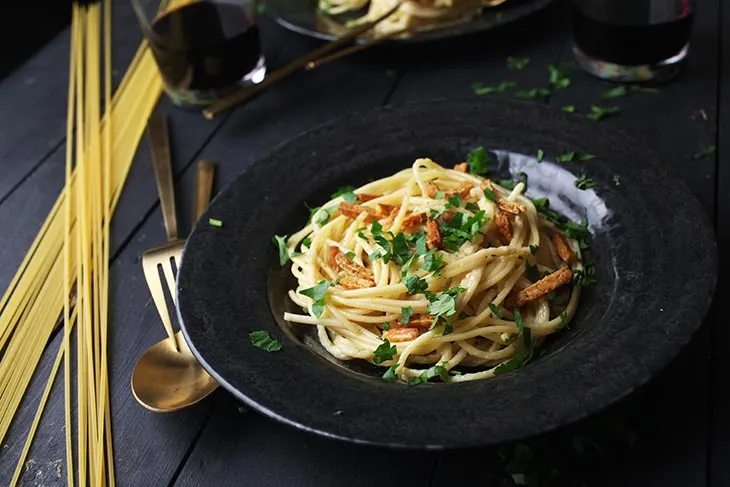 And so will we, today, when we turn this delicious and iconic recipe vegan! Let's find out how to create the perfect vegan carbonara each and every time! 🙂
Traditionally, pasta carbonara contains eggs and parmesan cheese that make up the base of its cheesy creamy texture. We are going to be using coconut cream, almond butter and nutritional yeast in place of the original flavorful sauce.
And for the ham? Smoked tofu! Of course, tofu being a favorite among vegan recipes and being used in many different instances, it will fit very well in this case. But here's another idea – instead of the tofu, you can use one of these recipes for vegan bacon!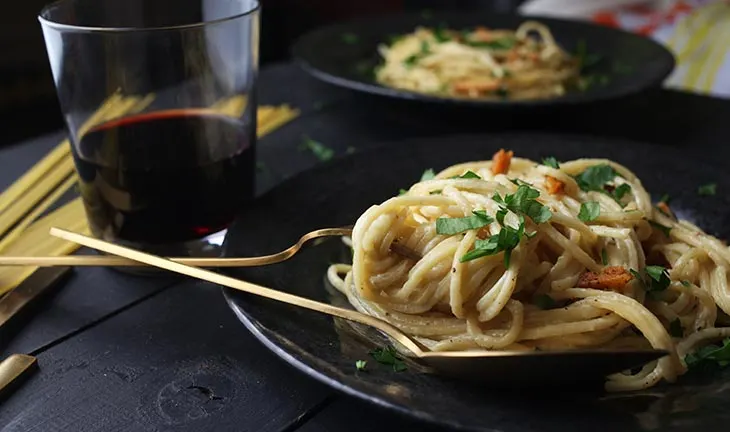 Other than these carefully chosen replacements, it's really just a simple pasta recipe. There's nothing different in how you will cook the pasta (just follow the instructions on the package) in slightly salted water. How much you boil the pasta is also a matter of preference. The length of time you decide to boil your pasta will affect its consistency.
Most people prefer their carbonara al dente, meaning that the consistency is somewhere between chewy and soft. If you want your pasta to feel more like noodles, you'll need to boil it longer. Carbonara, as creamy as it already is, in my opinion, benefits greater from harder chewy pasta.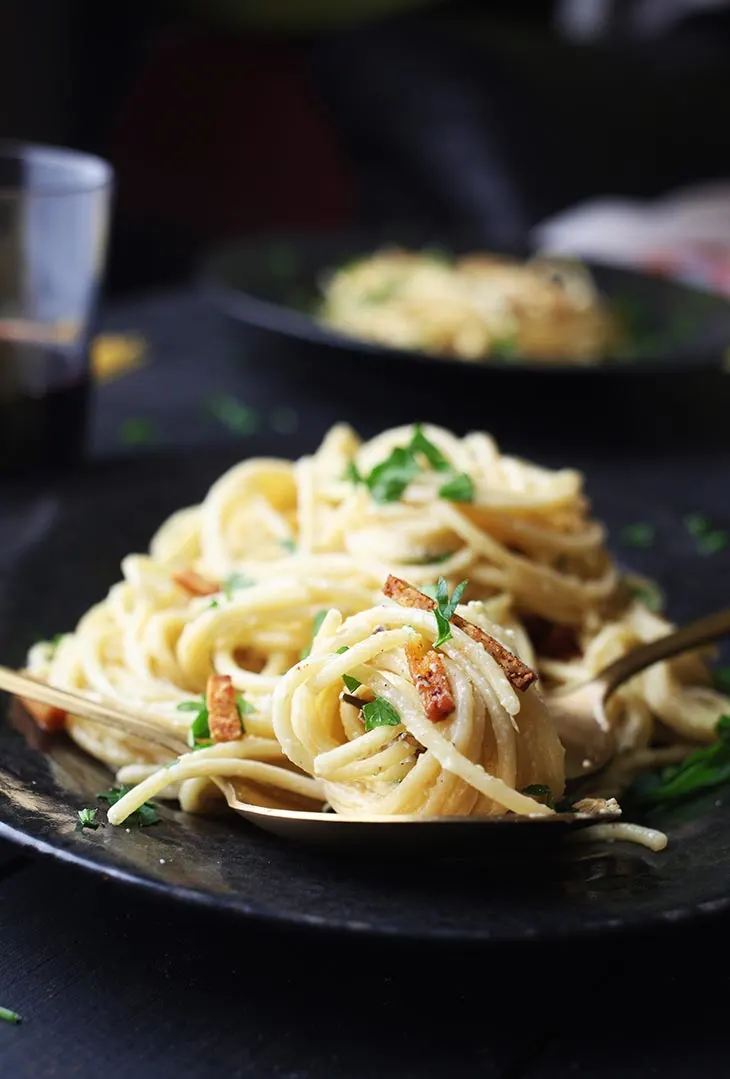 This is a recipe that should be seasoned freely. Fresh parsley, black pepper, smoked paprika – all of these play their part in the delicious taste and amazing texture of vegan carbonara pasta.
You can serve this dish for various occasions. It's an amazing dinner idea if you want to make more of it. I am certain that even the biggest meat lovers will enjoy this simple recipe! A friend of mine even suggested I do it because she visited Italy a few weeks ago and she heard how good vegan pasta is. And we all know how much Italians care about their cuisine being represented in real life. If they love vegan pasta, why shouldn't we love it as well? 🙂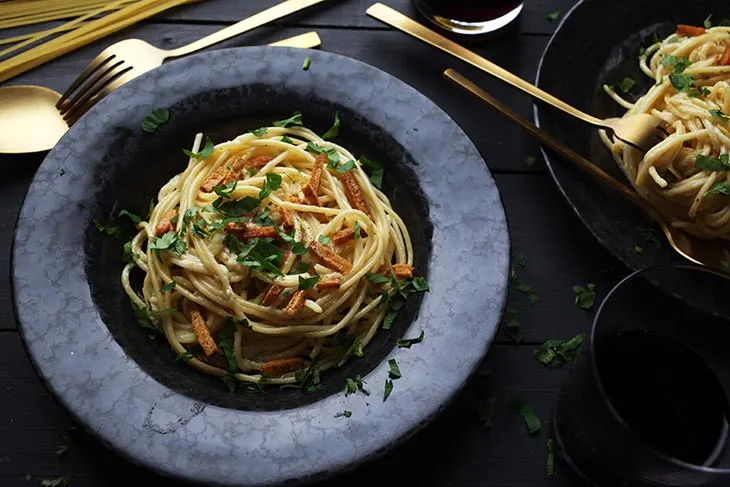 This recipe is really easy to make and will barely take 25 minutes of your time, so it's also the perfect thing to make for dinner when you get home from work, absolutely starving. Next time when you feel like ordering some expensive vegan dish, think twice and see if you don't already have everything you need to make this delicious dish.
If you're feeling extra hungry, this vegan carbonara recipe can very well play the role of a side dish to many of your favorite main courses. It goes great alongside a baked sweet potato, or even vegan pie – who cares, you had a long day, you deserve it.
Whether you're looking for something fast to make, or want to better your Italian cuisine cooking, I hope you enjoy making this fun recipe for vegan pasta carbonara and share it with your friends! Make sure to tell me how they liked it!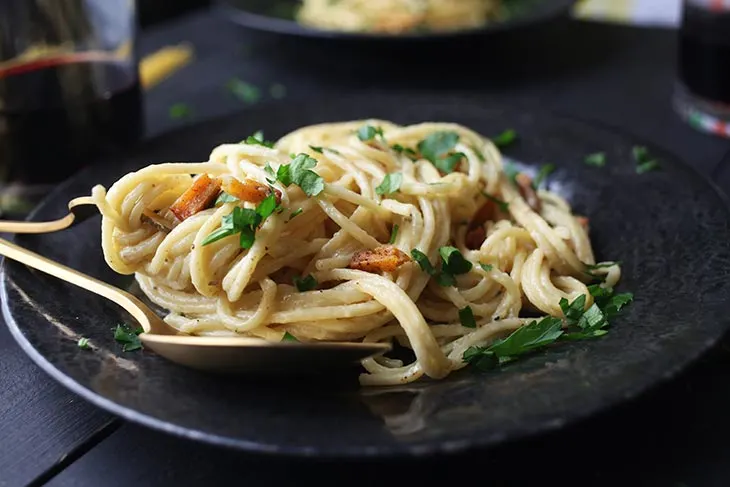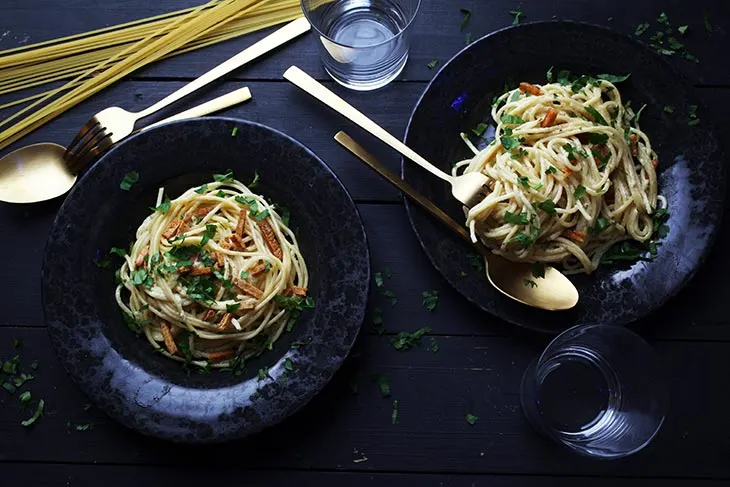 From fancy restaurants to Saturday cooking sessions, pasta carbonara is always a good idea. Learn how to make the best vegan carbonara recipe!
Ingredients
2 portions of cooked pasta - use GF if needed
For the sauce:
170g (¾ cup) coconut cream, unflavored
2 Tbsp almond butter
2 Tbsp nutritional yeast
⅓ tsp smoked paprika
½ tsp salt
½ tsp black pepper
¼ tsp nutmeg
½ garlic powder
a pinch of black salt
a pinch of black salt
For the bacon:
For the bacon:
125g (½ cup) chopped smoked tofu
125g (½ cup) chopped smoked tofu
1 Tbsp olive oil
1 Tbsp olive oil
For the topping:
For the topping:
3 Tbsp parsley, finely chopped
3 Tbsp parsley, finely chopped
Instructions
Cook the tofu bacon. In a large frying pan, heat the oil, add the bacon and fry until crispy. Set aside.
In a clean pan on medium heat add all the sauce ingredients and bring to simmer, stirring frequently.
When the sauce is thick, turn the heat off, add the cooked pasta, cooked bacon and stir to combine.
Top with fresh parsley and serve immediately.
Nutrition Information
Yield
3
Amount Per Serving
Calories

382
Total Fat

36g
Carbohydrates

31g
Fiber

23g
Sugar

1g