This Mediterranean tomato tart with puff pastry recipe will teleport you directly to the sunny shores of the Mediterranean. Imagine a crispy puff pastry crust, with juicy tomatoes, aromatic olives, goat cheese and fresh herbs, all harmonizing perfectly to create an explosion of flavors. Try this ideal tart recipe for summer.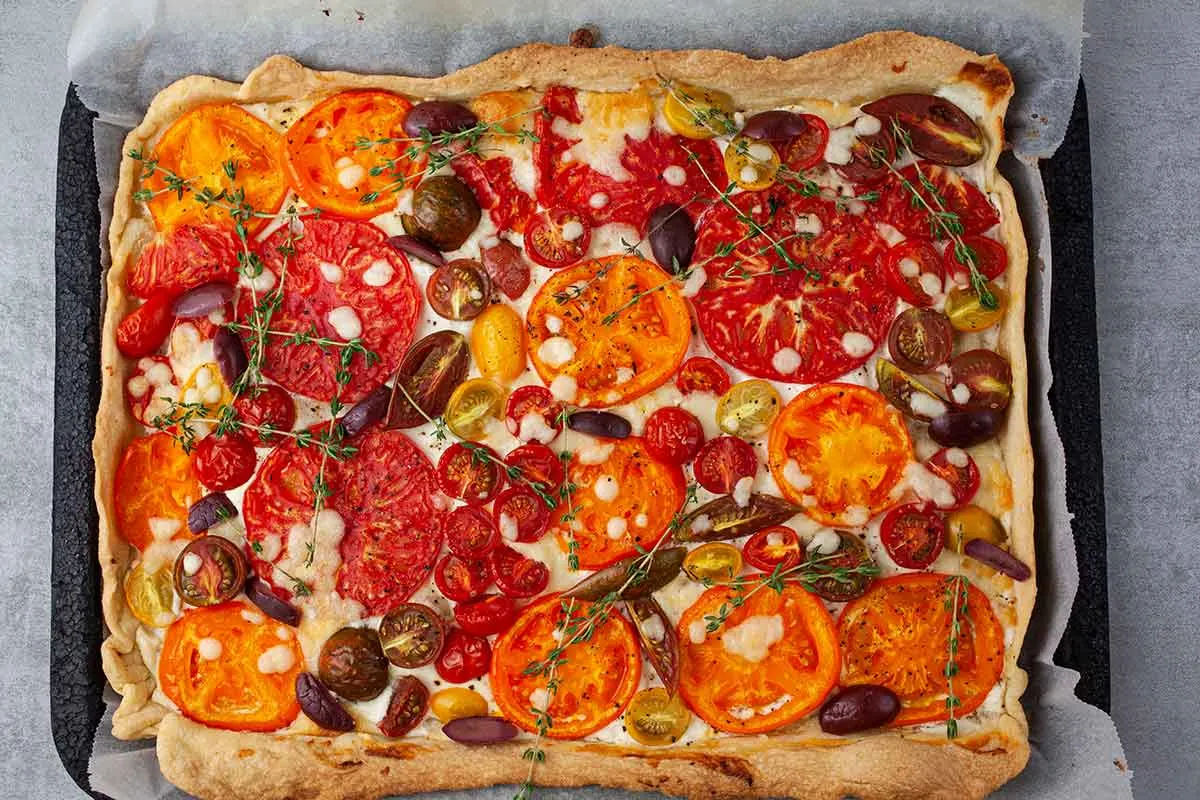 Although this year is not the most productive in the garden…probably because of the extremely unpredictable weather this summer, storms and very cold days followed by dry and hot days, I was still able to enjoy the gifts my plants offered me. Even so, with the hardships they suffered, the tomatoes produced generously, so that I can also freeze some for the winter and even gift them to friends.
With an abundance of sweet and juicy tomatoes, it would have been a shame not to take advantage and test recipes that would value them. This is how this tomato tart recipe was created.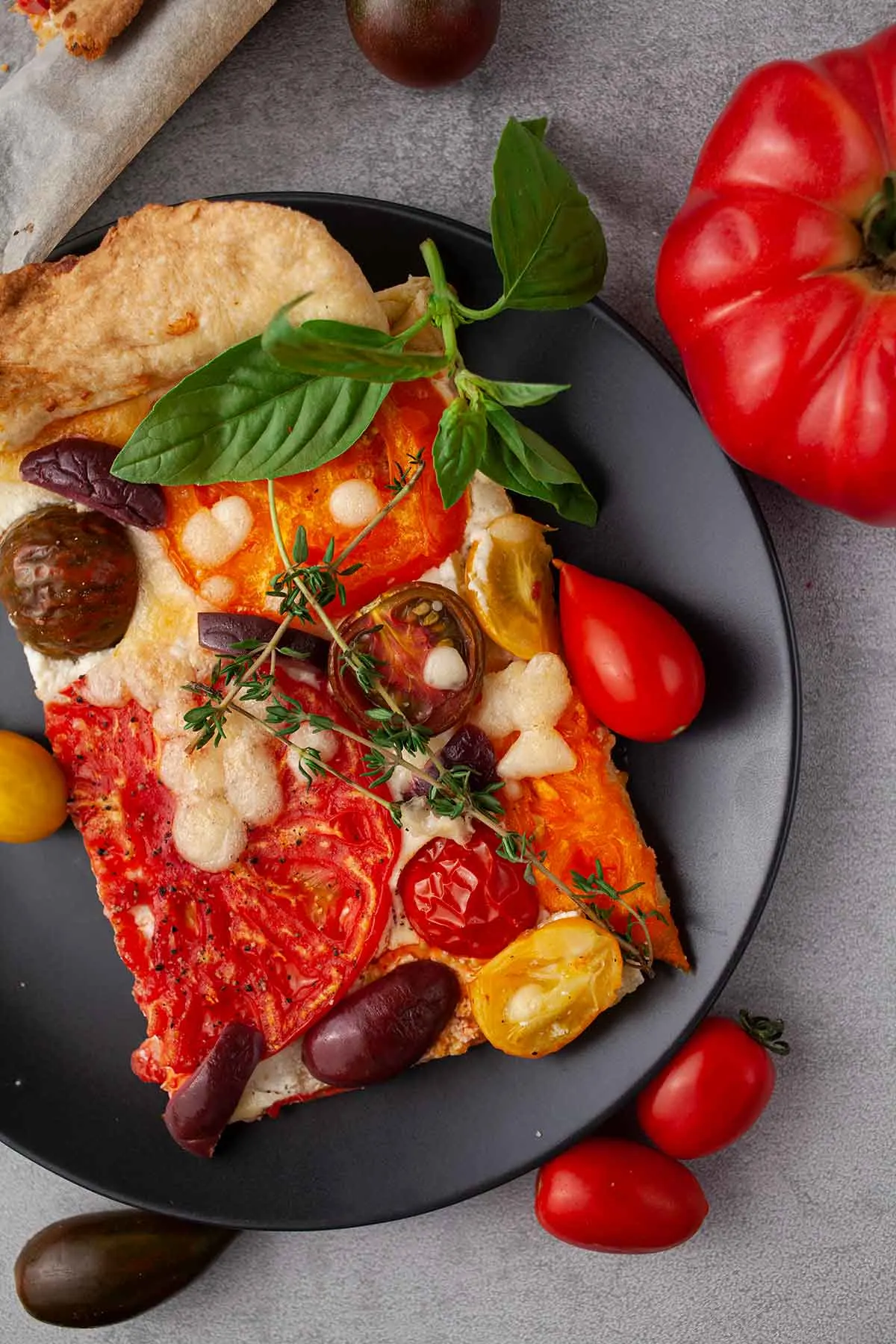 The history of the tomato tart
The Mediterranean tomato tart, also known as "torta a la tomato" in France or "torta di pomodoro" in Italy, has deep roots in this rich and diverse region.
In history, the Mediterranean region was a place of intersection of cultures and cuisines, where Greek, Roman, Arab and other people's influences mixed and contributed to the development of traditional recipes. The tomato tart, with its crispy crust and juicy filling of tomatoes and aromatic herbs, is an example of the synergy between simple ingredients and the full flavor of the region.
This tart has become a culinary tradition in many Mediterranean countries, being often associated with the rich production of tomatoes in this region and with the appreciation for fresh and authentic flavors.
Over time, the recipe has evolved and adapted to local preferences, so that we can find variants with different herbs, cheeses or other ingredients specific to each Mediterranean country.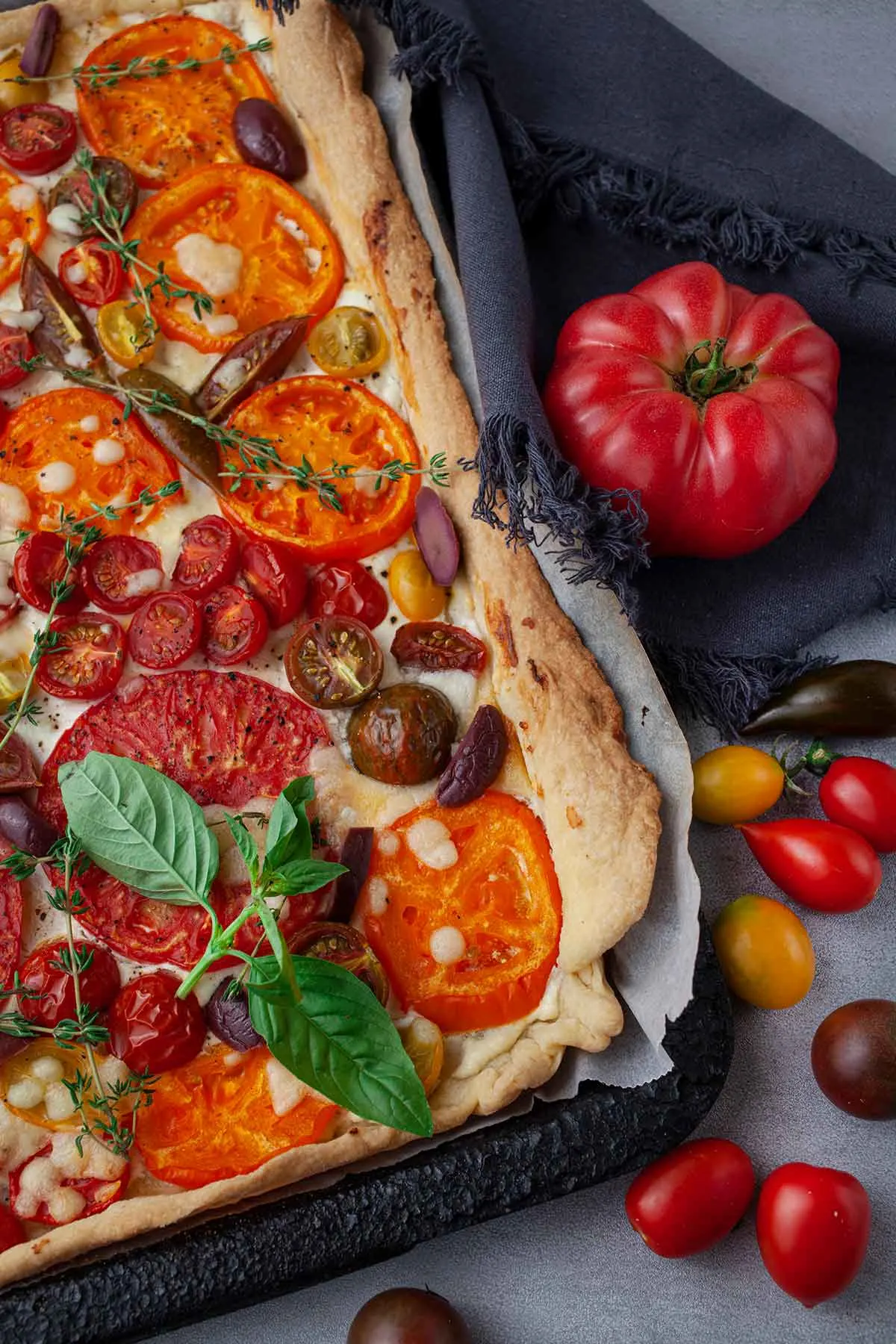 A complete Mediterranean experience – serving ideas
The Mediterranean tomato tart can be enjoyed in a complete and authentic culinary experience when it is accompanied by other delicious Mediterranean dishes. Here are some ideas to create a complete and balanced meal:
Greek Salad: A classic Greek salad, with tomatoes, cucumbers, olives, feta cheese, red onion and oregano, is the perfect choice to enrich the meal and bring authentic Mediterranean flavors. The fresh and crunchy Greek salad will go perfectly with the tomato tart.
Olives and feta cheese: Served as an appetizer or as a side dish, olives and feta cheese will complement the taste of the tart and add a distinct touch of Mediterranean flavor.
Hummus and pita bread: A bowl of creamy hummus, prepared from chickpeas, olive oil, sesame paste and garlic, together with warm and tender pita bread, will be a delight for any lover of Mediterranean cuisine.
Grilled vegetables: A colorful platter of fresh and healthy vegetables, such as grilled zucchini, eggplant, peppers and tomatoes, will be an excellent choice to accompany the tart. They will perfectly complement the culinary experience, bringing a variety of flavors and textures.
Dry white wine: A bottle of dry white wine, fresh and light, will complement the taste of the Mediterranean tart with elegance and sophistication. A Chardonnay, Sauvignon Blanc or Pinot Grigio are popular choices to accompany Mediterranean dishes.
By combining the tart with these authentic Mediterranean dishes, you will create a complete and balanced meal, rich in aromas and tastes specific to this region. Savor every moment of this authentic culinary experience and enjoy the Mediterranean flavor in every sip!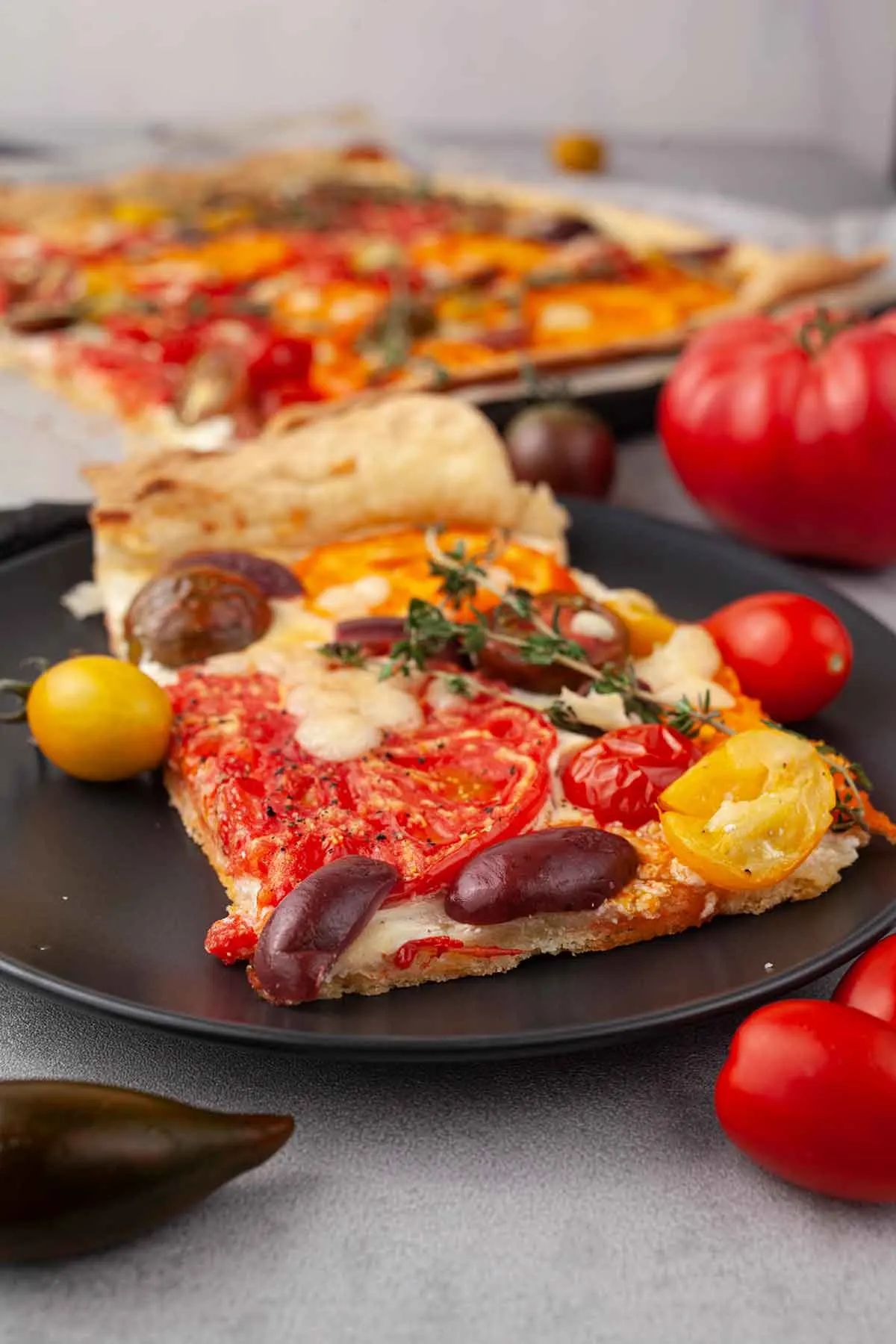 Ingredients
Fresh puff pastry: The puff pastry gives the tart a crispy and tender texture, being the perfect base to support the delicious filling.
Tomatoes: Fresh tomatoes add an explosion of flavors and a slightly sweet note, providing freshness and vivid colors to this Mediterranean recipe.
Olives: Olives bring a salty taste, perfectly complementing the flavor of the tart and bringing authentic Mediterranean notes.
Hard goat cheese and goat cheese cream: These two types of cheese add a creamy texture and a savory taste, creating a perfect balance of flavors and consistency in the tart.
Fresh thyme: Thyme adds an intense and peppery aromatic note, giving a distinct Mediterranean accent to this recipe. You can also use oregano or basil.
Olive oil: Olive oil cannot be missing from a Mediterranean recipe. But use a quality one, for a richer taste.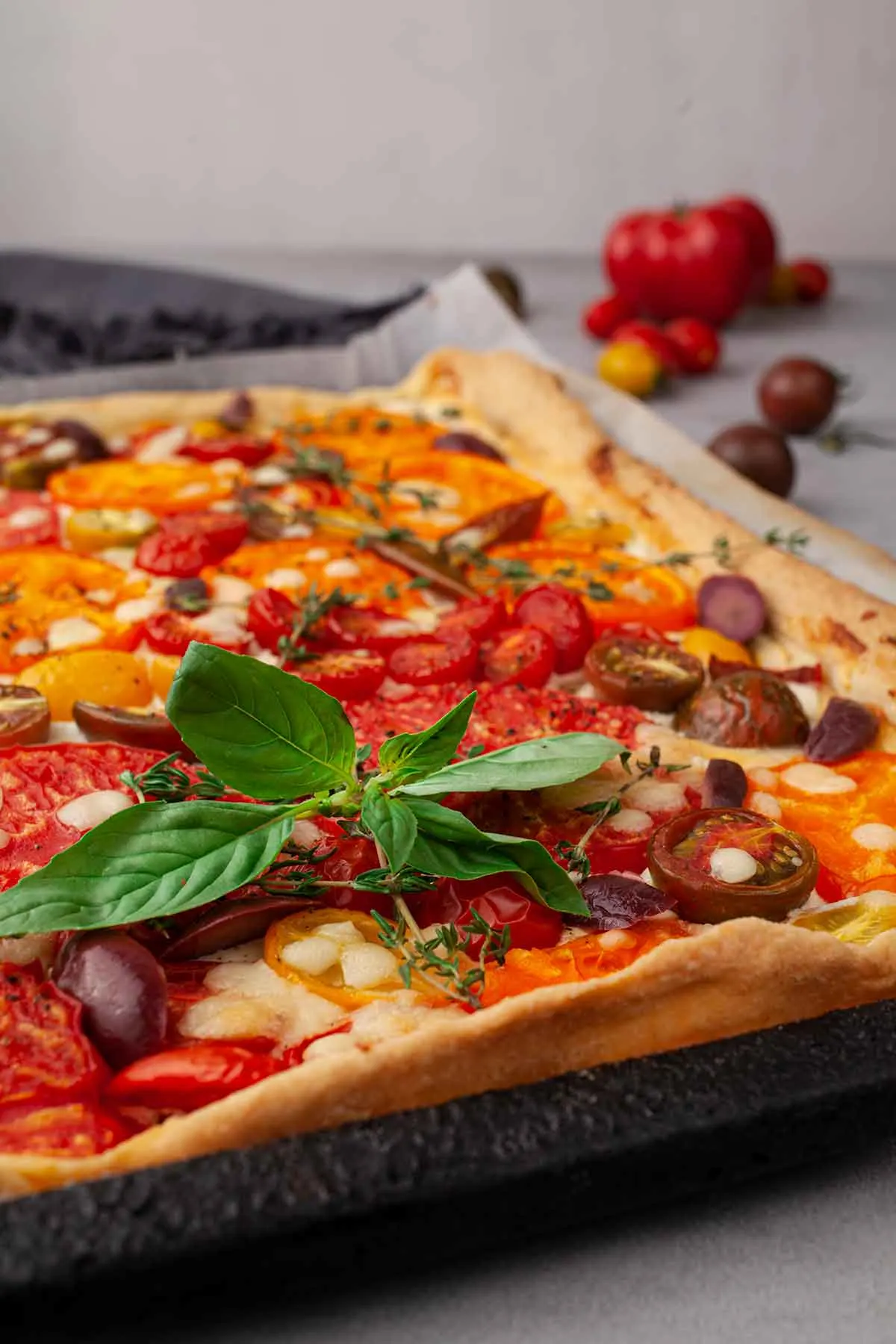 How to make tomato tart with puff pastry
The recipe is quite simple and you can check out the steps below. If you're looking for a vegan and gluten-free version, I recommend my vegan tomato tart recipe with GF crust, in the previous link.
Yield: 6-8
Mediterranean Tomato Tart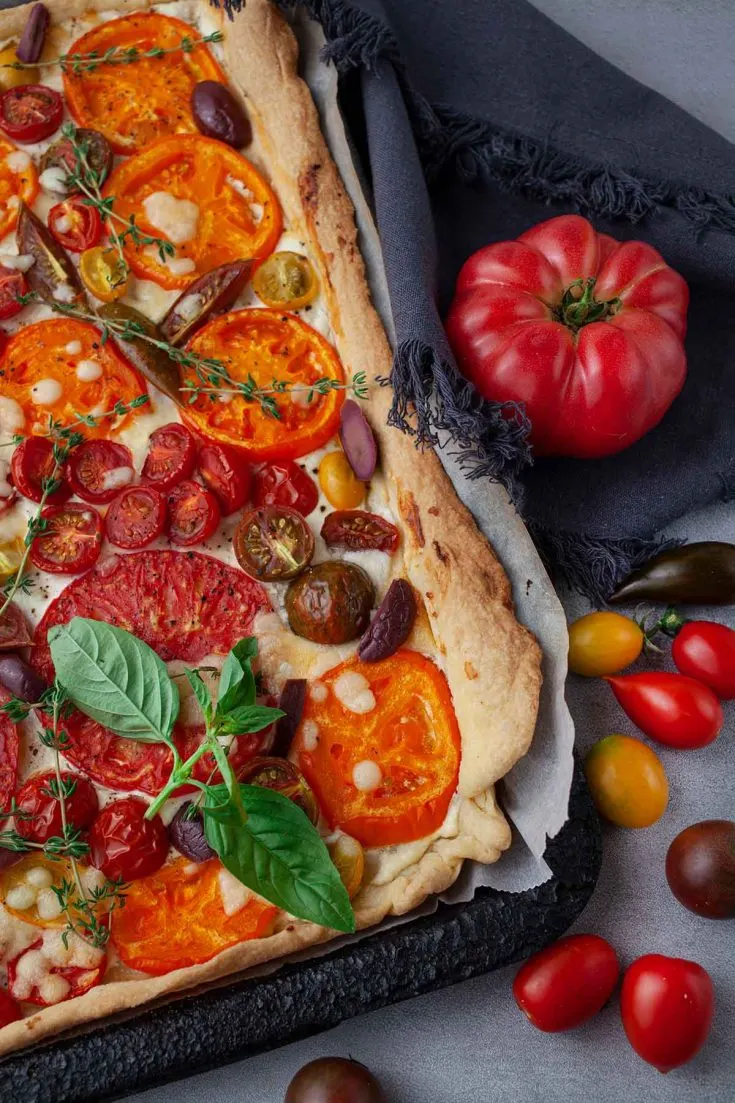 This Mediterranean tomato tart recipe will teleport you directly to the sunny shores of the Mediterranean. Imagine a crispy puff pastry crust, with juicy tomatoes, aromatic olives, goat cheese and fresh herbs, all harmonizing perfectly to create an explosion of flavors. Try this ideal tart recipe for summer.
Ingredients
one sheet of fresh puff pastry
200g (7oz) goat cheese cream
¼ cup hard goat cheese, grated
400g ( 14oz) tomatoes, sliced
¼ cup olives, sliced
½ teaspoon of sea salt
½ teaspoon black pepper
fresh herbs
1 tablespoon of olive oil
Instructions
Heat the oven to 180 C (360F)
Lay the sheet of puff pastry over the lined baking tray.
Spread the cream cheese all over the puff pastry sheet.
Cover with slices of tomatoes and olives, in one layer and sprinkle with grated cheese.
Then add salt, pepper and thyme and olive oil.
Place in the oven and bake for 30 minutes or until browned on the edges.
Serve hot, with extra drizzled olive oil.
Nutrition Information
Yield
10
Serving Size
1
Amount Per Serving
Calories

332
Total Fat

25g
Saturated Fat

7g
Trans Fat

0g
Unsaturated Fat

16g
Cholesterol

23mg
Sodium

323mg
Carbohydrates

21g
Fiber

1g
Sugar

2g
Protein

6g
I strive to keep the information as accurate as possible but make no warranties regarding its accuracy. I encourage you to make your own calculations using your preferred nutrition calculator.